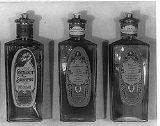 Shampoo
Shampoo
is a
hair care
Hair care
Hair care is an overall term for parts of hygiene and cosmetology involving the hair on the human head. Hair care will differ according to one's hair type and according to various processes that can be applied to hair...
product used for the removal of oils, dirt, skin particles,
dandruff
Dandruff
Dandruff is the shedding of dead skin cells from the scalp . Dandruff is sometimes caused by frequent exposure to extreme heat and cold. As it is normal for skin cells to die and flake off, a small amount of flaking is normal and common; about 487,000 cells/cm2 get released normally after...
, environmental pollutants and other contaminant particles that gradually build up in
hair
Hair
Hair is a filamentous biomaterial, that grows from follicles found in the dermis. Found exclusively in mammals, hair is one of the defining characteristics of the mammalian class....
. The goal is to remove the unwanted build-up without stripping out so much sebum as to make hair unmanageable.
Even though most modern shampoos include a conditioning component, shampooing is frequently followed by the use of
conditioners
Hair conditioner
Hair conditioner is a hair care product that alters the texture and appearance of hair.-History:For centuries, natural oils have been used to condition human hair. These natural products are still used today, including essential oils such as tea tree oil and carrier oils such as jojoba oil...
which ease combing and styling.
The word
shampoo
in
English
English language
English is a West Germanic language that arose in the Anglo-Saxon kingdoms of England and spread into what was to become south-east Scotland under the influence of the Anglian medieval kingdom of Northumbria...
is derived from
Hindi
Hindi
Standard Hindi, or more precisely Modern Standard Hindi, also known as Manak Hindi , High Hindi, Nagari Hindi, and Literary Hindi, is a standardized and sanskritized register of the Hindustani language derived from the Khariboli dialect of Delhi...
chāmpo
(चाँपो tʃãːpoː), and dates to 1762.