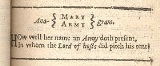 Anagram
An
anagram
is a type of
word play
Word play
Word play or wordplay is a literary technique in which the words that are used become the main subject of the work, primarily for the purpose of intended effect or amusement...
, the result of rearranging the letters of a word or phrase to produce a new word or phrase, using all the original letters exactly once; e.g.,
orchestra
=
carthorse
,
A decimal point
=
I'm a dot in place
,
Tom Marvolo Riddle
=
I am Lord Voldemort
. Someone who creates anagrams is called an
anagrammatist
. The original word or phrase is known as the
subject
of the anagram.
Any word or phrase that exactly reproduces the letters in another order is an anagram. However, the goal of serious or skilled anagrammatists is to produce anagrams that in some way reflect or comment on the subject. Such an anagram may be a synonym or antonym of its subject, a parody, a criticism, or praise; e.g.
George Bush
George W. Bush
George Walker Bush is an American politician who served as the 43rd President of the United States, from 2001 to 2009. Before that, he was the 46th Governor of Texas, having served from 1995 to 2000....
=
He bugs Gore
;
Madonna Louise Ciccone
Madonna (entertainer)
Madonna is an American singer-songwriter, actress and entrepreneur. Born in Bay City, Michigan, she moved to New York City in 1977 to pursue a career in modern dance. After performing in the music groups Breakfast Club and Emmy, she released her debut album in 1983...
=
Occasional nude income
or
One cool dance musician
;
William Shakespeare
William Shakespeare
William Shakespeare was an English poet and playwright, widely regarded as the greatest writer in the English language and the world's pre-eminent dramatist. He is often called England's national poet and the "Bard of Avon"...
=
I am a weakish speller
,
Roger Meddows-Taylor
Roger Meddows-Taylor
Roger Meddows Taylor , known as Roger Taylor, is a British musician, singer-songwriter and multi-instrumentalist. He is best known as the drummer, backing vocalist and occasional lead vocalist of British rock band Queen. As a drummer he is known for his "big" unique sound and is considered one of...
=
Great words or melody
. Anagrams are also often used in fiction for character aliases, such as
Tom Marvolo Riddle
=
I Am Lord Voldemort
.
Assumptions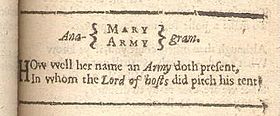 The creation of anagrams assumes an
alphabet
Alphabet
An alphabet is a standard set of letters—basic written symbols or graphemes—each of which represents a phoneme in a spoken language, either as it exists now or as it was in the past. There are other systems, such as logographies, in which each character represents a word, morpheme, or semantic...
, the symbols of which are to be permuted. In a perfect anagram, every letter must be used, with exactly the same number of occurrences as in the anagrammed word or phrase; any result that falls short is called an
imperfect anagram
.
Diacritic
Diacritic
A diacritic is a glyph added to a letter, or basic glyph. The term derives from the Greek διακριτικός . Diacritic is both an adjective and a noun, whereas diacritical is only an adjective. Some diacritical marks, such as the acute and grave are often called accents...
s are usually disregarded (this is usually not relevant for English anagrams), and standard
orthography
Orthography
The orthography of a language specifies a standardized way of using a specific writing system to write the language. Where more than one writing system is used for a language, for example Kurdish, Uyghur, Serbian or Inuktitut, there can be more than one orthography...
is to be used.
History
Anagrams can be traced back to the time of Moses, as "Themuru" or changing, which was to find the hidden and mystical meaning in names.
They were popular throughout
Europe
Europe
Europe is, by convention, one of the world's seven continents. Comprising the westernmost peninsula of Eurasia, Europe is generally 'divided' from Asia to its east by the watershed divides of the Ural and Caucasus Mountains, the Ural River, the Caspian and Black Seas, and the waterways connecting...
during the
Middle Ages
Middle Ages
The Middle Ages is a periodization of European history from the 5th century to the 15th century. The Middle Ages follows the fall of the Western Roman Empire in 476 and precedes the Early Modern Era. It is the middle period of a three-period division of Western history: Classic, Medieval and Modern...
, for example with the poet and composer
Guillaume de Machaut
Guillaume de Machaut
Guillaume de Machaut was a Medieval French poet and composer. He is one of the earliest composers on whom significant biographical information is available....
, They are said to go back at least to the Greek poet
Lycophron
Lycophron
Lycophron was a Hellenistic Greek tragic poet, grammarian, and commentator on comedy, to whom the poem Alexandra is attributed .-Life and miscellaneous works:...
, in the third century BCE; but this relies on an account of Lycophron given by
John Tzetzes
John Tzetzes
John Tzetzes was a Byzantine poet and grammarian, known to have lived at Constantinople during the 12th century.Tzetzes was Georgian on his mother's side...
in the 12th century.
Anagrams in Latin were considered witty over many centuries. "Est vir qui adest", explained below, was cited as the example in
Samuel Johnson
Samuel Johnson
Samuel Johnson , often referred to as Dr. Johnson, was an English author who made lasting contributions to English literature as a poet, essayist, moralist, literary critic, biographer, editor and lexicographer...
's
A Dictionary of the English Language
A Dictionary of the English Language
Published on 15 April 1755 and written by Samuel Johnson, A Dictionary of the English Language, sometimes published as Johnson's Dictionary, is among the most influential dictionaries in the history of the English language....
.
Any historical material on anagrams must always be interpreted in terms of the assumptions and spellings that were current for the language in question. In particular spelling in English only slowly became fixed. There were attempts to regulate anagram formation, an important one in English being that of
George Puttenham
George Puttenham
George Puttenham was a sixteenth-century English writer, literary critic, and notorious rake. He is generally considered to be the author of the enormously influential handbook on poetry and rhetoric, The Arte of English Poesie ....
's
Of the Anagram or Posy Transposed
in
The Art of English Poesie
(1589).
Influence of Latin
As a literary game when Latin was the common property of the literate, Latin anagrams were prominent: two examples are the change of "Ave Maria, gratia plena, Dominus tecum" (
Hail Mary, full of grace, the Lord [is] with you
) into "Virgo serena, pia, munda et immaculata" (
Serene virgin, pious, clean and spotless
), and the anagrammatic answer to Pilate's question, "Quid est veritas?" (
What is truth?
), namely, "Est vir qui adest" (
It is the man who is here
). The origins of these are not documented.
Latin continued to influence letter values (such as I = J, U = V and W = VV). There was an ongoing tradition of allowing anagrams to be "perfect" if the letters were all used once, but allowing for these interchanges. This can be seen in a popular Latin anagram against the Jesuits: "Societas Jesu" turned into "Vitiosa seces", or "cut off the wicked things". Puttenham, in the time of
Elizabeth I of England
Elizabeth I of England
Elizabeth I was queen regnant of England and Ireland from 17 November 1558 until her death. Sometimes called The Virgin Queen, Gloriana, or Good Queen Bess, Elizabeth was the fifth and last monarch of the Tudor dynasty...
, wished to start from
Elissabet Anglorum Regina
(Elizabeth Queen of the English), to obtain
Multa regnabis ense gloria
(By thy sword shalt thou reign in great renown); he explains carefully that H is "a note of aspiration only and no letter", and that Z in Greek or Hebrew is a mere SS. The rules were not completely fixed in the 17th century.
William Camden
William Camden
William Camden was an English antiquarian, historian, topographer, and officer of arms. He wrote the first chorographical survey of the islands of Great Britain and Ireland and the first detailed historical account of the reign of Elizabeth I of England.- Early years :Camden was born in London...
in his
Remains
commented, singling out some letters—Æ, K, W, Z—not found in the classical Roman alphabet:
Early modern period
When it comes to the 17th century and anagrams in English or other languages, there is a great deal of documented evidence of learned interest. The lawyer
Thomas Egerton
Thomas Egerton
Thomas Egerton may refer to:*Thomas Egerton , Under-Treasurer of the Royal Mint*Thomas Egerton, 1st Viscount Brackley *Thomas Egerton, 1st Earl of Wilton *Thomas Egerton, 2nd Earl of Wilton...
was praised through the anagram
gestat honorem
; the physician
George Ent
George Ent
George Ent was an English scientist in the seventeenth century who focused on the study of anatomy. He was a member of the Royal Society and the Royal College of Physicians...
took the anagrammatic motto
genio surget
, which requires his first name as "Georgius".
James I's
James I of England
James VI and I was King of Scots as James VI from 24 July 1567 and King of England and Ireland as James I from the union of the English and Scottish crowns on 24 March 1603...
courtiers discovered in "James Stuart" "a just master", and converted "
Charles James Stuart
Charles II of England
Charles II was monarch of the three kingdoms of England, Scotland, and Ireland.Charles II's father, King Charles I, was executed at Whitehall on 30 January 1649, at the climax of the English Civil War...
" into "Claims
Arthur
King Arthur
King Arthur is a legendary British leader of the late 5th and early 6th centuries, who, according to Medieval histories and romances, led the defence of Britain against Saxon invaders in the early 6th century. The details of Arthur's story are mainly composed of folklore and literary invention, and...
's seat" (even at that point in time, the letters I and J were more-or-less interchangeable). Walter Quin, tutor to the future Charles I, worked hard on multilingual anagrams on the name of father James. A notorious murder scandal, the Overbury case, threw up two imperfect anagrams that were aided by typically loose spelling and were recorded by
Simonds D'Ewes
Simonds d'Ewes
Sir Simonds d'Ewes, 1st Baronet was an antiquary and politician. He was bred for the bar, was a member of the Long Parliament and left notes on its transactions. d'Ewes took the Puritan side in the Civil War...
: 'Francis Howard' (for
Frances Carr, Countess of Somerset
Frances Carr, Countess of Somerset
Frances Carr, Countess of Somerset was an English noblewoman who was the central figure in a famous scandal and murder during the reign of King James I...
, her maiden name spelled in a variant) became
Car findes a whore
, with the letters E hardly counted, and the victim
Thomas Overbury
Thomas Overbury
Sir Thomas Overbury was an English poet and essayist, and the victim of one of the most sensational crimes in English history...
, as 'Thomas Overburie', was written as
O! O! a busie murther
, with a V counted as U.
William Drummond of Hawthornden
William Drummond of Hawthornden
William Drummond , called "of Hawthornden", was a Scottish poet.-Life:Drummond was born at Hawthornden Castle, Midlothian. His father, John Drummond, was the first laird of Hawthornden; and his mother was Susannah Fowler, sister of William Fowler, poet and courtier...
, in an essay
On the Character of a Perfect Anagram
, tried to lay down permissible rules (such as S standing for Z), and possible letter omissions.
William Camden
William Camden
William Camden was an English antiquarian, historian, topographer, and officer of arms. He wrote the first chorographical survey of the islands of Great Britain and Ireland and the first detailed historical account of the reign of Elizabeth I of England.- Early years :Camden was born in London...
provided a definition of "Anagrammatisme" as "a dissolution of a name truly written into his letters, as his elements, and a new connection of it by artificial transposition, without addition, subtraction or change of any letter, into different words, making some perfect sense applyable (i.e.,
applicable
) to the person named."
Dryden
John Dryden
John Dryden was an influential English poet, literary critic, translator, and playwright who dominated the literary life of Restoration England to such a point that the period came to be known in literary circles as the Age of Dryden.Walter Scott called him "Glorious John." He was made Poet...
in
MacFlecknoe
MacFlecknoe
Mac Flecknoe is a verse mock-heroic satire written by John Dryden. It is a direct attack on Thomas Shadwell, another prominent poet of the time...
disdainfully called the pastime the "torturing of one poor word ten thousand ways".
"Eleanor Audeley", wife of Sir John Davies, is said to have been brought before the High Commission in 1634 for extravagances, stimulated by the discovery that her name could be transposed to "Reveale, O Daniel", and to have been laughed out of court by another anagram submitted by Sir John Lambe, the
dean of the Arches
Dean of Arches
The Dean of Arches is the judge who sits at the ecclesiastical court of the Archbishop of Canterbury in England. This appeal court is commonly called the Arches Court....
, "Dame Eleanor Davies", "Never soe mad a ladie".
An example from France was a flattering anagram for Cardinal Richelieu, comparing him to
Hercules
Hercules
Hercules is the Roman name for Greek demigod Heracles, son of Zeus , and the mortal Alcmene...
or at least one of his hands (Hercules being a kingly symbol), where "Armand de Richelieu" became "Ardue main d'Hercule".
Modern period
Examples from the nineteenth century are the transposition of "Horatio Nelson" into "Honor est a Nilo" (Latin =
Honor is from the Nile

Nile

The Nile is a major north-flowing river in North Africa, generally regarded as the longest river in the world. It is long. It runs through the ten countries of Sudan, South Sudan, Burundi, Rwanda, Democratic Republic of the Congo, Tanzania, Kenya, Ethiopia, Uganda and Egypt.The Nile has two major...



); and of "
Florence Nightingale
Florence Nightingale
Florence Nightingale OM, RRC was a celebrated English nurse, writer and statistician. She came to prominence for her pioneering work in nursing during the Crimean War, where she tended to wounded soldiers. She was dubbed "The Lady with the Lamp" after her habit of making rounds at night...
" into "Flit on, cheering angel". The Victorian love of anagramming as recreation is alluded to by
Augustus De Morgan
Augustus De Morgan
Augustus De Morgan was a British mathematician and logician. He formulated De Morgan's laws and introduced the term mathematical induction, making its idea rigorous. The crater De Morgan on the Moon is named after him....
using his own name as example; "Great Gun, do us a sum!" is attributed to his son
William De Morgan
William De Morgan
William Frend De Morgan was an English potter and tile designer. A lifelong friend of William Morris, he designed tiles, stained glass and furniture for Morris & Co. from 1863 to 1872. His tiles are often based on medieval designs or Persian patterns, and he experimented with innovative glazes and...
, but a family friend
John Thomas Graves
John T. Graves
John Thomas Graves was an Irish jurist and mathematician. He was a friend of William Rowan Hamilton, and is credited both with inspiring Hamilton to discover the quaternions and with personally discovering the octonions, which he called the octaves...
was prolific, and a manuscript with over 2,800 has been preserved.
With the advent of
surrealism
Surrealism
Surrealism is a cultural movement that began in the early 1920s, and is best known for the visual artworks and writings of the group members....
as a poetic movement, anagrams regained the artistic respect they had had in the Baroque period. The German poet
Unica Zürn
Unica Zürn
Unica Zürn was a German author and painter. She is remembered for her works of anagram poetry, exhibitions of automatic drawing, and her photographic collaborations with Hans Bellmer.-Biography:...
, who made extensive use of anagram techniques, came to regard obsession with anagrams as a "dangerous fever", because it created isolation of the author. The surrealist leader
André Breton
André Breton
André Breton was a French writer and poet. He is known best as the founder of Surrealism. His writings include the first Surrealist Manifesto of 1924, in which he defined surrealism as "pure psychic automatism"....
coined the anagram
Avida Dollars
for
Salvador Dalí
Salvador Dalí
Salvador Domènec Felip Jacint Dalí i Domènech, Marquis de Púbol , commonly known as Salvador Dalí , was a prominent Spanish Catalan surrealist painter born in Figueres,Spain....
, to tarnish his reputation by the implication of commercialism.
Applications
While anagramming is certainly a recreation first, there are ways in which anagrams are put to use, and these can be more serious, or at least not quite frivolous and formless. For example, psychologists use anagram-oriented tests, often called "anagram solution tasks", to assess the
implicit memory
Implicit memory
Implicit memory is a type of memory in which previous experiences aid in the performance of a task without conscious awareness of these previous experiences. Evidence for implicit memory arises in priming, a process whereby subjects show improved performance on tasks for which they have been...
of young adults and adults alike.
Establishment of priority
Natural philosophers (astronomers and others) of the 17th century transposed their discoveries into Latin anagrams, to establish their priority. In this way they laid claim to new discoveries, before their results were ready for publication.
Galileo
Galileo Galilei
Galileo Galilei , was an Italian physicist, mathematician, astronomer, and philosopher who played a major role in the Scientific Revolution. His achievements include improvements to the telescope and consequent astronomical observations and support for Copernicanism...
used
smaismrmilmepoetaleumibunenugttauiras
for
Altissimum planetam tergeminum observavi
("I have observed the most distant planet to have a triple form") for discovering the
rings of Saturn
Rings of Saturn
The rings of Saturn are the most extensive planetary ring system of any planet in the Solar System. They consist of countless small particles, ranging in size from micrometres to metres, that form clumps that in turn orbit about Saturn...
in 1610.
Galileo announced his discovery that
Venus
Venus
Venus is the second planet from the Sun, orbiting it every 224.7 Earth days. The planet is named after Venus, the Roman goddess of love and beauty. After the Moon, it is the brightest natural object in the night sky, reaching an apparent magnitude of −4.6, bright enough to cast shadows...
had phases like the Moon in the form "Haec immatura a me iam frustra leguntur -oy" (Latin:
These immature ones have already been read in vain by me -oy
), that is, when rearranged, "Cynthiae figuras aemulatur Mater Amorum" (Latin:
The Mother of Loves [= Venus] imitates the figures of Cynthia

Cynthia

Cynthia is a feminine given name of Greek origin: Κυνθία, Kynthía, "from Mount Cynthus" on Delos island. It can be abbreviated as Cindy. There are various spellings for this name....


[= the moon]
).
When
Robert Hooke
Robert Hooke
Robert Hooke FRS was an English natural philosopher, architect and polymath.His adult life comprised three distinct periods: as a scientific inquirer lacking money; achieving great wealth and standing through his reputation for hard work and scrupulous honesty following the great fire of 1666, but...
discovered
Hooke's law
Hooke's law
In mechanics, and physics, Hooke's law of elasticity is an approximation that states that the extension of a spring is in direct proportion with the load applied to it. Many materials obey this law as long as the load does not exceed the material's elastic limit. Materials for which Hooke's law...
in 1660, he first published it in anagram form,
ceiiinosssttuv
, for
ut tensio, sic vis
(Latin:
as the tension, so the force
).
In a related use, from 1975, British naturalist Sir Peter Scott coined the scientific term "Nessiteras rhombopteryx" (Greek for "The monster (or wonder) of
Ness
Loch Ness
Loch Ness is a large, deep, freshwater loch in the Scottish Highlands extending for approximately southwest of Inverness. Its surface is above sea level. Loch Ness is best known for the alleged sightings of the cryptozoological Loch Ness Monster, also known affectionately as "Nessie"...
with the diamond shaped fin") for the apocryphal
Loch Ness Monster
Loch Ness Monster
The Loch Ness Monster is a cryptid that is reputed to inhabit Loch Ness in the Scottish Highlands. It is similar to other supposed lake monsters in Scotland and elsewhere, though its description varies from one account to the next....
. Shortly afterwards, several London newspapers pointed out that "Nessiteras rhombopteryx" anagrams into "Monster hoax by Sir Peter S". However, Robert Rines, who previously made two underwater photographs allegedly showing the monster, countered with the fact that they can also be arranged into "Yes, both pix are monsters, R."
Pseudonyms
Anagrams are connected to
pseudonym
Pseudonym
A pseudonym is a name that a person assumes for a particular purpose and that differs from his or her original orthonym...
s, by the fact that they may conceal or reveal, or operate somewhere in between like a mask that can establish identity. For example,
Jim Morrison
Jim Morrison
James Douglas "Jim" Morrison was an American musician, singer, and poet, best known as the lead singer and lyricist of the rock band The Doors...
used an anagram of his name in
the Doors
The Doors
The Doors were an American rock band formed in 1965 in Los Angeles, California, with vocalist Jim Morrison, keyboardist Ray Manzarek, drummer John Densmore, and guitarist Robby Krieger...
song
L.A. Woman
L.A. Woman
The band embarked on a tour to promote the album, although it would only comprise two dates. The first was held in Dallas, Texas on December 11 and reportedly went well. The second performance took place at The Warehouse in New Orleans, Louisiana, on December 12, 1970, where Morrison apparently had...
, calling himself "Mr. Mojo Risin' ". The use of anagrams and fabricated personal names may be to circumvent restrictions on the use of real names, as happened in the 18th century when
Edward Cave
Edward Cave
Edward Cave was an English printer, editor and publisher. In The Gentleman's Magazine he created the first general-interest "magazine" in the modern sense....
wanted to get around restrictions imposed on the reporting of the House of Commons. In a genre such as
farce
Farce
In theatre, a farce is a comedy which aims at entertaining the audience by means of unlikely, extravagant, and improbable situations, disguise and mistaken identity, verbal humour of varying degrees of sophistication, which may include word play, and a fast-paced plot whose speed usually increases,...
or
parody
Parody
A parody , in current usage, is an imitative work created to mock, comment on, or trivialise an original work, its subject, author, style, or some other target, by means of humorous, satiric or ironic imitation...
, anagrams as names may be used for pointed and satiric effect.
Pseudonyms adopted by
author
Author
An author is broadly defined as "the person who originates or gives existence to anything" and that authorship determines responsibility for what is created. Narrowly defined, an author is the originator of any written work.-Legal significance:...
s are sometimes transposed forms of their names; thus "Calvinus" becomes "Alcuinus" (here V = U) or "
François Rabelais
François Rabelais
François Rabelais was a major French Renaissance writer, doctor, Renaissance humanist, monk and Greek scholar. He has historically been regarded as a writer of fantasy, satire, the grotesque, bawdy jokes and songs...
" = "Alcofribas Nasier". The name "
Voltaire
Voltaire
François-Marie Arouet , better known by the pen name Voltaire , was a French Enlightenment writer, historian and philosopher famous for his wit and for his advocacy of civil liberties, including freedom of religion, free trade and separation of church and state...
" of François Marie Arouet fits this pattern, and is allowed to be an anagram of "Arouet, l[e] j[eune]" (U = V, J = I) that is, "Arouet the younger". Other examples: "
Arrigo Boito
Arrigo Boito
Arrigo Boito , aka Enrico Giuseppe Giovanni Boito, pseudonym Tobia Gorrio, was an Italian poet, journalist, novelist and composer, best known today for his libretti, especially those for Giuseppe Verdi's operas Otello and Falstaff, and his own opera Mefistofele...
" = "Tobia Gorrio"; "
Edward Gorey
Edward Gorey
Edward St. John Gorey was an American writer and artist noted for his macabre illustrated books.-Early life:...
" = "Ogdred Weary", = "Regera Dowdy" or = "E. G. Deadworry" (and others); "
Vladimir Nabokov
Vladimir Nabokov
Vladimir Vladimirovich Nabokov was a multilingual Russian novelist and short story writer. Nabokov wrote his first nine novels in Russian, then rose to international prominence as a master English prose stylist...
" = "Vivian Darkbloom", = "Vivian Bloodmark", = "Blavdak Vinomori" or = "Dorian Vivalcomb"; "Bryan Waller Proctor" = "Barry Cornwall, poet"; "(Sanche) de Gramont" = "
Ted Morgan
Ted Morgan
Ted Morgan is a French-American writer, biographer, journalist, and historian. He was born Comte St. Charles Armand Gabriel de Gramont in Geneva. He is the son of Gabriel Antoine Armand, Comte de Gramont , a hero of the French Resistance who became a French diplomat...
"; "
Dave Barry
Dave Barry
David "Dave" Barry is a Pulitzer Prize-winning American author and columnist, who wrote a nationally syndicated humor column for The Miami Herald from 1983 to 2005. He has also written numerous books of humor and parody, as well as comedic novels.-Biography:Barry was born in Armonk, New York,...
"="Ray Adverb"; "Declan Gunn" =
Glen Duncan
Glen Duncan
Glen Duncan is a British author born in 1965 in Bolton, Lancashire, England to an Anglo-Indian family. He studied philosophy and literature at the universities of Lancaster and Exeter....
; Dan Abnormal =
Damon Albarn
Damon Albarn
Damon Albarn is an English singer-songwriter and record producer who has been involved in many high profile projects, coming to prominence as the frontman and primary songwriter of Britpop band Blur...
;
Tom Cruise
Tom Cruise
Thomas Cruise Mapother IV , better known as Tom Cruise, is an American film actor and producer. He has been nominated for three Academy Awards and he has won three Golden Globe Awards....
= So I'm cuter; and so on. Several of these are "imperfect anagrams", letters having been left out in some cases for the sake of easy pronunciation.
Titles
Anagrams used for titles afford scope for some types of wit. Examples:
Shakespeare's Hamlet

Hamlet

The Tragical History of Hamlet, Prince of Denmark, or more simply Hamlet, is a tragedy by William Shakespeare, believed to have been written between 1599 and 1601...


is an anagram for the Danish Prince Amleth.
Homer Hickam, Jr.'s book Rocket Boys

Rocket Boys

Rocket Boys is the first memoir in a series of three, by Homer Hickam, Jr. It is a story of growing up in a mining town, and a boy's pursuit of amateur rocketry in a coal mining town. It won the in 1998, the year of its release. Today, it is one of the most often picked community/library reads in...


was adapted into the 1999 film October Sky

October Sky

October Sky is a 1999 American biographical film directed by Joe Johnston, starring Jake Gyllenhaal, Chris Cooper and Laura Dern. It is based on the true story of Homer Hickam, a coal miner's son who was inspired by the launch of Sputnik 1 to take up rocketry against his father's wishes, and who...


.
The tapes for the revival of BBC

BBC

The British Broadcasting Corporation is a British public service broadcaster. Its headquarters is at Broadcasting House in the City of Westminster, London. It is the largest broadcaster in the world, with about 23,000 staff...


show Doctor Who

Doctor Who

Doctor Who is a British science fiction television programme produced by the BBC. The programme depicts the adventures of a time-travelling humanoid alien known as the Doctor who explores the universe in a sentient time machine called the TARDIS that flies through time and space, whose exterior...


were labeled with the anagram Torchwood, which later went on to be used as the name for a spin-off show

Torchwood

Torchwood is a British science fiction television programme created by Russell T Davies. The series is a spin-off from Davies's 2005 revival of the long-running science fiction programme Doctor Who. The show has shifted its broadcast channel each series to reflect its growing audience, moving from...


.
The New Wave band Missing Persons' best-selling album was called Spring Session M

Spring Session M

Spring Session M is the debut album by American new wave band Missing Persons, released in 1982 . The title of the album is an anagram of the band's name. Tracks from this album: "Words", "Windows", "Destination Unknown", and "Walking in LA" all had videos created and all received heavy play on...


.
Hip-hop artist MF DOOM

MF Doom

Daniel Dumile is a hip hop artist who has taken on several stage names in his career, most notably MF DOOM, where the "MF" stands for metal face, and for tracks he has produced, metal fingers...


recorded a 2004 album called MM..FOOD.
Brian Eno

Brian Eno

Brian Peter George St. John le Baptiste de la Salle Eno , commonly known as Brian Eno or simply as Eno , is an English musician, composer, record producer, singer and visual artist, known as one of the principal innovators of ambient music.Eno studied at Colchester Institute art school in Essex,...


's album Before and After Science includes a song entitled "King's Lead Hat", an anagram of "Talking Heads

Talking Heads

Talking Heads were an American New Wave and avant-garde band formed in 1975 in New York City and active until 1991. The band comprised David Byrne, Chris Frantz, Tina Weymouth and Jerry Harrison...


", a band Eno has worked with.
Juan Maria Solare

Juan María Solare

Juan María Solare is an Argentine composer and pianist.-Education:Born in Buenos Aires, Argentina, Solare studied and received his diploma in piano , composition and conducting at the Conservatorio Nacional de Música Carlos López Buchardo...


's piano ballad "Jura ser anomalía" (literally "he/she swears to be an anomaly") is an anagram of the composer's full name.
Bill Evans

Bill Evans

William John Evans, known as Bill Evans was an American jazz pianist. His use of impressionist harmony, inventive interpretation of traditional jazz repertoire, and trademark rhythmically independent, "singing" melodic lines influenced a generation of pianists including: Chick Corea, Herbie...


's overdubbed piano elegy for fellow jazz pianist Sonny Clark

Sonny Clark

Conrad Yeatis "Sonny" Clark was an American jazz pianist who mainly worked in the hard bop idiom.-Biography:...


is titled "N.Y.C.'s No Lark," and another composition, "Re: Person I Knew" is a tribute to his producer, Orrin Keepnews

Orrin Keepnews

Orrin Keepnews is an American writer and jazz record producer. In June 2010, he received a lifetime achievement award from the National Endowment for the Arts.- Career :...


.
Imogen Heap

Imogen Heap

Imogen Jennifer Jane Heap is a Grammy Award-winning English singer, composer and songwriter from Havering, Essex. She is known for her work as part of the musical duo Frou Frou and her solo albums, which she writes, produces, and mixes...


's album iMegaphone has a title that is an anagram of the singer's name.
Games and puzzles
Anagrams are in themselves a recreational activity, but they also make up part of many other games, puzzles and
game show
Game show
A game show is a type of radio or television program in which members of the public, television personalities or celebrities, sometimes as part of a team, play a game which involves answering questions or solving puzzles usually for money and/or prizes...
s. The
Jumble
Jumble
Jumble is a word puzzle with a clue, a drawing illustrating the clue, and a set of words, each of which is "jumbled" by permuting its letters to make an anagram. A solver reconstructs the words, then arranges letters at marked positions in the words to spell the answer to the clue...
is a puzzle found in many newspapers in the
United States
United States
The United States of America is a federal constitutional republic comprising fifty states and a federal district...
requiring the unscrambling of letters to find the solution.
Cryptic crossword
Cryptic crossword
Cryptic crosswords are crossword puzzles in which each clue is a word puzzle in and of itself. Cryptic crosswords are particularly popular in the United Kingdom, where they originated, Ireland, the Netherlands, and in several Commonwealth nations, including Australia, Canada, India, Kenya, Malta,...
puzzles frequently use anagrammatic clues, usually indicating that they are anagrams by the inclusion of a descriptive term like "confused" or "in disarray". An example would be
Businessman burst into tears (9 letters)
. The solution,
stationer
, is an anagram of
into tears
, the letters of which have
burst
out of their original arrangement to form the name of a type of
businessman
.
Numerous other games and contests involve some element of anagram formation as a basic skill. Some examples:
In Anagrams

Anagrams

Anagrams, Pirate Scrabble, Anagram, Snatch, or Grabscrab is a board-free word game that involves rearranging letter tiles to form words....


, players flip tiles over one at a time and race to take words. They can "steal" each others' words by rearranging the letters and extending the words.
In a version of Scrabble

Scrabble

Scrabble is a word game in which two to four players score points by forming words from individual lettered tiles on a game board marked with a 15-by-15 grid. The words are formed across and down in crossword fashion and must appear in a standard dictionary. Official reference works provide a list...


called Clabbers

Clabbers

Clabbers is a game played by tournament Scrabble players for fun, or occasionally at Scrabble variant tournaments. The name derives from the fact that the words CLABBERS and SCRABBLE form an anagram pair.-Rules:...


, the name itself being an anagram of Scrabble, tiles may be placed in any order on the board as long as they anagram to a valid word.
On the British game show Countdown

Countdown (game show)

Countdown is a British game show involving word and number puzzles. It is produced by ITV Studios and broadcast on Channel 4. It is presented by Jeff Stelling, assisted by Rachel Riley, with regular lexicographer Susie Dent. It was the first programme to be aired on Channel 4, and over sixty-five...


, contestants are given 30 seconds to make the longest word from nine random letters.
In Boggle

Boggle

Boggle is a word game designed by Allan Turoff and trademarked by Parker Brothers, a division of Hasbro. The game is played using a plastic grid of lettered dice, in which players attempt to find words in sequences of adjacent letters.-Rules:...


, players make constrained words from a grid of sixteen random letters, by joining adjacent cubes.
On the British game show BrainTeaser

BrainTeaser

BrainTeaser was a British game show, first broadcast in 2002, produced by Endemol UK subsidiary Cheetah Productions.BrainTeaser was live, with phone-in viewer puzzles being announced and played during the show in addition to the studio game...


, contestants are shown a word broken into randomly arranged segments and must announce the whole word. At the end of the game there is a "Pyramid" which starts with a three-letter word. A letter appears in the line below to which the player must add the existing letters to find a solution. The pattern continues until the player reaches the final eight-letter anagram. The player wins the game by solving all the anagrams within the allotted time.
In Bananagrams

Bananagrams

Bananagrams is a word game invented by Abraham Nathanson of Narragansett, Rhode Island, wherein lettered tiles are used to spell words.Nathanson conceived and developed the idea for the game with the help of his family...


, players place tiles from a pool into crossword-style

Crossword Puzzle

For the common puzzle, see CrosswordCrossword Puzzle was the second to last album made by The Partridge Family and was not one of the most popular albums. It was released in 1973 and did not produce a U.S. single. This album was finally released on CD in 2003 on Arista's BMG Heritage label...


word arrangements in a race to see who can finish the pool of tiles first.
Ciphers
Multiple anagramming is a technique used to solve some kinds of cryptograms, such as a
permutation cipher
Permutation cipher
In classical cryptography, a permutation cipher is a transposition cipher in which the key is a permutation.To apply a cipher, a random permutation of size e is generated...
, a
transposition cipher
Transposition cipher
In cryptography, a transposition cipher is a method of encryption by which the positions held by units of plaintext are shifted according to a regular system, so that the ciphertext constitutes a permutation of the plaintext. That is, the order of the units is changed...
, and the
Jefferson disk
Jefferson disk
The Jefferson disk, or wheel cypher as Jefferson named it, also known as the Bazeries Cylinder, is a cipher system using a set of wheels or disks, each with the 26 letters of the alphabet arranged around their edge. The order of the letters is different for each disk and is usually scrambled in...
.
Methods of construction
Sometimes it is possible to "see" anagrams in words, unaided by tools, though the more letters involved the more difficult this becomes.
Anagram dictionaries
Anagram dictionary
In the main type of anagram dictionary, the letters in words or phrases are rearranged in alphabetical order, and these transpositions are themselves then ordered alphabetically within word-length groups, so that any words consisting of this group of letters can be found. This arrangement is...
could also be used. Computer programs, known as "anagram servers", "anagram solvers" or "anagrammers", offer a much faster route to creating anagrams, and a large number of these programs are available on the
Internet
Internet
The Internet is a global system of interconnected computer networks that use the standard Internet protocol suite to serve billions of users worldwide...
. The
program
Computer program
A computer program is a sequence of instructions written to perform a specified task with a computer. A computer requires programs to function, typically executing the program's instructions in a central processor. The program has an executable form that the computer can use directly to execute...
or
server
Server (computing)
In the context of client-server architecture, a server is a computer program running to serve the requests of other programs, the "clients". Thus, the "server" performs some computational task on behalf of "clients"...
carries out an exhaustive search of a database of words, to produce a list containing every possible combination of words or phrases from the input word or phrase. Some programs (such as
Lexpert
) restrict to one-word answers. Many anagram servers (for example, the
Internet Anagram Server
) can control the search results, by excluding or including certain words, limiting the number or length of words in each anagram, or limiting the number of results. Anagram solvers are often banned from online anagram games. The disadvantage of computer anagram solvers, especially when applied to multi-word anagrams, is their poor understanding of the meaning of the words they are manipulating. They usually cannot filter out meaningful or appropriate anagrams from large numbers of nonsensical word combinations. Some servers attempt to improve on this using statistical techniques that try to combine only words that appear together often. This approach provides only limited success since it fails to recognize ironic and humorous combinations.
Some anagrammatists indicate the method they used. Anagrams constructed without aid of a computer are noted as having been done "manually" or "by hand"; those made by utilizing a computer may be noted "by machine" or "by computer", or may indicate the name of the computer program (using
Anagram Genius
).
There are also a few "natural" instances: English words unconsciously created by switching letters around. The French
chaise longue
("long chair") became the American "chaise lounge" by
metathesis
Metathesis (linguistics)
Metathesis is the re-arranging of sounds or syllables in a word, or of words in a sentence. Most commonly it refers to the switching of two or more contiguous sounds, known as adjacent metathesis or local metathesis:...
(transposition of letters and/or sounds). It has also been speculated that the English "curd" comes from the Latin
crudus
("raw").
Online anagram solvers
Various websites offer the ability to solve anagrams online. For example:
See also