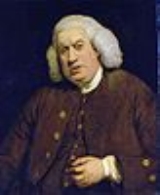 Samuel Johnson
Samuel Johnson
often referred to as
Dr. Johnson
, was an English author who made lasting contributions to
English literature
English literature
English literature is the literature written in the English language, including literature composed in English by writers not necessarily from England; for example, Robert Burns was Scottish, James Joyce was Irish, Joseph Conrad was Polish, Dylan Thomas was Welsh, Edgar Allan Poe was American, J....
as a poet, essayist, moralist, literary critic, biographer, editor and lexicographer. Johnson was a devout
Anglican
Anglicanism
Anglicanism is a tradition within Christianity comprising churches with historical connections to the Church of England or similar beliefs, worship and church structures. The word Anglican originates in ecclesia anglicana, a medieval Latin phrase dating to at least 1246 that means the English...
and committed
Tory
Tory
Toryism is a traditionalist and conservative political philosophy which grew out of the Cavalier faction in the Wars of the Three Kingdoms. It is a prominent ideology in the politics of the United Kingdom, but also features in parts of The Commonwealth, particularly in Canada...
, and has been described as "arguably the most distinguished man of letters in English history". He is also the subject of "the most famous single work of biographical art in the whole of literature":
James Boswell
James Boswell
James Boswell, 9th Laird of Auchinleck was a lawyer, diarist, and author born in Edinburgh, Scotland; he is best known for the biography he wrote of one of his contemporaries, the English literary figure Samuel Johnson....
's
Life of Samuel Johnson
.
Johnson was born in
Lichfield
Lichfield
Lichfield is a cathedral city, civil parish and district in Staffordshire, England. One of eight civil parishes with city status in England, Lichfield is situated roughly north of Birmingham...
, Staffordshire, and attended
Pembroke College, Oxford
Pembroke College, Oxford
Pembroke College is one of the constituent colleges of the University of Oxford in England, located in Pembroke Square. As of 2009, Pembroke had an estimated financial endowment of £44.9 million.-History:...
for just over a year, before his lack of funds forced him to leave.
This mournful truth is ev'rywhere confessed — Slow rises worth, by poverty depressed.

London: A Poem (1738), lines 176-177
Unmoved though Witlings sneer and Rivals rail, Studious to please, yet not ashamed to fail. He scorns the meek address, the suppliant strain. With merit needless, and without it vain. In Reason, Nature, Truth, he dares to trust: Ye Fops, be silent: and ye Wits, be just.

The Tragedy of Irene (1749), Prologue
That man is little to be envied whose patriotism would not gain force upon the plain of Marathon, or whose piety would not grow warmer among the ruins of Iona.

Journey to the Western Islands (1775), Inch Kenneth
How is it that we hear the loudest yelps for liberty among the drivers of negroes?

Taxation No Tyranny (1775)