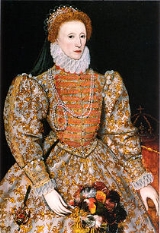 Elizabeth I of England
Elizabeth I
was
queen regnant
Queen regnant
A queen regnant is a female monarch who reigns in her own right, in contrast to a queen consort, who is the wife of a reigning king. An empress regnant is a female monarch who reigns in her own right over an empire....
of
England
Kingdom of England
The Kingdom of England was, from 927 to 1707, a sovereign state to the northwest of continental Europe. At its height, the Kingdom of England spanned the southern two-thirds of the island of Great Britain and several smaller outlying islands; what today comprises the legal jurisdiction of England...
and
Ireland
Kingdom of Ireland
The Kingdom of Ireland refers to the country of Ireland in the period between the proclamation of Henry VIII as King of Ireland by the Crown of Ireland Act 1542 and the Act of Union in 1800. It replaced the Lordship of Ireland, which had been created in 1171...
from 17 November 1558 until her death. Sometimes called
The Virgin Queen
,
Gloriana
, or
Good Queen Bess
, Elizabeth was the fifth and last monarch of the Tudor dynasty. The daughter of
Henry VIII
Henry VIII of England
Henry VIII was King of England from 21 April 1509 until his death. He was Lord, and later King, of Ireland, as well as continuing the nominal claim by the English monarchs to the Kingdom of France...
, she was born a princess, but her mother,
Anne Boleyn
Anne Boleyn
Anne Boleyn ;c.1501/1507 – 19 May 1536) was Queen of England from 1533 to 1536 as the second wife of Henry VIII of England and Marquess of Pembroke in her own right. Henry's marriage to Anne, and her subsequent execution, made her a key figure in the political and religious upheaval that was the...
, was executed two and a half years after her birth, and Elizabeth was declared illegitimate. Her half-brother,
Edward VI
Edward VI of England
Edward VI was the King of England and Ireland from 28 January 1547 until his death. He was crowned on 20 February at the age of nine. The son of Henry VIII and Jane Seymour, Edward was the third monarch of the Tudor dynasty and England's first monarch who was raised as a Protestant...
, bequeathed the crown to
Lady Jane Grey
Lady Jane Grey
Lady Jane Grey , also known as The Nine Days' Queen, was an English noblewoman who was de facto monarch of England from 10 July until 19 July 1553 and was subsequently executed...
, cutting his half-sisters out of the succession.
1558 Elizabethan era begins: Queen Mary I of England dies and is succeeded by her half-sister Elizabeth I of England.
1559 Elizabeth I is crowned Queen of England in Westminster Abbey, London.
1568 Queen Elizabeth I of England orders the arrest of Mary, Queen of Scots.
1570 Pope Pius V excommunicates Queen Elizabeth I of England.
1586 Mary, Queen of Scots, goes on trial for conspiracy against Elizabeth I of England.
1597 William Shakespeare's ''The Merry Wives of Windsor'' is first performed, with Queen Elizabeth I in attendance.
Much suspected by me,Nothing proved can be, Quoth Elizabeth prisoner.

Written with a diamond on her window at Woodstock (1555), published in Acts and Monuments (1563) by John Foxe|John Foxe
This is the Lord's doing, and it is marvelous in our eyes.

Her reaction when she was told she was Queen (1558-11-17)
Kings were wont to honour philosophers, but if I had such I would honour them as angels that should have such piety in them that they would not seek where they are the second to be the first, and where the third to be the second and so forth.

Response to Parliament (October 1566)
Though I be a woman yet I have as good a courage answerable to my place as ever my father had. I am your anointed Queen. I will never be by violence constrained to do anything. I thank God I am endued with such qualities that if I were turned out of the Realm in my petticoat I were able to live in any place in Christendom.

Response to Parliament (October 1566)
I will make you shorter by the head.

Response to Parliament (October 1566)
The use of the sea and air is common to all; neither can a title to the ocean belong to any people or private persons, forasmuch as neither nature nor public use and custom permit any possession thereof.

To the Spanish Ambassador (1580)
Brass shines as fair to the ignorant as gold to the goldsmiths.

Letter (1581)
I grieve and dare not show my discontent, I love and yet am forced to seem to hate, I do, yet dare not say I ever meant, I seem stark mute but inwardly do prate.

"On François, Duke of Anjou|Monsieur's Departure" (February 1582)
Must is not a word to be used to princes! Little man, little man, if your late father were here he would never dare utter such a word.

To Robert Cecil, 1st Earl of Salisbury|Robert Cecil when he said, in her final illness (March 1603), that she must go to bed.