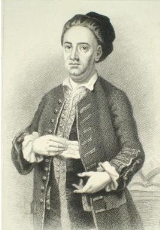 Edward Cave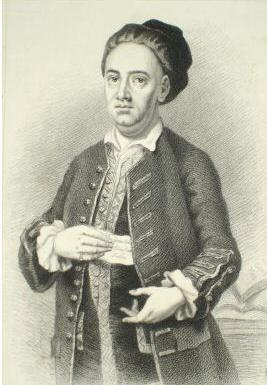 Edward Cave
was an
English
England
England is a country that is part of the United Kingdom. It shares land borders with Scotland to the north and Wales to the west; the Irish Sea is to the north west, the Celtic Sea to the south west, with the North Sea to the east and the English Channel to the south separating it from continental...
printer, editor and publisher. In
The Gentleman's Magazine
The Gentleman's Magazine
The Gentleman's Magazine was founded in London, England, by Edward Cave in January 1731. It ran uninterrupted for almost 200 years, until 1922. It was the first to use the term "magazine" for a periodical...
he created the first general-interest "
magazine
Magazine
Magazines, periodicals, glossies or serials are publications, generally published on a regular schedule, containing a variety of articles. They are generally financed by advertising, by a purchase price, by pre-paid magazine subscriptions, or all three...
" in the modern sense.
The son of a cobbler, Cave was born in
Newton
Newton, Warwickshire
Newton is a small village and civil parish in the Rugby borough of Warwickshire, England.Newton is located around four miles north east of Rugby, and is close to the A5 road which marks the border with Leicestershire....
near
Rugby, Warwickshire
Rugby, Warwickshire
Rugby is a market town in Warwickshire, England, located on the River Avon. The town has a population of 61,988 making it the second largest town in the county...
and attended
Rugby School
Rugby School
Rugby School is a co-educational day and boarding school located in the town of Rugby, Warwickshire, England. It is one of the oldest independent schools in Britain.-History:...
, but was expelled after being accused of stealing from the headmaster
Henry Holyoake
Henry Holyoake
-Life:Holyoake was probably born in Warwickshire in 1657, the son of Thomas Holyoake and Anne his wife, and the grandson of Francis Holyoake. He was elected to a choristership at Magdalen College, Oxford, which he resigned in 1676, having matriculated from that college on 12 March 1674. He became...
. He worked at a variety of jobs, including timber merchant, reporter and printer. He conceived the idea of a periodical that would cover every topic the educated public was interested in, from commerce to poetry, and tried to convince several London printers and booksellers to take up the idea. When no one showed any interest, Cave took on the task by himself.
The Gentleman's Magazine
was launched in 1731 and soon became the most influential and most imitated periodical of its time. It also made Cave wealthy.
Cave was an astute businessman. He devoted all his energy to the magazine, and rarely left its offices at
St John's Gate, Clerkenwell
St John's Gate, Clerkenwell
St John's Gate is one of the few tangible remains from Clerkenwell's monastic past; it was built in 1504 by Prior Thomas Docwra as the south entrance to the inner precinct of the Priory of the Knights of Saint John - the Knights Hospitallers. The substructure is of brick, the north and south...
. He made use of a large number of contributors, most famously
Samuel Johnson
Samuel Johnson
Samuel Johnson , often referred to as Dr. Johnson, was an English author who made lasting contributions to English literature as a poet, essayist, moralist, literary critic, biographer, editor and lexicographer...
, who was always grateful to Cave for having provided his principal employment for many years. Cave himself often contributed pieces to the Magazine under the pen name of
Sylvanus Urban
.
He also obtained a licence from
Lewis Paul
Lewis Paul
Lewis Paul was the original inventor of roller spinning, the basis of the water frame for spinning cotton in a cotton mill.-Life and work:Lewis Paul was of Huguenot descent. His father was physician to Lord Shaftesbury...
for 250 spindles for his
patent
Patent
A patent is a form of intellectual property. It consists of a set of exclusive rights granted by a sovereign state to an inventor or their assignee for a limited period of time in exchange for the public disclosure of an invention....
roller-spinning machine, a precursor of the
water frame
Water frame
The water frame is the name given to the spinning frame, when water power is used to drive it. Both are credited to Richard Arkwright who patented the technology in 1768. It was based on an invention by Thomas Highs and the patent was later overturned...
. In 1742 he bought
Marvel's Mill
Marvel's Mill
Marvel's Mill or Marvell's Mill on the River Nene in Northampton, England, was the world's second factory for spinning cotton, the first to be operated as a water mill, and the first to be driven by an inanimate power-source...
at
Northampton
Northampton
Northampton is a large market town and local government district in the East Midlands region of England. Situated about north-west of London and around south-east of Birmingham, Northampton lies on the River Nene and is the county town of Northamptonshire. The demonym of Northampton is...
and converted this to a
cotton mill
Cotton mill
A cotton mill is a factory that houses spinning and weaving machinery. Typically built between 1775 and 1930, mills spun cotton which was an important product during the Industrial Revolution....
, probably the first water-powered
spinning
Spinning (textiles)
Spinning is a major industry. It is part of the textile manufacturing process where three types of fibre are converted into yarn, then fabric, then textiles. The textiles are then fabricated into clothes or other artifacts. There are three industrial processes available to spin yarn, and a...
mill in the world. This is apparently profitable, but only modestly so. It closed in (or possibly soon after) 1761.
Cave suffered from
gout
Gout
Gout is a medical condition usually characterized by recurrent attacks of acute inflammatory arthritis—a red, tender, hot, swollen joint. The metatarsal-phalangeal joint at the base of the big toe is the most commonly affected . However, it may also present as tophi, kidney stones, or urate...
. He is buried at
St. James Church
St James Church, Clerkenwell
St James Church, Clerkenwell is an Anglican parish church in Clerkenwell, London, England.- Nunnery of St Mary: c. 1100 - 1539 :The parish of St James, Clerkenwell, has had a long and sometimes lively history. The springs which give Clerkenwell its name are mentioned during the reign of Henry II...
,
Clerkenwell
Clerkenwell
Clerkenwell is an area of central London in the London Borough of Islington. From 1900 to 1965 it was part of the Metropolitan Borough of Finsbury. The well after which it was named was rediscovered in 1924. The watchmaking and watch repairing trades were once of great importance...
.
External links