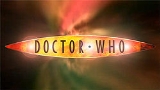 Doctor Who
Doctor Who
is a British
science fiction television
Science fiction on television
Science fiction first appeared on a television program during the Golden Age of Science Fiction. Special effects and other production techniques allow creators to present a living visual image of an imaginary world not limited by the constraints of reality; this makes television an excellent medium...
programme produced by the
BBC
BBC
The British Broadcasting Corporation is a British public service broadcaster. Its headquarters is at Broadcasting House in the City of Westminster, London. It is the largest broadcaster in the world, with about 23,000 staff...
. The programme depicts the adventures of a
time-travelling
Time Lord
The Time Lords are an ancient extraterrestrial race and civilization of humanoids in the British science fiction television series Doctor Who, of which the series' eponymous protagonist, the Doctor, is a member...
humanoid alien known as
the Doctor
Doctor (Doctor Who)
The Doctor is the central character in the long-running BBC television science-fiction series Doctor Who, and has also featured in two cinema feature films, a vast range of spin-off novels, audio dramas and comic strips connected to the series....
who explores the universe in a sentient time machine called the
TARDIS
TARDIS
The TARDISGenerally, TARDIS is written in all upper case letters—this convention was popularised by the Target novelisations of the 1970s...
that flies through time and space, whose exterior appears as a blue
police box
Police box
A police box is a British telephone kiosk or callbox located in a public place for the use of members of the police, or for members of the public to contact the police...
. Along with a succession of
companions
Companion (Doctor Who)
In the long-running BBC television science fiction programme Doctor Who and related works, the term "companion" refers to a character who travels with, and shares the adventures of the Doctor. In most Doctor Who stories, the primary companion acts as both deuteragonist and audience surrogate...
, he faces a variety of foes while working to save civilisations, help people, and right wrongs.
The programme is listed in
Guinness World Records
Guinness World Records
Guinness World Records, known until 2000 as The Guinness Book of Records , is a reference book published annually, containing a collection of world records, both human achievements and the extremes of the natural world...
as the longest-running
science fiction
Science fiction
Science fiction is a genre of fiction dealing with imaginary but more or less plausible content such as future settings, futuristic science and technology, space travel, aliens, and paranormal abilities...
television show in the world, and as the "most successful" science fiction series of all time, in terms of its overall broadcast ratings, DVD and book sales, iTunes traffic, and "illegal downloads".