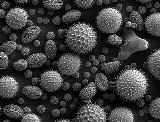 Allergen
An
allergen
is any substance that can cause an
allergy
Allergy
An Allergy is a hypersensitivity disorder of the immune system. Allergic reactions occur when a person's immune system reacts to normally harmless substances in the environment. A substance that causes a reaction is called an allergen. These reactions are acquired, predictable, and rapid...
. In technical terms, an allergen is a non-parasitic
antigen
Antigen
An antigen is a foreign molecule that, when introduced into the body, triggers the production of an antibody by the immune system. The immune system will then kill or neutralize the antigen that is recognized as a foreign and potentially harmful invader. These invaders can be molecules such as...
capable of stimulating a type-I hypersensitivity reaction in
atopic
Atopy
Atopy or atopic syndrome is a predisposition toward developing certain allergic hypersensitivity reactions.Atopy may have a hereditary component, although contact with the allergen must occur before the hypersensitivity reaction can develop ....
individuals.
Most humans mount significant
Immunoglobulin E
Immunoglobulin E
Immunoglobulin E is a class of antibody that has been found only in mammals. IgE is a monomeric antibody with 4 Ig-like domains...
(IgE) responses only as a defense against parasitic infections. However, some individuals mount an IgE response against common environmental
antigen
Antigen
An antigen is a foreign molecule that, when introduced into the body, triggers the production of an antibody by the immune system. The immune system will then kill or neutralize the antigen that is recognized as a foreign and potentially harmful invader. These invaders can be molecules such as...
s. This hereditary predisposition is called
atopy
Atopy
Atopy or atopic syndrome is a predisposition toward developing certain allergic hypersensitivity reactions.Atopy may have a hereditary component, although contact with the allergen must occur before the hypersensitivity reaction can develop ....
. In atopic individuals, non-parasitic antigens stimulate inappropriate IgE production, leading to
type I hypersensitivity
Type I hypersensitivity
Type I hypersensitivity is an allergic reaction provoked by reexposure to a specific type of antigen referred to as an allergen, or to a nonimmunologic stimulus like cold weather or exercise...
. Sensitivities vary widely from one person (or other animal) to another. A very broad range of substances can be allergens to sensitive individuals.
Types of allergies
Dust mite excretion,
pollen
Pollen
Pollen is a fine to coarse powder containing the microgametophytes of seed plants, which produce the male gametes . Pollen grains have a hard coat that protects the sperm cells during the process of their movement from the stamens to the pistil of flowering plants or from the male cone to the...
and pet
dander
Dander
Dander is an informal term for a material shed from the body of various animals, similar to dandruff. It may contain scales of dried skin and hair, or feathers. It is a cause of allergies in humans....
are all common allergens, but it is possible to be allergic to anything from
chlorine
Chlorine
Chlorine is the chemical element with atomic number 17 and symbol Cl. It is the second lightest halogen, found in the periodic table in group 17. The element forms diatomic molecules under standard conditions, called dichlorine...
to
perfume
Perfume
Perfume is a mixture of fragrant essential oils and/or aroma compounds, fixatives, and solvents used to give the human body, animals, objects, and living spaces "a pleasant scent"...
to
royal jelly
Royal jelly
Royal jelly is a honey bee secretion that is used in the nutrition of larvae, as well as adult queens. It is secreted from the glands in the hypopharynx of worker bees, and fed to all larvae in the colony....
. Food allergies are not as common as food sensitivity, but some foods such as
peanut
Peanut
The peanut, or groundnut , is a species in the legume or "bean" family , so it is not a nut. The peanut was probably first cultivated in the valleys of Peru. It is an annual herbaceous plant growing tall...
s (a
legume
),
nut
Nut (fruit)
A nut is a hard-shelled fruit of some plants having an indehiscent seed. While a wide variety of dried seeds and fruits are called nuts in English, only a certain number of them are considered by biologists to be true nuts...
s,
seafood
Seafood
Seafood is any form of marine life regarded as food by humans. Seafoods include fish, molluscs , crustaceans , echinoderms . Edible sea plants, such as some seaweeds and microalgae, are also seafood, and are widely eaten around the world, especially in Asia...
and
shellfish
Shellfish
Shellfish is a culinary and fisheries term for exoskeleton-bearing aquatic invertebrates used as food, including various species of molluscs, crustaceans, and echinoderms. Although most kinds of shellfish are harvested from saltwater environments, some kinds are found only in freshwater...
are the cause of serious allergies in many people.
Officially, the United States
Food and Drug Administration
Food and Drug Administration
The Food and Drug Administration is an agency of the United States Department of Health and Human Services, one of the United States federal executive departments...
does recognize eight foods as being common for allergic reactions in a large segment of the sensitive population. These include peanuts, tree nuts, eggs, milk, shellfish, fish, wheat and their derivatives, and soy and their derivatives, as well as sulfites (chemical based, often found in flavors and colors in foods) at 10ppm and over. See the FDA website for complete details. It should be noted that other countries, in view of the differences in the genetic profiles of their citizens and different levels of exposure to specific foods due to different dietery habits, the "official" allergen list will change. Canada recognizes all eight of the allergens recognized by the US, and also recognizes sesame seeds, and mustard . The
European Union
European Union
The European Union is an economic and political union of 27 independent member states which are located primarily in Europe. The EU traces its origins from the European Coal and Steel Community and the European Economic Community , formed by six countries in 1958...
additionally recognizes celery.
A few people have been recorded to be allergic to certain chemicals found in almost all
water
Water
Water is a chemical substance with the chemical formula H2O. A water molecule contains one oxygen and two hydrogen atoms connected by covalent bonds. Water is a liquid at ambient conditions, but it often co-exists on Earth with its solid state, ice, and gaseous state . Water also exists in a...
, and even water itself (see
Aquagenic pruritus
Aquagenic pruritus
Aquagenic pruritus is a skin disease characterized by the development of severe, intense, prickling-like epidermal itching that is without observable skin lesions and that is evoked by contact with water.-Presentation:...
).
Another type of allergen is
urushiol
Urushiol
Urushiol is an oily organic allergen found in plants of the family Anacardiaceae, especially Toxicodendron spp. . It causes an allergic skin rash on contact, known as urushiol-induced contact dermatitis...
, a resin produced by poison ivy and
poison oak
Poison oak
Poison oak may refer to* Toxicodendron diversilobum, grows on West Coast of North America* Toxicodendron pubescens, grows in the Eastern United Statesdamnnnnn tissss is terribleee...
. It causes the skin rash condition known as
urushiol-induced contact dermatitis
Urushiol-induced contact dermatitis
Urushiol-induced contact dermatitis is the medical name given to allergic rashes produced by the oil urushiol, which is contained in various plants, including the plants of the genus Toxicodendron , other plants in the family Anacardiaceae Urushiol-induced contact dermatitis (also called...
by changing a skin cell's configuration so that it is no longer recognized by the immune system as part of the body. A little over half of North Americans are known to be allergic to urushiol and repeated exposure can increase one's sensitivity to the allergen.
An allergic reaction can be caused by any form of direct contact with the allergen—consuming food or drink one is sensitive to (ingestion), breathing in pollen, perfume or pet dander (inhalation), or brushing a body part against an allergy-causing plant (direct contact, generally resulting in hives). Other common causes of serious allergy are
wasp
Wasp
The term wasp is typically defined as any insect of the order Hymenoptera and suborder Apocrita that is neither a bee nor an ant. Almost every pest insect species has at least one wasp species that preys upon it or parasitizes it, making wasps critically important in natural control of their...
,
fire ant
Fire ant
Fire ants are a variety of stinging ants with over 285 species worldwide. They have several common names, including ginger ants, tropical fire ants and red ants.- Appearance :...
and
bee
Bee
Bees are flying insects closely related to wasps and ants, and are known for their role in pollination and for producing honey and beeswax. Bees are a monophyletic lineage within the superfamily Apoidea, presently classified by the unranked taxon name Anthophila...
stings,
penicillin
Penicillin
Penicillin is a group of antibiotics derived from Penicillium fungi. They include penicillin G, procaine penicillin, benzathine penicillin, and penicillin V....
, and
latex
Latex
Latex is the stable dispersion of polymer microparticles in an aqueous medium. Latexes may be natural or synthetic.Latex as found in nature is a milky fluid found in 10% of all flowering plants . It is a complex emulsion consisting of proteins, alkaloids, starches, sugars, oils, tannins, resins,...
. An extremely serious form of an allergic reaction is called
anaphylaxis
Anaphylaxis
Anaphylaxis is defined as "a serious allergic reaction that is rapid in onset and may cause death". It typically results in a number of symptoms including throat swelling, an itchy rash, and low blood pressure...
. One form of treatment is the administration of sterile
epinephrine
Epinephrine
Epinephrine is a hormone and a neurotransmitter. It increases heart rate, constricts blood vessels, dilates air passages and participates in the fight-or-flight response of the sympathetic nervous system. In chemical terms, adrenaline is one of a group of monoamines called the catecholamines...
to the person experiencing anaphylaxis, which suppresses the body's overreaction to the allergen, and allows for the patient to be transported to a medical facility.
Fungal allergens
In 1952 basidiospores were described as being possible airborne allergens and were linked to asthma in 1969. Basidiospore are the dominant airborne fungal allergens. Fungal allergy is associated with seasonal asthma. They are considered to be a major source of airborne allergens. The basidospore family include mushrooms, rusts, smuts, brackets, and puffballs. The airborne spores from mushrooms reach levels comparable to those of mold and pollens. The levels of mushroom respiratory allergy are as high as 30 percent of those with allergic disorder, but it is believed to be less than 1 percent of food allergies. Heavy rainfall (which increases fungal spore release) is associated with increased hospital admissions of children with asthma. A study in New Zealand found that 22 percent of patients with respiratory allergic disorders tested positive for basidiospores allergies. Mushroom spore allergies can cause either immediate allergic symptomatology or delayed allergic reactions. Those with asthma are more likely to have immediate allergic reactions and those with allergic rhinitis are more likely to have delayed allergic responses. A study found that 27 percent of patients were allergic to basidiomycete mycelia extracts and 32 percent were allergic to basidiospore extracts, thus demonstrating the high incidence of fungal sensitisation in individuals with suspected allergies. It has been found that of basidiomycete cap, mycelia, and spore extracts that spore extracts are the most reliable extract for diagnosing basidiomycete allergy.
In Canada, 8% of children attending allergy clinics were found to be allergic to
Ganoderma
Ganoderma
Ganoderma is a genus of polypore mushrooms which grow on wood and include about 80 species, many from tropical regions. Because of their extensive use in traditional Asian medicines, and their potential in bioremediation, they are a very important genus economically. Ganoderma can be differentiated...
, a basidiospore. Pleurotus ostreatus,
cladosporium
Cladosporium
Cladosporium is a genus of fungi including some of the most common indoor and outdoor molds. Species produce olive-green to brown or black colonies, and have dark-pigmented conidia that are formed in simple or branching chains....
, and
calvatia cyathiformis
Calvatia cyathiformis
Calvatia cyathiformis, or Purple-spored Puffball, is a large edible saprobic species of Calvatia. This terrestrial puffball, has purplish or purple-brown spores, which distinguish it from other large Lycoperdales. It is found mostly in prairie or grasslands of North America, Australia, and probably...
are significant airborne spores. Other significant fungal allergens include
aspergillus
Aspergillus
Aspergillus is a genus consisting of several hundred mold species found in various climates worldwide. Aspergillus was first catalogued in 1729 by the Italian priest and biologist Pier Antonio Micheli...
and
alternaria
Alternaria
Alternaria is a genus of ascomycete fungi. Alternaria species are known as major plant pathogens. They are also common allergens in humans, growing indoors and causing hay fever or hypersensitivity reactions that sometimes lead to asthma...
-
penicillin
Penicillin
Penicillin is a group of antibiotics derived from Penicillium fungi. They include penicillin G, procaine penicillin, benzathine penicillin, and penicillin V....
families. In India fomes pectinatis is a predominant air-borne allergen affecting up to 22 percent of patients with respiratory allergies. Some fungal air-bourne allergens such as
coprinus comatus
Coprinus comatus
Coprinus comatus, the shaggy ink cap, lawyer's wig, or shaggy mane, is a common fungus often seen growing on lawns, along gravel roads and waste areas. The young fruit bodies first appear as white cylinders emerging from the ground, then the bell-shaped caps open out. The caps are white, and...
are associated with worsening of eczematous skin lesions. Children who are born during autumn months (during fungal spore season) are more likely to develop asthmatic symptoms later in life.
Common allergens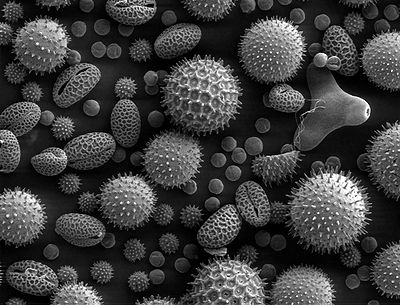 In addition to foreign proteins found in foreign serum (from
blood transfusion
Blood transfusion
Blood transfusion is the process of receiving blood products into one's circulation intravenously. Transfusions are used in a variety of medical conditions to replace lost components of the blood...
s) and
vaccine
Vaccine
A vaccine is a biological preparation that improves immunity to a particular disease. A vaccine typically contains an agent that resembles a disease-causing microorganism, and is often made from weakened or killed forms of the microbe or its toxins...
s, common allergens include:
Animal products

Fel d 1

Fel d 1

Fel d 1 is a protein that in cats is encoded by the CH1 and CH2 genes.Fel d 1, produced largely by cat saliva and sebaceous glands, is the primary allergen present on cats. The protein is of an unknown function to the animal but causes an IgG or IgE reaction in sensitive humans...


(cat allergy)
fur

Fur

Fur is a synonym for hair, used more in reference to non-human animals, usually mammals; particularly those with extensives body hair coverage. The term is sometimes used to refer to the body hair of an animal as a complete coat, also known as the "pelage". Fur is also used to refer to animal...


and dander

Dander

Dander is an informal term for a material shed from the body of various animals, similar to dandruff. It may contain scales of dried skin and hair, or feathers. It is a cause of allergies in humans....



cockroach

Cockroach

Cockroaches are insects of the order Blattaria or Blattodea, of which about 30 species out of 4,500 total are associated with human habitations...


calyx
wool

Wool

Wool is the textile fiber obtained from sheep and certain other animals, including cashmere from goats, mohair from goats, qiviut from muskoxen, vicuña, alpaca, camel from animals in the camel family, and angora from rabbits....



dust mite excretion

Drug

Drug allergy

A drug allergy is an allergy to a drug, most commonly a medication. Medical attention should be sought immediately if an allergic reaction is suspected....


s

penicillin

Penicillin

Penicillin is a group of antibiotics derived from Penicillium fungi. They include penicillin G, procaine penicillin, benzathine penicillin, and penicillin V....



sulfonamides
salicylates (also found naturally in numerous fruit

Fruit

In broad terms, a fruit is a structure of a plant that contains its seeds.The term has different meanings dependent on context. In non-technical usage, such as food preparation, fruit normally means the fleshy seed-associated structures of certain plants that are sweet and edible in the raw state,...


s)

Food

Food allergy

A food allergy is an adverse immune response to a food protein. They are distinct from other adverse responses to food, such as food intolerance, pharmacological reactions, and toxin-mediated reactions....


s
Insect sting

Insect sting allergy

Insect sting allergy is the term commonly given to the allergic response of an animal in response to the bite or sting of an insect. Typically, insects which generate allergic responses are either stinging insects or biting insects...


s

bee

Bee

Bees are flying insects closely related to wasps and ants, and are known for their role in pollination and for producing honey and beeswax. Bees are a monophyletic lineage within the superfamily Apoidea, presently classified by the unranked taxon name Anthophila...


sting venom
wasp

Wasp

The term wasp is typically defined as any insect of the order Hymenoptera and suborder Apocrita that is neither a bee nor an ant. Almost every pest insect species has at least one wasp species that preys upon it or parasitizes it, making wasps critically important in natural control of their...


sting venom
mosquito

Mosquito

Mosquitoes are members of a family of nematocerid flies: the Culicidae . The word Mosquito is from the Spanish and Portuguese for little fly...


stings

Mold spore

Spore

In biology, a spore is a reproductive structure that is adapted for dispersal and surviving for extended periods of time in unfavorable conditions. Spores form part of the life cycles of many bacteria, plants, algae, fungi and some protozoa. According to scientist Dr...


s
Other

latex

Latex allergy

Latex allergy is a medical term encompassing a range of allergic reactions to natural rubber latex.-Type I:The most serious and rare form, type I is an immediate and potentially life-threatening reaction, not unlike the severe reaction some people have to bee stings...



metal

Metal

A metal , is an element, compound, or alloy that is a good conductor of both electricity and heat. Metals are usually malleable and shiny, that is they reflect most of incident light...




Plant pollen

Pollen

Pollen is a fine to coarse powder containing the microgametophytes of seed plants, which produce the male gametes . Pollen grains have a hard coat that protects the sperm cells during the process of their movement from the stamens to the pistil of flowering plants or from the male cone to the...


s (hay fever

Hay Fever

Hay Fever is a comic play written by Noël Coward in 1924 and first produced in 1925 with Marie Tempest as the first Judith Bliss. Laura Hope Crews played the role in New York...


)

grass

Grass

Grasses, or more technically graminoids, are monocotyledonous, usually herbaceous plants with narrow leaves growing from the base. They include the "true grasses", of the Poaceae family, as well as the sedges and the rushes . The true grasses include cereals, bamboo and the grasses of lawns ...


— ryegrass

Ryegrass

Ryegrass is a genus of nine species of tufted grasses in the Pooideae subfamily of the Poaceae family. Also called tares , these plants are native to Europe, Asia and northern Africa, but are...


, timothy-grass

Timothy-grass

Timothy-grass , is an abundant perennial grass native to most of Europe except for the Mediterranean region. It grows to 50–150 cm tall, with leaves up to 45 cm long and 1 cm broad. The flowerhead is 7–15 cm long and 8–10 mm broad, with densely packed spikelets...



weed

Weed

A weed in a general sense is a plant that is considered by the user of the term to be a nuisance, and normally applied to unwanted plants in human-controlled settings, especially farm fields and gardens, but also lawns, parks, woods, and other areas. More specifically, the term is often used to...


s — ragweed

Ragweed

Ragweeds are flowering plants in the genus Ambrosia in the sunflower family Asteraceae. Common names include bitterweeds and bloodweeds....


, plantago

Plantago

Plantago is a genus of about 200 species of small, inconspicuous plants commonly called plantains. They share this name with the very dissimilar plantain, a kind of banana. Most are herbaceous plants, though a few are subshrubs growing to 60 cm tall. The leaves are sessile, but have a narrow...


, nettle

Nettle

Nettles constitute between 24 and 39 species of flowering plants of the genus Urtica in the family Urticaceae, with a cosmopolitan though mainly temperate distribution. They are mostly herbaceous perennial plants, but some are annual and a few are shrubby...


, artemisia vulgaris

Artemisia vulgaris

Artemisia vulgaris is one of several species in the genus Artemisia which have common names that include the word mugwort. This species is also occasionally known as Felon Herb, Chrysanthemum Weed, Wild Wormwood, Old uncle Henry, Sailor's Tobacco, Naughty Man, Old Man or St...


, chenopodium album

Chenopodium album

Chenopodium album is a fast-growing weedy annual plant in the genus Chenopodium.Though cultivated in some regions, the plant is elsewhere considered a weed...


, sorrel

Sorrel

Common sorrel or garden sorrel , often simply called sorrel, is a perennial herb that is cultivated as a garden herb or leaf vegetable...



tree

Tree

A tree is a perennial woody plant. It is most often defined as a woody plant that has many secondary branches supported clear of the ground on a single main stem or trunk with clear apical dominance. A minimum height specification at maturity is cited by some authors, varying from 3 m to...


s — birch

Birch

Birch is a tree or shrub of the genus Betula , in the family Betulaceae, closely related to the beech/oak family, Fagaceae. The Betula genus contains 30–60 known taxa...


, alder

Alder

Alder is the common name of a genus of flowering plants belonging to the birch family . The genus comprises about 30 species of monoecious trees and shrubs, few reaching large size, distributed throughout the North Temperate Zone and in the Americas along the Andes southwards to...


, hazel

Hazel

The hazels are a genus of deciduous trees and large shrubs native to the temperate northern hemisphere. The genus is usually placed in the birch family Betulaceae, though some botanists split the hazels into a separate family Corylaceae.They have simple, rounded leaves with double-serrate margins...


, hornbeam

Hornbeam

Hornbeams are relatively small hardwood trees in the genus Carpinus . Though some botanists grouped them with the hazels and hop-hornbeams in a segregate family, Corylaceae, modern botanists place the hornbeams in the birch subfamily Coryloideae...


, aesculus

Aesculus

The genus Aesculus comprises 13-19 species of woody trees and shrubs native to the temperate northern hemisphere, with 6 species native to North America and 7-13 species native to Eurasia; there are also several hybrids. Species are deciduous or evergreen...


, willow

Willow

Willows, sallows, and osiers form the genus Salix, around 400 species of deciduous trees and shrubs, found primarily on moist soils in cold and temperate regions of the Northern Hemisphere...


, poplar

Poplar

Populus is a genus of 25–35 species of deciduous flowering plants in the family Salicaceae, native to most of the Northern Hemisphere. English names variously applied to different species include poplar , aspen, and cottonwood....


, platanus

Platanus

Platanus is a small genus of trees native to the Northern Hemisphere. They are the sole living members of the family Platanaceae....


, tilia

Tilia

Tilia is a genus of about 30 species of trees native throughout most of the temperate Northern Hemisphere. The greatest species diversity is found in Asia, and the genus also occurs in Europe and eastern North America, but not western North America...


, olea

Olea

Olea is a genus of about 40 species in the family Oleaceae, native to warm temperate and tropical regions of southern Europe, Africa, southern Asia and Australasia. They are evergreen trees and shrubs, with small, opposite, entire leaves...


, Ashe juniper
Seasonal allergies
Seasonal allergy symptoms are commonly experienced part of the year, usually during
spring
Spring (season)
Spring is one of the four temperate seasons, the transition period between winter and summer. Spring and "springtime" refer to the season, and broadly to ideas of rebirth, renewal and regrowth. The specific definition of the exact timing of "spring" varies according to local climate, cultures and...
,
summer
Summer
Summer is the warmest of the four temperate seasons, between spring and autumn. At the summer solstice, the days are longest and the nights are shortest, with day-length decreasing as the season progresses after the solstice...
or fall when certain trees or grasses pollinate. This depends on the kind of tree or grass. For instance, some trees such as
oak
Oak
An oak is a tree or shrub in the genus Quercus , of which about 600 species exist. "Oak" may also appear in the names of species in related genera, notably Lithocarpus...
,
elm
Elm
Elms are deciduous and semi-deciduous trees comprising the genus Ulmus in the plant family Ulmaceae. The dozens of species are found in temperate and tropical-montane regions of North America and Eurasia, ranging southward into Indonesia. Elms are components of many kinds of natural forests...
, and
maple
Maple
Acer is a genus of trees or shrubs commonly known as maple.Maples are variously classified in a family of their own, the Aceraceae, or together with the Hippocastanaceae included in the family Sapindaceae. Modern classifications, including the Angiosperm Phylogeny Group system, favour inclusion in...
pollinate in the spring, while grasses such as
Bermuda
Cynodon dactylon
Cynodon dactylon , also known as Dūrvā Grass, Bermuda Grass, Dubo, Dog's Tooth Grass, Bahama Grass, Devil's Grass, Couch Grass, Indian Doab, Arugampul, Grama, and Scutch Grass, is a grass native to north and east Africa, Asia and Australia and southern Europe...
, timothy and orchard pollinate in the summer.
Grass allergy is generally linked to hay fever because their symptoms and causes are somehow similar to each other. Symptoms include rhinitis, which causes sneezing and a runny nose, as well as
allergic conjunctivitis
Allergic conjunctivitis
Allergic conjunctivitis is inflammation of the conjunctiva due to allergy. Although allergens differ between patients, the most common cause is hay fever. Symptoms consist of redness , oedema of the conjunctiva, itching and increased lacrimation...
, which includes watering and itchy eyes. Also an initial tickle on the roof of the mouth or in the back of the throat may be experienced.
Also, depending on the season, the symptoms may be more severe and people may experience coughing, wheezing, and irritability. A few people even become depressed, lose their
appetite
Appetite
The appetite is the desire to eat food, felt as hunger. Appetite exists in all higher life-forms, and serves to regulate adequate energy intake to maintain metabolic needs. It is regulated by a close interplay between the digestive tract, adipose tissue and the brain. Decreased desire to eat is...
, or have problems sleeping. Moreover, since the sinuses may also become congested, some people experience headaches.
If both parents suffered from allergies in the past, there is a 66% chance for the individual to suffer from seasonal allergies, and the risk lowers to 60% if just one parent had suffered from allergies. The immune system also has strong influence on seasonal allergies, since it reacts differently to diverse allergens like pollen. When an allergen enters the body of an individual that is predisposed to allergies, it triggers an immune reaction and the production of antibodies. These allergen antibodies migrate to mast cells lining the nose, eyes and lungs. When an allergen drifts into the nose more than once, mast cells release a slew of chemicals or histamines that irritate and inflame the moist membranes lining the nose and produce the symptoms of an allergic reaction: scratchy throat, itching, sneezing and watery eyes. Some symptoms that differentiate allergies from a cold include:
No fever or muscle ache.
Mucous secretions are runny and clear.
Sneezes occurring in rapid and several sequences.
Itchy throat, ears and nose.
These symptoms usually last longer than 7–10 days.
Among seasonal allergies, there are some allergens that fuse together and produce a new type of allergy. For instance, grass pollen allergens cross-react with food allergy proteins in vegetables such as onion, lettuce, carrots, celery and corn. Besides, the cousins of birch pollen allergens, like apples, grapes, peaches, celery and apricots, produce severe itching in the ears and throat. The cypress pollen allergy brings a cross reactivity between diverse species like olive, privet, ash and Russian olive tree pollen allergens. In some rural areas there is another form of seasonal grass allergy, combining airborne particles of pollen mixed with mold.
Recent research has suggested that humans might develop allergies as a defense to fight off parasites. According to Yale University Immunologist Dr
Ruslan Medzhitov
Ruslan Medzhitov
Ruslan M. Medzhitov, Ph.D., the David W. Wallace Professor of Immunobiology at Yale School of Medicine, a member of Yale Cancer Center and a Howard Hughes Medical Institute investigator...
, protease allergens cleave the same sensor proteins that evolved to detect proteases produced by the parasitic worms. Additionally, a new report on seasonal allergies called "Extreme allergies and Global Warming", have found that many allergy triggers are worsening due to climate change. 16 states in the United States were named as "Allergen Hotspots" for large increases in allergenic tree pollen if global warming pollution keeps increasing. Therefore, researchers on this report claimed that global warming is bad news for millions of asthmatics in the United States whose asthma attacks are triggered by seasonal allergies. Indeed, seasonal allergies are one of the main triggers for asthma, along with colds or flu, cigarette smoke and exercise. In Canada, for example, up to 75% of asthmatics also have seasonal allergies.
Seasonal Allergy Diagnosis
Based on the symptoms seen on the patient, the answers given in terms of symptom evaluation and a physical exam, doctors can make a diagnosis to identify if the patient has a seasonal allergy. After performing the diagnosis, the doctor is able to tell the main cause of the allergic reaction and recommend the treatment to follow. 2 tests have to be done in order to determine the cause: a blood test and a skin test. Allergists do skin tests in one of two ways: either dropping some purified liquid of the allergen onto the skin and pricking the area with a small needle; or injecting a small amount of allergen under the skin.
Alternative tools are available to identify seasonal allergies, such as laboratory tests, imaging tests and nasal endoscopy. In the laboratory tests, the doctor will take a nasal smear and it will be examined microscopically for factors that may indicate a cause: increased numbers of eosinophils (white blood cells), which indicates an allergic condition. If there is a high count of eosinophils, an allergic condition might be present.
Another laboratory test is the blood test for IgE (immunoglobulin production), such as the radioallergosorbent Test (RAST), implemented to detect high levels of allergen-specific IgE in response to particular allergens. Although blood tests are less accurate than the skin tests, they can be performed on patients unable to undergo skin testing. Imaging tests can be useful to detect sinusitis in people suffering from chronic rhinitis, and they can work when other test results are ambiguous. There is also nasal endoscopy, wherein a tube is inserted through the nose with a small camera to view the passageways and examine any irregularities in the nose structure. Endoscopy can be used for some cases of chronic or unresponsive seasonal rhinitis.
Treatment
Treatment includes over-the-counter medications, antihistamines, nasal decongestants, allergy shots, and
alternative medicine
Alternative medicine
Alternative medicine is any healing practice, "that does not fall within the realm of conventional medicine." It is based on historical or cultural traditions, rather than on scientific evidence....
.
In the case of nasal symptoms, antihistamines are normally the first option. They may be taken together with
pseudoephedrine
Pseudoephedrine
Pseudoephedrine is a sympathomimetic drug of the phenethylamine and amphetamine chemical classes. It is used as a nasal/sinus decongestant and stimulant, or as a wakefulness-promoting agent....
to help relieve a stuffy nose and they can stop the itching and sneezing. Some over-the-counter options are
Benadryl
Benadryl
Benadryl is a brand name allergy medicine marketed over-the-counter by Johnson & Johnson subsidiary McNeil Consumer Healthcare. Prior to 2007, Benadryl was marketed by Pfizer Consumer Healthcare...
and Tavist. However, these antihistamines may cause extreme drowsiness, therefore, people are advised to not operate heavy machinery or drive while taking this kind of medication. Other side effects include dry
mouth
Mouth
The mouth is the first portion of the alimentary canal that receives food andsaliva. The oral mucosa is the mucous membrane epithelium lining the inside of the mouth....
, blurred vision,
constipation
Constipation
Constipation refers to bowel movements that are infrequent or hard to pass. Constipation is a common cause of painful defecation...
, difficulty with
urination
Urination
Urination, also known as micturition, voiding, peeing, weeing, pissing, and more rarely, emiction, is the ejection of urine from the urinary bladder through the urethra to the outside of the body. In healthy humans the process of urination is under voluntary control...
, confusion, and light-headedness.
There is also a newer second generation of antihistamines that are generally classified as the "non-sedating antihistamines" or anti-drowsy, which include
cetirizine
Cetirizine
Cetirizine , a second-generation antihistamine, is a major metabolite of hydroxyzine, and a racemic selective H1 receptor inverse agonist used in the treatment of allergies, hay fever, angioedema, and urticaria.-Availability:...
,
loratadine
Loratadine
Loratadine is a second-generation H1 histamine antagonist drug used to treat allergies. Structurally, it is closely related to tricyclic antidepressants such as imipramine, and distantly related to the atypical antipsychotic quetiapine. It is marketed by Schering-Plough under several trade names...
, and
fexofenadine
Fexofenadine
Fexofenadine is an antihistamine drug used in the treatment of hayfever and similar allergy symptoms...
.
An example of nasal decongestants is pseudoephedrine and its side-effects include
insomnia
Insomnia
Insomnia is most often defined by an individual's report of sleeping difficulties. While the term is sometimes used in sleep literature to describe a disorder demonstrated by polysomnographic evidence of disturbed sleep, insomnia is often defined as a positive response to either of two questions:...
,
restlessness
Anxiety
Anxiety is a psychological and physiological state characterized by somatic, emotional, cognitive, and behavioral components. The root meaning of the word anxiety is 'to vex or trouble'; in either presence or absence of psychological stress, anxiety can create feelings of fear, worry, uneasiness,...
, and difficulty urinating. Some other
nasal spray
Nasal spray
Nasal sprays come in a variety of forms. Medicated such as Astelin, Afrin and Nasonex and natural such as Sinusoothe and Sterimar. Although delivery methods vary, most nasal sprays function by instilling a fine mist into the nostril by action of a hand-operated pump mechanism.-Antihistamine nasal...
s are available by prescription, including
Azelastine
Azelastine
Azelastine is a potent, second-generation, selective, histamine antagonist manufactured by MedaPharma. According to the Allergic Rhinitis and its Impact on Asthma treatment guidelines, intranasal anti-histamines are recommended for the first line therapy of mild intermittent, moderate/severe...
and
Ipratropium
Ipratropium
Ipratropium bromide is an anticholinergic drug used for the treatment of chronic obstructive pulmonary disease and acute asthma. It blocks the muscarinic acetylcholine receptors in the smooth muscles of the bronchi in the lungs, opening the bronchi...
. Some of their side-effects include drowsiness.
For eye symptoms, it is important to first bath the eyes with plain eyewashes to reduce the irritation. People should not wear contact lenses during episodes of conjunctivitis.
Allergy shots, also called
immunotherapy
Immunotherapy
Immunotherapy is a medical term defined as the "treatment of disease by inducing, enhancing, or suppressing an immune response". Immunotherapies designed to elicit or amplify an immune response are classified as activation immunotherapies. While immunotherapies that reduce or suppress are...
, are also available and are especially recommended for people who cannot tolerate allergy medications or who severe symptoms, and also for those who develop asthma during pollen season.
Immunotherapy contains a small amount of the substance that triggers the allergic reactions and it should start after the pollen season to get prepared for the next season.
Natural remedies are another option that patients look to for relief. One of the most popular recently is the European herb butterbur (Petasites hybridus). The British Medical Journal published a study in which Swiss researchers proved how one tablet of butterbur four times daily was as effective as an antihistamine in controlling symptoms of hay fever. On a second study, a group of British researchers gave their approval to butterbur's effectiveness in battling symptoms of grass allergy. Other herbal supplements that function as remedies include freeze-dried nettles and a tonic made from the goldenseal herb, which doctors recommend in addition to saline nasal spray (another natural remedy).
See also
Links