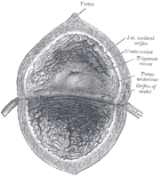 Urination
Urination
, also known as
micturition
,
voiding
,
peeing
,
weeing
,
pissing
, and more rarely,
emiction
, is the ejection of
urine
Urine
Urine is a typically sterile liquid by-product of the body that is secreted by the kidneys through a process called urination and excreted through the urethra. Cellular metabolism generates numerous by-products, many rich in nitrogen, that require elimination from the bloodstream...
from the
urinary bladder
Urinary bladder
The urinary bladder is the organ that collects urine excreted by the kidneys before disposal by urination. A hollow muscular, and distensible organ, the bladder sits on the pelvic floor...
through the
urethra
Urethra
In anatomy, the urethra is a tube that connects the urinary bladder to the genitals for the removal of fluids out of the body. In males, the urethra travels through the penis, and carries semen as well as urine...
to the outside of the body. In healthy humans the process of urination is under voluntary control. In infants, elderly individuals and those with neurological injury, urination may occur as an
involuntary
Involuntary
Involuntary is the antonym of voluntary. An involuntary action is one that occurs without volition or will; see volition and will . Involuntary may also refer to:*Involuntary , a 2008 Swedish film by Ruben Östlund...
reflex
Reflex
A reflex action, also known as a reflex, is an involuntary and nearly instantaneous movement in response to a stimulus. A true reflex is a behavior which is mediated via the reflex arc; this does not apply to casual uses of the term 'reflex'.-See also:...
.