 Weed
A
weed
in a general sense is a
plant
Plant
Plants are living organisms belonging to the kingdom Plantae. Precise definitions of the kingdom vary, but as the term is used here, plants include familiar organisms such as trees, flowers, herbs, bushes, grasses, vines, ferns, mosses, and green algae. The group is also called green plants or...
that is considered by the user of the term to be a nuisance, and normally applied to unwanted plants in human-controlled settings, especially
farm fields
Agriculture
Agriculture is the cultivation of animals, plants, fungi and other life forms for food, fiber, and other products used to sustain life. Agriculture was the key implement in the rise of sedentary human civilization, whereby farming of domesticated species created food surpluses that nurtured the...
and
garden
Garden
A garden is a planned space, usually outdoors, set aside for the display, cultivation, and enjoyment of plants and other forms of nature. The garden can incorporate both natural and man-made materials. The most common form today is known as a residential garden, but the term garden has...
s, but also
lawn
Lawn
A lawn is an area of aesthetic and recreational land planted with grasses or other durable plants, which usually are maintained at a low and consistent height. Low ornamental meadows in natural landscaping styles are a contemporary option of a lawn...
s,
park
Park
A park is a protected area, in its natural or semi-natural state, or planted, and set aside for human recreation and enjoyment, or for the protection of wildlife or natural habitats. It may consist of rocks, soil, water, flora and fauna and grass areas. Many parks are legally protected by...
s,
woods
Forest
A forest, also referred to as a wood or the woods, is an area with a high density of trees. As with cities, depending where you are in the world, what is considered a forest may vary significantly in size and have various classification according to how and what of the forest is composed...
, and other areas. More specifically, the term is often used to describe any plants that grow and reproduce aggressively. Generally, a weed is a plant in an undesired place.
In
Weeds of the West
, the authors determined which plants to include in the book based on the following criterion, attributed to J.M. Torrell:
A plant that interferes with management objectives for a given area of land at a given point in time.
Harlan and deWet (1965) defined a weed more simply as "a generally unwanted organism that thrives in habitats disturbed by man."
Weeds may be unwanted for a number of reasons: they might be unsightly, or crowd out or restrict light to more desirable plants (especially crop plants) or use limited
nutrient
Nutrient
A nutrient is a chemical that an organism needs to live and grow or a substance used in an organism's metabolism which must be taken in from its environment. They are used to build and repair tissues, regulate body processes and are converted to and used as energy...
s from the
soil
Soil
Soil is a natural body consisting of layers of mineral constituents of variable thicknesses, which differ from the parent materials in their morphological, physical, chemical, and mineralogical characteristics...
. They can harbor and spread plant
pathogen
Pathogen
A pathogen gignomai "I give birth to") or infectious agent — colloquially, a germ — is a microbe or microorganism such as a virus, bacterium, prion, or fungus that causes disease in its animal or plant host...
s that infect and degrade the quality of
crop
Crop
Crop may refer to:* Crop, a plant grown and harvested for agricultural use* Crop , part of the alimentary tract of some animals* Crop , a modified whip used in horseback riding or disciplining humans...
or
horticultural
Horticulture
Horticulture is the industry and science of plant cultivation including the process of preparing soil for the planting of seeds, tubers, or cuttings. Horticulturists work and conduct research in the disciplines of plant propagation and cultivation, crop production, plant breeding and genetic...
plants. Some weeds are a nuisance because they have thorns or prickles, some have chemicals that cause skin irritation or are hazardous if eaten, or have parts that come off and attach to fur or clothes.
The term
weed
in its general sense is a subjective one, without any classification value, since a "weed" is not a weed when growing where it belongs or is wanted. Indeed, a number of "weeds" have been used in gardens or other cultivated-plant settings. 'Volunteer weeds' are crop plants from one year which are growing in the subsequent crop. An example of a crop weed that is grown in gardens is the
corncockle
Corncockle
Common Corncockle - also written "corn cockle" and "corn-cockle" and known locally simply as "the corncockle" -, is a slender pink flower of European wheat fields. In the 19th century, it was reported as a very common weed of wheat fields and its seeds were inadvertently included in harvested...
,
Agrostemma
Agrostemma
Agrostemma is a genus of annual plants in the Caryophyllaceae family, containing the species known as corncockles. Its best-known member is A. githago, the Common Corncockle, which is a native of Europe where it is simply called "the Corncockle". The species is a weed of cereals and other crops,...
, which was a common field weed exported from
Europe
Europe
Europe is, by convention, one of the world's seven continents. Comprising the westernmost peninsula of Eurasia, Europe is generally 'divided' from Asia to its east by the watershed divides of the Ural and Caucasus Mountains, the Ural River, the Caspian and Black Seas, and the waterways connecting...
along with
wheat
Wheat
Wheat is a cereal grain, originally from the Levant region of the Near East, but now cultivated worldwide. In 2007 world production of wheat was 607 million tons, making it the third most-produced cereal after maize and rice...
, but now sometimes grown as a garden plant.
Alternative definition
Professor Richard C. Lewontin of
Harvard University
Harvard University
Harvard University is a private Ivy League university located in Cambridge, Massachusetts, United States, established in 1636 by the Massachusetts legislature. Harvard is the oldest institution of higher learning in the United States and the first corporation chartered in the country...
defines weeds as plants that create environmental conditions in which they themselves cannot reproduce. He takes the example of pine trees that crowd out sunlight such that their own offspring cannot grow. Weeds continue to exist, because the environment is continually being disturbed to create open conditions for new generations, such as forest fires and human activity.
Distribution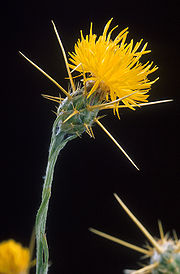 Weeds generally share similar
adaptation
Adaptation
An adaptation in biology is a trait with a current functional role in the life history of an organism that is maintained and evolved by means of natural selection. An adaptation refers to both the current state of being adapted and to the dynamic evolutionary process that leads to the adaptation....
s that give them advantages and allow them to proliferate in disturbed environments whose soil or natural vegetative cover has been damaged. Naturally occurring disturbed environments include
dune
Dune
In physical geography, a dune is a hill of sand built by wind. Dunes occur in different forms and sizes, formed by interaction with the wind. Most kinds of dunes are longer on the windward side where the sand is pushed up the dune and have a shorter "slip face" in the lee of the wind...
s and other windswept areas with shifting soils, alluvial flood plains, river banks and
delta
River delta
A delta is a landform that is formed at the mouth of a river where that river flows into an ocean, sea, estuary, lake, reservoir, flat arid area, or another river. Deltas are formed from the deposition of the sediment carried by the river as the flow leaves the mouth of the river...
s, and areas that are often burned. Since human agricultural practices often mimic these natural environments where weedy species have evolved, weeds have adapted to grow and proliferate in human-disturbed areas such as agricultural fields, lawns, roadsides, and construction sites. The weedy nature of these species often gives them an advantage over more desirable crop species because they often grow quickly and reproduce quickly, have seeds that persist in the
soil seed bank
Soil Seed Bank
The soil seed bank refers to the natural storage of seeds, often dormant, within the soil of most ecosystems. The study of soil seed banks started in 1859 when Charles Darwin observed the emergence of seedlings using soil samples from the bottom of a lake. The first scientific paper on the subject...
for many years, or have short lifespans with multiple generations in the same growing season. Perennial weeds often have underground stems that spread out under the soil surface or, like ground ivy (
Glechoma hederacea
Glechoma hederacea
Glechoma hederacea is an aromatic, perennial, evergreen creeper of the mint family Lamiaceae. It is commonly known as Ground-ivy, gill-over-the-ground or Creeping Charlie. It has numerous medicinal uses, and is commonly used as a tasty salad green in many countries...
), have creeping stems that root and spread out over the ground.
Some plants become dominant when introduced into new environments because they are freed from specialist consumers; in what is sometimes called the "natural enemies hypothesis," plants freed from these specialist consumers may increase their competitive ability. In locations were predation and mutual competitive relationships no longer exist, some plants are able to increase allocation of resources into growth or reproduction. The weediness of some species that are introduced into new environments can be caused by the introduction of new chemicals; sometimes called the "novel weapons hypothesis," these introduced
allelopathy
Allelopathy
Allelopathy is a biological phenomenon by which an organism produces one or more biochemicals that influence the growth, survival, and reproduction of other organisms. These biochemicals are known as allelochemicals and can have beneficial or detrimental effects on the target organisms...
ic chemicals, which indigenous plants are not yet adapted to, may limit the growth of established plants or the germination and growth of seeds and seedlings.
Relation to humans
As long as humans have cultivated plants, weeds have been a problem. Weeds have even been mentioned in religious and literature texts like the following quotes from Genesis and a
Shakespearean
William Shakespeare
William Shakespeare was an English poet and playwright, widely regarded as the greatest writer in the English language and the world's pre-eminent dramatist. He is often called England's national poet and the "Bard of Avon"...
sonnet
Sonnet
A sonnet is one of several forms of poetry that originate in Europe, mainly Provence and Italy. A sonnet commonly has 14 lines. The term "sonnet" derives from the Occitan word sonet and the Italian word sonetto, both meaning "little song" or "little sound"...
:
"Cursed is the ground because of you; through painful toil you will eat of it all the days of your life. It will produce thorns and thistles for you, and you will eat the plants of the field. By the sweat of your brow you will eat your food until you return to the ground,"
"To thy fair flower add the rank smell of weeds: But why thy odour matcheth not thy show, The soil is this, that thou dost common grow."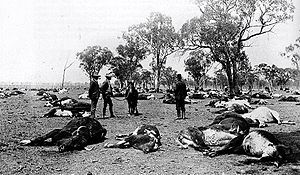 Weed seeds are often collected and transported with crops after the harvesting of
grain
GRAIN
GRAIN is a small international non-profit organisation that works to support small farmers and social movements in their struggles for community-controlled and biodiversity-based food systems. Our support takes the form of independent research and analysis, networking at local, regional and...
s. Many weed species have moved out of their natural geographic locations and have spread around the world with humans. (See
Invasive species
Invasive species
"Invasive species", or invasive exotics, is a nomenclature term and categorization phrase used for flora and fauna, and for specific restoration-preservation processes in native habitats, with several definitions....
.) Not all weeds have the same ability to damage crops and horticultural plants or cause harm to animals. Some have been classified as noxious weeds by governmental authorities because if left unchecked, they often dominate the environment where crop plants are to be grown or cause harm to
livestock
Livestock
Livestock refers to one or more domesticated animals raised in an agricultural setting to produce commodities such as food, fiber and labor. The term "livestock" as used in this article does not include poultry or farmed fish; however the inclusion of these, especially poultry, within the meaning...
. They are often foreign species mistakenly or accidentally imported into a region where there are few natural controls to limit their population and spread. Many weeds have ideal locations for growth and reproduction because of the large areas of open soil created by the conversion of land to field agriculture. Farming practices that produce unvegetated soils part of the year and human distribution of food crops mixed with seeds of weeds from other parts of the world have facilitated the colonization of vast new areas for many weedy species; humans are the vector of transport and the producer of disturbed environments, thus many weedy species have an ideal association with humans.
A number of weeds, such as the dandelion
Taraxacum
Taraxacum
Taraxacum is a large genus of flowering plants in the family Asteraceae. They are native to Eurasia and North America, and two species, T. officinale and T. erythrospermum, are found as weeds worldwide. Both species are edible in their entirety...
, are edible, and their leaves and roots may be used for
food
Food
Food is any substance consumed to provide nutritional support for the body. It is usually of plant or animal origin, and contains essential nutrients, such as carbohydrates, fats, proteins, vitamins, or minerals...
or herbal medicine.
Burdock
Burdock
Burdock is any of a group of biennial thistles in the genus Arctium, family Asteraceae. Native to the Old World, several species have been widely introduced worldwide....
is common weed over much of the world, and is sometimes used to make
soup
Soup
Soup is a generally warm food that is made by combining ingredients such as meat and vegetables with stock, juice, water, or another liquid. Hot soups are additionally characterized by boiling solid ingredients in liquids in a pot until the flavors are extracted, forming a broth.Traditionally,...
and other medicine in
East Asia
East Asia
East Asia or Eastern Asia is a subregion of Asia that can be defined in either geographical or cultural terms...
. These so-called "
beneficial weed
Beneficial weed
|thumb|right|Clover was once included in grass seed mixes, because of its great benefits to yard healthA beneficial weed is any of various plants not generally considered domesticated, but which nonetheless has some companion plant effect, or else is edible or somehow beneficial...
s" may have other beneficial effects, such as drawing away the attacks of crop-destroying
insect
Insect
Insects are a class of living creatures within the arthropods that have a chitinous exoskeleton, a three-part body , three pairs of jointed legs, compound eyes, and two antennae...
s, but often are breeding grounds for insects and pathogens that attack other plants. Dandelions are one of several species which break up
hardpan
Hardpan
In soil science, agriculture and gardening, hardpan or ouklip is a general term for a dense layer of soil, usually found below the uppermost topsoil layer. There are different types of hardpan, all sharing the general characteristic of being a distinct soil layer that is largely impervious to water...
in overly cultivated fields, helping crops grow deeper root systems. Some modern species of domesticated
flower
Flower
A flower, sometimes known as a bloom or blossom, is the reproductive structure found in flowering plants . The biological function of a flower is to effect reproduction, usually by providing a mechanism for the union of sperm with eggs...
actually originated as weeds in cultivated fields and have been bred by people into garden plants for their flowers or foliage.
Some people have appreciated weeds for their tenacity, their wildness and even the work and connection to nature they provide. As
Christopher Lloyd
Christopher Lloyd (gardener)
Christopher Hamilton Lloyd, OBE was a British gardener and author. He was the 20th Century chronicler for the heavily planted, labour-intensive, country garden.-Life:...
wrote in
The Well-Tempered Garden
"Many gardeners will agree that hand-weeding is not the terrible drudgery that it is often made out to be. Some people find in it a kind of soothing monotony. It leaves their minds free to develop the plot for their next novel or to perfect the brilliant repartee with which they should have encountered a relative's latest example of unreasonableness."
Shunryu Suzuki, the Zen master, is credited with proclaiming, "For Zen students, a weed is a treasure."
Perhaps the greatest defense of weeds is contained in the last stanza of Gerard Manley Hopkins' poem
Inversnaid:
"What would the world be, once bereft,

of wet and wildness? Let them be left.

O let them be left; wildness and wet;

Long live the weeds and the wilderness yet."
Plants Considered by Some to be Weeds
Ailanthus altissima
Bermuda grass - perennial, spreading by runners, rhizomes and seeds.
Bindweed

Bindweed

Bindweed may refer to:* Convolvulaceae , a family including about 60 genera and more than 1,650 species** Calystegia , a genus of about 25 species of flowering plants...



Broadleaf plantain

Broadleaf plantain

Plantago major is a species of Plantago, family Plantaginaceae. The plant is native to most of Europe and northern and central Asia. It is widely naturalised elsewhere in the world, where it is a common weed. As a result, it has many common names...


– perennial, spreads by seeds that persist in the soil for many years
Burdock

Burdock

Burdock is any of a group of biennial thistles in the genus Arctium, family Asteraceae. Native to the Old World, several species have been widely introduced worldwide....


– biennial
Cannabis

Cannabis

Cannabis is a genus of flowering plants that includes three putative species, Cannabis sativa, Cannabis indica, and Cannabis ruderalis. These three taxa are indigenous to Central Asia, and South Asia. Cannabis has long been used for fibre , for seed and seed oils, for medicinal purposes, and as a...



Clover

Clover

Clover , or trefoil, is a genus of about 300 species of plants in the leguminous pea family Fabaceae. The genus has a cosmopolitan distribution; the highest diversity is found in the temperate Northern Hemisphere, but many species also occur in South America and Africa, including at high altitudes...


- annual, biennial, or perennial
Common lambsquarters

Chenopodium album

Chenopodium album is a fast-growing weedy annual plant in the genus Chenopodium.Though cultivated in some regions, the plant is elsewhere considered a weed...


- annual
Creeping Charlie

Creeping charlie

Creeping charlie is a common name for several species of flowering plants:*Glechoma hederacea, also known as "ground ivy", in family Lamiaceae*Malva sylvestris, also known as "common mallow" or "high mallow" or "tall mallow", in family Malvaceae...


– perennial, fast-spreading plants with long creeping stems
Dandelion – perennial, wind-spread, fast-growing, and drought-tolerant
Goldenrod

Goldenrod

Solidago, commonly called goldenrods, is a genus of about 100 species of flowering plants in the family Asteraceae. Most are herbaceous perennial species found in the meadows and pastures, along roads, ditches and waste areas in North America. There are also a few species native to Mexico, South...


– perennial
Japanese Knotweed

Japanese knotweed

Japanese Knotweed is a large, herbaceous perennial plant, native to eastern Asia in Japan, China and Korea...



Kudzu

Kudzu

Kudzu is a plant in the genus Pueraria in the pea family Fabaceae, subfamily Faboideae. It is a climbing, coiling, and trailing vine native to southern Japan and southeast China. Its name comes from the Japanese name for the plant, . It is a weed that climbs over trees or shrubs and grows so...


– perennial
Leafy spurge

Leafy spurge

Euphorbia esula, commonly known as the Green Spurge or Leafy Spurge, is a species of spurge native to central and southern Europe , and eastward through most of Asia north of the Himalaya to Korea and eastern Siberia.It is a herbaceous perennial plant growing to 1-1.2 m tall, with several stems...


– perennial, with underground stems
Milk thistle

Milk thistle

The milk thistle is a thistle of the genus Silybum Adans., a flowering plant of the daisy family . They are native to the Mediterranean regions of Europe, North Africa and the Middle East...


– annual or biennial
Poison ivy

Poison ivy

Toxicodendron radicans, better known as poison ivy , is a poisonous North American plant that is well known for its production of urushiol, a clear liquid compound found within the sap of the plant that causes an itching rash in most people who touch it...


– perennial
Ragweed

Ragweed

Ragweeds are flowering plants in the genus Ambrosia in the sunflower family Asteraceae. Common names include bitterweeds and bloodweeds....


– annual
Sorrel

Sorrel

Common sorrel or garden sorrel , often simply called sorrel, is a perennial herb that is cultivated as a garden herb or leaf vegetable...


– annual
St John's wort

St John's wort

St John's wort is the plant species Hypericum perforatum, and is also known as Tipton's Weed, Chase-devil, or Klamath weed....


- perennial
Sumac

Sumac

Sumac is any one of approximately 250 species of flowering plants in the genus Rhus and related genera, in the family Anacardiaceae. Sumacs grow in subtropical and temperate regions throughout the world, especially in Africa and North America....


– woody perennial
Wild carrot

Wild carrot

Daucus carota is a flowering plant in the family Apiaceae, native to temperate regions of Europe, southwest Asia and naturalised to northeast North America and Australia; domesticated carrots are cultivars of a subspecies, Daucus carota subsp...


– biennial
Wood sorrel – perennial
Yellow nutsedge - perennial
External links