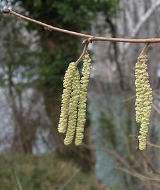 Hazel
The
hazels
are a genus of
deciduous
Deciduous
Deciduous means "falling off at maturity" or "tending to fall off", and is typically used in reference to trees or shrubs that lose their leaves seasonally, and to the shedding of other plant structures such as petals after flowering or fruit when ripe...
tree
Tree
A tree is a perennial woody plant. It is most often defined as a woody plant that has many secondary branches supported clear of the ground on a single main stem or trunk with clear apical dominance. A minimum height specification at maturity is cited by some authors, varying from 3 m to...
s and large
shrub
Shrub
A shrub or bush is distinguished from a tree by its multiple stems and shorter height, usually under 5–6 m tall. A large number of plants may become either shrubs or trees, depending on the growing conditions they experience...
s native to the temperate northern hemisphere. The genus is usually placed in the
birch
Birch
Birch is a tree or shrub of the genus Betula , in the family Betulaceae, closely related to the beech/oak family, Fagaceae. The Betula genus contains 30–60 known taxa...
family
Betulaceae
Betulaceae
Betulaceae, or the Birch Family, includes six genera of deciduous nut-bearing trees and shrubs, including the birches, alders, hazels, hornbeams and hop-hornbeams, numbering about 130 species...
, though some botanists split the hazels (with the
hornbeam
Hornbeam
Hornbeams are relatively small hardwood trees in the genus Carpinus . Though some botanists grouped them with the hazels and hop-hornbeams in a segregate family, Corylaceae, modern botanists place the hornbeams in the birch subfamily Coryloideae...
s and allied genera) into a separate family Corylaceae.
They have simple, rounded
leaves
Leaf
A leaf is an organ of a vascular plant, as defined in botanical terms, and in particular in plant morphology. Foliage is a mass noun that refers to leaves as a feature of plants....
with double-serrate margins. The
flower
Flower
A flower, sometimes known as a bloom or blossom, is the reproductive structure found in flowering plants . The biological function of a flower is to effect reproduction, usually by providing a mechanism for the union of sperm with eggs...
s are produced very early in spring before the leaves, and are
monoecious
Plant sexuality
Plant sexuality covers the wide variety of sexual reproduction systems found across the plant kingdom. This article describes morphological aspects of sexual reproduction of plants....
, with single-sex
catkin
Catkin
A catkin or ament is a slim, cylindrical flower cluster, with inconspicuous or no petals, usually wind-pollinated but sometimes insect pollinated . They contain many, usually unisexual flowers, arranged closely along a central stem which is often drooping...
s, the male pale yellow and 5–12 cm long, the female very small and largely concealed in the buds, with only the bright red 1–3 mm long styles visible. The
seed
Seed
A seed is a small embryonic plant enclosed in a covering called the seed coat, usually with some stored food. It is the product of the ripened ovule of gymnosperm and angiosperm plants which occurs after fertilization and some growth within the mother plant...
s are
nuts
Nut (fruit)
A nut is a hard-shelled fruit of some plants having an indehiscent seed. While a wide variety of dried seeds and fruits are called nuts in English, only a certain number of them are considered by biologists to be true nuts...
1–2.5 cm long and 1–2 cm diameter, surrounded by an involucre (husk) which partly to fully encloses the nut.
The shape and structure of the involucre, and also the growth habit (whether a tree or a suckering shrub), are important in the identification of the different species of hazel.
Species
There are 14–18 species of hazel. The circumscription of species in eastern Asia is disputed, with
WCSP
and the
Flora of China
differing in which taxa are accepted; within this region, only those taxa accepted by both sources are listed below. The species are grouped as follows:
Nut surrounded by a soft, leafy involucre

Involucre

Involucre may refer to* involucral bract, a bract, bract pair, or whorl of bracts surrounding a flower or inflorescence* a term sometimes misused for the cupule surrounding developing nuts in the Fagaceae...


. Multi-stemmed, suckering shrub

Shrub

A shrub or bush is distinguished from a tree by its multiple stems and shorter height, usually under 5–6 m tall. A large number of plants may become either shrubs or trees, depending on the growing conditions they experience...


s to 12m tall.

Involucre short, about the same length as the nut.
Involucre long, twice the length of the nut or more, forming a 'beak'.

Corylus colchica

Corylus colchica

Corylus colchica is species of hazelnut. It can tolerate more frost than many others of its genus. It produces small edible nuts in September. It is not commercially grown for food because the nuts are small in size. The nut's shell is oval and the nut is round...


—Colchican Filbert. Caucasus.
Corylus cornuta—Beaked Hazel. North America.
Corylus maxima—Filbert. Southeastern Europe and southwest Asia.
Corylus sieboldiana—Asian Beaked Hazel. Northeastern Asia and Japan (syn. C. mandshurica).

Nut surrounded by a stiff, spiny involucre. Single-stemmed tree

Tree

A tree is a perennial woody plant. It is most often defined as a woody plant that has many secondary branches supported clear of the ground on a single main stem or trunk with clear apical dominance. A minimum height specification at maturity is cited by some authors, varying from 3 m to...


s to 20–35 m tall.

Involucre moderately spiny and also with glandular hairs.

Corylus chinensis

Corylus chinensis

Corylus chinensis, common names Chinese filbert and Chinese Hazel, is a deciduous tree native to western China. This tree is considered vulnerable due of its rarity.-Description:...


—Chinese Hazel. Western China.
Corylus colurna—Turkish Hazel. Southeastern Europe and Asia Minor.
Corylus fargesii—Farges' Hazel. Western China.
Corylus jacquemontii—Jacquemont's Hazel. Himalaya.
Corylus wangii—Wang's Hazel. Southwest China.

Involucre densely spiny, resembling a chestnut burr.

Corylus ferox—Himalayan Hazel. Himalaya, Tibet and southwest China (syn. C. tibetica).
Several hybrids exist, and can occur between species in different sections of the genus, e.g.
Corylus × colurnoides
(
C. avellana
×
C. colurna
). The oldest confirmed hazel species is
Corylus johnsonii
Corylus johnsonii
Corylus johnsonii is an extinct species of hazel known from fossil fruits found in the Klondike Mountain Formation deposits of Northern Washington State, dated to the early Eocene Ypresian stage . Based on described features, C. johnsonii is the oldest definite species in the genus Corylus.The...
found as
fossil
Fossil
Fossils are the preserved remains or traces of animals , plants, and other organisms from the remote past...
s in the
Ypresian
Ypresian
In the geologic timescale the Ypresian is the oldest age or lowest stratigraphic stage of the Eocene. It spans the time between and , is preceded by the Thanetian age and is followed by the Eocene Lutetian age....
age rocks of
Ferry County, Washington
, USA.
Uses
The nuts of all hazels are edible. The
Common Hazel
Common Hazel
Corylus avellana, the Common Hazel, is a species of hazel native to Europe and western Asia, from the British Isles south to Iberia, Greece, Turkey and Cyprus, north to central Scandinavia, and east to the central Ural Mountains, the Caucasus, and northwestern Iran. It is an important component of...
is the species most extensively grown for its nuts, followed in importance by the
Filbert
Filbert
Corylus maxima, the Filbert, is a species of hazel native to southeastern Europe and southwestern Asia, from the Balkans to Ordu in Turkey....
. Nuts are also harvested from the other species, but apart from the Filbert, none is of significant commercial importance.
A number of
cultivar
Cultivar
A cultivar'Cultivar has two meanings as explained under Formal definition. When used in reference to a taxon, the word does not apply to an individual plant but to all those plants sharing the unique characteristics that define the cultivar. is a plant or group of plants selected for desirable...
s of the Common Hazel and Filbert are grown as
ornamental plant
Ornamental plant
Ornamental plants are plants that are grown for decorative purposes in gardens and landscape design projects, as house plants, for cut flowers and specimen display...
s in
garden
Garden
A garden is a planned space, usually outdoors, set aside for the display, cultivation, and enjoyment of plants and other forms of nature. The garden can incorporate both natural and man-made materials. The most common form today is known as a residential garden, but the term garden has...
s, including forms with contorted stems (
C. avellana
'Contorta', popularly known as "
Harry Lauder
Harry Lauder
Sir Henry Lauder , known professionally as Harry Lauder, was an international Scottish entertainer, described by Sir Winston Churchill as "Scotland's greatest ever ambassador!"-Early life:...
's walking stick" from its gnarled appearance); with weeping branches (
C. avellana
'Pendula'); and with purple leaves (
C. maxima
'Purpurea').
Hazels are used as food plants by the
larva
Larva
A larva is a distinct juvenile form many animals undergo before metamorphosis into adults. Animals with indirect development such as insects, amphibians, or cnidarians typically have a larval phase of their life cycle...
e of various species of
Lepidoptera
Lepidoptera
Lepidoptera is a large order of insects that includes moths and butterflies . It is one of the most widespread and widely recognizable insect orders in the world, encompassing moths and the three superfamilies of butterflies, skipper butterflies, and moth-butterflies...
; see list of Lepidoptera that feed on hazels.
Mythology and folklore
The Celts believed
hazelnuts
Hazelnut
A hazelnut is the nut of the hazel and is also known as a cob nut or filbert nut according to species. A cob is roughly spherical to oval, about 15–25 mm long and 10–15 mm in diameter, with an outer fibrous husk surrounding a smooth shell. A filbert is more elongated, being about twice...
gave one wisdom and inspiration. There are numerous variations on an ancient tale that nine hazel trees grew around a sacred pool, dropping into the water nuts that were eaten by salmon (a fish sacred to Druids) which absorbed the wisdom. The number of spots on the salmon were said to indicate how many nuts they had eaten.
A Druid teacher, in his bid to become omniscient, caught one of these special salmon and asked a student to cook the fish but not to eat it. While he was cooking it, hot liquid from the cooking fish splashed onto the pupil's thumb, which he naturally sucked to cool, thereby absorbing the fish's wisdom. This boy was called Fionn Mac Cumhail and went on to become one of the most heroic leaders in Gaelic mythology.
The Hazel Branch
, from
Grimm's Fairy Tales
Grimm's Fairy Tales
Children's and Household Tales is a collection of German origin fairy tales first published in 1812 by Jacob and Wilhelm Grimm, the Brothers Grimm. The collection is commonly known today as Grimms' Fairy Tales .-Composition:...
, claims that hazel branches offer the greatest protection from snakes and other things that creep on the earth.