 Agricultural machinery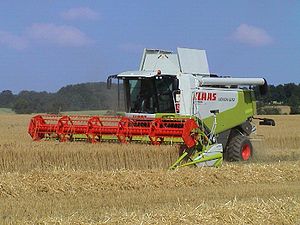 Agricultural machinery
is machinery used in the operation of an agricultural area or farm.
Hand tools
The first person to turn from the
hunting and gathering
Hunting and gathering
Hunting and gathering may refer to:*Hunting and gathering, the subsistence method based on edible plants and animals from the wild*Hunting and Gathering...
lifestyle to farming probably did so by using his bare
hand
Hand
A hand is a prehensile, multi-fingered extremity located at the end of an arm or forelimb of primates such as humans, chimpanzees, monkeys, and lemurs...
s, and perhaps some sticks or stones.
Tool
Tool
A tool is a device that can be used to produce an item or achieve a task, but that is not consumed in the process. Informally the word is also used to describe a procedure or process with a specific purpose. Tools that are used in particular fields or activities may have different designations such...
s such as
knives
Knife
A knife is a cutting tool with an exposed cutting edge or blade, hand-held or otherwise, with or without a handle. Knives were used at least two-and-a-half million years ago, as evidenced by the Oldowan tools...
,
scythe
Scythe
A scythe is an agricultural hand tool for mowing grass, or reaping crops. It was largely replaced by horse-drawn and then tractor machinery, but is still used in some areas of Europe and Asia. The Grim Reaper is often depicted carrying or wielding a scythe...
s, and
wood
Wood
Wood is a hard, fibrous tissue found in many trees. It has been used for hundreds of thousands of years for both fuel and as a construction material. It is an organic material, a natural composite of cellulose fibers embedded in a matrix of lignin which resists compression...
en plows were eventually developed, and dominated agriculture for thousands of years. During this time, almost everyone worked in agriculture, because each
family
Family
In human context, a family is a group of people affiliated by consanguinity, affinity, or co-residence. In most societies it is the principal institution for the socialization of children...
could barely raise enough food for themselves with the limited technology of the day.
The Industrial Revolution
With the coming of the
Industrial Revolution
Industrial Revolution
The Industrial Revolution was a period from the 18th to the 19th century where major changes in agriculture, manufacturing, mining, transportation, and technology had a profound effect on the social, economic and cultural conditions of the times...
and the development of more complicated machines, farming methods took a great leap forward. Instead of harvesting
grain
Cereal
Cereals are grasses cultivated for the edible components of their grain , composed of the endosperm, germ, and bran...
by hand with a sharp
blade
Blade
A blade is that portion of a tool, weapon, or machine with a cutting edge and/or a pointed tip that is designed to cut and/or puncture, stab, slash, chop, slice, thrust, or scrape animate or inanimate surfaces or materials...
,
wheel
Wheel
A wheel is a device that allows heavy objects to be moved easily through rotating on an axle through its center, facilitating movement or transportation while supporting a load, or performing labor in machines. Common examples found in transport applications. A wheel, together with an axle,...
ed machines cut a continuous swath. Instead of
threshing
Threshing
Threshing is the process of loosening the edible part of cereal grain from the scaly, inedible chaff that surrounds it. It is the step in grain preparation after harvesting and before winnowing, which separates the loosened chaff from the grain...
the grain by beating it with sticks,
threshing machine
Threshing machine
The thrashing machine, or, in modern spelling, threshing machine , was a machine first invented by Scottish mechanical engineer Andrew Meikle for use in agriculture. It was invented for the separation of grain from stalks and husks. For thousands of years, grain was separated by hand with flails,...
s separated the
seed
Seed
A seed is a small embryonic plant enclosed in a covering called the seed coat, usually with some stored food. It is the product of the ripened ovule of gymnosperm and angiosperm plants which occurs after fertilization and some growth within the mother plant...
s from the heads and stalks.
Steam power
Power
Power (physics)
In physics, power is the rate at which energy is transferred, used, or transformed. For example, the rate at which a light bulb transforms electrical energy into heat and light is measured in watts—the more wattage, the more power, or equivalently the more electrical energy is used per unit...
for agricultural machinery was originally supplied by horses or other domesticated animals. With the invention of steam power came the
portable engine
Portable engine
A portable engine is a small steam engine, mounted on wheels or skids, which is used for driving machinery using a belt from its flywheel. It is not self-propelled and is towed to the work site by horses or bullocks, or even a traction engine. Portable engines were used mainly for driving...
, and later the
traction engine
Traction engine
A traction engine is a self-propelled steam engine used to move heavy loads on roads, plough ground or to provide power at a chosen location. The name derives from the Latin tractus, meaning 'drawn', since the prime function of any traction engine is to draw a load behind it...
, a multipurpose, mobile
energy
Energy
In physics, energy is an indirectly observed quantity. It is often understood as the ability a physical system has to do work on other physical systems...
source that was the ground-crawling cousin to the
steam locomotive
Steam locomotive
A steam locomotive is a railway locomotive that produces its power through a steam engine. These locomotives are fueled by burning some combustible material, usually coal, wood or oil, to produce steam in a boiler, which drives the steam engine...
. Agricultural
steam engine
Steam engine
A steam engine is a heat engine that performs mechanical work using steam as its working fluid.Steam engines are external combustion engines, where the working fluid is separate from the combustion products. Non-combustion heat sources such as solar power, nuclear power or geothermal energy may be...
s took over the heavy pulling work of
horse
Horse
The horse is one of two extant subspecies of Equus ferus, or the wild horse. It is a single-hooved mammal belonging to the taxonomic family Equidae. The horse has evolved over the past 45 to 55 million years from a small multi-toed creature into the large, single-toed animal of today...
s, and were also equipped with a
pulley
Pulley
A pulley, also called a sheave or a drum, is a mechanism composed of a wheel on an axle or shaft that may have a groove between two flanges around its circumference. A rope, cable, belt, or chain usually runs over the wheel and inside the groove, if present...
that could power stationary machines via the use of a long
belt
Belt (mechanical)
A belt is a loop of flexible material used to link two or more rotating shafts mechanically. Belts may be used as a source of motion, to transmit power efficiently, or to track relative movement. Belts are looped over pulleys. In a two pulley system, the belt can either drive the pulleys in the...
. The steam-powered machines were low-powered by today's standards but, because of their size and their low
gear ratio
Gear ratio
The gear ratio of a gear train is the ratio of the angular velocity of the input gear to the angular velocity of the output gear, also known as the speed ratio of the gear train. The gear ratio can be computed directly from the numbers of teeth of the various gears that engage to form the gear...
s, they could provide a large
drawbar
Drawbar (haulage)
A drawbar is a solid coupling between a hauling vehicle and its hauled load. Drawbars are in common use with rail transport, road trailers, both large and small, industrial and recreational, and with agricultural equipment.-Agriculture:...
pull. Their slow speed led farmers to comment that tractors had two speeds: "slow, and darn slow."
Internal combustion engines
The
internal combustion engine
Internal combustion engine
The internal combustion engine is an engine in which the combustion of a fuel occurs with an oxidizer in a combustion chamber. In an internal combustion engine, the expansion of the high-temperature and high -pressure gases produced by combustion apply direct force to some component of the engine...
; first the
petrol engine
Petrol engine
A petrol engine is an internal combustion engine with spark-ignition, designed to run on petrol and similar volatile fuels....
, and later
diesel engine
Diesel engine
A diesel engine is an internal combustion engine that uses the heat of compression to initiate ignition to burn the fuel, which is injected into the combustion chamber...
s; became the main source of
power
Power (physics)
In physics, power is the rate at which energy is transferred, used, or transformed. For example, the rate at which a light bulb transforms electrical energy into heat and light is measured in watts—the more wattage, the more power, or equivalently the more electrical energy is used per unit...
for the next generation of tractors. These engines also contributed to the development of the self-propelled, combined harvester and thresher, or
combine harvester
Combine harvester
The combine harvester, or simply combine, is a machine that harvests grain crops. The name derives from the fact that it combines three separate operations, reaping, threshing, and winnowing, into a single process. Among the crops harvested with a combine are wheat, oats, rye, barley, corn ,...
(also shortened to 'combine'). Instead of cutting the grain stalks and transporting them to a stationary threshing machine, these combines cut, threshed, and separated the grain while moving continuously through the field.
Types
Combines might have taken the harvesting job away from tractors, but tractors still do the majority of work on a modern farm. They are used to pull implements—machines that till the ground, plant seed, and perform other tasks.
Tillage
Tillage
Tillage is the agricultural preparation of the soil by mechanical agitation of various types, such as digging, stirring, and overturning. Examples of human-powered tilling methods using hand tools include shovelling, picking, mattock work, hoeing, and raking...
implements prepare the
soil
Soil
Soil is a natural body consisting of layers of mineral constituents of variable thicknesses, which differ from the parent materials in their morphological, physical, chemical, and mineralogical characteristics...
for planting by loosening the soil and killing
weed
Weed
A weed in a general sense is a plant that is considered by the user of the term to be a nuisance, and normally applied to unwanted plants in human-controlled settings, especially farm fields and gardens, but also lawns, parks, woods, and other areas. More specifically, the term is often used to...
s or competing plants. The best-known is the plow, the ancient implement that was upgraded in 1838 by
John Deere
John Deere
John Deere was an American blacksmith and manufacturer who founded Deere & Company, one of the largest and leading agricultural and construction equipment manufacturers in the world...
. Plows are now used less frequently in the U.S. than formerly, with offset disks used instead to turn over the soil, and chisels used to gain the depth needed to retain moisture.
The most common type of
seeder
Seeder
A seeder is a stamp-type leatherworking tool used in leather carving. It is predominantly used in floral designs to represent the seeds in the center of a flower, hence the name. Similar to other stamp-type tools, it is held vertically over the leather and struck with a wooden or rawhide mallet...
is called a planter, and spaces seeds out equally in long rows, which are usually two to three feet apart. Some
crops
Agriculture
Agriculture is the cultivation of animals, plants, fungi and other life forms for food, fiber, and other products used to sustain life. Agriculture was the key implement in the rise of sedentary human civilization, whereby farming of domesticated species created food surpluses that nurtured the...
are planted by drills, which put out much more seed in rows less than a foot apart, blanketing the field with crops.
Transplanter
Transplanter
A transplanter is an agricultural machine used for transplanting seedlings to the field. This is very important as it reduces the time taken to transplant seedlings , thus allowing more time for harvesting....
s automate the task of transplanting
seedling
Seedling
thumb|Monocot and dicot seedlingsA seedling is a young plant sporophyte developing out of a plant embryo from a seed. Seedling development starts with germination of the seed. A typical young seedling consists of three main parts: the radicle , the hypocotyl , and the cotyledons...
s to the field. With the widespread use of
plastic mulch
Plastic mulch
Plastic mulch is a product used, in a similar fashion to mulch, to suppress weeds and conserve water in crop production and landscaping. Certain plastic mulches also act as a barrier to keep methyl bromide, both a powerful fumigant and ozone depleter, in the soil. Crops grow through slits or...
, plastic mulch layers, transplanters, and seeders lay down long rows of
plastic
Plastic
A plastic material is any of a wide range of synthetic or semi-synthetic organic solids used in the manufacture of industrial products. Plastics are typically polymers of high molecular mass, and may contain other substances to improve performance and/or reduce production costs...
, and plant through them automatically.
After planting, other implements can be used to cultivate weeds from between rows, or to spread
fertilizer
Fertilizer
Fertilizer is any organic or inorganic material of natural or synthetic origin that is added to a soil to supply one or more plant nutrients essential to the growth of plants. A recent assessment found that about 40 to 60% of crop yields are attributable to commercial fertilizer use...
and
pesticide
Pesticide
Pesticides are substances or mixture of substances intended for preventing, destroying, repelling or mitigating any pest.A pesticide may be a chemical unicycle, biological agent , antimicrobial, disinfectant or device used against any pest...
s.
Hay
Hay
Hay is grass, legumes or other herbaceous plants that have been cut, dried, and stored for use as animal fodder, particularly for grazing livestock such as cattle, horses, goats, and sheep. Hay is also fed to pets such as rabbits and guinea pigs...
baler
Baler
A baler is a piece of farm machinery used to compress a cut and raked crop into compact bales that are easy to handle, transport and store...
s can be used to tightly package grass or
alfalfa
Alfalfa
Alfalfa is a flowering plant in the pea family Fabaceae cultivated as an important forage crop in the US, Canada, Argentina, France, Australia, the Middle East, South Africa, and many other countries. It is known as lucerne in the UK, France, Australia, South Africa and New Zealand, and known as...
into a storable form for the winter months.
Modern
irrigation
Irrigation
Irrigation may be defined as the science of artificial application of water to the land or soil. It is used to assist in the growing of agricultural crops, maintenance of landscapes, and revegetation of disturbed soils in dry areas and during periods of inadequate rainfall...
relies on machinery. Engines,
pump
Pump
A pump is a device used to move fluids, such as liquids, gases or slurries.A pump displaces a volume by physical or mechanical action. Pumps fall into three major groups: direct lift, displacement, and gravity pumps...
s and other specialized gear provide
water
Water
Water is a chemical substance with the chemical formula H2O. A water molecule contains one oxygen and two hydrogen atoms connected by covalent bonds. Water is a liquid at ambient conditions, but it often co-exists on Earth with its solid state, ice, and gaseous state . Water also exists in a...
quickly and in high volumes to large areas of land. Similar types of equipment can be used to deliver
fertilizer
Fertilizer
Fertilizer is any organic or inorganic material of natural or synthetic origin that is added to a soil to supply one or more plant nutrients essential to the growth of plants. A recent assessment found that about 40 to 60% of crop yields are attributable to commercial fertilizer use...
s and
pesticide
Pesticide
Pesticides are substances or mixture of substances intended for preventing, destroying, repelling or mitigating any pest.A pesticide may be a chemical unicycle, biological agent , antimicrobial, disinfectant or device used against any pest...
s.
Besides the tractor, other vehicles have been adapted for use in farming, including
truck
Truck
A truck or lorry is a motor vehicle designed to transport cargo. Trucks vary greatly in size, power, and configuration, with the smallest being mechanically similar to an automobile...
s, airplanes, and
helicopter
Helicopter
A helicopter is a type of rotorcraft in which lift and thrust are supplied by one or more engine-driven rotors. This allows the helicopter to take off and land vertically, to hover, and to fly forwards, backwards, and laterally...
s, such as for transporting crops and making equipment mobile, to aerial spraying and
livestock
Livestock
Livestock refers to one or more domesticated animals raised in an agricultural setting to produce commodities such as food, fiber and labor. The term "livestock" as used in this article does not include poultry or farmed fish; however the inclusion of these, especially poultry, within the meaning...
herd
Herd
Herd refers to a social grouping of certain animals of the same species, either wild or domestic, and also to the form of collective animal behavior associated with this or as a verb, to herd, to its control by another species such as humans or dogs.The term herd is generally applied to mammals,...
management.
New technology and the future
The basic technology of agricultural machines has changed little in the last
century
Century
A century is one hundred consecutive years. Centuries are numbered ordinally in English and many other languages .-Start and end in the Gregorian Calendar:...
. Though modern harvesters and planters may do a better job or be slightly tweaked from their predecessors, the US$250,000 combine of today still cuts, threshes, and separates grain in essentially the same way it has always been done. However, technology is changing the way that humans operate the machines, as
computer
Computer
A computer is a programmable machine designed to sequentially and automatically carry out a sequence of arithmetic or logical operations. The particular sequence of operations can be changed readily, allowing the computer to solve more than one kind of problem...
monitoring systems, GPS locators, and self-steer programs allow the most advanced tractors and implements to be more precise and less wasteful in the use of fuel, seed, or fertilizer. In the foreseeable future, some agricultural machines will be capable of driving themselves, using GPS
map
Map
A map is a visual representation of an area—a symbolic depiction highlighting relationships between elements of that space such as objects, regions, and themes....
s and electronic sensors. Even more esoteric are the new areas of
nanotechnology
Nanotechnology
Nanotechnology is the study of manipulating matter on an atomic and molecular scale. Generally, nanotechnology deals with developing materials, devices, or other structures possessing at least one dimension sized from 1 to 100 nanometres...
and
genetic engineering
Genetic engineering
Genetic engineering, also called genetic modification, is the direct human manipulation of an organism's genome using modern DNA technology. It involves the introduction of foreign DNA or synthetic genes into the organism of interest...
, where
submicroscopic
Submicroscopic
Submicroscopic is an English adjective used to describe particles of matter that cannot be seen under the most powerful optical microscope available. Atoms are examples of such submicroscopic particles....
devices and
biological
Biology
Biology is a natural science concerned with the study of life and living organisms, including their structure, function, growth, origin, evolution, distribution, and taxonomy. Biology is a vast subject containing many subdivisions, topics, and disciplines...
processes, respectively, are being used as machines to perform agricultural tasks in unusual new ways.
Agriculture may be one of the oldest professions, but the development and use of machinery has made the job title of
farmer
a rarity. Instead of every person having to work to provide food for themselves, less than 2% of the U.S.
population
Population
A population is all the organisms that both belong to the same group or species and live in the same geographical area. The area that is used to define a sexual population is such that inter-breeding is possible between any pair within the area and more probable than cross-breeding with individuals...
today works in agriculture, yet that 2% provides considerably more food than the other 98% can eat. It is estimated that at the turn of the 20th century, one farmer in the U.S. could feed 25 people, where today, that ratio is 1:130 (in a modern grain farm, a single farmer can produce cereal to feed over a thousand people). With continuing advances in agricultural machinery, the role of the farmer will become increasingly specialized and rare.
See also
List of agricultural machinery
Mechanised agriculture

Mechanised agriculture

Mechanized agriculture is the process of using agricultural machinery to mechanize the work of agriculture, massively increasing farm output and farm worker productivity...



External links