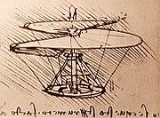 Helicopter
A
helicopter
(informally known as a "
chopper
") is a type of
rotorcraft
Rotorcraft
A rotorcraft or rotary wing aircraft is a heavier-than-air flying machine that uses lift generated by wings, called rotor blades, that revolve around a mast. Several rotor blades mounted to a single mast are referred to as a rotor. The International Civil Aviation Organization defines a rotorcraft...
in which
lift
Lift (force)
A fluid flowing past the surface of a body exerts a surface force on it. Lift is the component of this force that is perpendicular to the oncoming flow direction. It contrasts with the drag force, which is the component of the surface force parallel to the flow direction...
and
thrust
Thrust
Thrust is a reaction force described quantitatively by Newton's second and third laws. When a system expels or accelerates mass in one direction the accelerated mass will cause a force of equal magnitude but opposite direction on that system....
are supplied by one or more engine-driven
rotor
Helicopter rotor
A helicopter main rotor or rotor system is a type of fan that is used to generate both the aerodynamic lift force that supports the weight of the helicopter, and thrust which counteracts aerodynamic drag in forward flight...
s. This allows the helicopter to take off and land vertically, to hover, and to fly forwards, backwards, and laterally. These attributes allow helicopters to be used in congested or isolated areas where
fixed-wing aircraft
Fixed-wing aircraft
A fixed-wing aircraft is an aircraft capable of flight using wings that generate lift due to the vehicle's forward airspeed. Fixed-wing aircraft are distinct from rotary-wing aircraft in which wings rotate about a fixed mast and ornithopters in which lift is generated by flapping wings.A powered...
would usually not be able to take off or land.