 Threshing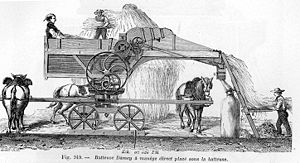 Threshing
is the process of loosening the edible part of
cereal
Cereal
Cereals are grasses cultivated for the edible components of their grain , composed of the endosperm, germ, and bran...
grain
GRAIN
GRAIN is a small international non-profit organisation that works to support small farmers and social movements in their struggles for community-controlled and biodiversity-based food systems. Our support takes the form of independent research and analysis, networking at local, regional and...
(or other crop) from the scaly, inedible
chaff
Chaff
Chaff is the dry, scaly protective casings of the seeds of cereal grain, or similar fine, dry, scaly plant material such as scaly parts of flowers, or finely chopped straw...
that surrounds it. It is the step in grain preparation after
harvest
Harvest
Harvest is the process of gathering mature crops from the fields. Reaping is the cutting of grain or pulse for harvest, typically using a scythe, sickle, or reaper...
ing and before winnowing, which separates the loosened chaff from the grain. Threshing does not remove the
bran
Bran
Bran is the hard outer layer of grain and consists of combined aleurone and pericarp. Along with germ, it is an integral part of whole grains, and is often produced as a by-product of milling in the production of refined grains. When bran is removed from grains, the grains lose a portion of their...
from the grain.
Threshing may be done by beating the grain using a
flail
Flail (agriculture)
A flail is an agricultural tool used for threshing to separate grains from their husks.It is usually made from two or more large sticks attached by a short chain; one stick is held and swung, causing the other to strike a pile of grain, loosening the husks...
on a
threshing floor
Threshing floor
A threshing floor is a specially flattened surface, usually circular and paved, where a farmer would thresh the grain harvest and then winnow it, before the advent of threshing machines from the nineteenth century onwards. The threshing floor was either owned by the entire village or by a single...
. Another traditional method of threshing is to make donkeys or oxen walk in circles on the grain on a hard surface. A modern version of this in some areas is to spread the grain on the surface of a country road so the grain may be threshed by the wheels of passing vehicles.
However, in developed areas it is now mostly done by
machine
Machine
A machine manages power to accomplish a task, examples include, a mechanical system, a computing system, an electronic system, and a molecular machine. In common usage, the meaning is that of a device having parts that perform or assist in performing any type of work...
, usually by a
combine harvester
Combine harvester
The combine harvester, or simply combine, is a machine that harvests grain crops. The name derives from the fact that it combines three separate operations, reaping, threshing, and winnowing, into a single process. Among the crops harvested with a combine are wheat, oats, rye, barley, corn ,...
, which harvests, threshes, and winnows the grain while it is still in the field.
The cereal may be stored in a threshing
barn
Barn
A barn is an agricultural building used for storage and as a covered workplace. It may sometimes be used to house livestock or to store farming vehicles and equipment...
.
A Threshing Bee is a festival held in communities to commemorate this process. The event is often held over multiple days and includes flea markets, activity booths, hog wrestling and dances.
See also
Threshing floor

Threshing floor

A threshing floor is a specially flattened surface, usually circular and paved, where a farmer would thresh the grain harvest and then winnow it, before the advent of threshing machines from the nineteenth century onwards. The threshing floor was either owned by the entire village or by a single...



Threshing-board

Threshing-board

A threshing board is an obsolete farm implement used to separate cereals from their straw; that is, to thresh. It is a thick board, made with a variety of slats, with a shape between rectangular and trapezoidal, with the frontal part somewhat narrower and curved upward and whose bottom is covered...



Threshing machine

Threshing machine

The thrashing machine, or, in modern spelling, threshing machine , was a machine first invented by Scottish mechanical engineer Andrew Meikle for use in agriculture. It was invented for the separation of grain from stalks and husks. For thousands of years, grain was separated by hand with flails,...



Threshing stone

Threshing stone

A threshing stone is a roller-like tool used for the threshing of wheat. Similar to the use of threshing boards, the stone was pulled by horses over a circular pile of harvested wheat on a hardened dirt surface , and the rolling stone knocked the grain from the head of wheat. The straw was removed...



Winnowing