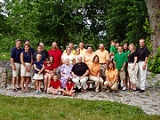 Family
In
human
Human
Humans are the only living species in the Homo genus...
context, a
family
(from Latin:
familia
) is a group of
people
People
People is a plurality of human beings or other beings possessing enough qualities constituting personhood. It has two usages:* as the plural of person or a group of people People is a plurality of human beings or other beings possessing enough qualities constituting personhood. It has two usages:*...
affiliated by
consanguinity
Consanguinity
Consanguinity refers to the property of being from the same kinship as another person. In that respect, consanguinity is the quality of being descended from the same ancestor as another person...
,
affinity
Affinity
Affinity is a word used in a variety of fields, usually to indicate some kind of preference, relationship, or a potential or actual closeness between two entities.Articles dealing with various usages of the word: affinity include:-Commerce and law:...
, or co-residence. In most societies it is the principal institution for the socialization of children. Extended from the human "family unit" by biological-cultural
affinity
Affinity (sociology)
Affinity in terms of sociology, refers to "kinship of spirit", interest and other interpersonal commonalities. Affinity is characterized by high levels of intimacy and sharing, usually in close groups, also known as affinity groups. It differs from affinity in law and canon law which generally...
,
marriage
Marriage
Marriage is a social union or legal contract between people that creates kinship. It is an institution in which interpersonal relationships, usually intimate and sexual, are acknowledged in a variety of ways, depending on the culture or subculture in which it is found...
,
economy
Economy
An economy consists of the economic system of a country or other area; the labor, capital and land resources; and the manufacturing, trade, distribution, and consumption of goods and services of that area...
,
culture
Culture
Culture is a term that has many different inter-related meanings. For example, in 1952, Alfred Kroeber and Clyde Kluckhohn compiled a list of 164 definitions of "culture" in Culture: A Critical Review of Concepts and Definitions...
,
tradition
Tradition
A tradition is a ritual, belief or object passed down within a society, still maintained in the present, with origins in the past. Common examples include holidays or impractical but socially meaningful clothes , but the idea has also been applied to social norms such as greetings...
,
honour
Honour
Honour or honor is an abstract concept entailing a perceived quality of worthiness and respectability that affects both the social standing and the self-evaluation of an individual or corporate body such as a family, school, regiment or nation...
, and
friendship
Friendship
Friendship is a form of interpersonal relationship generally considered to be closer than association, although there is a range of degrees of intimacy in both friendships and associations. Friendship and association are often thought of as spanning across the same continuum...
are concepts of family that are physical and metaphorical, or that grow increasingly
inclusive
Inclusive
Inclusive may refer to:* Inclusion * inclusive disjunction, A or B or both* inclusive fitness, in evolutionary theory, how many kin are supported including non-descendants* inclusive interval includes its endpoints...
extending to
community
Community
The term community has two distinct meanings:*a group of interacting people, possibly living in close proximity, and often refers to a group that shares some common values, and is attributed with social cohesion within a shared geographical location, generally in social units larger than a household...
,
village
Village
A village is a clustered human settlement or community, larger than a hamlet with the population ranging from a few hundred to a few thousand , Though often located in rural areas, the term urban village is also applied to certain urban neighbourhoods, such as the West Village in Manhattan, New...
,
city
City
A city is a relatively large and permanent settlement. Although there is no agreement on how a city is distinguished from a town within general English language meanings, many cities have a particular administrative, legal, or historical status based on local law.For example, in the U.S...
,
region
Region
Region is most commonly found as a term used in terrestrial and astrophysics sciences also an area, notably among the different sub-disciplines of geography, studied by regional geographers. Regions consist of subregions that contain clusters of like areas that are distinctive by their uniformity...
,
nation
Nation
A nation may refer to a community of people who share a common language, culture, ethnicity, descent, and/or history. In this definition, a nation has no physical borders. However, it can also refer to people who share a common territory and government irrespective of their ethnic make-up...
hood,
global village
Global village
Global village may refer to:*Global village , a term commonly used to describe the societal and cultural effects of telecommunications.*Global Village , cultural, entertainment and shopping destination located at Dubailand in Dubai...
and
humanism
Humanism
Humanism is an approach in study, philosophy, world view or practice that focuses on human values and concerns. In philosophy and social science, humanism is a perspective which affirms some notion of human nature, and is contrasted with anti-humanism....
.
When harmony, mutual consideration and trust pass out of the home, hell enters in.

David O. McKay, Pathways To Happiness, (1957), p. 296.
More often than not the people that you happen to be related to are your best friends… You can never really turn away from them, and you will always defend them to the best of your ability, they are your greatest resource, and the greatest love will come from them... that is family.

Jerry Grant Blakeney
"In other words, I don't think people ought to be compelled to make the decision which they think is best for their family." — George W. Bush :—Washington, D.C., December 11, 2002

The family is always the family but during vacations it is an extended family and that is exhausting.

Gertrude_Stein|Stein, Gertrude. Paris France. New York: Liveright, 1970. (p. 107)