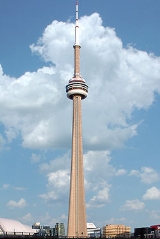 Tower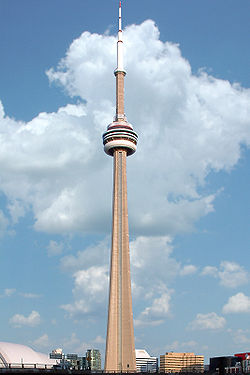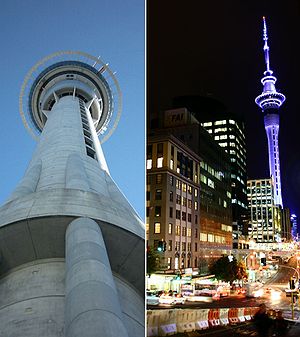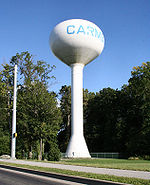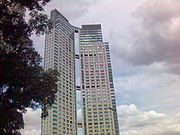 A
tower
is a tall
structure
Architectural structure
An architectural structure is a free-standing, immobile outdoor constructed element. The structure may be temporary or permanent.Structures include buildings and nonbuilding structures . Examples of building structures include houses, town halls, libraries, and skyscrapers...
, usually taller than it is wide, often by a significant margin. Towers are distinguished from
mast
Guyed mast
A guyed mast is a tall thin vertical structure that receives support from guy lines.Guyed masts are frequently used for radio masts. The mast can either support aerials mounted at its top, or the entire structure itself can function as an antenna ; this is called a mast radiator...
s by their lack of guy-wires.
Towers are generally built to take advantage of their
height
Height
Height is the measurement of vertical distance, but has two meanings in common use. It can either indicate how "tall" something is, or how "high up" it is. For example "The height of the building is 50 m" or "The height of the airplane is 10,000 m"...
, and can stand alone on the ground, or as part of a larger structure or device such as a fortified building or as an integral part of a bridge, the term also denoting a raised structure on a ship or other vehicle.
History
Towers have been used by mankind since prehistoric times. The oldest known may be the circular stone tower in walls of
Neolithic Jericho
PPNA Wall of Jericho
The Wall of Jericho is a Pre-Pottery Neolithic A defensive or flood protection wall suggested to date to approximately 8000 BC.-Biblical story:...
(8000 BC). Some of the earliest towers were
ziggurat
Ziggurat
Ziggurats were massive structures built in the ancient Mesopotamian valley and western Iranian plateau, having the form of a terraced step pyramid of successively receding stories or levels.Notable ziggurats include the Great Ziggurat of Ur near Nasiriyah, Iraq; the Ziggurat of Aqar Quf near...
s, which existed in Sumerian architecture since the 4th millennium BC. The most famous ziggurats include the Sumerian Ziggurat of Ur, built the 3rd millennium BC, and the
Etemenanki
Etemenanki
Etemenanki was the name of a ziggurat dedicated to Marduk in the city of Babylon of the 6th century BCE Neo-Babylonian dynasty. Originally seven stories in height, little remains of it now except ruins.-Construction:It is unclear exactly when Etemenanki was first built. A review article by Andrew R...
, one of the most famous examples of
Babylonian architecture
Art and architecture of Assyria
The architecture of Mesopotamia is the ancient architecture of the region of the Tigris–Euphrates river system , encompassing several distinct cultures and spanning a period from the 10th millennium BC, when the first permanent structures were built, to the 6th century BC...
. The latter was built in
Babylon
Babylon
Babylon was an Akkadian city-state of ancient Mesopotamia, the remains of which are found in present-day Al Hillah, Babil Province, Iraq, about 85 kilometers south of Baghdad...
during the 2nd millennium BC and was considered the tallest tower of the ancient world.
Some of the earliest surviving examples are the
broch
Broch
A broch is an Iron Age drystone hollow-walled structure of a type found only in Scotland. Brochs include some of the most sophisticated examples of drystone architecture ever created, and belong to the classification "complex Atlantic Roundhouse" devised by Scottish archaeologists in the 1980s....
structures in northern
Scotland
Scotland
Scotland is a country that is part of the United Kingdom. Occupying the northern third of the island of Great Britain, it shares a border with England to the south and is bounded by the North Sea to the east, the Atlantic Ocean to the north and west, and the North Channel and Irish Sea to the...
, which are conical towerhouses. These and other examples from
Phoenicia
Phoenicia
Phoenicia , was an ancient civilization in Canaan which covered most of the western, coastal part of the Fertile Crescent. Several major Phoenician cities were built on the coastline of the Mediterranean. It was an enterprising maritime trading culture that spread across the Mediterranean from 1550...
n and
Roman
Ancient Rome
Ancient Rome was a thriving civilization that grew on the Italian Peninsula as early as the 8th century BC. Located along the Mediterranean Sea and centered on the city of Rome, it expanded to one of the largest empires in the ancient world....
cultures emphasised the use of a tower in fortification and sentinel roles. For example,
watchtower
Watchtower
A watchtower is a type of fortification used in many parts of the world. It differs from a regular tower in that its primary use is military, and from a turret in that it is usually a freestanding structure. Its main purpose is to provide a high, safe place from which a sentinel or guard may...
elements are found at Mogador from the first millennium BC, derived from Phoenician or Carthaginian origins. The Romans utilised octagonal towers as elements of
Diocletian's Palace
Diocletian's Palace
Diocletian's Palace is a building in Split, Croatia, that was built by the Roman emperor Diocletian at the turn of the fourth century AD.Diocletian built the massive palace in preparation for his retirement on 1 May 305 AD. It lies in a bay on the south side of a short peninsula running out from...
in
Croatia
Croatia
Croatia , officially the Republic of Croatia , is a unitary democratic parliamentary republic in Europe at the crossroads of the Mitteleuropa, the Balkans, and the Mediterranean. Its capital and largest city is Zagreb. The country is divided into 20 counties and the city of Zagreb. Croatia covers ...
, which monument dates to approximately 300 AD, while the Servian Walls (4th century BC) and the
Aurelian Walls
Aurelian Walls
The Aurelian Walls is a line of city walls built between 271 and 275 in Rome, Italy, during the reign of the Roman Emperors Aurelian and Probus....
(3rd century AD) featured square ones. The Chinese used towers as integrated elements of the
Great Wall of China
Great Wall of China
The Great Wall of China is a series of stone and earthen fortifications in northern China, built originally to protect the northern borders of the Chinese Empire against intrusions by various nomadic groups...
in 210 BC during the
Qin Dynasty
Qin Dynasty
The Qin Dynasty was the first imperial dynasty of China, lasting from 221 to 207 BC. The Qin state derived its name from its heartland of Qin, in modern-day Shaanxi. The strength of the Qin state was greatly increased by the legalist reforms of Shang Yang in the 4th century BC, during the Warring...
. Towers were also an important element of castles.
Another well known tower is the
Leaning Tower of Pisa
Leaning Tower of Pisa
The Leaning Tower of Pisa or simply the Tower of Pisa is the campanile, or freestanding bell tower, of the cathedral of the Italian city of Pisa...
in Pisa, Italy built from 1173 until 1372. The
Himalayan Towers
Himalayan Towers
The Himalayan Towers also called Stone star-shaped towers, are a series of stone towers located mostly in Kham, an ancient province of Tibet, in Sichuan and in Tibet. The towers are located in regions of Changthang, Gyalrong, Miniak and Kongpo. The towers can be found both in cities and in...
are stone towers located chiefly in
Tibet
Tibet
Tibet is a plateau region in Asia, north-east of the Himalayas. It is the traditional homeland of the Tibetan people as well as some other ethnic groups such as Monpas, Qiang, and Lhobas, and is now also inhabited by considerable numbers of Han and Hui people...
built approximately 14th to 15th century.
Etymology
Old English
torr
is from Latin
turris
via
Old French
Old French
Old French was the Romance dialect continuum spoken in territories that span roughly the northern half of modern France and parts of modern Belgium and Switzerland from the 9th century to the 14th century...
tor
. The Latin term together with Greek τύρσις was loaned from a
pre-Indo-European
Proto-Indo-European language
The Proto-Indo-European language is the reconstructed common ancestor of the Indo-European languages, spoken by the Proto-Indo-Europeans...
Mediterranean language, connected with the Illyrian toponym
Βου-δοργίς. With the
Lydian
Lydian
Lydian may refer to:* Lydian language, an ancient Anatolian language* Lydian script* Lydian mode, one of the modes derived from ancient Greek music* Lydian , a decorative typeface* Lydia, an ancient kingdom in western Anatolia...
toponyms Τύρρα, Τύρσα, it has been connected with the ethnonym
Τυρρήνιοι
Tyrrhenians
The Tyrrhenians or Tyrsenians is an exonym used by Greek authors to refer to a non-Greek people.- Earliest references :...
as well as with
Tusci
(from
*Turs-ci
), the Greek and Latin names for the Etruscans (Kretschmer Glotta 22, 110ff.)
It may also be of Sanskrit derivation, from the word Sthavara meaning an unmovable entity.
A sales tower, although different from a traditional tower, refers to an eye level structure most commonly in the shape of an L. ((Kyle Hunter))
Mechanics
Up to a certain height, a tower can be made with the supporting structure with parallel sides. However, above a certain height, the compressive load of the material is exceeded and the tower will fail. This can be avoided if the tower's support structure tapers up the building.
A second limit is that of buckling- the structure requires sufficient stiffness to avoid breaking under the loads it faces, especially those due to winds. Many very tall towers have their support structures at the periphery of the building, which greatly increases the overall stiffness.
A third limit is dynamic; a tower is subject to varying winds, vortex shedding, seismic disturbances etc. These are often dealt with a combination of simple strength and stiffness, as well as in some cases
tuned mass damper
Tuned mass damper
A tuned mass damper, also known as an active mass damper or harmonic absorber, is a device mounted in structures to reduce the amplitude of mechanical vibrations. Their application can prevent discomfort, damage, or outright structural failure...
s to damp out movements. Varying or tapering the outer aspect of the tower with height avoids vibrations due to vortex shedding occurring along the entire building simultaneously.
Skyscrapers
A modern type of tower, the
skyscraper
Skyscraper
A skyscraper is a tall, continuously habitable building of many stories, often designed for office and commercial use. There is no official definition or height above which a building may be classified as a skyscraper...
, uses less ground space as a ratio of total building interior square footage. Skyscrapers are often not classified as towers, although most have the same design and structure of towers. In the
United Kingdom
United Kingdom
The United Kingdom of Great Britain and Northern IrelandIn the United Kingdom and Dependencies, other languages have been officially recognised as legitimate autochthonous languages under the European Charter for Regional or Minority Languages...
, tall domestic buildings are referred to as
tower blocks
. In the
United States
United States
The United States of America is a federal constitutional republic comprising fifty states and a federal district...
, the
World Trade Center
World Trade Center
The original World Trade Center was a complex with seven buildings featuring landmark twin towers in Lower Manhattan, New York City, United States. The complex opened on April 4, 1973, and was destroyed in 2001 during the September 11 attacks. The site is currently being rebuilt with five new...
had the nickname the Twin Towers, a name shared with the
Petronas Twin Towers
Petronas Twin Towers
The Petronas Towers are skyscrapers and twin towers in Kuala Lumpur, Malaysia...
in
Kuala Lumpur
Kuala Lumpur
Kuala Lumpur is the capital and the second largest city in Malaysia by population. The city proper, making up an area of , has a population of 1.4 million as of 2010. Greater Kuala Lumpur, also known as the Klang Valley, is an urban agglomeration of 7.2 million...
. A tower's has very deep foundation's.
Strategic advantages
The tower throughout history has provided its users with an advantage in surveying defensive positions and obtaining a better view of the surrounding areas, including battlefields. They were installed on defensive walls, or rolled near a target (see
siege tower
Siege tower
A siege tower is a specialized siege engine, constructed to protect assailants and ladders while approaching the defensive walls of a fortification. The tower was often rectangular with four wheels with its height roughly equal to that of the wall or sometimes higher to allow archers to stand on...
). Today, strategic-use towers are still used at prisons, military camps, and defensive perimeters.
Potential energy
By using gravity to move objects or substances downward, a tower can be used to store items or liquids like a
storage silo
Storage silo
A silo is a structure for storing bulk materials. Silos are used in agriculture to store grain or fermented feed known as silage. Silos are more commonly used for bulk storage of grain, coal, cement, carbon black, woodchips, food products and sawdust. Three types of silos are in widespread use...
or a
water tower
Water tower
A water tower or elevated water tower is a large elevated drinking water storage container constructed to hold a water supply at a height sufficient to pressurize a water distribution system....
, or aim an object into the earth such as a drilling tower.
Ski-jump ramps
Ski jumping
Ski jumping is a sport in which skiers go down a take-off ramp, jump and attempt to land as far as possible down the hill below. In addition to the length of the jump, judges give points for style. The skis used for ski jumping are wide and long...
use the same idea, and in the absence of a natural mountain slope or hill, can be human-made.
Communication enhancement
In history, simple towers like
lighthouse
Lighthouse
A lighthouse is a tower, building, or other type of structure designed to emit light from a system of lamps and lenses or, in older times, from a fire, and used as an aid to navigation for maritime pilots at sea or on inland waterways....
s,
bell tower
Bell tower
A bell tower is a tower which contains one or more bells, or which is designed to hold bells, even if it has none. In the European tradition, such a tower most commonly serves as part of a church and contains church bells. When attached to a city hall or other civic building, especially in...
s,
clock tower
Clock tower
A clock tower is a tower specifically built with one or more clock faces. Clock towers can be either freestanding or part of a church or municipal building such as a town hall. Some clock towers are not true clock towers having had their clock faces added to an already existing building...
s,
signal towers
Signal box
On a rail transport system, signalling control is the process by which control is exercised over train movements by way of railway signals and block systems to ensure that trains operate safely, over the correct route and to the proper timetable...
and
minaret
Minaret
A minaret مناره , sometimes مئذنه) is a distinctive architectural feature of Islamic mosques, generally a tall spire with an onion-shaped or conical crown, usually either free standing or taller than any associated support structure. The basic form of a minaret includes a base, shaft, and gallery....
s were used to communicate information over greater distances. In more recent years, radio masts and cell phone towers facilitate communication by expanding the range of the transmitter. The
CN Tower
CN Tower
The CN Tower is a communications and observation tower in Downtown Toronto, Ontario, Canada. Standing tall, it was completed in 1976, becoming the world's tallest free-standing structure and world's tallest tower at the time. It held both records for 34 years until the completion of the Burj...
in
Toronto
Toronto
Toronto is the provincial capital of Ontario and the largest city in Canada. It is located in Southern Ontario on the northwestern shore of Lake Ontario. A relatively modern city, Toronto's history dates back to the late-18th century, when its land was first purchased by the British monarchy from...
,
Canada
Canada
Canada is a North American country consisting of ten provinces and three territories. Located in the northern part of the continent, it extends from the Atlantic Ocean in the east to the Pacific Ocean in the west, and northward into the Arctic Ocean...
was built as a communications tower, with the capability to act as both a transmitter and repeater. Its design also incorporated features to make it a tourist attraction, including the world's highest observation deck at 147 stories.
Transportation support
Towers can also be used to support bridges, and can reach heights that rival some of the tallest buildings above-water. Their use is most prevalent in
suspension bridge
Suspension bridge
A suspension bridge is a type of bridge in which the deck is hung below suspension cables on vertical suspenders. Outside Tibet and Bhutan, where the first examples of this type of bridge were built in the 15th century, this type of bridge dates from the early 19th century...
s and
cable-stayed bridge
Cable-stayed bridge
A cable-stayed bridge is a bridge that consists of one or more columns , with cables supporting the bridge deck....
s. The use of the pylon, a simple tower structure, has also helped to build railroad bridges, mass-transit systems, and harbors.
Control tower
Control tower
A control tower, or more specifically an Air Traffic Control Tower , is the name of the airport building from which the air traffic control unit controls the movement of aircraft on and around the airport. Control towers are also used to control the traffic for other forms of transportation such...
s are used to give visibility to help direct aviation traffic.
Other towers
To access tall or high objects: launch tower, service tower, service structure, scaffold

Scaffolding

Scaffolding is a temporary structure used to support people and material in the construction or repair of buildings and other large structures. It is usually a modular system of metal pipes or tubes, although it can be from other materials...


, tower wagon
To access atmospheric conditions aloft: wind turbine

Wind turbine

A wind turbine is a device that converts kinetic energy from the wind into mechanical energy. If the mechanical energy is used to produce electricity, the device may be called a wind generator or wind charger. If the mechanical energy is used to drive machinery, such as for grinding grain or...


, meteorological measurement tower

Measurement tower

A measurement tower is a free standing tower or a removed mast, which carries measuring instruments with meteorological instruments such as thermometers and wind velocity measurers. Measuring towers are an essential component of rocket launching sites, since one must know exact wind conditions for...


, tower telescope

Tower telescope

A Tower telescope is a telescope with a large refraction length at which the tube is installed inside a tower. Tower telescopes are mainly used for examinations of the sun.-Examples:* Solar Observatory Tower Meudon* Richard B. Dunn Solar Telescope...


, solar power

Solar thermal energy

Solar thermal energy is a technology for harnessing solar energy for thermal energy . Solar thermal collectors are classified by the United States Energy Information Administration as low-, medium-, or high-temperature collectors. Low-temperature collectors are flat plates generally used to heat...


station
To lift high tension cables for electrical power distribution transmission tower

Transmission tower

A transmission tower is a tall structure, usually a steel lattice tower, used to support an overhead power line. They are used in high-voltage AC and DC systems, and come in a wide variety of shapes and sizes...



To take advantage of the temperature gradient inherent in a height differential: cooling tower

Cooling tower

Cooling towers are heat removal devices used to transfer process waste heat to the atmosphere. Cooling towers may either use the evaporation of water to remove process heat and cool the working fluid to near the wet-bulb air temperature or in the case of closed circuit dry cooling towers rely...


, chimney

Chimney

A chimney is a structure for venting hot flue gases or smoke from a boiler, stove, furnace or fireplace to the outside atmosphere. Chimneys are typically vertical, or as near as possible to vertical, to ensure that the gases flow smoothly, drawing air into the combustion in what is known as the...



To protect from exposure: BREN Tower

BREN Tower

BREN Tower is a guyed steel framework mast, high, on the Nevada Test Site in Nevada, USA. "BREN" stands for "Bare Reactor Experiment, Nevada."...



For industrial production: shot tower

Shot tower

thumb|The Shot Tower, Bristol, EnglandA shot tower is a tower designed for the production of shot balls by freefall of molten lead, which is then caught in a water basin. The shot is used for projectiles in firearms.-Process:...



For surveying: Survey tower
To drop objects: Drop tube (drop tower), bomb tower

Bomb tower

A bomb tower is a lightly constructed tower, often 100 to 700 feet high, built to hold a nuclear weapon for an above ground nuclear test. The tower holds the bomb for the purpose of the investigation of its destructive effects and for the adjustment of measuring instruments, such as high-speed...


, diving platform
To test height-intensive applications: elevator test tower

Express Lift Tower

The National Lift Tower is a lift testing tower built by the Express Lift Company off the Weedon Road in Northampton, England...



To improve structural integrity: thyristor tower
To mimic towers or provide height for training purposes: fire tower, parachute tower
As art: Shukhov Tower

Shukhov Tower

The Shukhov radio tower , also known as the Shabolovka tower, is a broadcasting tower in Moscow designed by Vladimir Shukhov. The 160-metre-high free-standing steel structure was built in the period 1920–1922, during the Russian Civil War...



For recreation: rock climbing tower

Rock climbing

Rock climbing also lightly called 'The Gravity Game', is a sport in which participants climb up, down or across natural rock formations or artificial rock walls. The goal is to reach the summit of a formation or the endpoint of a pre-defined route without falling...



As a symbol: Tower of Babel

Tower of Babel

The Tower of Babel , according to the Book of Genesis, was an enormous tower built in the plain of Shinar .According to the biblical account, a united humanity of the generations following the Great Flood, speaking a single language and migrating from the east, came to the land of Shinar, where...


, The Tower (Tarot card)

The Tower (Tarot card)

The Tower is the sixteenth trump or Major Arcana card in most cartomancy Tarot decks. It is not used as part of any game.- History :...


, church tower
The term "tower" is also sometimes used to refer to firefighting equipment with an extremely tall ladder designed for use in firefighting/rescue operations involving high-rise buildings.
See also
Additionally guyed tower

Additionally guyed tower

An additionally guyed tower is a free-standing tower, which is also additionally guyed.An additional guying can be temporarily or permanently. Temporarily additional guying is used when work on static relevant parts of the tower is done....



Bell tower

Bell tower

A bell tower is a tower which contains one or more bells, or which is designed to hold bells, even if it has none. In the European tradition, such a tower most commonly serves as part of a church and contains church bells. When attached to a city hall or other civic building, especially in...



Campanile

Campanile

Campanile is an Italian word meaning "bell tower" . The term applies to bell towers which are either part of a larger building or free-standing, although in American English, the latter meaning has become prevalent.The most famous campanile is probably the Leaning Tower of Pisa...



Federal Communications Commission

Federal Communications Commission

The Federal Communications Commission is an independent agency of the United States government, created, Congressional statute , and with the majority of its commissioners appointed by the current President. The FCC works towards six goals in the areas of broadband, competition, the spectrum, the...


re FCC Broadcasting Tower Database (USA)
Inclined towers
List of tallest towers in the world
Partially guyed tower

Partially guyed tower

A partially guyed tower is a tower structure which consists of a free-standing basement, in most cases of concrete or of lattice steel with a guyed mast on the top. The anchor basements of the guyed mast can be on the top of the tower or on the ground.-Use:...



Turret

Turret

In architecture, a turret is a small tower that projects vertically from the wall of a building such as a medieval castle. Turrets were used to provide a projecting defensive position allowing covering fire to the adjacent wall in the days of military fortification...



Vainakh medieval towers

Vainakh medieval towers

The Nakh medieval towers were a characteristic feature of medieval architecture of the Nakh peoples in Chechenya and Ingushetia, with few parallels outside that region. Some towers were used as dwellings, others had a military purpose; some combined both functions.The roots of Nakh tower...



Watchtower

Watchtower

A watchtower is a type of fortification used in many parts of the world. It differs from a regular tower in that its primary use is military, and from a turret in that it is usually a freestanding structure. Its main purpose is to provide a high, safe place from which a sentinel or guard may...



World's tallest structures
Baghdad Tower