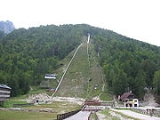 Ski jumping
Ski jumping
is a sport in which skiers go down a take-off ramp, jump and attempt to land as far as possible down the hill below. In addition to the length of the jump, judges give points for style. The skis used for ski jumping are wide and long (260 to 275 cm (102.4 to 108.3 in)). Ski jumping is predominantly a
winter sport
Winter sport
A winter sport is a sport which is played on snow or ice. Most such sports are variations of skiing, ice skating and sledding. Traditionally such sports were only played in cold areas during winter, but artificial snow and ice allow more flexibility...
, performed on snow, and is part of the
Winter Olympic Games
Winter Olympic Games
The Winter Olympic Games is a sporting event, which occurs every four years. The first celebration of the Winter Olympics was held in Chamonix, France, in 1924. The original sports were alpine and cross-country skiing, figure skating, ice hockey, Nordic combined, ski jumping and speed skating...
, but can also be performed in summer on artificial surfaces – porcelain or frost rail track on the inrun, plastic on the landing hill.
True ski jumping originates in
Morgedal
Morgedal
Morgedal, of the municipality of Kviteseid in the county of Telemark Norway, is called the cradle of skiing.Morgedal, Norway is a village whose most famous residents were Sondre Norheim, known to be the father of modern skiing plus Torjus Hemmestveit and Mikkjel Hemmestveit...
,
Norway
Norway
Norway , officially the Kingdom of Norway, is a Nordic unitary constitutional monarchy whose territory comprises the western portion of the Scandinavian Peninsula, Jan Mayen, and the Arctic archipelago of Svalbard and Bouvet Island. Norway has a total area of and a population of about 4.9 million...
.