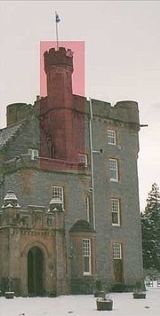 Turret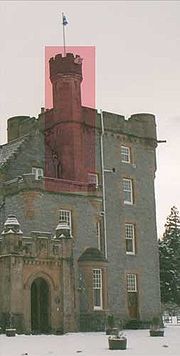 In
architecture
Architecture
Architecture is both the process and product of planning, designing and construction. Architectural works, in the material form of buildings, are often perceived as cultural and political symbols and as works of art...
, a
turret
(from
Italian
Italian language
Italian is a Romance language spoken mainly in Europe: Italy, Switzerland, San Marino, Vatican City, by minorities in Malta, Monaco, Croatia, Slovenia, France, Libya, Eritrea, and Somalia, and by immigrant communities in the Americas and Australia...
:
torretta
, little tower;
Latin
Latin
Latin is an Italic language originally spoken in Latium and Ancient Rome. It, along with most European languages, is a descendant of the ancient Proto-Indo-European language. Although it is considered a dead language, a number of scholars and members of the Christian clergy speak it fluently, and...
:
turris
, tower) is a small
tower
Tower
A tower is a tall structure, usually taller than it is wide, often by a significant margin. Towers are distinguished from masts by their lack of guy-wires....
that projects vertically from the wall of a building such as a medieval
castle
Castle
A castle is a type of fortified structure built in Europe and the Middle East during the Middle Ages by European nobility. Scholars debate the scope of the word castle, but usually consider it to be the private fortified residence of a lord or noble...
. Turrets were used to provide a projecting defensive position allowing covering fire to the adjacent wall in the days of military fortification. As their military use faded, turrets were adopted for decorative purposes, as in the
Scottish baronial style
Scottish baronial style
The Scottish Baronial style is part of the Gothic Revival architecture style, using stylistic elements and forms from castles, tower houses and mansions of the Gothic architecture period in Scotland, such as Craigievar Castle and Newark Castle, Port Glasgow. The revival style was popular from the...
.
A turret can have a circular top with crenellations as seen in the picture at right, a pointed roof, or other kind of apex. It might contain a staircase if it projects higher than the building; however, a turret is not necessarily higher than the rest of the building; in this case, it is typically part of a room, that can be simply walked into – see the turret of
Chateau de Chaumont
Château de Chaumont
The Château de Chaumont is a French castle at Chaumont-sur-Loire, Loir-et-Cher, France.The first château-fort on this site between Blois and Amboise was a primitive fortress built by Eudes II, Count of Blois, in the 10th century with the purpose of protecting Blois from attacks from his feudal...
on the collection of turrets, which also illustrates a turret on a modern
skyscraper
Skyscraper
A skyscraper is a tall, continuously habitable building of many stories, often designed for office and commercial use. There is no official definition or height above which a building may be classified as a skyscraper...
.
A building may have both
tower
Tower
A tower is a tall structure, usually taller than it is wide, often by a significant margin. Towers are distinguished from masts by their lack of guy-wires....
s and turrets; turrets might be smaller or higher but the difference is generally considered to be that a turret projects from the edge of the building, rather than continuing to the ground. The size of a turret is therefore limited by technology, since it puts additional stresses on the structure of the building. It would traditionally be supported by a
corbel
Corbel
In architecture a corbel is a piece of stone jutting out of a wall to carry any superincumbent weight. A piece of timber projecting in the same way was called a "tassel" or a "bragger". The technique of corbelling, where rows of corbels deeply keyed inside a wall support a projecting wall or...
.