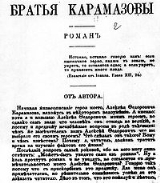 The Brothers Karamazov
The Brothers Karamazov
is the final
novel
Novel
A novel is a book of long narrative in literary prose. The genre has historical roots both in the fields of the medieval and early modern romance and in the tradition of the novella. The latter supplied the present generic term in the late 18th century....
by the
Russia
Russia
Russia or , officially known as both Russia and the Russian Federation , is a country in northern Eurasia. It is a federal semi-presidential republic, comprising 83 federal subjects...
n author Fyodor Dostoyevsky. Dostoyevsky spent nearly two years writing
The Brothers Karamazov
, which was published as a serial in
The Russian Messenger
The Russian Messenger
The Russian Messenger has been the title of three notable magazines published in Russia in the 19th century.-The Russian Messenger of Sergey Glinka:...
and completed in November 1880. Dostoyevsky intended it to be the first part in an epic story titled
The Life of a Great Sinner
, but he died less than four months after its publication.
The Brothers Karamazov
is a passionate philosophical novel that enters deeply into the ethical debates of
God
God
God is the English name given to a singular being in theistic and deistic religions who is either the sole deity in monotheism, or a single deity in polytheism....
,
free will
Free will
"To make my own decisions whether I am successful or not due to uncontrollable forces" -Troy MorrisonA pragmatic definition of free willFree will is the ability of agents to make choices free from certain kinds of constraints. The existence of free will and its exact nature and definition have long...
, and
morality
Morality
Morality is the differentiation among intentions, decisions, and actions between those that are good and bad . A moral code is a system of morality and a moral is any one practice or teaching within a moral code...
. It is a spiritual drama of moral struggles concerning faith, doubt, and
reason
Reason
Reason is a term that refers to the capacity human beings have to make sense of things, to establish and verify facts, and to change or justify practices, institutions, and beliefs. It is closely associated with such characteristically human activities as philosophy, science, language, ...
, set against a modernizing Russia. Dostoyevsky composed much of the novel in
Staraya Russa
Staraya Russa
Staraya Russa is a town in Novgorod Oblast, Russia, located south of Veliky Novgorod. It is a wharf on the Polist River in the Lake Ilmen basin. It serves as the administrative center of Starorussky District, although administratively it is not a part of it...
, which is also the main setting of the novel. Since its publication, it has been acclaimed all over the world by thinkers as diverse as
Sigmund Freud
Sigmund Freud
Sigmund Freud , born Sigismund Schlomo Freud , was an Austrian neurologist who founded the discipline of psychoanalysis...
,
Albert Einstein
Albert Einstein
Albert Einstein was a German-born theoretical physicist who developed the theory of general relativity, effecting a revolution in physics. For this achievement, Einstein is often regarded as the father of modern physics and one of the most prolific intellects in human history...
,
Ludwig Wittgenstein
Ludwig Wittgenstein
Ludwig Josef Johann Wittgenstein was an Austrian philosopher who worked primarily in logic, the philosophy of mathematics, the philosophy of mind, and the philosophy of language. He was professor in philosophy at the University of Cambridge from 1939 until 1947...
,
Martin Heidegger
Martin Heidegger
Martin Heidegger was a German philosopher known for his existential and phenomenological explorations of the "question of Being."...
,
Cormac McCarthy
Cormac McCarthy
Cormac McCarthy is an American novelist and playwright. He has written ten novels, spanning the Southern Gothic, Western, and modernist genres. He received the Pulitzer Prize and the James Tait Black Memorial Prize for Fiction for The Road...
,
Kurt Vonnegut
Kurt Vonnegut
Kurt Vonnegut, Jr. was a 20th century American writer. His works such as Cat's Cradle , Slaughterhouse-Five and Breakfast of Champions blend satire, gallows humor and science fiction. He was known for his humanist beliefs and was honorary president of the American Humanist Association.-Early...
and
Pope Benedict XVI
Pope Benedict XVI
Benedict XVI is the 265th and current Pope, by virtue of his office of Bishop of Rome, the Sovereign of the Vatican City State and the leader of the Catholic Church as well as the other 22 sui iuris Eastern Catholic Churches in full communion with the Holy See...
as one of the supreme achievements in literature.
Context and background
Dostoyevsky began his first notes for
The Brothers Karamazov
in April 1878. Several influences can be gleaned from the earliest stages of the
novel
Novel
A novel is a book of long narrative in literary prose. The genre has historical roots both in the fields of the medieval and early modern romance and in the tradition of the novella. The latter supplied the present generic term in the late 18th century....
's genesis.
Though Dostoyevsky was influenced by
religion
Religion
Religion is a collection of cultural systems, belief systems, and worldviews that establishes symbols that relate humanity to spirituality and, sometimes, to moral values. Many religions have narratives, symbols, traditions and sacred histories that are intended to give meaning to life or to...
and
philosophy
Philosophy
Philosophy is the study of general and fundamental problems, such as those connected with existence, knowledge, values, reason, mind, and language. Philosophy is distinguished from other ways of addressing such problems by its critical, generally systematic approach and its reliance on rational...
in his life and the writing of
The Brothers Karamazov
, a personal tragedy altered the work. In May 1878, Dostoyevsky's three-year-old son Alyosha died of
epilepsy
Epilepsy
Epilepsy is a common chronic neurological disorder characterized by seizures. These seizures are transient signs and/or symptoms of abnormal, excessive or hypersynchronous neuronal activity in the brain.About 50 million people worldwide have epilepsy, and nearly two out of every three new cases...
, a condition inherited from his father. The novelist's grief is apparent throughout the book; Dostoyevsky named the hero Alyosha, as well as imbuing him with qualities which he sought and most admired. His loss is also reflected in the story of Captain Snegiryov and his young son Ilyusha.
The death of his son brought Dosteovsky to the
Optina Monastery
Optina Monastery
The Optina Hermitage is an Eastern Orthodox monastery for men near Kozelsk in Russia. In the 19th century, the Optina was the most important spiritual centre of the Russian Orthodox Church and served as the model for several other monasteries, including the nearby Shamordino Convent...
later that year. There, he found inspiration for several aspects of The Brothers Karamazov, though at the time he intended to write a novel about childhood instead. Parts of the biographical section of Zosima's life are based on The Life of the Elder Leonid, a text he found at Optina and copied "almost word for word".
Another experience led to his choosing patricide to dominate the external action of the novel. In the 1850s, while serving his sentence in Omsk, he met three brothers who represented the perfect fraternal union in expiation. They had committed a crime obeying the order of the firstborn, Alei, whose innocence and sweetness captivated the novelist from the first moment he met him.
Structure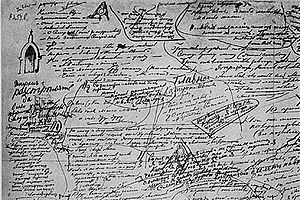 Although it was written in the 19th century,
The Brothers Karamazov
displays a number of modern elements. Dostoyevsky composed the book with a variety of literary techniques, which led many of his critics to characterize his work as "slipshod". Though privy to many of the thoughts and feelings of the
protagonist
Protagonist
A protagonist is the main character of a literary, theatrical, cinematic, or musical narrative, around whom the events of the narrative's plot revolve and with whom the audience is intended to most identify...
s, the narrator is a self-proclaimed writer; he discusses his own mannerisms and personal perceptions so often in the novel that he becomes a character. Through his descriptions, the narrator's voice merges imperceptibly into the
tone
Setting tone
Authors set a Tone in literature by conveying emotions/feelings through words. The way a person feels about an idea/concept, event, or another person can be quickly determined through facial expressions, gestures and in the tone of voice used. In literature an author sets the tone through words...
of the people he is describing, often extending into the characters' most personal thoughts. There is no voice of authority in the story (see
Mikhail Bakhtin
Mikhail Bakhtin
Mikhail Mikhailovich Bakhtin was a Russian philosopher, literary critic, semiotician and scholar who worked on literary theory, ethics, and the philosophy of language...
"Problems of Dostoyevsky's Art: Polyphony and Unfinalizability" for more on the relationship between Dostoyevsky and his characters). In addition to the principal narrator there are several sections narrated by other characters entirely, such as the story of the Grand Inquisitor and Zosima's confessions. This technique enhances the theme of truth, making many aspects of the tale completely subjective.
Dostoyevsky uses individual styles of speech to express the inner personality of each person. For example, the
attorney
Lawyer
A lawyer, according to Black's Law Dictionary, is "a person learned in the law; as an attorney, counsel or solicitor; a person who is practicing law." Law is the system of rules of conduct established by the sovereign government of a society to correct wrongs, maintain the stability of political...
Fetyukovich (based on Vladimir Spasovich) is characterized by
malapropism
Malapropism
A malapropism is an act of misusing or the habitual misuse of similar sounding words, especially with humorous results. An example is Yogi Berra's statement: "Texas has a lot of electrical votes," rather than "electoral votes".-Etymology:...
s (e.g. 'robbed' for 'stolen', and at one point declares five possible suspects in the murder 'irresponsible' rather than innocent). Several plot digressions provide insight into other apparently minor characters. For example, the narrative in Book Six is almost entirely devoted to Zosima's biography, which contains a confession from a man whom he met many years before. Dostoyevsky does not rely on a single source or a group of major characters to convey the themes of this book, but uses a variety of viewpoints, narratives and characters throughout.
Translation
The diverse array of literary techniques and distinct voices in the novel makes its
translation
Translation
Translation is the communication of the meaning of a source-language text by means of an equivalent target-language text. Whereas interpreting undoubtedly antedates writing, translation began only after the appearance of written literature; there exist partial translations of the Sumerian Epic of...
difficult, although
The Brothers Karamazov
has been translated from the original Russian into a number of languages. In
English
English language
English is a West Germanic language that arose in the Anglo-Saxon kingdoms of England and spread into what was to become south-east Scotland under the influence of the Anglian medieval kingdom of Northumbria...
, the translation by
Constance Garnett
Constance Garnett
Constance Clara Garnett was an English translator of nineteenth-century Russian literature...
probably continues to be the most widely read. However, some have criticized Garnett for taking too much liberty with Dostoyevsky's text while translating the novel in a
Victorian
Victorian era
The Victorian era of British history was the period of Queen Victoria's reign from 20 June 1837 until her death on 22 January 1901. It was a long period of peace, prosperity, refined sensibilities and national self-confidence...
manner. Another popular translation is by Julius Katzer, published by
Progress Publishers
Progress Publishers
Progress Publishers was a Moscow-based Soviet publisher founded in 1931.It was noted for its English-language editions of books on Marxism-Leninism....
in 1981 and later re-printed by Raduga Publishers
Moscow
Moscow
Moscow is the capital, the most populous city, and the most populous federal subject of Russia. The city is a major political, economic, cultural, scientific, religious, financial, educational, and transportation centre of Russia and the continent...
.
In 1958, Manuel Komroff released a translation of the novel, published by The New American Library of World Literature, Inc. In 1976, Ralph Matlaw thoroughly revised Garnett's work for his Norton Critical Edition volume. This in turn was the basis for Victor Terras' influential
A Karamazov Companion
. In 1990
Richard Pevear
Richard Pevear
Richard Pevear and Larissa Volokhonsky are a couple that are best known for their collaborative translations. Most of their translations are of works in Russian, but also French, Italian, and Greek. Their translations have been nominated three times and twice won the PEN/Book-of-the-Month Club...
and Larissa Volokhonsky released a new translation; it won a PEN/Book-of-the-Month Club Translation Prize in 1991 and garnered positive reviews from
The New York Times Book Review
The New York Times Book Review
The New York Times Book Review is a weekly paper-magazine supplement to The New York Times in which current non-fiction and fiction books are reviewed. It is one of the most influential and widely read book review publications in the industry. The offices are located near Times Square in New York...
and the Dostoyevsky scholar Joseph Frank, who praised it for being the most faithful to Dostoyevsky's original Russian. The translation by Andrew H. MacAndrew is also highly regarded .
Major characters
Fyodor Pavlovich Karamazov
, the father, is a 55-year-old "sponger" and buffoon who sires three sons during his two marriages. He is rumored to have fathered an illegitimate son, Pavel Fyodorovich Smerdyakov, whom he employs as his servant. Fyodor takes no interest in any of his sons, who, as a result, are raised apart from each other and their father. The relationship between Fyodor and his adult sons provides much of the plot in the novel.
Dmitri Fyodorovich Karamazov
(Mitya, Mitka, Mitenka, Mitri) is Fyodor Karamazov's eldest son and the only offspring of his first marriage. Dmitri is considered to be a sensualist, much like his father, spending large amounts of money on nights filled with champagne, women, and whatever entertainment and stimulation money can buy. Dmitri is brought into contact with his family when he finds himself in need of his inheritance, which he believes is being withheld by his father. Dmitiri's relationship with his father is the most volatile of the brothers, escalating to violence as he and his father begin fighting over the same woman, Grushenka. While he maintains a good relationship with Ivan, he is closest to his younger brother Alyosha, referring to him as his "
cherub
Cherub
A cherub is a type of spiritual being mentioned in the Hebrew Bible and cited later on in the Christian biblical canons, usually associated with the presence of God...
".
Ivan Fyodorovich Karamazov
, variously called Vanya, Vanka, and Vanechka, Ivan is the middle son and first by Fyodor's second marriage. He is a 24-year-old
rationalist
Rationalism
In epistemology and in its modern sense, rationalism is "any view appealing to reason as a source of knowledge or justification" . In more technical terms, it is a method or a theory "in which the criterion of the truth is not sensory but intellectual and deductive"...
, disturbed especially by the apparently senseless suffering in the world, depicted as highly intelligent. He says to Alyosha in the chapter "Rebellion" (Bk. 5, Ch. 4), "It's not God that I don't accept, Alyosha, only I most respectfully return him the ticket." From an early age, Ivan is sullen and isolated. His father tells Alyosha that he fears Ivan more than Dmitri. Some of the most memorable and acclaimed passages of the novel involve Ivan, including the chapter "Rebellion," his "poem" "
The Grand Inquisitor
The Grand Inquisitor
The Grand Inquisitor is a parable told by Ivan to Alyosha in Fyodor Dostoyevsky's novel The Brothers Karamazov . Ivan and Alyosha are brothers; Ivan questions the possibility of a personal, benevolent God and Alyosha is a novice monk....
" immediately following, and his nightmare of the devil (Bk. 11, Ch. 9).
Alexei Fyodorovich Karamazov
Variously referred to as Alyosha, Alyoshka, Alyoshenka, Alyoshechka, Alexeichik, Lyosha, and Lyoshenka, Alyosha Karamazov, at age 20, is the youngest of the Karamazov brothers, the youngest child by Karamazov's second wife and thus Ivan's full brother. The narrator identifies him as the hero of the novel in the opening chapter (as does the author in the preface). He is described as immensely likable. At the outset of the events, Alyosha is a
novice
Novice
A novice is a person or creature who is new to a field or activity. The term is most commonly applied in religion and sports.-Buddhism:In many Buddhist orders, a man or woman who intends to take ordination must first become a novice, adopting part of the monastic code indicated in the vinaya and...
in the local Russian Orthodox
monastery
Monastery
Monastery denotes the building, or complex of buildings, that houses a room reserved for prayer as well as the domestic quarters and workplace of monastics, whether monks or nuns, and whether living in community or alone .Monasteries may vary greatly in size – a small dwelling accommodating only...
. His faith is in contrast to his brother Ivan's
atheism
Atheism
Atheism is, in a broad sense, the rejection of belief in the existence of deities. In a narrower sense, atheism is specifically the position that there are no deities...
. His Elder, Father Zosima, sends him into the world, where he becomes involved in the sordid details of his family. In a secondary plotline, Alyosha befriends a group of school boys, whose fate adds a hopeful message to the conclusion of the novel.
Pavel Fyodorovich Smerdyakov
, the widely rumored to be the illegitimate son of Fyodor Karamazov, is the son of "Stinking Lizaveta", a mute woman of the street who died in childbirth. His name, Smerdyakov, means "son of the 'reeking one'". Smerdyakov grows up in the Karamazov house as a servant, working as Fyodor's lackey and cook. He is morose and sullen, and like Dostoyevsky, suffers from
epilepsy
Epilepsy
Epilepsy is a common chronic neurological disorder characterized by seizures. These seizures are transient signs and/or symptoms of abnormal, excessive or hypersynchronous neuronal activity in the brain.About 50 million people worldwide have epilepsy, and nearly two out of every three new cases...
. The narrator notes that as a child, Smerdyakov collected stray cats to hang and bury them. Generally aloof, Smerdyakov admires Ivan and shares his atheism.
Agrafena Alexandrovna Svetlova
, variously called Grushenka, Grusha, and Grushka, Agrafena Alexandrovna, a beautiful 22-year-old, is the local Jezebel and has an uncanny charm among men. In her youth she was jilted by a
Polish
Poles
thumb|right|180px|The state flag of [[Poland]] as used by Polish government and diplomatic authoritiesThe Polish people, or Poles , are a nation indigenous to Poland. They are united by the Polish language, which belongs to the historical Lechitic subgroup of West Slavic languages of Central Europe...
officer and subsequently came under the protection of a tyrannical miser. The episode leaves Grushenka with an urge for independence and control of her life. Grushenka inspires complete admiration and lust in both Fyodor and Dmitri Karamazov. Their rivalry for her affection is one of the most damaging factors in their relationship. Grushenka seeks to torment and then deride both Dmitri and Fyodor as a wicked amusement, a way to inflict upon others the pain she has felt at the hands of her 'former and indisputable one'. However, after she begins a friendship with Alyosha, and as the book progresses, she begins to tread a path of spiritual redemption through which emerges hidden qualities of gentleness and generosity, though her fiery temper and pride are ever present.
Katerina Ivanovna Verkhovtseva
, called Katya, Katka, and Katenka, Katerina Ivanovna is Dmitri's beautiful fiancee, despite his open forays with Grushenka. Her engagement to Dmitri is chiefly a matter of pride on both their parts, Dmitri having bailed her father out of a debt. Katerina is extremely proud and seeks to act as a noble martyr, suffering as a stark reminder of everyone's guilt. Because of this, she cannot bring herself to act on her love for Ivan, and constantly creates moral barriers between him and herself. By the end of the novel, she too, begins a real and sincere spiritual redemption, as seen in the epilogue, when she asks Mitya and Grushenka to forgive her.
Father Zosima, the Elder
Father Zosima is an Elder and spiritual advisor (
starets
Starets
A starets is an elder of a Russian Orthodox monastery who functions as venerated adviser and teacher. Elders or spiritual fathers are charismatic spiritual leaders whose wisdom stems from God as obtained from ascetic experience...
) in the town monastery and Alyosha's teacher. He is something of a celebrity among the townspeople for his reputed prophetic and healing abilities. His popularity inspires both admiration and jealousy amidst his fellow monks. Zosima provides a refutation to Ivan's atheistic arguments and helps to explain Alyosha's character. Zosima's teachings shape the way Alyosha deals with the young boys he meets in the Ilyusha storyline.
The character of Father Zosima was to some extent inspired by that of Saint
Tikhon of Zadonsk
Tikhon of Zadonsk
Saint Tikhon of Zadonsk was a Russian Orthodox bishop and spiritual writer who has been glorified a saint of the Orthodox Church....
.
Ilyusha
, Ilyushechka, or simply Ilusha in some translations, is one of the local schoolboys, and the central figure of a crucial subplot in the novel. His father, Captain Snegiryov, is an impoverished officer who is insulted by Dmitri after Fyodor Karamazov hires him to threaten the latter over his debts, and the Snegiryov family is brought to shame as a result. The reader is led to believe that it is partly because of this that Ilyusha falls ill, possibly to illustrate the theme that even minor actions can touch heavily on the lives of others, and that we are "all responsible for one another".
Synopsis
Book One: A Nice Little Family
The opening of the novel introduces the Karamazov family and relates the story of their distant and recent past. The details of Fyodor's two marriages as well as his indifference to the upbringing of his three children is chronicled. The
narrator
Narrator
A narrator is, within any story , the fictional or non-fictional, personal or impersonal entity who tells the story to the audience. When the narrator is also a character within the story, he or she is sometimes known as the viewpoint character. The narrator is one of three entities responsible for...
also establishes the widely varying personalities of the three brothers and the circumstances that have led to their return to Fyodor's town. The first book concludes by describing the mysterious religious order of Elders to which Alyosha has become devoted.
Book Two: An Inappropriate Gathering
Book Two begins as the Karamazov family arrives at the local monastery so that the Elder Zosima can act as a mediator between Dmitri and his father Fyodor in their dispute over Dmitri's
inheritance
Inheritance
Inheritance is the practice of passing on property, titles, debts, rights and obligations upon the death of an individual. It has long played an important role in human societies...
. It was the father's idea apparently as a joke to have the meeting take place in such a holy place in the presence of the famous Elder. Dmitri arrives late and the gathering soon degenerates and only exacerbates the
feud
Feud
A feud , referred to in more extreme cases as a blood feud, vendetta, faida, or private war, is a long-running argument or fight between parties—often groups of people, especially families or clans. Feuds begin because one party perceives itself to have been attacked, insulted or wronged by another...
between Dmitri and Fyodor. This book also contains a scene in which the Elder Zosima consoles a woman mourning the death of her three-year-old son. The poor woman's grief parallels Dostoyevsky's own tragedy at the loss of his young son Alyosha.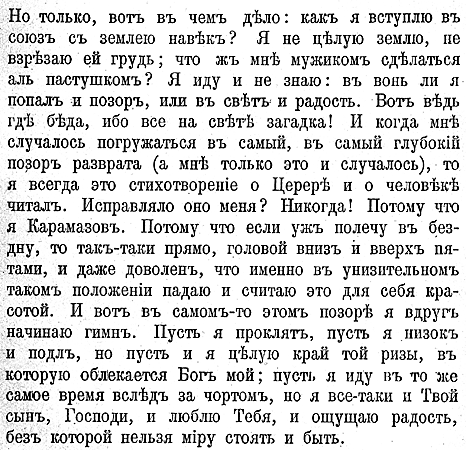 Book Three: Sensualists
The third book provides more details of the
love triangle
Love triangle
A love triangle is usually a romantic relationship involving three people. While it can refer to two people independently romantically linked with a third, it usually implies that each of the three people has some kind of relationship to the other two...
that has erupted between Fyodor, his son Dmitri, and Grushenka. Dmitri's personality is explored in the conversation between him and Alyosha as Dmitri hides near his father's home to see if Grushenka will arrive. Later that evening, Dmitri bursts into his father's house and assaults him while threatening to come back and kill him in the future. This book also introduces Smerdyakov and his origins, as well as the story of his mother, Stinking Lizaveta. At the conclusion of this book, Alyosha is witness to Grushenka's bitter humiliation of Dmitri's betrothed Katerina, resulting in terrible embarrassment and scandal for this proud woman.
Book Four: Lacerations/Strains
This section introduces a side story which resurfaces in more detail later in the novel. It begins with Alyosha observing a group of schoolboys throwing rocks at one of their sickly peers named Ilyusha. When Alyosha admonishes the boys and tries to help, Ilyusha bites Alyosha's finger. It is later learned that Ilyusha's father, a former staff-captain named Snegiryov, was assaulted by Dmitri, who dragged him by the beard out of a bar. Alyosha soon learns of the further hardships present in the Snegiryov household and offers the former staff captain money as an apology for his brother and to help Snegiryov's ailing wife and children. After initially accepting the money with joy, Snegiryov throws the money back at Alyosha out of pride and runs back into his home.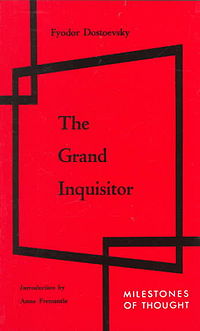 Book Five: Pro and Contra
Here, the
rationalist
Rationalism
In epistemology and in its modern sense, rationalism is "any view appealing to reason as a source of knowledge or justification" . In more technical terms, it is a method or a theory "in which the criterion of the truth is not sensory but intellectual and deductive"...
and
nihilistic
Nihilism
Nihilism is the philosophical doctrine suggesting the negation of one or more putatively meaningful aspects of life. Most commonly, nihilism is presented in the form of existential nihilism which argues that life is without objective meaning, purpose, or intrinsic value...
ideology that permeated Russia at this time is defended and espoused passionately by Ivan Karamazov while meeting his brother Alyosha at a restaurant. In the chapter titled "Rebellion", Ivan proclaims that he rejects the world that God has created because it is built on a foundation of suffering. In perhaps the most famous chapter in the novel, "
The Grand Inquisitor
The Grand Inquisitor
The Grand Inquisitor is a parable told by Ivan to Alyosha in Fyodor Dostoyevsky's novel The Brothers Karamazov . Ivan and Alyosha are brothers; Ivan questions the possibility of a personal, benevolent God and Alyosha is a novice monk....
", Ivan narrates to Alyosha his imagined poem that describes a leader from the
Spanish Inquisition
Spanish Inquisition
The Tribunal of the Holy Office of the Inquisition , commonly known as the Spanish Inquisition , was a tribunal established in 1480 by Catholic Monarchs Ferdinand II of Aragon and Isabella I of Castile. It was intended to maintain Catholic orthodoxy in their kingdoms, and to replace the Medieval...
and his encounter with
Jesus
Jesus
Jesus of Nazareth , commonly referred to as Jesus Christ or simply as Jesus or Christ, is the central figure of Christianity...
, Who has made His return to earth. Here, Jesus is rejected by the Inquisitor who puts Him in jail and then says, The Grand Inquisitor says that Jesus should not have given humans the "burden" of free will. At the end of all these arguments, Jesus silently steps forward and kisses the old man on his lips. The Grand Inquisitor, stunned and moved, tells Him he must never come there again, and lets Him out. Alyosha, after hearing this story, goes to Ivan and kisses him softly, with an unexplainable emotion, on the lips. Ivan shouts with delight, because Alyosha's gesture is taken directly from his poem. The brothers then part.
Book Six: The Russian Monk
The sixth book relates the life and history of the Elder Zosima as he lies near death in his
cell
Monastery
Monastery denotes the building, or complex of buildings, that houses a room reserved for prayer as well as the domestic quarters and workplace of monastics, whether monks or nuns, and whether living in community or alone .Monasteries may vary greatly in size – a small dwelling accommodating only...
. Zosima explains he found his faith in his rebellious youth, in the middle of a duel, consequently deciding to become a monk. Zosima preaches people must forgive others by acknowledging their own
sin
Sin
In religion, sin is the violation or deviation of an eternal divine law or standard. The term sin may also refer to the state of having committed such a violation. Christians believe the moral code of conduct is decreed by God In religion, sin (also called peccancy) is the violation or deviation...
s and guilt before others. He explains that no sin is isolated, making everyone responsible for their neighbor's sins. Zosima represents a philosophy that responds to Ivan's, which had challenged God's creation in the previous book.
Book Seven: Alyosha
The book begins immediately following the death of Zosima. It is a commonly held perception in the town, and the monastery as well, that true holy men's bodies do not succumb to putrefaction. Thus, the expectation concerning the Elder Zosima is that his deceased body will not decompose. It comes as a great shock to the entire town that Zosima's body not only decays, but begins the process almost immediately following his death. Within the first day, the smell of Zosima's body is already unbearable. For many this calls into question their previous respect and admiration for Zosima. Alyosha is particularly devastated by the sullying of Zosima's name due to nothing more than the corruption of his dead body. One of Alyosha's companions in the monastery named Rakitin uses Alyosha's vulnerability to set up a meeting between him and Grushenka. However, instead of Alyosha becoming corrupted, he is able to earn fresh faith and hope from Grushenka, while Grushenka's troubled mind begins the path of spiritual redemption through his influence: they become close friends. The book ends with the spiritual regeneration of Alyosha as he embraces, kisses the
earth
Earth
Earth is the third planet from the Sun, and the densest and fifth-largest of the eight planets in the Solar System. It is also the largest of the Solar System's four terrestrial planets...
outside the monastery (echoing, perhaps, Zosima's last earthly act before his death) and cries convulsively until finally going back out into the world, as Zosima instructed, renewed.
Book Eight: Mitya
This section deals primarily with Dmitri's wild and distraught pursuit of
money
Money
Money is any object or record that is generally accepted as payment for goods and services and repayment of debts in a given country or socio-economic context. The main functions of money are distinguished as: a medium of exchange; a unit of account; a store of value; and, occasionally in the past,...
so he can run away with Grushenka. Dmitri owes money to his fiancée Katerina and will believe himself to be a thief if he does not find the money to pay her back before embarking on his quest for Grushenka. This mad dash for money takes Dmitri from Grushenka's benefactor to a neighboring town on a fabricated promise of a
business
Business
A business is an organization engaged in the trade of goods, services, or both to consumers. Businesses are predominant in capitalist economies, where most of them are privately owned and administered to earn profit to increase the wealth of their owners. Businesses may also be not-for-profit...
deal. All the while Dmitri is petrified that Grushenka may go to his father Fyodor and marry him because he already has the monetary means to satisfy her. When Dmitri returns from his failed dealing in the neighboring town, he escorts Grushenka to her benefactor's home, but quickly discovers she deceived him and left early. Furious, he runs to his father's home with a
brass
Brass
Brass is an alloy of copper and zinc; the proportions of zinc and copper can be varied to create a range of brasses with varying properties.In comparison, bronze is principally an alloy of copper and tin...
pestle in his hand, and spies on him from the window. He takes the pestle from his pocket. Then, there is a discontinuity in the action, and Dmitri is suddenly running away off his father's property, knocking the servant Gregory in the head with the pestle with apparently fatal results.
Dmitri is next seen in a daze on the street, covered in blood, with three thousands of rubles in his hand. He soon learns that Grushenka's former betrothed has returned and taken her to a lodge near where Dmitri just was. Upon learning this, Dmitri loads a cart full of food and wine and pays for a huge orgy to finally confront Grushenka in the presence of her old flame, intending all the while to kill himself at dawn. The "first and rightful lover", however, is a boorish
Pole
Poland
Poland , officially the Republic of Poland , is a country in Central Europe bordered by Germany to the west; the Czech Republic and Slovakia to the south; Ukraine, Belarus and Lithuania to the east; and the Baltic Sea and Kaliningrad Oblast, a Russian exclave, to the north...
who cheats the party at a game of cards. When his deception is revealed, he flees, and Grushenka soon reveals to Dmitri that she really is in love with him. The party rages on, and just as Dmitri and Grushenka are making plans to marry, the
police
Police
The police is a personification of the state designated to put in practice the enforced law, protect property and reduce civil disorder in civilian matters. Their powers include the legitimized use of force...
enter the lodge and inform Dmitri that he is under arrest for the murder of his father.
Book Nine: The Preliminary Investigation
Book Nine introduces the details of Fyodor's murder and describes the
interrogation
Interrogation
Interrogation is interviewing as commonly employed by officers of the police, military, and Intelligence agencies with the goal of extracting a confession or obtaining information. Subjects of interrogation are often the suspects, victims, or witnesses of a crime...
of Dmitri as he is questioned for the crime he maintains he did not commit. The alleged motive for the crime is robbery. Dmitri was known to have been completely destitute earlier that evening, but is suddenly seen on the street with thousands of rubles shortly after his father's murder. Meanwhile, the three thousand rubles that Fyodor Karamazov had set aside for Grushenka has disappeared. Dmitri explains that the money he spent that evening came from three thousand rubles Katerina gave him to send to her sister. He spent half that at his first meeting with Grushenka—another drunken orgy—and sewed up the rest in a cloth, intending to give it back to Katerina in the name of honor, he says. The lawyers are not convinced by this. All of the
evidence
Evidence
Evidence in its broadest sense includes everything that is used to determine or demonstrate the truth of an assertion. Giving or procuring evidence is the process of using those things that are either presumed to be true, or were themselves proven via evidence, to demonstrate an assertion's truth...
points against Dmitri; the only other person in the house at the time of the murder was Smerdyakov, who was incapacitated due to an epileptic seizure he apparently suffered the day before. As a result of the overwhelming evidence against him, Dmitri is formally charged with the patricide and taken away to
prison
Prison
A prison is a place in which people are physically confined and, usually, deprived of a range of personal freedoms. Imprisonment or incarceration is a legal penalty that may be imposed by the state for the commission of a crime...
to await
trial
Trial (law)
In law, a trial is when parties to a dispute come together to present information in a tribunal, a formal setting with the authority to adjudicate claims or disputes. One form of tribunal is a court...
.
Book Ten: Boys
Boys
continues the story of the schoolboys and Ilyusha last referred to in Book Four. The book begins with the introduction of the young boy Kolya Krasotkin. Kolya is a brilliant boy who proclaims his atheism, socialism, and beliefs in the ideas of
Europe
Europe
Europe is, by convention, one of the world's seven continents. Comprising the westernmost peninsula of Eurasia, Europe is generally 'divided' from Asia to its east by the watershed divides of the Ural and Caucasus Mountains, the Ural River, the Caspian and Black Seas, and the waterways connecting...
. He seems destined to follow in the spiritual footsteps of Ivan Karamazov; Dostoyevsky uses Kolya's beliefs especially in a conversation with Alyosha to poke fun at his Westernizer critics by putting their beliefs in what appears to be a young boy who doesn't exactly know what he is talking about. Kolya is bored with life and constantly torments his mother by putting himself in danger. As part of a prank Kolya lies between
railroad
Rail transport
Rail transport is a means of conveyance of passengers and goods by way of wheeled vehicles running on rail tracks. In contrast to road transport, where vehicles merely run on a prepared surface, rail vehicles are also directionally guided by the tracks they run on...
tracks as a train passes over and becomes something of a legend for the feat. All the other boys look up to Kolya, especially Ilyusha. Since the narrative left Ilyusha in Book Four, his illness has progressively worsened and the
doctor
Physician
A physician is a health care provider who practices the profession of medicine, which is concerned with promoting, maintaining or restoring human health through the study, diagnosis, and treatment of disease, injury and other physical and mental impairments...
states that he will not recover. Kolya and Ilyusha had a falling out over Ilyusha's maltreatment of a dog: Ilyusha had fed it bread in which there was a pin on Smerdyakov's suggestion. But thanks to Alyosha's intervention the other schoolboys have gradually reconciled with Ilyusha, and Kolya soon joins them at his bedside. It is here that Kolya first meets Alyosha and begins to reassess his nihilist beliefs.
Book Eleven: Brother Ivan Fyodorovich
Book Eleven chronicles Ivan Karamazov's destructive influence on those around him and his descent into
madness
Insanity
Insanity, craziness or madness is a spectrum of behaviors characterized by certain abnormal mental or behavioral patterns. Insanity may manifest as violations of societal norms, including becoming a danger to themselves and others, though not all such acts are considered insanity...
. It is in this book that Ivan meets three times with Smerdyakov, the final meeting culminating in Smerdyakov's dramatic confession that he had faked the fit, murdered Fyodor Karamazov, and stolen the money, which he presents to Ivan. Smerdyakov expresses disbelief at Ivan's professed ignorance and surprise. Smerdyakov claims that Ivan was complicit in the murder by telling Smerdyakov when he would be leaving Fyodor's house, and more importantly by instilling in Smerdyakov the belief that in a world without God "everything is permitted." The book ends with Ivan having a hallucination in which he is visited by the devil, who torments Ivan by mocking his beliefs. Alyosha finds Ivan raving and informs him that Smerdyakov killed himself shortly after their final meeting.
Book Twelve: A Judicial Error
This book details the trial of Dmitri Karamazov for the murder of his father Fyodor. The
courtroom
Courtroom
A courtroom is the actual enclosed space in which a judge regularly holds court.The schedule of official court proceedings is called a docket; the term is also synonymous with a court's caseload as a whole.-Courtroom design:-United States:...
drama
Drama
Drama is the specific mode of fiction represented in performance. The term comes from a Greek word meaning "action" , which is derived from "to do","to act" . The enactment of drama in theatre, performed by actors on a stage before an audience, presupposes collaborative modes of production and a...
is sharply
satirized
Satire
Satire is primarily a literary genre or form, although in practice it can also be found in the graphic and performing arts. In satire, vices, follies, abuses, and shortcomings are held up to ridicule, ideally with the intent of shaming individuals, and society itself, into improvement...
by Dostoyevsky. The men in the crowd are presented as resentful and spiteful, and the women are irrationally drawn to the
romanticism
Romanticism
Romanticism was an artistic, literary and intellectual movement that originated in the second half of the 18th century in Europe, and gained strength in reaction to the Industrial Revolution...
of Dmitri's love triangle between himself, Katerina, and Grushenka. Ivan's madness takes its final hold over him and he is carried away from the courtroom after recounting his final meeting with Smerdyakov and the aforementioned confession. The turning point in the trial is Katerina's damning
testimony
Testimony
In law and in religion, testimony is a solemn attestation as to the truth of a matter. All testimonies should be well thought out and truthful. It was the custom in Ancient Rome for the men to place their right hand on a Bible when taking an oath...
against Dmitri. Impassioned by Ivan's illness which she believes is a result of her assumed love for Dmitri, she produces a letter drunkenly written by Dmitri saying that he would kill Fyodor. The section concludes with the impassioned closing remarks of the
prosecutor
Prosecutor
The prosecutor is the chief legal representative of the prosecution in countries with either the common law adversarial system, or the civil law inquisitorial system...
and the
defense
Defense (legal)
In civil proceedings and criminal prosecutions under the common law, a defendant may raise a defense in an attempt to avoid criminal or civil liability...
, and the verdict that Dmitri is guilty.
Epilogue
The final section opens with discussion of a plan developed for Dmitri's escape from his sentence of twenty years of hard labor in
Siberia
Siberia
Siberia is an extensive region constituting almost all of Northern Asia. Comprising the central and eastern portion of the Russian Federation, it was part of the Soviet Union from its beginning, as its predecessor states, the Tsardom of Russia and the Russian Empire, conquered it during the 16th...
. The plan is never fully described, but it seems to involve Ivan and Katerina bribing some guards. Dmitri and Katerina meet while Dmitri is in the hospital, recovering from an illness before he is due to be taken away. They agree to love each other for that one moment, and say they will love each other forever, even though both now love other people. The novel concludes at Ilyusha's funeral, where Ilyusha's schoolboy friends listen to Alyosha's "Speech by the Stone." Alyosha promises to remember Kolya, Ilyusha, and all the boys and keep them close in his heart, even though he will have to leave them and may not see them again until many years have passed. He implores them to love each other and to always remember Ilyusha, and to keep his memory alive in their hearts, and to remember this moment at the stone when they were all together and they all loved each other. In tears, the twelve boys promise Alyosha that they will keep each other in their memories forever, join hands, and return to the Snegiryov household for the funeral dinner, chanting, "Hurrah for Karamazov!"
Influence
The Brothers Karamazov
has had a deep influence on many writers and philosophers that followed it.
Sigmund Freud
Sigmund Freud
Sigmund Freud , born Sigismund Schlomo Freud , was an Austrian neurologist who founded the discipline of psychoanalysis...
called it "the most magnificent novel ever written" and was fascinated with the book for its
Oedipal
Oedipus complex
In psychoanalytic theory, the term Oedipus complex denotes the emotions and ideas that the mind keeps in the unconscious, via dynamic repression, that concentrate upon a boy's desire to sexually possess his mother, and kill his father...
themes. In 1928 Freud published a paper titled "Dostoevsky and Parricide" in which he investigated Dostoyevsky's own neuroses. Freud claimed that Dostoyevsky's epilepsy was not a natural condition but instead a physical manifestation of the author's hidden guilt over his father's death. According to Freud, Dostoyevsky (and all other sons) wished for the death of his father because of latent desire for his mother; and as evidence Freud cites the fact that Dostoyevsky's epileptic fits did not begin until he turned 18, the year his father died. The themes of patricide and guilt, especially in the form of moral guilt illustrated by Ivan Karamazov, would then obviously follow for Freud as literary evidence of this theory. However, scholars have since discredited Freud's connection because of evidence showing that Dostoyevsky's children inherited his epileptic condition, making the cause biological, rather than psychological.
Franz Kafka
Franz Kafka
Franz Kafka was a culturally influential German-language author of short stories and novels. Contemporary critics and academics, including Vladimir Nabokov, regard Kafka as one of the best writers of the 20th century...
is another writer who felt immensely indebted to Dostoyevsky and
The Brothers Karamazov
for influencing his own work. Kafka called himself and Dostoyevsky "blood relatives," perhaps because of Dostoyevsky's
existential
Existentialism
Existentialism is a term applied to a school of 19th- and 20th-century philosophers who, despite profound doctrinal differences, shared the belief that philosophical thinking begins with the human subject—not merely the thinking subject, but the acting, feeling, living human individual...
motifs. Another interesting parallel between the two authors was their strained relationships with their fathers. Kafka felt immensely drawn to the hatred Fyodor's sons demonstrate toward their father in
The Brothers Karamazov
and dealt with the theme of fathers and sons himself in many of his works, most explicitly in his
short story
Short story
A short story is a work of fiction that is usually written in prose, often in narrative format. This format tends to be more pointed than longer works of fiction, such as novellas and novels. Short story definitions based on length differ somewhat, even among professional writers, in part because...
"The Judgment".
James Joyce
James Joyce
James Augustine Aloysius Joyce was an Irish novelist and poet, considered to be one of the most influential writers in the modernist avant-garde of the early 20th century...
noted that, "[Leo]
Tolstoy
Leo Tolstoy
Lev Nikolayevich Tolstoy was a Russian writer who primarily wrote novels and short stories. Later in life, he also wrote plays and essays. His two most famous works, the novels War and Peace and Anna Karenina, are acknowledged as two of the greatest novels of all time and a pinnacle of realist...
admired him but he thought that he had little artistic accomplishment or mind. Yet, as he said, 'he admired his heart', a criticism which contains a great deal of truth, for though his characters do act extravagantly, madly, almost, still their basis is firm enough underneath...
The Brothers Karamazov
... made a deep impression on me... he created some unforgettable scenes [detail]... Madness you may call it, but therein may be the secret of his genius... I prefer the word exaltation, exaltation which can merge into madness, perhaps. In fact all great men have had that vein in them; it was the source of their greatness; the reasonable man achieves nothing."
Film adaptations
There have been several film adaptations of
The Brothers Karamazov
. They include:
The Brothers Karamazov (1915, directed by Victor Turiansky)
Die Brüder Karamasoff (1921, directed by Carl Froelich

Carl Froelich

Carl August Froelich was a German film pioneer and film director.-Apparatus builder and cameraman:...


, starring Fritz Kortner

Fritz Kortner

Fritz Kortner was an Austrian-born stage and film actor and theatre director.Kortner was born in Vienna as Fritz Nathan Kohn. He studied at the Vienna Academy of Music and Dramatic Art. After graduating, he joined Max Reinhardt in Berlin in 1911 and then Leopold Jessner in 1916. Also in that year...


and Bernhard Goetzke

Bernhard Goetzke

Bernhard Goetzke was a German film actor. He appeared in 130 films between 1917 and 1961.He was born in Danzig and died in Berlin.-Selected filmography:...


)
The Brothers Karamazov (1958, directed by Richard Brooks

Richard Brooks

Richard Brooks was an American screenwriter, film director, novelist and occasional film producer.-Early life and career:...


, starring Yul Brynner

Yul Brynner

Yul Brynner was a Russian-born actor of stage and film. He was best known for his portrayal of Mongkut, king of Siam, in the Rodgers and Hammerstein musical The King and I, for which he won an Academy Award for Best Actor for the film version; he also played the role more than 4,500 times on...


)
The Brothers Karamazov (1969, directed by Marcel Bluwal

Marcel Bluwal

Marcel Bluwal is a French film director and screenwriter. He has directed 40 films since 1955.-External links:...


)
The Brothers Karamazov

The Brothers Karamazov (1969 film)

The Brothers Karamazov is a 1969 Soviet film directed by Kirill Lavrov, Ivan Pyryev and Mikhail Ulyanov. It is based on the eponymous novel by the famous Russian author Fyodor Dostoevsky...


(1969, directed by Kirill Lavrov

Kirill Lavrov

Kirill Yuryevich Lavrov was a well-known Soviet and Russian film and theatre actor and director.-Childhood:Kirill Yuryevich Lavrov was born on September 15, 1925, in Leningrad, USSR . He was baptized by the Russian Orthodox Church of St. John the Divine in Lavrushinskoe Podvorie Monastery in...


, Ivan Pyryev

Ivan Pyryev

Ivan Aleksandrovich Pyryev , served as Director of the Mosfilm studios and was, for a time, the most influential man in the Soviet motion picture industry.Pyryev was born in Kamen-na-Obi, now Altai Krai, Russia...


and Mikhail Ulyanov

Mikhail Ulyanov

Mikhail Alexandrovich Ulyanov was a Soviet and Russian actor who was one of the most recognizable persons of the post-World War II Soviet theatre and cinema. He was named People's Artist of the USSR in 1969 and received a special prize from the Venice Film Festival in 1982.Mikhail Alexandrovich...


)
Boys (Мальчики) (1990, directed by Renita Grigorieva, based on the novel's eponymous tenth chapter)
The Brothers Karamazov (2008, directed by Yuri Moroz)
The Karamazovs (2008, directed by Petr Zelenka

Petr Zelenka

Petr Zelenka is an award-winning Czech playwright and director of theatre and film. His films have been recognized at international festivals in Moscow and Rotterdam...


)
TV adaptations
In November 2010, the Turkish private television channel,
Show TV
Show TV
SHOW TV is a nation-wide television channel in Turkey owned by Çukurova Holding. The channel was established by the Turkish businessmen Erol Aksoy and Haldun Simavi on March 1, 1992. During the last years, Show TV extended its range of viewers by adding more channels like Show Plus, Show Max and...
, started to air the weekly drama series
Karadağlar
Karadağlar
Karadağlar is a Turkish television drama loosely based on the novel The Brothers Karamazov by Fyodor Dostoyevsky. It airs on Show TV every week on Monday evenings at 20.00 local time, and is repeated on Wednesdays at 23.00, as well as on Sundays at 16.45.-Overview:Karadağlar is set in the 1930s,...
, which is inspired by
The Brothers Karamazov
. Its plot contains certain similarities to the storyline of Dostoyevsky's novel, but is set in a Turkish village and follows a family whose surname is Karadağ. The action in the series takes place in the 1930s. The TV series is directed by Oğuzhan Tercan and is broadcast by Show TV every Monday night at 20.00 local time.
External links