 Solid rocket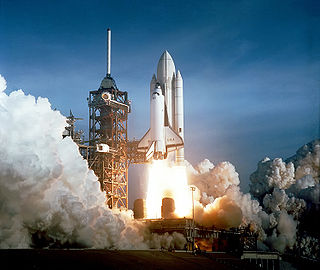 A
solid rocket
or a
solid-fuel rocket
is a
rocket engine
Rocket engine
A rocket engine, or simply "rocket", is a jet engineRocket Propulsion Elements; 7th edition- chapter 1 that uses only propellant mass for forming its high speed propulsive jet. Rocket engines are reaction engines and obtain thrust in accordance with Newton's third law...
that uses solid propellants (
fuel
Fuel
Fuel is any material that stores energy that can later be extracted to perform mechanical work in a controlled manner. Most fuels used by humans undergo combustion, a redox reaction in which a combustible substance releases energy after it ignites and reacts with the oxygen in the air...
/oxidizer). The earliest rockets were solid-fuel rockets powered by
gunpowder
Gunpowder
Gunpowder, also known since in the late 19th century as black powder, was the first chemical explosive and the only one known until the mid 1800s. It is a mixture of sulfur, charcoal, and potassium nitrate - with the sulfur and charcoal acting as fuels, while the saltpeter works as an oxidizer...
; they were used by the
Chinese
China
Chinese civilization may refer to:* China for more general discussion of the country.* Chinese culture* Greater China, the transnational community of ethnic Chinese.* History of China* Sinosphere, the area historically affected by Chinese culture...
in warfare as early as the 13th century and later by the Mongols,
Arab
Arab
Arab people, also known as Arabs , are a panethnicity primarily living in the Arab world, which is located in Western Asia and North Africa. They are identified as such on one or more of genealogical, linguistic, or cultural grounds, with tribal affiliations, and intra-tribal relationships playing...
s, and
Indian
India
India , officially the Republic of India , is a country in South Asia. It is the seventh-largest country by geographical area, the second-most populous country with over 1.2 billion people, and the most populous democracy in the world...
s.
All rockets used some form of solid or powdered
propellant
Propellant
A propellant is a material that produces pressurized gas that:* can be directed through a nozzle, thereby producing thrust ;...
up until the 20th century, when
liquid rocket
Liquid rocket
A liquid-propellant rocket or a liquid rocket is a rocket engine that uses propellants in liquid form. Liquids are desirable because their reasonably high density allows the volume of the propellant tanks to be relatively low, and it is possible to use lightweight pumps to pump the propellant from...
s and
hybrid rocket
Hybrid rocket
A hybrid rocket is a rocket with a rocket motor which uses propellants in two different states of matter - one solid and the other either gas or liquid. The Hybrid rocket concept can be traced back at least 75 years....
s offered more efficient and controllable alternatives. Solid rockets are still used today in
model rocket
Model rocket
A model rocket is a small rocket that is commonly advertised as being able to be launched by anybody, to, in general, low altitudes and recovered by a variety of means....
s and on larger applications for their simplicity and reliability.
Since solid-fuel rockets can remain in storage for long periods, and then reliably launch on short notice, they have been frequently used in military applications such as
missile
Missile
Though a missile may be any thrown or launched object, it colloquially almost always refers to a self-propelled guided weapon system.-Etymology:The word missile comes from the Latin verb mittere, meaning "to send"...
s. The lower performance of solid propellants (as compared to liquids) does not favor their use as primary propulsion in modern medium-to-large launch vehicles customarily used to orbit commercial satellites and launch major space probes. Solids are, however, frequently used as strap-on boosters to increase payload capacity or as spin-stabilized add-on upper stages when higher-than-normal velocities are required. Solid rockets
are
used as light launch vehicles for low Earth orbit (LEO) payloads under 2 tons or escape payloads up to 1000 pounds.
Basic concepts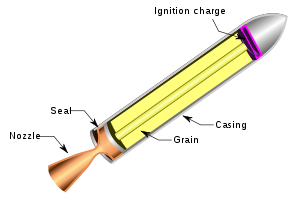 A simple solid rocket motor consists of a casing,
nozzle
De Laval nozzle
A de Laval nozzle is a tube that is pinched in the middle, making a carefully balanced, asymmetric hourglass-shape...
, grain (propellant charge), and igniter.
The grain behaves like a solid mass,
burning
Combustion
Combustion or burning is the sequence of exothermic chemical reactions between a fuel and an oxidant accompanied by the production of heat and conversion of chemical species. The release of heat can result in the production of light in the form of either glowing or a flame...
in a predictable fashion and producing exhaust gases. The
nozzle
Propelling nozzle
A propelling nozzle is the component of a jet engine that operates to constrict the flow, to form an exhaust jet and to maximise the velocity of propelling gases from the engine....
dimensions are calculated to maintain a design chamber pressure, while producing
thrust
Thrust
Thrust is a reaction force described quantitatively by Newton's second and third laws. When a system expels or accelerates mass in one direction the accelerated mass will cause a force of equal magnitude but opposite direction on that system....
from the exhaust gases.
Once ignited, a simple solid rocket motor cannot be shut off, because it contains all the ingredients necessary for combustion within the chamber in which they are burned. More advanced solid rocket motors can not only be
throttle
Throttle
A throttle is the mechanism by which the flow of a fluid is managed by constriction or obstruction. An engine's power can be increased or decreased by the restriction of inlet gases , but usually decreased. The term throttle has come to refer, informally and incorrectly, to any mechanism by which...
d but also be extinguished and then re-ignited by controlling the nozzle geometry or through the use of vent ports. Also,
pulsed rocket motors
Pulsed rocket motors
A pulsed rocket motor is typically defined as a multiple pulse solid propellant rocket motor. This design overcomes the limitation of solid propellant motors that they cannot be easily stopped and reignited. The pulse rocket motor allows the motor to be burned in segments that burn until...
that burn in segments and that can be ignited upon command are available.
Modern designs may also include a steerable nozzle for guidance,
avionics
Avionics
Avionics are electronic systems used on aircraft, artificial satellites and spacecraft.Avionic systems include communications, navigation, the display and management of multiple systems and the hundreds of systems that are fitted to aircraft to meet individual roles...
, recovery hardware (
parachute
Parachute
A parachute is a device used to slow the motion of an object through an atmosphere by creating drag, or in the case of ram-air parachutes, aerodynamic lift. Parachutes are usually made out of light, strong cloth, originally silk, now most commonly nylon...
s),
self-destruct
Self-destruct
A self-destruct is a mechanism which causes a device to destroy itself under a predefined set of circumstances.Self-destruct mechanisms are also found on devices and systems where malfunction could endanger large numbers of people...
mechanisms,
APU
Auxiliary power unit
An auxiliary power unit is a device on a vehicle that provides energy for functions other than propulsion. They are commonly found on large aircraft, as well as some large land vehicles.-Function:...
s, controllable tactical motors, controllable divert and attitude control motors, and thermal management materials.
Design
Design begins with the total impulse required, which determines the fuel/oxidizer mass. Grain geometry and chemistry are then chosen to satisfy the required motor characteristics.
The following are chosen or solved simultaneously. The results are exact dimensions for grain, nozzle, and case geometries:
The grain burns at a predictable rate, given its surface area and chamber pressure.
The chamber pressure is determined by the nozzle orifice diameter and grain burn rate.
Allowable chamber pressure is a function of casing design.
The length of burn time is determined by the grain 'web thickness'.
The grain may or may not be bonded to the casing. Case-bonded motors are more difficult to design since the deformation of the case and the grain under flight must be compatible.
Common modes of failure in solid rocket motors include fracture of the grain, failure of case bonding, and air pockets in the grain. All of these produce an instantaneous increase in burn surface area and a corresponding increase in exhaust gas and pressure, which may rupture the casing.
Another failure mode is casing
seal
Seal (mechanical)
A mechanical seal is a device which helps join systems or mechanisms together by preventing leakage , containing pressure, or excluding contamination...
design. Seals are required in casings that have to be opened to load the grain. Once a seal fails, hot gas will erode the escape path and result in failure. This was the cause of the
Space Shuttle Challenger disaster
STS-51-L
STS-51-L was the twenty-fifth flight of the American Space Shuttle program, which marked the first time an ordinary civilian, schoolteacher Christa McAuliffe, had flown aboard the Space Shuttle. The mission used Space Shuttle Challenger, which lifted off from the Launch Complex 39-B on 28 January...
.
Grain geometry
Solid rocket fuel deflagrates from the surface of exposed propellant in the combustion chamber. In this fashion, the geometry of the propellant inside the rocket motor plays an important role in the overall motor performance. As the surface of the propellant burns, the shape evolves (a subject of study in internal ballistics), most often changing the propellant surface area exposed to the combustion gases. The
mass flux
Mass flux
Mass flux is the rate of mass flow across a unit area .-See also:*Flux*Fick's law*Darcy's law...
(kg/s) [and, therefore, pressure] of combustion gases generated is a function of the instantaneous
surface area
Surface area
Surface area is the measure of how much exposed area a solid object has, expressed in square units. Mathematical description of the surface area is considerably more involved than the definition of arc length of a curve. For polyhedra the surface area is the sum of the areas of its faces...

, (m
2
), and linear
burn rate
Burn rate
Burn rate is a synonymous term for negative cash flow. It is a measure for how fast a company will use up its shareholder capital. If the shareholder capital is exhausted, the company will either have to start making a profit, find additional funding, or close down.The term came into common use...

(m/s):

Several geometric configurations are often used depending on the application and desired thrust curve:
Circular Bore: if in BATES

BATES

BATES is an acronym for BAllistic Test and Evaluation System, which is a standardized system for measuring solid rocket propellant performance developed by the United States Air Force Research Laboratory in the early 1960s, used for nearly 40 years thereafter, and again beginning in 2010.In modern...


configuration, produces progressive-regressive thrust curve.
End Burner: propellant burns from one axial end to other producing steady long burn, though has thermal difficulties, CG shift.
C-Slot: propellant with large wedge cut out of side (along axial direction), producing fairly long regressive thrust, though has thermal difficulties and asymmetric CG characteristics.
Moon Burner: off-center circular bore produces progressive-regressive long burn, though has slight asymmetric CG characteristics
Finocyl: usually a 5- or 6-legged star-like shape that can produce very level thrust, with a bit quicker burn than circular bore due to increased surface area.
Casing
The casing may be constructed from a range of materials. Cardboard is used for small black powder model motors, whereas aluminum is used for larger composite-fuel hobby motors. Steel is used for the
space shuttle boosters
Space Shuttle Solid Rocket Booster
The Space Shuttle Solid Rocket Boosters were the pair of large solid rockets used by the United States' NASA Space Shuttle during the first two minutes of powered flight. Together they provided about 83% of liftoff thrust for the Space Shuttle. They were located on either side of the rusty or...
. Filament wound
graphite epoxy casings
Graphite-Epoxy Motor
A Graphite-Epoxy Motor is a high-performance, solid rocket motor, used for supplemental thrust on several launch vehicles, including the Boeing Delta II and Delta IV. They are designed to allow launch vehicles to deliver larger payloads to orbit...
are used for high-performance motors.
The casing must be designed to withstand the pressure and resulting stresses of the rocket motor, possibly at elevated temperature. For design, the casing is considered a
pressure vessel
Pressure vessel
A pressure vessel is a closed container designed to hold gases or liquids at a pressure substantially different from the ambient pressure.The pressure differential is dangerous and many fatal accidents have occurred in the history of their development and operation. Consequently, their design,...
.
To protect the casing from corrosive hot gases, a sacrificial thermal liner on the inside of the casing is often implemented, which ablates to prolong the life of the motor casing.
Nozzle
A
convergent-divergent
De Laval nozzle
A de Laval nozzle is a tube that is pinched in the middle, making a carefully balanced, asymmetric hourglass-shape...
design accelerates the exhaust gas out of the nozzle to produce thrust. The nozzle must be constructed from a material that can withstand the heat of the combustion gas flow. Often, heat-resistant carbon-based materials are used, such as amorphous
graphite
Graphite
The mineral graphite is one of the allotropes of carbon. It was named by Abraham Gottlob Werner in 1789 from the Ancient Greek γράφω , "to draw/write", for its use in pencils, where it is commonly called lead . Unlike diamond , graphite is an electrical conductor, a semimetal...
or carbon-carbon.
Some designs include directional control of the exhaust. This can be accomplished by gimballing the nozzle, as in the Space Shuttle SRBs, by the use of jet vanes in the exhaust similar to those used in the
V-2 rocket
V-2 rocket
The V-2 rocket , technical name Aggregat-4 , was a ballistic missile that was developed at the beginning of the Second World War in Germany, specifically targeted at London and later Antwerp. The liquid-propellant rocket was the world's first long-range combat-ballistic missile and first known...
, or by liquid injection thrust vectoring (LITV).
An early
Minuteman
LGM-30 Minuteman
The LGM-30 Minuteman is a U.S. nuclear missile, a land-based intercontinental ballistic missile . As of 2010, the version LGM-30G Minuteman-III is the only land-based ICBM in service in the United States...
first stage used a single motor with four
gimbal
Gimbal
A gimbal is a pivoted support that allows the rotation of an object about a single axis. A set of two gimbals, one mounted on the other with pivot axes orthogonal, may be used to allow an object mounted on the innermost gimbal to remain immobile regardless of the motion of its support...
led nozzles to provide pitch, yaw, and roll control.
LITV consists of injecting a liquid into the exhaust stream after the nozzle throat. The liquid then vaporizes, and in most cases chemically reacts, adding mass flow to one side of the exhaust stream and thus providing a control moment. For example, the
Titan III
Titan III
The Titan IIIC was a space booster used by the United States Air Force. It was launched from Cape Canaveral Air Force Station, FL., and Vandenberg Air Force Base, CA. It was planned to be used as a launch vehicle in the cancelled Dyna-Soar and Manned Orbiting Laboratory programs...
C solid boosters injected nitrogen tetroxide for LITV; the tanks can be seen on the sides of the rocket between the main center stage and the boosters.
Performance
A typical well designed ammonium perchlorate composite propellant (APCP) first stage motor may have a vacuum specific impulse (Isp) as high as 285.6 s (Titan IVB SRMU). This compares to 339.3 s for kerosene/liquid oxygen (RD-180) and 452.3 s for hydrogen/oxygen (Block II SSME) bipropellant engines. Upper stage specific impulses are somewhat greater: as much as 303.8 s for APCP (Orbus 6E), 359 s for kerosene/oxygen (RD-0124) and 465.5 s for hydrogen/oxygen (RL10B-2). Propellant fractions are usually somewhat higher for (non-segmented) solid propellant first stages than for upper stages. The 117,000 pound Castor 120 first stage has a propellant mass fraction of 92.23% while the 31,000 pound Castor 30 upper stage recently developed for Orbital Science's Taurus II COTS (International Space Station resupply) launch vehicle has a 91.3% propellant fraction with 2.9% graphite epoxy motor casing, 2.4% nozzle, igniter and thrust vector actuator, and 3.4% non-motor hardware including such things as payload mount, interstage adapter, cable raceway, instrumentation, etc. Castor 120 and Castor 30 are 93 and 92 inches in diameter, respectively, and serve as stages on the Athena IC and IIC commercial launch vehicles. A four stage Athena II using Castor 120s as both first and second stages became the first
commercially developed
launch vehicle to launch a lunar probe (
Lunar Prospector
) in 1998.
Solid rockets can provide high thrust for relatively short periods of time. For this reason, solids have been used as initial stages in rockets (the classic example being the
Space Shuttle
Space Shuttle
The Space Shuttle was a manned orbital rocket and spacecraft system operated by NASA on 135 missions from 1981 to 2011. The system combined rocket launch, orbital spacecraft, and re-entry spaceplane with modular add-ons...
), while reserving high specific impulse engines, especially less massive hydrogen fueled engines for higher stages. In addition, solid rockets have a long history as the final boost stage for satellites due to their simplicity, reliability, compactness and reasonably high
mass fraction
Mass fraction
In aerospace engineering, the propellant mass fraction is a measure of a vehicle's performance, determined as the portion of the vehicle's mass which does not reach the destination...
. A spin-stabilized solid rocket motor is sometimes added when extra velocity is required, such as for a mission to a comet or the outer solar system, because a spinner does not require a guidance system (on the newly added stage). Thiokol's extensive family of mostly titanium-cased
Star
space motors has been widely used, especially on Delta launch vehicles and as spin-stabilized upper stages to launch satellites from the cargo bay of the Space Shuttle.
Star
motors have propellant fractions as high as 94.6% but add-on structures and equipment reduce the operating mass fraction by 2% or more.
Higher performing solid rocket propellants are used in large strategic missiles (as opposed to commercial launch vehicles). HMX, C
4
H
8
N
4
(NO
2
)
4
, a nitramine with greater energy than ammonium perchlorate, is the main ingredient in NEPE-75 propellant used in the Trident II D-5 Fleet Ballistic Missile. It is because of explosive hazard that the higher energy military solid propellants are not used in commercial launch vehicles except when the LV is an adapted ballistic missile already containing HMX propellant (example: Minotaur IV and V based on retired Peacekeeper ICBMs). The Naval Air Weapons Station at China Lake, CA developed a new compound, C
6
H
6
N
6
(NO
2
)
6
, called simply CL-20 (China Lake compound
#
20). Compared to HMX, CL-20 has 14% more energy per mass, 20% more energy per volume, and a higher oxygen-to-fuel ratio. One of the motivations for development of these very high energy density military solid propellants is to achieve mid-course exo-atmospheric ABM capability from missiles small enough to fit in existing ship-based below-deck vertical launch tubes and air-mobile truck-mounted launch tubes. CL-20 propellant compliant with Congress' 2004 insensitive munitions (IM) law has been demonstrated and may, as its cost comes down, be suitable for use in commercial launch vehicles, with a very significant increase in performance compared with the currently favored APCP solid propellants.
An attractive attribute for military use is the ability for solid rocket propellant to remain loaded in the rocket for long durations and then reliably launched at a moment's notice.
Black Powder (BP) Propellants
Composed of
charcoal
Charcoal
Charcoal is the dark grey residue consisting of carbon, and any remaining ash, obtained by removing water and other volatile constituents from animal and vegetation substances. Charcoal is usually produced by slow pyrolysis, the heating of wood or other substances in the absence of oxygen...
(fuel),
potassium nitrate
Potassium nitrate
Potassium nitrate is a chemical compound with the formula KNO3. It is an ionic salt of potassium ions K+ and nitrate ions NO3−.It occurs as a mineral niter and is a natural solid source of nitrogen. Its common names include saltpetre , from medieval Latin sal petræ: "stone salt" or possibly "Salt...
(oxidizer), and
sulfur
Sulfur
Sulfur or sulphur is the chemical element with atomic number 16. In the periodic table it is represented by the symbol S. It is an abundant, multivalent non-metal. Under normal conditions, sulfur atoms form cyclic octatomic molecules with chemical formula S8. Elemental sulfur is a bright yellow...
(additive), black powder is one of the oldest pyrotechnic compositions with application to rocketry. In modern times, black powder finds use in low-power model rockets (such as
Estes
Estes
Estes is a popular surname derived from the House of Este. It is also said to derive from Old English and have the meaning "of the East." As a surname, it has been traced to southern England in the region of Kent, as early as the mid-16th century....
and Quest rockets), as it is cheap and fairly easy to produce. The fuel grain is typically a mixture of pressed fine powder (into a solid, hard slug), with a burn rate that is highly dependent upon exact composition and operating conditions. Due to its sensitivity to fracture (and, therefore, catastrophic failure upon ignition) and poor performance (
specific impulse
Specific impulse
Specific impulse is a way to describe the efficiency of rocket and jet engines. It represents the derivative of the impulse with respect to amount of propellant used, i.e., the thrust divided by the amount of propellant used per unit time. If the "amount" of propellant is given in terms of mass ,...
around 80 s), BP does not typically find use in motors above 40 Ns.
Zinc-Sulfur (ZS) Propellants
Composed of powdered
zinc
Zinc
Zinc , or spelter , is a metallic chemical element; it has the symbol Zn and atomic number 30. It is the first element in group 12 of the periodic table. Zinc is, in some respects, chemically similar to magnesium, because its ion is of similar size and its only common oxidation state is +2...
metal and powdered sulfur (oxidizer), ZS or "micrograin" is another pressed propellant that does not find any practical application outside of specialized amateur rocketry circles due to its poor performance (as most ZS burns outside the combustion chamber) and incredibly fast linear burn rates on the order of 2 m/s. ZS is most often employed as a novelty propellant as the rocket accelerates extremely quickly, leaving a spectacular large orange fireball behind it.
"Candy" propellants
In general,
candy
Rocket candy
Rocket candy is a type of rocket propellant for model rockets made with sugar as a fuel, and containing an oxidizer. The propellant can be divided into three groups of components: the fuel, the oxidizer, and the additive. The fuel is a sugar; sucrose is the most commonly used. The most common...
propellants are an oxidizer (typically potassium nitrate) and a sugar fuel (typically dextrose,
sorbitol
Sorbitol
Sorbitol, also known as glucitol, Sorbogem® and Sorbo®, is a sugar alcohol that the human body metabolizes slowly. It can be obtained by reduction of glucose, changing the aldehyde group to a hydroxyl group. Sorbitol is found in apples, pears, peaches, and prunes...
, or
sucrose
Sucrose
Sucrose is the organic compound commonly known as table sugar and sometimes called saccharose. A white, odorless, crystalline powder with a sweet taste, it is best known for its role in human nutrition. The molecule is a disaccharide composed of glucose and fructose with the molecular formula...
) that are cast into shape by gently melting the propellant constituents together and pouring or packing the amorphous
colloid
Colloid
A colloid is a substance microscopically dispersed evenly throughout another substance.A colloidal system consists of two separate phases: a dispersed phase and a continuous phase . A colloidal system may be solid, liquid, or gaseous.Many familiar substances are colloids, as shown in the chart below...
into a mold. Candy propellants generate a low-medium specific impulse of roughly 130 s and, thus, are used primarily only by amateur and experimental rocketeers.
Double-Base (DB) Propellants
DB propellants are composed of two
monopropellant
Monopropellant
Monopropellants are propellants composed of chemicals or mixtures of chemicals which can be stored in a single container with some degree of safety. While stable under defined storage conditions, they react very rapidly under certain other conditions to produce a large volume of energetic gases...
fuel components where one typically acts as a high-energy (yet unstable) monopropellant and the other acts as a lower-energy stabilizing (and gelling) monopropellant. In typical circumstances,
nitroglycerin
is dissolved in a
nitrocellulose
Nitrocellulose
Nitrocellulose is a highly flammable compound formed by nitrating cellulose through exposure to nitric acid or another powerful nitrating agent. When used as a propellant or low-order explosive, it is also known as guncotton...
gel and solidified with additives. DB propellants are implemented in applications where minimal smoke is required yet medium-high performance (I
sp
of roughly 235 s) is required. The addition of metal fuels (such as aluminum) can increase the performance (around 250 s), though metal oxide
nucleation
Nucleation
Nucleation is the extremely localized budding of a distinct thermodynamic phase. Some examples of phases that may form by way of nucleation in liquids are gaseous bubbles, crystals or glassy regions. Creation of liquid droplets in saturated vapor is also characterized by nucleation...
in the exhaust can turn the smoke opaque.
Composite propellants
A powdered oxidizer and powdered metal fuel are intimately mixed and immobilized with a rubbery binder (that also acts as a fuel). Composite propellants are often either
ammonium nitrate
-based (ANCP) or
ammonium perchlorate
Ammonium perchlorate
Ammonium perchlorate is an inorganic compound with the formula NH4ClO4. It is the salt of perchloric acid and ammonia. It is a powerful oxidizer, which is why its main use is in solid propellants...
-based (APCP). Ammonium nitrate composite propellant often uses magnesium and/or aluminum as fuel and delivers medium performance (I
sp
of about 210 s) whereas
Ammonium Perchlorate Composite Propellant
Ammonium Perchlorate Composite Propellant
Ammonium perchlorate composite propellant is a modern solid rocket propellant used in both manned and unmanned rocket vehicles. It differs from many traditional solid rocket propellants such as black powder or Zinc-Sulfur, not only in chemical composition and overall performance, but also by the...
often uses aluminum fuel and delivers high performance (vacuum I
sp
up to 296 s with a single piece nozzle or 304 s with a high area ratio telescoping nozzle). Composite propellants are cast, and retain their shape after the rubber binder, such as
Hydroxyl-terminated polybutadiene
Hydroxyl-terminated polybutadiene
Hydroxyl-terminated polybutadiene is a polymer of butadiene terminated at each end with a hydroxyl functional group. It reacts with diisocyanate to form polyurethane, a stable and easily stored synthetic material....
(HTPB), cross-links (solidifies) with the aid of a curative additive. Because of its high performance, moderate ease of manufacturing, and moderate cost, APCP finds widespread use in space rockets, military rockets, hobby and amateur rockets, whereas cheaper and less efficient ANCP finds use in amateur rocketry and
gas generator
Gas generator
A gas generator usually refers to a device, often similar to a solid rocket or a liquid rocket that burns to produce large volumes of relatively cool gas, instead of maximizing the temperature and specific impulse. The low temperature allows the gas to be put to use more easily in many...
s. Ammonium dinitramide, NH
4
N(NO
2
)
2
, is being considered as a 1-to-1 chlorine-free substitute for ammonium perchlorate in composite propellants. Unlike ammonium nitrate, ADN can be substituted for AP without a loss in motor performance.
In 2009, a group succeeded in creating a propellant of
water
Water
Water is a chemical substance with the chemical formula H2O. A water molecule contains one oxygen and two hydrogen atoms connected by covalent bonds. Water is a liquid at ambient conditions, but it often co-exists on Earth with its solid state, ice, and gaseous state . Water also exists in a...
and nanoaluminum (
ALICE
ALICE (propellant)
ALICE is a rocket propellant which consists of nanoaluminum powder and water. After mixing, the material is frozen to keep it stable. Hence, the name ALICE, for ALuminum ICE rocket propellant.-References:* * * * * -External links:...
).
The
Constellation
Constellation
In modern astronomy, a constellation is an internationally defined area of the celestial sphere. These areas are grouped around asterisms, patterns formed by prominent stars within apparent proximity to one another on Earth's night sky....
program uses a mix of aluminum,
ammonium perchlorate
Ammonium perchlorate
Ammonium perchlorate is an inorganic compound with the formula NH4ClO4. It is the salt of perchloric acid and ammonia. It is a powerful oxidizer, which is why its main use is in solid propellants...
, a polymer of
polybutadiene
Polybutadiene
Polybutadiene is a synthetic rubber that is a polymer formed from the polymerization process of the monomer 1,3-butadiene.It has a high resistance to wear and is used especially in the manufacture of tires, which consumes about 70% of the production...
and
acrylonitrile
Acrylonitrile
Acrylonitrile is the chemical compound with the formula C3H3N. This pungent-smelling colorless liquid often appears yellow due to impurities. It is an important monomer for the manufacture of useful plastics. In terms of its molecular structure, it consists of a vinyl group linked to a nitrile...
,
epoxy
Epoxy
Epoxy, also known as polyepoxide, is a thermosetting polymer formed from reaction of an epoxide "resin" with polyamine "hardener". Epoxy has a wide range of applications, including fiber-reinforced plastic materials and general purpose adhesives....
and
iron oxide
Iron oxide
Iron oxides are chemical compounds composed of iron and oxygen. All together, there are sixteen known iron oxides and oxyhydroxides.Iron oxides and oxide-hydroxides are widespread in nature, play an important role in many geological and biological processes, and are widely utilized by humans, e.g.,...
.
High-Energy Composite (HEC) propellants
Typical HEC propellants start with a standard composite propellant mixture (such as APCP) and add a high-energy explosive to the mix. This extra component usually is in the form of small crystals of
RDX
RDX
RDX, an initialism for Research Department Explosive, is an explosive nitroamine widely used in military and industrial applications. It was developed as an explosive which was more powerful than TNT, and it saw wide use in WWII. RDX is also known as cyclonite, hexogen , and T4...
or
HMX
HMX
HMX, also called octogen, is a powerful and relatively insensitive nitroamine high explosive, chemically related to RDX. Like RDX, the name has been variously listed as High Melting eXplosive, Her Majesty's eXplosive, High-velocity Military eXplosive, or High-Molecular-weight rdX.The molecular...
, both of which have higher energy than ammonium perchlorate. Despite a modest increase in specific impulse, implementation is limited due to the increased hazards of the high-explosive additives.
Composite Modified Double Base propellants
Composite modified double base propellants start with a nitrocellulose/nitroglycerin double base propellant as a binder and add solids (typically ammonium perchlorate and powdered aluminum) normally used in composite propellants. The ammonium perchlorate makes up the oxygen deficit introduced by using nitrocellulose, improving the overall specific impulse. The aluminum also improves specific impulse as well as combustion stability. High performing propellants such as NEPE-75 used in Trident II D-5, replace most of the AP with HMX, further increasing specific impulse. The mixing of composite and double base propellant ingredients has become so common as to blur the functional definition of double base propellants.
Minimum-signature (smokeless) propellants
One of the most active areas of solid propellant research is the development of high-energy, minimum-signature propellant using CL-20 (
China Lake
Naval Air Weapons Station China Lake
- About : is part of under Commander, Navy Installation Command and is located in the Western Mojave Desert region of California, approximately north of Los Angeles. Occupying three counties – Kern, San Bernardino and Inyo – the installation's closest neighbors are the cities of Ridgecrest,...
compound #20), C
6
H
6
N
6
(NO
2
)
6
, which has 14% higher energy per mass and 20% higher energy density than HMX. The new propellant has been successfully developed and tested in tactical rocket motors. The propellant is non-polluting: acid free, solid particulates free, and lead free. It is also smoke free and has only a faint shock diamond pattern that is visible in the otherwise transparent exhaust. Without the bright flame and dense smoke trail produced by the burning of aluminized propellants, these smokeless propellants all but eliminate the risk of giving away the positions from which the missiles are fired. The new CL-20 propellant is shock-insensitive (hazard class 1.3) as opposed to current HMX smokeless propellants which are highly detonable (hazard class 1.1). CL-20 is considered a major breakthrough in solid rocket propellant technology but has yet to see widespread use because costs remain high.
Hobby and amateur rocketry
Solid propellant rocket motors can be bought for use in
model rocket
Model rocket
A model rocket is a small rocket that is commonly advertised as being able to be launched by anybody, to, in general, low altitudes and recovered by a variety of means....
ry; they are normally small cylinders of black powder fuel with an integral
nozzle
Nozzle
A nozzle is a device designed to control the direction or characteristics of a fluid flow as it exits an enclosed chamber or pipe via an orifice....
and sometimes a small charge that is set off when the propellant is exhausted after a time delay. This charge can be used to trigger a
camera
Camera
A camera is a device that records and stores images. These images may be still photographs or moving images such as videos or movies. The term camera comes from the camera obscura , an early mechanism for projecting images...
, or deploy a
parachute
Parachute
A parachute is a device used to slow the motion of an object through an atmosphere by creating drag, or in the case of ram-air parachutes, aerodynamic lift. Parachutes are usually made out of light, strong cloth, originally silk, now most commonly nylon...
. Without this charge and delay, the motor may ignite a second
stage
Multistage rocket
A multistage rocket is a rocket that usestwo or more stages, each of which contains its own engines and propellant. A tandem or serial stage is mounted on top of another stage; a parallel stage is attached alongside another stage. The result is effectively two or more rockets stacked on top of or...
(black powder only).
In mid- and high-power rocketry, commercially made APCP motors are widely used. They can be designed as either single-use or reloadables. These motors are available in impulse ranges from "D" to "O", from several manufacturers. They are manufactured in standardized diameters, and varying lengths depending on required impulse. Standard motor diameters are 18, 24, 29, 38, 54, 75, 98, and 150 millimeters. Different propellant formulations are available to produce different thrust profiles, as well as "special effects" such as colored flames, smoke trails, or large quantities of sparks (produced by adding
titanium
Titanium
Titanium is a chemical element with the symbol Ti and atomic number 22. It has a low density and is a strong, lustrous, corrosion-resistant transition metal with a silver color....
sponge to the mix).
Designing solid rocket motors is particularly interesting to amateur rocketry enthusiasts. The design of a successful solid-fuel motor requires application of
continuum mechanics
Continuum mechanics
Continuum mechanics is a branch of mechanics that deals with the analysis of the kinematics and the mechanical behavior of materials modelled as a continuous mass rather than as discrete particles...
,
combustion
Combustion
Combustion or burning is the sequence of exothermic chemical reactions between a fuel and an oxidant accompanied by the production of heat and conversion of chemical species. The release of heat can result in the production of light in the form of either glowing or a flame...
chemistry
Chemistry
Chemistry is the science of matter, especially its chemical reactions, but also its composition, structure and properties. Chemistry is concerned with atoms and their interactions with other atoms, and particularly with the properties of chemical bonds....
,
materials science
Materials science
Materials science is an interdisciplinary field applying the properties of matter to various areas of science and engineering. This scientific field investigates the relationship between the structure of materials at atomic or molecular scales and their macroscopic properties. It incorporates...
,
fluid dynamics
Fluid dynamics
In physics, fluid dynamics is a sub-discipline of fluid mechanics that deals with fluid flow—the natural science of fluids in motion. It has several subdisciplines itself, including aerodynamics and hydrodynamics...
(including
compressible flow
Compressible flow
Compressible flow is the area of fluid mechanics that deals with fluids in which the fluid density varies significantly in response to a change in pressure. Compressibility effects are typically considered significant if the Mach number of the flow exceeds 0.3, or if the fluid undergoes very large...
),
heat transfer
Heat transfer
Heat transfer is a discipline of thermal engineering that concerns the exchange of thermal energy from one physical system to another. Heat transfer is classified into various mechanisms, such as heat conduction, convection, thermal radiation, and phase-change transfer...
,
geometry
Geometry
Geometry arose as the field of knowledge dealing with spatial relationships. Geometry was one of the two fields of pre-modern mathematics, the other being the study of numbers ....
(particle spectrum packing), and
machining
Machining
Conventional machining is a form of subtractive manufacturing, in which a collection of material-working processes utilizing power-driven machine tools, such as saws, lathes, milling machines, and drill presses, are used with a sharp cutting tool to physical remove material to achieve a desired...
. The vast majority of amateur-built rocket motors utilize a composite propellant, most commonly
APCP
Ammonium Perchlorate Composite Propellant
Ammonium perchlorate composite propellant is a modern solid rocket propellant used in both manned and unmanned rocket vehicles. It differs from many traditional solid rocket propellants such as black powder or Zinc-Sulfur, not only in chemical composition and overall performance, but also by the...
.
History
Solid rockets were invented by the Chinese, the earliest versions were recorded in the 13th century.
Hyder Ali
Hyder Ali
Hyder Ali was the de facto ruler of the Kingdom of Mysore in southern India. Born Hyder Naik, he distinguished himself militarily, eventually drawing the attention of Mysore's rulers...
, king of
Mysore
, developed war rockets with an important change: the use of metal cylinders to contain the combustion powder.
Castable solid rockets engines were invented by John Whiteside Parsons when he replaced black powder with
asphalt
Asphalt
Asphalt or , also known as bitumen, is a sticky, black and highly viscous liquid or semi-solid that is present in most crude petroleums and in some natural deposits, it is a substance classed as a pitch...
and
potassium perchlorate
Potassium perchlorate
Potassium perchlorate is the inorganic salt with the chemical formula KClO4. Like other perchlorates, this salt is a strong oxidizer and potentially reacts with many organic substances...
to give a much higher Isp.
Advanced research
Environmentally sensitive fuel formulations such as ALICE propellant

ALICE (propellant)

ALICE is a rocket propellant which consists of nanoaluminum powder and water. After mixing, the material is frozen to keep it stable. Hence, the name ALICE, for ALuminum ICE rocket propellant.-References:* * * * * -External links:...



Ramjet

Ramjet

A ramjet, sometimes referred to as a stovepipe jet, or an athodyd, is a form of airbreathing jet engine using the engine's forward motion to compress incoming air, without a rotary compressor. Ramjets cannot produce thrust at zero airspeed and thus cannot move an aircraft from a standstill...


s with solid fuel
Variable thrust designs based on variable nozzle geometry
Hybrid rocket

Hybrid rocket

A hybrid rocket is a rocket with a rocket motor which uses propellants in two different states of matter - one solid and the other either gas or liquid. The Hybrid rocket concept can be traced back at least 75 years....


s that use solid fuel and throttleable liquid or gaseous oxidizer
See also
Fireworks

Fireworks

Fireworks are a class of explosive pyrotechnic devices used for aesthetic and entertainment purposes. The most common use of a firework is as part of a fireworks display. A fireworks event is a display of the effects produced by firework devices...



Pyrotechnic composition

Pyrotechnic composition

A pyrotechnic composition is a substance or mixture of substances designed to produce an effect by heat, light, sound, gas or smoke or a combination of these, as a result of non-detonative self-sustaining exothermic chemical reactions...



Ammonium Perchlorate Composite Propellant

Ammonium Perchlorate Composite Propellant

Ammonium perchlorate composite propellant is a modern solid rocket propellant used in both manned and unmanned rocket vehicles. It differs from many traditional solid rocket propellants such as black powder or Zinc-Sulfur, not only in chemical composition and overall performance, but also by the...



Intercontinental ballistic missile

Intercontinental ballistic missile

An intercontinental ballistic missile is a ballistic missile with a long range typically designed for nuclear weapons delivery...



Jetex engine

Jetex engine

The Jetex engine was a type of solid-fuel rocket engine produced for use as a powerplant for model aircraft. Originally developed in 1947, by Wilmot, Mansour & Company Ltd of Southampton, it was first demonstrated to the modelling press in early 1948, and was available to the public in June 1948,...



Space Shuttle Solid Rocket Booster

Space Shuttle Solid Rocket Booster

The Space Shuttle Solid Rocket Boosters were the pair of large solid rockets used by the United States' NASA Space Shuttle during the first two minutes of powered flight. Together they provided about 83% of liftoff thrust for the Space Shuttle. They were located on either side of the rusty or...



Skyrocket

Skyrocket

A skyrocket is a type of firework that uses a solid rocket motor to rise quickly into the sky. At the apex of its ascent, it is usual for a variety of effects to be emitted...



Comparison of solid-fuelled orbital launch systems
External links