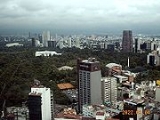 Polanco (Mexico)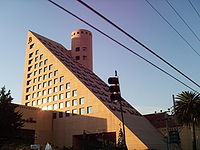 This article is about a neighborhood of Mexico City, for other uses read Polanco (disambiguation).
Polanco
is the name that usually refers to a group of seven official neighborhoods ("colonias") in
Mexico City
Mexico City
Mexico City is the Federal District , capital of Mexico and seat of the federal powers of the Mexican Union. It is a federal entity within Mexico which is not part of any one of the 31 Mexican states but belongs to the federation as a whole...
, located north of Chapultepec Park. The official names of the neighborhoods are: Los Morales (which is divided in three sections), Del Bosque, Polanco Reforma, Polanco Chapultepec, Chapultepec Morales, Bosque de Chapultepec and Residencial del Bosque. Its borders are: to the north Avenida Ejército Nacional, to the east Calzada General Mariano Escobedo, to the south
Paseo de la Reforma
Paseo de la Reforma
Paseo de la Reforma is a wide avenue that runs in a straight line, cutting diagonally across Mexico City. It was designed by Ferdinand von Rosenzweig in the 1860s and modeled after the great boulevards of Europe, such as Vienna's Ringstrasse or the Champs-Élysées in Paris...
and to the west Boulevard Manuel Avila Camacho (Periferico).
Its street names incorporate an eclectic mix of universal philosophers, writers, scientists and even a Czech president.
History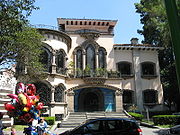 Polanco was developed in 1937 by the Aleman family, the same developers of Ciudad Satélite and San José Insurgentes districts, in the land that was originally the Hacieda de los Morales, just north of Molino del Rey town and Bosque de Chapultepec. The first area to be built was the one that is now called Polanco Reforma and lies just north of Paseo de la Reforma, the entrance to the new neighborhood was signed by a tile
obelisk
Obelisk
An obelisk is a tall, four-sided, narrow tapering monument which ends in a pyramid-like shape at the top, and is said to resemble a petrified ray of the sun-disk. A pair of obelisks usually stood in front of a pylon...
facing Reforma. In those days, there were only mansions surrounded by gardens and tree lined streets.
By the 60's the first department store arrived to the neighborhood, forever transforming the face of Polanco. In the 70's the last piece of land to be developed was sold, the triangle of Ejército Nacional, Ferrocarril de Cuernavaca and Periférico, where no stand-alone housing was built, only apartment buildings.
The 1985 earthquake reshaped the city layout, and Polanco was no exception; restaurants, embassies, boutiques and corporate business slowly moved from
Zona Rosa
Zona Rosa
Zona Rosa is a neighborhood in Mexico City which is known for its shopping, nightlife, gay community, and its recently established Korean community...
and found a great new home in Polanco. Suddenly big houses were torn down and new buildings were erected instead. The old inhabitants moved to neighborhoods such as Bosques de las Lomas and Tecamachalco.
Today Polanco is facing a challenge. Land price is one of the most expensive in the city, as city rules forbid skyscrapers in the area. There are few big mansions remaining which are protected by
INBA
Inba
INBA or Inba may refer to: Chile*Internado Nacional Barros Arana, a prestigious secondary school Germany*InBA - Institut des Bewertungsausschusses, a german institution that supports the board which negotiates the ratings for medical treatments in national health services. India*Inba , a 2008...
, therefore large building projects can not be undertaken like the ones in Lomas de Chapultepec, or
Santa Fe
Santa Fe (Mexico City)
thumb|400px|Panoramic view of Santa Fethumb|200px|Carlos Lazo AveSanta Fe or City Santa Fe is one of Mexico City's major business districts, located in the west part of the city in the delegaciones of Cuajimalpa and Álvaro Obregón. Paseo de la Reforma and Constituyentes are the primary means of...
, two areas which have an edge on attracting new inhabitants.
Architecture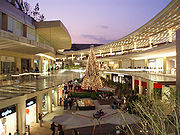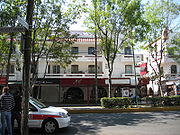 Polanco enjoyed a construction boom in the 1950s when mansions and luxury apartment complexes were built. The style of construction of most mansions of this date is "Colonial Californiano", inspired by the
Mission Revival Style
Mission Revival Style architecture
The Mission Revival Style was an architectural movement that began in the late 19th century for a colonial style's revivalism and reinterpretation, which drew inspiration from the late 18th and early 19th century Spanish missions in California....
in the
Southwestern United States
Southwestern United States
The Southwestern United States is a region defined in different ways by different sources. Broad definitions include nearly a quarter of the United States, including Arizona, California, Colorado, Nevada, New Mexico, Oklahoma, Texas and Utah...
, with pseudo-
baroque
Baroque
The Baroque is a period and the style that used exaggerated motion and clear, easily interpreted detail to produce drama, tension, exuberance, and grandeur in sculpture, painting, literature, dance, and music...
quarry
Quarry
A quarry is a type of open-pit mine from which rock or minerals are extracted. Quarries are generally used for extracting building materials, such as dimension stone, construction aggregate, riprap, sand, and gravel. They are often collocated with concrete and asphalt plants due to the requirement...
windows, front-side gardens and inside halls. Some of these mansions have been renovated and converted into businesses and restaurants, many others have simply been torn down and replaced with new buildings.
Inhabitants
Polanco is notable because of its cultural diversity. This neighborhood has historically been preferred by the descendants of Jewish,
Lebanese
Lebanon
Lebanon , officially the Republic of LebanonRepublic of Lebanon is the most common term used by Lebanese government agencies. The term Lebanese Republic, a literal translation of the official Arabic and French names that is not used in today's world. Arabic is the most common language spoken among...
,
Germans
Germany
Germany , officially the Federal Republic of Germany , is a federal parliamentary republic in Europe. The country consists of 16 states while the capital and largest city is Berlin. Germany covers an area of 357,021 km2 and has a largely temperate seasonal climate...
and
Spanish
Spain
Spain , officially the Kingdom of Spain languages]] under the European Charter for Regional or Minority Languages. In each of these, Spain's official name is as follows:;;;;;;), is a country and member state of the European Union located in southwestern Europe on the Iberian Peninsula...
immigrants. It is also notable because it is considered to be an expensive neighborhood with wealthy inhabitants, including celebrities, artists and politicians. The neighborhood is also populated with expensive offices, restaurants and shops.
Today
Polanco is nowadays to the city what Zona Rosa was in the 1960s. It is one of the most active areas with upscale hotels, including the Presidente
Intercontinental
Intercontinental
Intercontinental may refer to:* anything spanning several continents* Intercontinental ballistic missile* the InterContinental hotel chain* InterContinental Hotels Group* Intercontinental Cup * Intercontinental Championship...
, JW Marriott, W hotel, Nikko and Camino Real; restaurants; and shopping malls, including
Antara Polanco
Antara Polanco
Antara Polanco, is an upscale open-air shopping center in Polanco, Mexico City, Mexico and is considered to be one of the most exclusive shopping destinations in Mexico.-Background:...
, Plaza Moliere 222 and Pabellón Polanco, as well as embassies, art galleries and government offices. It houses the offices of international organizations such as the UN,
OAS
Organization of American States
The Organization of American States is a regional international organization, headquartered in Washington, D.C., United States...
,
Inter-American Development Bank
Inter-American Development Bank
The Inter-American Development Bank is the largest source of development financing for Latin America and the Caribbean...
,
Pan American Health Organization
Pan American Health Organization
The Pan American Health Organization is an international public health agency with over 100 years of experience working to improve health and living standards of the people of the Americas...
and the OECD Mexico Centre, and the offices of many corporations, including Coca Cola. There are several residential developments currently underway in the area, in hopes that this will encourage an influx of new inhabitants.
Avenida Presidente Masaryk
The highest-priced street and the one with the most upscale boutiques in
Latin America
Latin America
Latin America is a region of the Americas where Romance languages – particularly Spanish and Portuguese, and variably French – are primarily spoken. Latin America has an area of approximately 21,069,500 km² , almost 3.9% of the Earth's surface or 14.1% of its land surface area...
, it is compared by some to
LA
Los Angeles, California
Los Angeles , with a population at the 2010 United States Census of 3,792,621, is the most populous city in California, USA and the second most populous in the United States, after New York City. It has an area of , and is located in Southern California...
's
Rodeo Drive
Rodeo Drive
Rodeo Drive of Beverly Hills, California is a shopping district known for designer label and haute couture fashion. The name generally refers to a three-block long stretch of boutiques and shops but the street stretches further north and south....
or
New York City
New York City
New York is the most populous city in the United States and the center of the New York Metropolitan Area, one of the most populous metropolitan areas in the world. New York exerts a significant impact upon global commerce, finance, media, art, fashion, research, technology, education, and...
's
5th Avenue
Fifth Avenue (Manhattan)
Fifth Avenue is a major thoroughfare in the center of the borough of Manhattan in New York City, New York, United States. The section of Fifth Avenue that crosses Midtown Manhattan, especially that between 49th Street and 60th Street, is lined with prestigious shops and is consistently ranked among...
. The Avenue is named after the first
President
of
Czechoslovakia
Czechoslovakia
Czechoslovakia or Czecho-Slovakia was a sovereign state in Central Europe which existed from October 1918, when it declared its independence from the Austro-Hungarian Empire, until 1992...
Tomáš Masaryk
Tomáš Masaryk
Tomáš Garrigue Masaryk , sometimes called Thomas Masaryk in English, was an Austro-Hungarian and Czechoslovak politician, sociologist and philosopher, who as an eager advocate of Czechoslovak independence during World War I became the founder and first President of Czechoslovakia, also was...
.
Shops include
Louis Vuitton
Louis Vuitton
Louis Vuitton Malletier – commonly referred to as Louis Vuitton , or shortened to LV – is a French fashion house founded in 1854 by Louis Vuitton. The label is well known for its LV monogram, which is featured on most products, ranging from luxury trunks and leather goods to ready-to-wear, shoes,...
,
Cartier
Cartier SA
Cartier S.A., commonly known as Cartier , is a French luxury jeweler and watch manufacturer. The corporation carries the name of the Cartier family of jewellers whose control ended in 1964 and who were known for numerous pieces including the "Bestiary" , the diamond necklace created for Bhupinder...
,
Chanel
Chanel
Chanel S.A. is a French fashion house founded by the couturier Gabrielle "Coco" Chanel, well established in haute couture, specializing in luxury goods . She gained the name "Coco" while maintaining a career as a singer at a café in France...
,
Salvatore Ferragamo
Salvatore Ferragamo
Salvatore Ferragamo was a Florentine and Italian shoe designer. He worked with many Hollywood stars in the 1920s, before returning to Italy to found the eponymous company making unique hand-made footwear. His scientific and creative approach to shoes spawned many innovations such as the wedge heel...
,
Tiffany & Co.
Tiffany & Co.
Tiffany & Co. is an American jewelry and silverware company. As part of its branding, the company is strongly associated with its Tiffany Blue , which is a registered trademark.- History :...
, DKNY,
Ermenegildo Zegna
Ermenegildo Zegna
Ermenegildo Zegna is a leading Italian fashion house, specialing in men's clothing. Founded in 1910, it is now managed by the fourth generation of the Zegna family and remains in family ownership. As well as producing suits for its own labels, it manufactures suits for labels such as Gucci, Yves...
,
Brioni
Brioni
Brioni is an Italian fashion house founded in 1945. It specializes in the sale of hand-made suits. PPR acquired the company in 2011.-History:...
,
Burberry
Burberry
Burberry Group plc is a British luxury fashion house, manufacturing clothing, fragrance, and fashion accessories. Its distinctive tartan pattern has become one of its most widely copied trademarks. Burberry is most famous for its iconic trench coat, which was invented by founder Thomas Burberry...
,
Bulgari
Bulgari
Bulgari is an Italian jeweler and luxury goods retailer which has been owned by the French firm LVMH since October 2011. The trademark is usually written "BVLGARI" in the classical Latin alphabet , and is derived from the surname of the company's Greek founder, Sotirio Voulgaris...
,
Chopard
Chopard
Chopard is a Swiss based luxury watch, jewelry, and accessories company founded in 1860 by Louis-Ulysse Chopard at the age of 24. Chopard initially concentrated on developing precise pocket watches and chronometers based upon innovative ideas...
,
Gucci
Gucci
The House of Gucci, better known simply as Gucci , is an Italian fashion and leather goods label, part of the Gucci Group, which is owned by French company PPR...
,
Hermès
Hermès
Hermès International S.A., or simply Hermès is a French high fashion house established in 1837, today specializing in leather, lifestyle accessories, perfumery, luxury goods, and ready-to-wear...
,
Etro
Etro
Etro is an Italian fashion house and manufacturer of fabrics, furnishings and fragrances. It was founded in 1968 by Gimmo Etro. It is still a family business, with menswear headed since 1990 by Kean Etro, while his sister, Veronica, directs womenswear...
,
Roberto Cavalli
Roberto Cavalli
Roberto Cavalli is an Italian fashion designer from Florence.-Biography:Roberto Cavalli was born in Florence, Tuscany. His grandfather, Giuseppe Rossi, was a member of the Macchiaioli Movement, whose work is exhibited in the Uffizi Gallery. Cavalli decided to enroll at the local Art Institute,...
,
Escada
Escada
Escada is an international luxury fashion group in women's designer clothing. The company has a presence in about 60 different countries. Its main sales markets are North America, western and eastern Europe and Asia. It filed bankruptcy in August 2009, and was acquired by Megha Mittal, in November...
,
Frette
Frette
Frette is an Italian textile company known for its luxury linens. It was established in 1860 in Grenoble, France but relocated to Concorezzo, Italy in 1865. It is currently headquartered in Monza, Italy....
,
Marc Jacobs
Marc Jacobs
Marc Jacobs is an American fashion designer. He is the head designer for Marc Jacobs, as well as Marc by Marc Jacobs, a diffusion line, with more than 200 retail stores in 60 countries. He has been the creative director of the French design house Louis Vuitton since 1997...
,
Max Mara
Max Mara
MaxMara, or The House of MaxMara, is a luxury Italian fashion house known for its ready-to-wear clothing. Established in 1951 in Reggio Emilia by Achille Maramotti...
,
Corneliani
Corneliani
Corneliani is an Italian clothing manufacturer best known for its suits and sportcoats. The house style is less aggressive than Brioni but more structured than "soft" Neapolitan tailors such as Kiton.-Lines:...
and
Hugo Boss
Hugo Boss
Hugo Ferdinand Boss was the founder of clothing company Hugo Boss.-Early life:Boss was born in Metzingen, Germany. After completing his apprenticeship and one year of employment, he founded his own company in Metzingen in 1923.-Support of Nazism:Boss joined the Nazi Party in 1931, two years before...
.
See also
External links