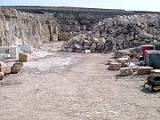 Quarry
A
quarry
is a type of
open-pit mine
Open-pit mining
Open-pit mining or opencast mining refers to a method of extracting rock or minerals from the earth by their removal from an open pit or borrow....
from which
rock
Rock (geology)
In geology, rock or stone is a naturally occurring solid aggregate of minerals and/or mineraloids.The Earth's outer solid layer, the lithosphere, is made of rock. In general rocks are of three types, namely, igneous, sedimentary, and metamorphic...
or minerals are extracted. Quarries are generally used for extracting
building material
Building material
Building material is any material which is used for a construction purpose. Many naturally occurring substances, such as clay, sand, wood and rocks, even twigs and leaves have been used to construct buildings. Apart from naturally occurring materials, many man-made products are in use, some more...
s, such as
dimension stone
Dimension stone
Dimension stone is natural stone or rock that has been selected and fabricated to specific sizes or shapes. Color, texture and pattern, and surface finish of the stone are also normal requirements...
,
construction aggregate
Construction Aggregate
Construction aggregate, or simply "aggregate", is a broad category of coarse particulate material used in construction, including sand, gravel, crushed stone, slag, recycled concrete and geosynthetic aggregates. Aggregates are the most mined material in the world...
,
riprap
Riprap
Riprap — also known as rip rap, rubble, shot rock or rock armour or "Rip-rap" — is rock or other material used to armor shorelines, streambeds, bridge abutments, pilings and other shoreline structures against scour, water or ice erosion.It is made from a variety of rock types, commonly granite or...
,
sand
Sand
Sand is a naturally occurring granular material composed of finely divided rock and mineral particles.The composition of sand is highly variable, depending on the local rock sources and conditions, but the most common constituent of sand in inland continental settings and non-tropical coastal...
, and
gravel
Gravel
Gravel is composed of unconsolidated rock fragments that have a general particle size range and include size classes from granule- to boulder-sized fragments. Gravel can be sub-categorized into granule and cobble...
. They are often collocated with
concrete
Concrete
Concrete is a composite construction material, composed of cement and other cementitious materials such as fly ash and slag cement, aggregate , water and chemical admixtures.The word concrete comes from the Latin word...
and
asphalt
Asphalt
Asphalt or , also known as bitumen, is a sticky, black and highly viscous liquid or semi-solid that is present in most crude petroleums and in some natural deposits, it is a substance classed as a pitch...
plants due to the requirement for large amounts of aggregate in those materials. The word
quarry
can include underground quarrying for stone, such as
Bath stone
Bath Stone
Bath Stone is an Oolitic Limestone comprising granular fragments of calcium carbonate. Originally obtained from the Combe Down and Bathampton Down Mines under Combe Down, Somerset, England, its warm, honey colouring gives the World Heritage City of Bath, England its distinctive appearance...
.
Quarries in level areas with shallow
groundwater
Groundwater
Groundwater is water located beneath the ground surface in soil pore spaces and in the fractures of rock formations. A unit of rock or an unconsolidated deposit is called an aquifer when it can yield a usable quantity of water. The depth at which soil pore spaces or fractures and voids in rock...
or which are located close to surface water often have
engineering
Engineering
Engineering is the discipline, art, skill and profession of acquiring and applying scientific, mathematical, economic, social, and practical knowledge, in order to design and build structures, machines, devices, systems, materials and processes that safely realize improvements to the lives of...
problems with
drainage
Drainage
Drainage is the natural or artificial removal of surface and sub-surface water from an area. Many agricultural soils need drainage to improve production or to manage water supplies.-Early history:...
.