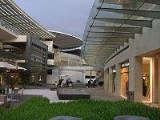 Antara Polanco
Antara Polanco
, is an upscale open-air shopping center in
Polanco
Polanco (Mexico)
Polanco is the name that usually refers to a group of seven official neighborhoods in Mexico City, located north of Chapultepec Park. The official names of the neighborhoods are: Los Morales , Del Bosque, Polanco Reforma, Polanco Chapultepec, Chapultepec Morales, Bosque de Chapultepec and...
,
Mexico City
Mexico City
Mexico City is the Federal District , capital of Mexico and seat of the federal powers of the Mexican Union. It is a federal entity within Mexico which is not part of any one of the 31 Mexican states but belongs to the federation as a whole...
,
Mexico
Mexico
The United Mexican States , commonly known as Mexico , is a federal constitutional republic in North America. It is bordered on the north by the United States; on the south and west by the Pacific Ocean; on the southeast by Guatemala, Belize, and the Caribbean Sea; and on the east by the Gulf of...
and is considered to be one of the most exclusive shopping destinations in Mexico.
Background
The Antara Polanco shopping center opened its doors in 2006. The center was designed by renowned
Mexican
Mexican people
Mexican people refers to all persons from Mexico, a multiethnic country in North America, and/or who identify with the Mexican cultural and/or national identity....
architect Javier Sordo Madaleno. The mall hosts several
concert
Concert
A concert is a live performance before an audience. The performance may be by a single musician, sometimes then called a recital, or by a musical ensemble, such as an orchestra, a choir, or a musical band...
s,
fashion show
Fashion show
A fashion show is an event put on by a fashion designer to showcase his or her upcoming line of clothing during Fashion Week. Fashion shows debut every season, particularly the Spring/Summer and Fall/Winter seasons. This is where the latest fashion trends are made...
s, and
expo
Expo
Expo may refer to:*Expo , short for "exposition", and also known as World's Fair*A trade fair, an exhibition where companies in an industry showcase and demonstrate their latest products...
s throughout the year. It is composed of 3 separate stories and is home to over 100 stores, 6 gourmet restaurants, and a
Cinemex
Cinemex
Cinemex is a cineplex company based in Mexico that has built a nationally branded cineplex chain.Cinemex started with a college business plan. Adolfo Fastlicht, Miguel Angel Dávila Guzmán and Matthew Heyman speculated that Mexico was ready for larger movie theaters...
movie theater. It's built on what used to be a General Motors car lot.
Main Boutiques
ZARA
Corneliani

Corneliani

Corneliani is an Italian clothing manufacturer best known for its suits and sportcoats. The house style is less aggressive than Brioni but more structured than "soft" Neapolitan tailors such as Kiton.-Lines:...



Emporio Armani
Carolina Herrera

Carolina Herrera (fashion designer)

Carolina Herrera Carolina Herrera Carolina Herrera (born María Carolina Josefina Pacanins y Niño (born January 8, 1939) is a Venezuelan and naturalized American fashion designer and entrepreneur who founded her eponymous company in 1980.-Early life:...



Armani Exchange
Louis Vuitton

Louis Vuitton

Louis Vuitton Malletier – commonly referred to as Louis Vuitton , or shortened to LV – is a French fashion house founded in 1854 by Louis Vuitton. The label is well known for its LV monogram, which is featured on most products, ranging from luxury trunks and leather goods to ready-to-wear, shoes,...



Christian Dior
Chanel

Chanel

Chanel S.A. is a French fashion house founded by the couturier Gabrielle "Coco" Chanel, well established in haute couture, specializing in luxury goods . She gained the name "Coco" while maintaining a career as a singer at a café in France...



DKNY

DKNY

DKNY is a label of fashion designer Donna Karan. It is also the name of a clothing store in New York City featuring Donna Karan's associated line.-History:...



Just Cavalli
Coach

Coach (company)

Coach, Inc. is an upscale American leather goods company known for ladies' and men's handbags, as well as items such as luggage, briefcases, wallets and other accessories . Coach also offers watches and footwear.- History :Coach was founded in 1941, in a loft in New York...



Etro

Etro

Etro is an Italian fashion house and manufacturer of fabrics, furnishings and fragrances. It was founded in 1968 by Gimmo Etro. It is still a family business, with menswear headed since 1990 by Kean Etro, while his sister, Veronica, directs womenswear...



Stuart Weitzman

Stuart Weitzman

Stuart A. Weitzman is the designer of the international, high-end shoe company, Stuart Weitzman.Stuart Weitzman's trademark use of unique materials , and his attention to detail, garnered him and his company a global following...



Steve Madden

Steve Madden

Steve Madden is the founder and former CEO of Steve Madden Ltd., a footwear company.Born in Far Rockaway, Queens, Madden grew up in adjoining Lawrence in Nassau County, New York....



Tommy Hilfiger

Tommy Hilfiger

Thomas Jacob "Tommy" Hilfiger is an American fashion designer and founder of the premium lifestyle brand Tommy Hilfiger.-Early life:...



Nautica
Guess
Sony

Sony

, commonly referred to as Sony, is a Japanese multinational conglomerate corporation headquartered in Minato, Tokyo, Japan and the world's fifth largest media conglomerate measured by revenues....



Hackett

Hackett

Hackett is a surname of Norman origin, Hacket being a common Norman personal name....



Nike

Nike, Inc.

Nike, Inc. is a major publicly traded sportswear and equipment supplier based in the United States. The company is headquartered near Beaverton, Oregon, which is part of the Portland metropolitan area...



Quiksilver

Quiksilver

Quiksilver, Inc. , is an American company based in Huntington Beach, California, one of the world's largest manufacturers of surfwear and other boardsport-related equipment...



Adidas

Adidas

Adidas AG is a German sports apparel manufacturer and parent company of the Adidas Group, which consists of the Reebok sportswear company, TaylorMade-Adidas golf company , and Rockport...



Sasch
Bebe

Bebe stores

bebe stores are an American clothing retailer founded in 1976. The name was inspired by, and is pronounced as in, the phrase "to be or not to be" from the play Hamlet. Manny Mashouf, who emigrated to the United States in the early 1970s, opened the first bebe store in San Francisco during a time...



Paul & Shark
Swarovski

Swarovski

Swarovski is the brand name for a range of precisely-cut crystal and related luxury products produced by Swarovski AG of Wattens, Austria...



Longchamp

Longchamp (company)

Longchamp is a French leather and luxury goods company.Longchamp was founded by Jean Cassegrain in 1948, and the company employed individual craftsmen dispersed throughout the Loire valley countryside to create leather coverings for pipes and other products geared toward smokers. By 1955, it had...



Hugo Boss

Hugo Boss

Hugo Ferdinand Boss was the founder of clothing company Hugo Boss.-Early life:Boss was born in Metzingen, Germany. After completing his apprenticeship and one year of employment, he founded his own company in Metzingen in 1923.-Support of Nazism:Boss joined the Nazi Party in 1931, two years before...



The Sharper Image

The Sharper Image

The Sharper Image is an American product brand, formerly associated with a defunct retail company, now licensed for use on consumer electronics and gift products....



Kenneth Cole

Kenneth Cole Productions

Kenneth Cole Productions, Inc. is an American fashion house founded in 1982 by Kenneth Cole. He originally named the company Kenneth Cole Incorporated in September 1982 and planned to showcase his new line of shoes during market week at the Hilton New York Hotel...



Marella

Marella

Marrella splendens is an arthropod known from the middle Cambrian Burgess Shale of British Columbia. It is the most common animal in the Burgess Shale.-History:...



Thomas Pink

Thomas Pink

Thomas Pink is a retail clothing business started in London in 1984, by three Irish brothers James, Peter and John Mullen. The company was named for an 18th century London tailor who was known for making much sought-after red hunting jackets....



Tumi
Calvin Klein

Calvin Klein

Calvin Richard Klein is an American fashion designer who launched the company that would later become Calvin Klein Inc. in 1968. In addition to clothing, Klein has also given his name to a range of perfumes, watches, and jewelry....



Pennyblack
Casa Palacio
Roberto Verino
Mango

Mango (clothing)

Mango, stylized MANGO, is a clothing design and manufacturing company. Isak Andic is the president.Its goal is "to be present in every city" in the world...