 Max Reger
Johann Baptist Joseph Maximilian Reger
(19 March 187311 May 1916) was a German composer,
conductor
Conducting
Conducting is the art of directing a musical performance by way of visible gestures. The primary duties of the conductor are to unify performers, set the tempo, execute clear preparations and beats, and to listen critically and shape the sound of the ensemble...
, pianist,
organist
Organist
An organist is a musician who plays any type of organ. An organist may play solo organ works, play with an ensemble or orchestra, or accompany one or more singers or instrumental soloists...
, and academic teacher.
Life
Born in
Brand
Brand, Bavaria
Brand is a municipality in the district of Tirschenreuth in Bavaria, Germany.-Famous People Born in Brand:Max Reger , composer, pianist and conductor...
,
Bavaria
Kingdom of Bavaria
The Kingdom of Bavaria was a German state that existed from 1806 to 1918. The Bavarian Elector Maximilian IV Joseph of the House of Wittelsbach became the first King of Bavaria in 1806 as Maximilian I Joseph. The monarchy would remain held by the Wittelsbachs until the kingdom's dissolution in 1918...
, Reger studied music in
Munich
Munich
Munich The city's motto is "" . Before 2006, it was "Weltstadt mit Herz" . Its native name, , is derived from the Old High German Munichen, meaning "by the monks' place". The city's name derives from the monks of the Benedictine order who founded the city; hence the monk depicted on the city's coat...
and
Wiesbaden
Wiesbaden
Wiesbaden is a city in southwest Germany and the capital of the federal state of Hesse. It has about 275,400 inhabitants, plus approximately 10,000 United States citizens...
with
Hugo Riemann
Hugo Riemann
Karl Wilhelm Julius Hugo Riemann was a German music theorist.-Biography:Riemann was born at Grossmehlra, Schwarzburg-Sondershausen. He was educated in theory by Frankenberger, studied the piano with Barthel and Ratzenberger, studied law, and finally philosophy and history at Berlin and Tübingen...
. From September 1901 he settled in Munich, where he obtained concert offers and where his rapid rise to fame began. During his first Munich season, Reger appeared in ten concerts as an organist, chamber pianist and accompanist. He continued to compose without interruption. From 1907 he worked in
Leipzig
Leipzig
Leipzig Leipzig has always been a trade city, situated during the time of the Holy Roman Empire at the intersection of the Via Regia and Via Imperii, two important trade routes. At one time, Leipzig was one of the major European centres of learning and culture in fields such as music and publishing...
, where he was music director of the
university
Paulinerkirche, Leipzig
The Paulinerkirche was a church on the Augustusplatz in Leipzig, named after the "Pauliner", its original Dominican friars. It was built in 1231 as the Klosterkirche St. Pauli for the Dominican monastery in Leipzig. From the foundation of the University of Leipzig in 1409, it served as the...
until 1908 and professor of composition at the
conservatory
Felix Mendelssohn College of Music and Theatre
The University of Music and Theatre "Felix Mendelssohn Bartholdy" Leipzig is a public university in Leipzig . Founded in 1843 by Felix Mendelssohn as the Conservatory of Music, it is the oldest university school of music in Germany....
until his death. In 1911 he moved to
Meiningen
Meiningen
Meiningen is a town in Germany - located in the southern part of the state of Thuringia and is the district seat of Schmalkalden-Meiningen. It is situated on the river Werra....
where he got the position of Hofkapellmeister at the court of
Georg II, Duke of Saxe-Meiningen
Georg II, Duke of Saxe-Meiningen
Georg II, Duke of Saxe-Meiningen , was the penultimate Duke of Saxe-Meiningen, reigning from 1866 to 1914.-Family and early life:...
. In 1915 he moved to
Jena
Jena
Jena is a university city in central Germany on the river Saale. It has a population of approx. 103,000 and is the second largest city in the federal state of Thuringia, after Erfurt.-History:Jena was first mentioned in an 1182 document...
, commuting once a week to teach in Leipzig. He died in May 1916 on one of these trips of a heart attack at age 43.
He had also been active internationally as a conductor and pianist. Among his students were
Joseph Haas
Joseph Haas
Joseph Haas was a German late romantic composer and music teacher.-Biography:He was born in Maihingen, near Nördlingen to teacher Alban Haas from his second marriage, being half-brother to the theologist and historian Alban Haas. At an early age he came into contact with music...
,
Sándor Jemnitz
Sándor Jemnitz
Sándor Jemnitz, also known as Alexander Jemnitz , was a Hungarian composer, conductor, music critic and author.-Biography:...
,
Jaroslav Kvapil
Jaroslav Kvapil (composer)
Jaroslav Kvapil was a Czech composer, teacher, conductor and pianist.Born in Fryšták, he studied with Josef Nešvera and worked as a chorister in Olomouc from 1902 to 1906. He then studied at the Brno School of Organists under Leoš Janáček, earning a diploma in 1909...
,
Ruben Liljefors
Ruben Liljefors
Ruben Mattias Liljefors was a Swedish composer and conductor.Liljefors studied in Uppsala with Ivar Eggert Hedenblad until 1895, and subsequently in Leipzig with Salomon Jadassohn until 1899. Later he attended the Stockholm Conservatory. He completed his education with Felix Draeseke, Max Reger,...
,
George Szell
George Szell
George Szell , originally György Széll, György Endre Szél, or Georg Szell, was a Hungarian-born American conductor and composer...
and Cristòfor Taltabull.
Reger was the cousin of
Hans von Koessler
Hans von Koessler
Hans von Koessler was a German composer, conductor and music teacher. In Hungary, where he worked for 26 years, he was known as János Koessler....
.
Works
Reger produced an enormous output over little more than 25 years, nearly always in abstract forms. Few of his compositions are well known in the 21st century. Many of his works are
fugue
Fugue
In music, a fugue is a compositional technique in two or more voices, built on a subject that is introduced at the beginning in imitation and recurs frequently in the course of the composition....
s or in
variation form
Variation (music)
In music, variation is a formal technique where material is repeated in an altered form. The changes may involve harmony, melody, counterpoint, rhythm, timbre, orchestration or any combination of these.-Variation form:...
, including what is probably his best known orchestral work, the
Variations and Fugue on a Theme by Mozart
Variations and Fugue on a Theme by Mozart
The Variations and Fugue on a Theme by Mozart, Op. 132, is a set of variations for orchestra composed in 1914 by Max Reger; the composer conducted the premiere in Berlin on February 5, 1915.-Description:...
based on the opening theme of
Mozart
Wolfgang Amadeus Mozart
Wolfgang Amadeus Mozart , baptismal name Johannes Chrysostomus Wolfgangus Theophilus Mozart , was a prolific and influential composer of the Classical era. He composed over 600 works, many acknowledged as pinnacles of symphonic, concertante, chamber, piano, operatic, and choral music...
's
Piano Sonata in A major, K. 331
Piano Sonata No. 11 (Mozart)
Wolfgang Amadeus Mozart's Piano Sonata No. 11 in A major, K 331 is a sonata in three movements:#Andante grazioso — a theme with six variations#Menuetto — a minuet and trio#Alla Turca: Allegretto in A minor and major....
. He also wrote a large amount of music for
organ
Organ (music)
The organ , is a keyboard instrument of one or more divisions, each played with its own keyboard operated either with the hands or with the feet. The organ is a relatively old musical instrument in the Western musical tradition, dating from the time of Ctesibius of Alexandria who is credited with...
, including the
Fantasy and Fugue on BACH

BACH motif

In music, the BACH motif is the motif, a succession of notes important or characteristic to a piece, B flat, A, C, B natural. In German musical nomenclature, in which the note B natural is written as H and the B flat as B, it forms Johann Sebastian Bach's family name...



. He was particularly attracted to the fugal form his entire life. Once he remarked: "Other people write fugues - I live inside them". He created music in almost every genre but
opera
Opera
Opera is an art form in which singers and musicians perform a dramatic work combining text and musical score, usually in a theatrical setting. Opera incorporates many of the elements of spoken theatre, such as acting, scenery, and costumes and sometimes includes dance...
and the
symphony
Symphony
A symphony is an extended musical composition in Western classical music, scored almost always for orchestra. A symphony usually contains at least one movement or episode composed according to the sonata principle...
.
A firm supporter of
absolute music
Absolute music
Absolute music is a concept in music that describes music as an art form separated from formalisms or other considerations; it is not explicitly about anything; it is non-representational. In contrast to program music, absolute music makes sense without accompanying words, images, drama, or...
, he saw himself as being part of the tradition of
Beethoven
Ludwig van Beethoven
Ludwig van Beethoven was a German composer and pianist. A crucial figure in the transition between the Classical and Romantic eras in Western art music, he remains one of the most famous and influential composers of all time.Born in Bonn, then the capital of the Electorate of Cologne and part of...
and
Brahms
Johannes Brahms
Johannes Brahms was a German composer and pianist, and one of the leading musicians of the Romantic period. Born in Hamburg, Brahms spent much of his professional life in Vienna, Austria, where he was a leader of the musical scene...
. His work often combines the classical structures of these composers with the extended harmonies of
Liszt
Franz Liszt
Franz Liszt ; ), was a 19th-century Hungarian composer, pianist, conductor, and teacher.Liszt became renowned in Europe during the nineteenth century for his virtuosic skill as a pianist. He was said by his contemporaries to have been the most technically advanced pianist of his age...
and
Wagner
Richard Wagner
Wilhelm Richard Wagner was a German composer, conductor, theatre director, philosopher, music theorist, poet, essayist and writer primarily known for his operas...
, to which he added the complex
counterpoint
Counterpoint
In music, counterpoint is the relationship between two or more voices that are independent in contour and rhythm and are harmonically interdependent . It has been most commonly identified in classical music, developing strongly during the Renaissance and in much of the common practice period,...
of
Bach
Johann Sebastian Bach
Johann Sebastian Bach was a German composer, organist, harpsichordist, violist, and violinist whose sacred and secular works for choir, orchestra, and solo instruments drew together the strands of the Baroque period and brought it to its ultimate maturity...
. His organ music, though also influenced by Liszt, was provoked by that tradition.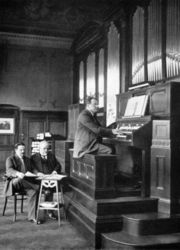 Of his orchestral pieces, only his richly elaborate
Variations and Fugue on a Theme by Hiller
and
Mozart Variations
are still performed now and then. Among his
chamber compositions
Chamber music
Chamber music is a form of classical music, written for a small group of instruments which traditionally could be accommodated in a palace chamber. Most broadly, it includes any art music that is performed by a small number of performers with one performer to a part...
, the lighter-textured trios have retained a small place in the repertory, and the Clarinet Quintet, his last work, is widely admired. Some of the works for solo string instruments turn up often on recordings, though less regularly in recitals. His solo piano and two-piano music places him as a successor to Brahms in the central German tradition. He pursued intensively, and to its limits, Brahms's continuous development and free
modulation
Modulation (music)
In music, modulation is most commonly the act or process of changing from one key to another. This may or may not be accompanied by a change in key signature. Modulations articulate or create the structure or form of many pieces, as well as add interest...
, often also invoking, like Brahms, the aid of Bach-influenced polyphony.
Reger was a prolific writer of vocal works,
Lied
Lied
is a German word literally meaning "song", usually used to describe romantic songs setting German poems of reasonably high literary aspirations, especially during the nineteenth century, beginning with Carl Loewe, Heinrich Marschner, and Franz Schubert and culminating with Hugo Wolf...
er, works for mixed chorus,
men's chorus
Men's chorus
A men's chorus or male voice choir , is a choir consisting of men who sing with either a tenor or bass voice, and whose voices are arranged into high and low tenors , and high and low basses —and shortened to the letters TTBB...
and female chorus, and extended choral works with orchestra such as
Psalm 100
and the
Requiem
Requiem (Reger)
The Requiem, Op. 144b, is a late Romantic composition of Max Reger, also called Hebbel Requiem, a setting of Friedrich Hebbel's poem Requiem. Reger wrote it in 1915 for alto solo, chorus and orchestra...
. He composed music to texts by poets such as
Otto Julius Bierbaum
Otto Julius Bierbaum
Otto Julius Bierbaum was a German writer.Bierbaum was born in Grünberg, Silesia. After studying in Leipzig, he became a journalist and editor for the journals Die freie Bühne, Pan and Die Insel. His literary work was varied...
,
Adelbert von Chamisso
Adelbert von Chamisso
Adelbert von Chamisso was a German poet and botanist.- Life :He was born Louis Charles Adélaïde de Chamissot at the château of Boncourt at Ante, in Champagne, France, the ancestral seat of his family...
,
Joseph von Eichendorff
Joseph Freiherr von Eichendorff
Joseph Freiherr von Eichendorff was a German poet and novelist of the later German romantic school.Eichendorff is regarded as one of the most important German Romantics and his works have sustained high popularity in Germany from production to the present day.-Life:Eichendorff was born at Schloß...
,
Emanuel Geibel
Emanuel Geibel
Emanuel von Geibel , German poet and playwright, was born at Lübeck, the son of a pastor in the city.He was originally intended for his father's profession and studied at Bonn and Berlin, but his real interests lay not in theology but in classical and romance philology. In 1838 he accepted a...
,
Friedrich Hebbel
Christian Friedrich Hebbel
Christian Friedrich Hebbel , was a German poet and dramatist.-Biography:Hebbel was born at Wesselburen in Ditmarschen, Holstein, the son of a bricklayer. He was educated at the Gelehrtenschule des Johanneums...
,
Nikolaus Lenau
Nikolaus Lenau
Nikolaus Lenau was the nom de plume of Nikolaus Franz Niembsch Edler von Strehlenau , was a German language Austrian poet.-Biography:...
,
Friedrich Rückert
Friedrich Rückert
Friedrich Rückert was a German poet, translator, and professor of Oriental languages.-Biography:Rückert was born at Schweinfurt and was the eldest son of a lawyer. He was educated at the local Gymnasium and at the universities of Würzburg and Heidelberg. From 1816-1817, he worked on the editorial...
and
Ludwig Uhland
Ludwig Uhland
Johann Ludwig Uhland , was a German poet, philologist and literary historian.-Biography:He was born in Tübingen, then Duchy of Württemberg, and studied jurisprudence at the university there, but also took an interest in medieval literature, especially old German and French poetry...
.
His works could be considered retrospective as they followed classical and baroque compositional techniques such as fugue and continuo. The influence of the latter can be heard in his chamber works which are deeply reflective and unconventional.
Quotes
Reger's music did not often receive favorable reviews. After one he particularly disliked, he wrote the following: "I am sitting in the smallest room of my house. Your review is in front of me. Soon, it will be behind me."
See also
Sources
External links
Recordings
Music scores