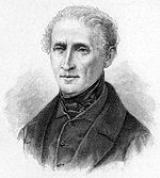 Joseph Freiherr von Eichendorff
Joseph Freiherr von Eichendorff
(10 March 1788 – 26 November 1857) was a
German
Germany
Germany , officially the Federal Republic of Germany , is a federal parliamentary republic in Europe. The country consists of 16 states while the capital and largest city is Berlin. Germany covers an area of 357,021 km2 and has a largely temperate seasonal climate...
poet
Poet
A poet is a person who writes poetry. A poet's work can be literal, meaning that his work is derived from a specific event, or metaphorical, meaning that his work can take on many meanings and forms. Poets have existed since antiquity, in nearly all languages, and have produced works that vary...
and
novel
Novel
A novel is a book of long narrative in literary prose. The genre has historical roots both in the fields of the medieval and early modern romance and in the tradition of the novella. The latter supplied the present generic term in the late 18th century....
ist of the later
German romantic school
German Romanticism
For the general context, see Romanticism.In the philosophy, art, and culture of German-speaking countries, German Romanticism was the dominant movement of the late 18th and early 19th centuries. German Romanticism developed relatively late compared to its English counterpart, coinciding in its...
.
Eichendorff is regarded as one of the most important German Romantics and his works have sustained high popularity in Germany from production to the present day.
Life
Eichendorff was born at Schloß Lubowitz near
Ratibor
Racibórz
Racibórz is a town in southern Poland with 60,218 inhabitants situated in the Silesian Voivodeship , previously in Katowice Voivodeship...
in
Upper Silesia
Upper Silesia
Upper Silesia is the southeastern part of the historical and geographical region of Silesia. Since the 9th century, Upper Silesia has been part of Greater Moravia, the Duchy of Bohemia, the Piast Kingdom of Poland, again of the Lands of the Bohemian Crown and the Holy Roman Empire, as well as of...
in 1788. His parents were the
Prussian
Kingdom of Prussia
The Kingdom of Prussia was a German kingdom from 1701 to 1918. Until the defeat of Germany in World War I, it comprised almost two-thirds of the area of the German Empire...
officer Adolf Freiherr von Eichendorff and his wife, Karoline Freiin von Kloche, who came from an aristocratic
Roman Catholic
Roman Catholic Church
The Catholic Church, also known as the Roman Catholic Church, is the world's largest Christian church, with over a billion members. Led by the Pope, it defines its mission as spreading the gospel of Jesus Christ, administering the sacraments and exercising charity...
family. He studied law in
Halle
Halle, Saxony-Anhalt
Halle is the largest city in the German state of Saxony-Anhalt. It is also called Halle an der Saale in order to distinguish it from the town of Halle in North Rhine-Westphalia...
(1805–1806) and
Heidelberg
Heidelberg
-Early history:Between 600,000 and 200,000 years ago, "Heidelberg Man" died at nearby Mauer. His jaw bone was discovered in 1907; with scientific dating, his remains were determined to be the earliest evidence of human life in Europe. In the 5th century BC, a Celtic fortress of refuge and place of...
(1807–1808). In 1808 he travelled through Europe, visiting
Paris
Paris
Paris is the capital and largest city in France, situated on the river Seine, in northern France, at the heart of the Île-de-France region...
and
Vienna
Vienna
Vienna is the capital and largest city of the Republic of Austria and one of the nine states of Austria. Vienna is Austria's primary city, with a population of about 1.723 million , and is by far the largest city in Austria, as well as its cultural, economic, and political centre...
. In 1810, he returned home to help his father run the family estate. The same year he met
Johann Gottlieb Fichte
Johann Gottlieb Fichte
Johann Gottlieb Fichte was a German philosopher. He was one of the founding figures of the philosophical movement known as German idealism, a movement that developed from the theoretical and ethical writings of Immanuel Kant...
, Achim von Arnim,
Clemens Brentano
Clemens Brentano
Clemens Brentano, or Klemens Brentano was a German poet and novelist.-Overview:He was born in Ehrenbreitstein, near Koblenz, Germany. His sister was Bettina von Arnim, Goethe's correspondent. His father's family was of Italian descent. He studied in Halle and Jena, afterwards residing at...
, and
Heinrich von Kleist
Heinrich von Kleist
Bernd Heinrich Wilhelm von Kleist was a poet, dramatist, novelist and short story writer. The Kleist Prize, a prestigious prize for German literature, is named after him.- Life :...
in
Berlin
Berlin
Berlin is the capital city of Germany and is one of the 16 states of Germany. With a population of 3.45 million people, Berlin is Germany's largest city. It is the second most populous city proper and the seventh most populous urban area in the European Union...
. He finished his studies in Vienna in 1812. From 1813 to 1815 he fought in the
Napoleonic Wars
Napoleonic Wars
The Napoleonic Wars were a series of wars declared against Napoleon's French Empire by opposing coalitions that ran from 1803 to 1815. As a continuation of the wars sparked by the French Revolution of 1789, they revolutionised European armies and played out on an unprecedented scale, mainly due to...
as a volunteer in the famous Lützow corps.
From 1816, Eichendorff worked in various capacities in the administrative service of the Prussian state. He started with a judicial office in Breslau. In 1821, Eichendorff became school inspector in
Danzig
Gdansk
Gdańsk is a Polish city on the Baltic coast, at the centre of the country's fourth-largest metropolitan area.The city lies on the southern edge of Gdańsk Bay , in a conurbation with the city of Gdynia, spa town of Sopot, and suburban communities, which together form a metropolitan area called the...
, in 1824 Oberpräsidialrat in
Königsberg
Königsberg
Königsberg was the capital of East Prussia from the Late Middle Ages until 1945 as well as the northernmost and easternmost German city with 286,666 inhabitants . Due to the multicultural society in and around the city, there are several local names for it...
. He moved with his family to Berlin in 1831, where he worked for several ministries, until he retired in 1844. Eichendorff died in
Neiße
Nysa, Poland
Nysa is a town in southwestern Poland on the Nysa Kłodzka river with 47,545 inhabitants , situated in the Opole Voivodeship. It is the capital of Nysa County. It comprises the urban portion of the surrounding Gmina Nysa, a mixed urban-rural commune with a total population of 60,123 inhabitants...
,
Upper Silesia
Upper Silesia
Upper Silesia is the southeastern part of the historical and geographical region of Silesia. Since the 9th century, Upper Silesia has been part of Greater Moravia, the Duchy of Bohemia, the Piast Kingdom of Poland, again of the Lands of the Bohemian Crown and the Holy Roman Empire, as well as of...
, in 1857.
Work
Eichendorff's guiding poetic theme was that Man should find happiness in full absorption of the beauties and changing moods of Nature. He also wrote a history of
German literature
German literature
German literature comprises those literary texts written in the German language. This includes literature written in Germany, Austria, the German part of Switzerland, and to a lesser extent works of the German diaspora. German literature of the modern period is mostly in Standard German, but there...
that was posthumously published. Eichendorff's poetry has been set by many composers, including
Schumann
Robert Schumann
Robert Schumann, sometimes known as Robert Alexander Schumann, was a German composer, aesthete and influential music critic. He is regarded as one of the greatest and most representative composers of the Romantic era....
,
Mendelssohn
Felix Mendelssohn
Jakob Ludwig Felix Mendelssohn Barthóldy , use the form 'Mendelssohn' and not 'Mendelssohn Bartholdy'. The Grove Dictionary of Music and Musicians gives ' Felix Mendelssohn' as the entry, with 'Mendelssohn' used in the body text...
, Brahms,
Hugo Wolf
Hugo Wolf
Hugo Wolf was an Austrian composer of Slovene origin, particularly noted for his art songs, or lieder. He brought to this form a concentrated expressive intensity which was unique in late Romantic music, somewhat related to that of the Second Viennese School in concision but utterly unrelated in...
,
Richard Strauss
Richard Strauss
Richard Georg Strauss was a leading German composer of the late Romantic and early modern eras. He is known for his operas, which include Der Rosenkavalier and Salome; his Lieder, especially his Four Last Songs; and his tone poems and orchestral works, such as Death and Transfiguration, Till...
,
Friedrich Nietzsche
Friedrich Nietzsche
Friedrich Wilhelm Nietzsche was a 19th-century German philosopher, poet, composer and classical philologist...
,
Hans Pfitzner
Hans Pfitzner
Hans Erich Pfitzner was a German composer and self-described anti-modernist. His best known work is the post-Romantic opera Palestrina, loosely based on the life of the great sixteenth-century composer Giovanni Pierluigi da Palestrina.-Biography:Pfitzner was born in Moscow, Russia, where his...
, and
Alexander Zemlinsky
Alexander von Zemlinsky
Alexander Zemlinsky or Alexander von Zemlinsky was an Austrian composer, conductor, and teacher.-Early life:...
.
Eichendorff's best known work,
Aus dem Leben eines Taugenichts
(English:
Of the Life of a Good-For-Nothing
) is typical
romantic
Romanticism
Romanticism was an artistic, literary and intellectual movement that originated in the second half of the 18th century in Europe, and gained strength in reaction to the Industrial Revolution...
novella, whose main themes are voyage and love. The protagonist leaves his father's mill and becomes a gardener at a Viennese castle where he falls in love with the daughter of the duke. Because she is unattainable he travels to Italy but then returns and learns that she had been adopted by the duke, so nothing stands in the way of a marriage between them.
Selected works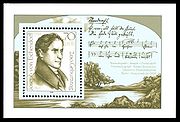 Die Zauberei im Herbst (1808)
Oberschlesische Märchen und Sagen (Upper Silesian

Silesia

Silesia is a historical region of Central Europe located mostly in Poland, with smaller parts also in the Czech Republic, and Germany.Silesia is rich in mineral and natural resources, and includes several important industrial areas. Silesia's largest city and historical capital is Wrocław...


fairytales and sagas, 1808–1810)
Abschied (1910, translated as Parting/Separation/Farewell/Wrench; also known as O Täler weit, o Höhen from its beginning verse)
Ahnung und Gegenwart (1815)
Das Marmorbild (The Marble Statue, 1819)
Aus dem Leben eines Taugenichts (Life of a Good-For-Nothing, 1826)
Dichter und ihre Gesellen (1833)
Viel Lärmen um nichts (1833)
Auch ich war in Arkadien (1834 or 1838)
Die Meerfahrt (1835)
Mondnacht (Night of the Moon, published 1837)
Das Schloß Dürande (1837)
Die Entführung (1839)
Die Glücksritter (1841)
In Danzig (Dunkle Giebel hohe Fenster) (1842)
Geschichte der poetischen Literatur Deutschlands (published 1857)
Libertas und ihre Freier
External links
Eichendorff texts online at German Project Gutenberg

Project Gutenberg

Project Gutenberg is a volunteer effort to digitize and archive cultural works, to "encourage the creation and distribution of eBooks". Founded in 1971 by Michael S. Hart, it is the oldest digital library. Most of the items in its collection are the full texts of public domain books...



Freiherr von Eichendorff Catholic Encyclopedia

Catholic Encyclopedia

The Catholic Encyclopedia, also referred to as the Old Catholic Encyclopedia and the Original Catholic Encyclopedia, is an English-language encyclopedia published in the United States. The first volume appeared in March 1907 and the last three volumes appeared in 1912, followed by a master index...


article
Joseph von Eichendorff Chronology Published by the Goethe Institut
Analysis of "Mondnacht" (German)
Eichendorff: All poems (German)