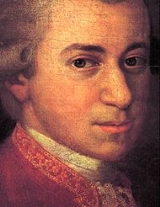 Wolfgang Amadeus Mozart
Wolfgang Amadeus Mozart
(ˈvɔlfɡaŋ amaˈdeus ˈmoːtsaʁt, English see fn.), baptismal name
Johannes Chrysostomus Wolfgangus Theophilus Mozart
(27 January 1756 – 5 December 1791), was a prolific and influential composer of the
Classical era
Classical period (music)
The dates of the Classical Period in Western music are generally accepted as being between about 1750 and 1830. However, the term classical music is used colloquially to describe a variety of Western musical styles from the ninth century to the present, and especially from the sixteenth or...
. He composed over 600
works
Musical composition
Musical composition can refer to an original piece of music, the structure of a musical piece, or the process of creating a new piece of music. People who practice composition are called composers.- Musical compositions :...
, many acknowledged as pinnacles of
symphonic
Symphony
A symphony is an extended musical composition in Western classical music, scored almost always for orchestra. A symphony usually contains at least one movement or episode composed according to the sonata principle...
,
concertante
Concerto
A concerto is a musical work usually composed in three parts or movements, in which one solo instrument is accompanied by an orchestra.The etymology is uncertain, but the word seems to have originated from the conjunction of the two Latin words...
,
chamber
Chamber music
Chamber music is a form of classical music, written for a small group of instruments which traditionally could be accommodated in a palace chamber. Most broadly, it includes any art music that is performed by a small number of performers with one performer to a part...
, piano, operatic, and
choral
Choir
A choir, chorale or chorus is a musical ensemble of singers. Choral music, in turn, is the music written specifically for such an ensemble to perform.A body of singers who perform together as a group is called a choir or chorus...
music. He is among the most enduringly popular of
classical
Classical music
Classical music is the art music produced in, or rooted in, the traditions of Western liturgical and secular music, encompassing a broad period from roughly the 11th century to present times...
composers.
Mozart showed prodigious ability from his earliest childhood in
Salzburg
Salzburg
-Population development:In 1935, the population significantly increased when Salzburg absorbed adjacent municipalities. After World War II, numerous refugees found a new home in the city. New residential space was created for American soldiers of the postwar Occupation, and could be used for...
.
If Germany, my beloved fatherland, of whom you know I am proud, will not accept me, then must I, in the name of God, again make France or England richer by one capable German; — and to the shame of the German nation.

Letter to Leopold Mozart (Vienna, 1782-08-17), from Mozart: The Man and the Artist, as Revealed in his own Words by Friedrich Kerst, trans. Henry Edward Krehbiel (1906)
The most stimulating and encouraging thought is that you, dearest father, and my dear sister, are well, that I am an honest German, and that if I am not always permitted to talk I can think what I please; but that is all.

Letter to Leopold Mozart (Paris, 1778-05-29), from Mozart: The Man and the Artist, as Revealed in his own Words by Friedrich Kerst, trans. Henry Edward Krehbiel (1906)
A fellow of mediocre talent will remain a mediocrity, whether he travels or not; but one of superior talent (which without impiety I cannot deny that I possess) will go to seed if he always remains in the same place.

Letter to Leopold Mozart (1778-09-11), from Wolfgang Amadé Mozart by Georg Knepler (1991), trans. J. Bradford Robinson [Cambridge University Press, 1994, ISBN 0-521-58823-5], p. 12
As I love Mannheim|Mannheim, Mannheim loves me.

Letter to Leopold Mozart, (Mannheim, 1778-11-12], from Mozart's Letters, Mozart's Life: Selected Letters, ed. Robert Spaethling [W.W. Norton, 2000, ISBN 0-393-04719-9], p. 193
My fatherland has always the first claim on me.

Letter to Leopold Mozart (1781-11-24), from Mozart: The Man and the Artist, as Revealed in his own Words by Friedrich Kerst, trans. Henry Edward Krehbiel (1906)
I care very little for Salzburg|Salzburg and not at all for the Hieronymus Graf von Colloredo|archbishop: I shit on both of them.

Letter to Leopold Mozart (1783-07-12), from The Complete Operas of Mozart: a critical guide By Charles Osborne [Da Capo, 1983, ISBN 0-306-80190-6], p. 208