 Otto Julius Bierbaum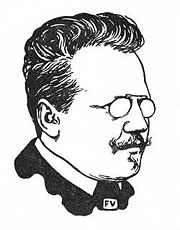 Otto Julius Bierbaum
was a
German
Germany
Germany , officially the Federal Republic of Germany , is a federal parliamentary republic in Europe. The country consists of 16 states while the capital and largest city is Berlin. Germany covers an area of 357,021 km2 and has a largely temperate seasonal climate...
writer.
Bierbaum was born in
Grünberg
Zielona Góra
Zielona Góra is a city in Lubusz Voivodeship, in western Poland, with 117,557 inhabitants within the city limits and 294,000 inhabitants within the metropolitan area, including three neighbouring counties ....
,
Silesia
Province of Silesia
The Province of Silesia was a province of the Kingdom of Prussia from 1815 to 1919.-Geography:The territory comprised the bulk of the former Bohemian crown land of Silesia and the County of Kladsko, which King Frederick the Great had conquered from the Austrian Habsburg Monarchy in the 18th...
. After studying in
Leipzig
Leipzig
Leipzig Leipzig has always been a trade city, situated during the time of the Holy Roman Empire at the intersection of the Via Regia and Via Imperii, two important trade routes. At one time, Leipzig was one of the major European centres of learning and culture in fields such as music and publishing...
, he became a
journalist
Journalist
A journalist collects and distributes news and other information. A journalist's work is referred to as journalism.A reporter is a type of journalist who researchs, writes, and reports on information to be presented in mass media, including print media , electronic media , and digital media A...
and
editor
Editor in chief
An editor-in-chief is a publication's primary editor, having final responsibility for the operations and policies. Additionally, the editor-in-chief is held accountable for delegating tasks to staff members as well as keeping up with the time it takes them to complete their task...
for the journals
Die freie Bühne
,
Pan
and
Die Insel
Die Insel
Die Insel was a German literary and art magazine that was published in Munich from 1899 to 1901 by Otto Julius Bierbaum, Alfred Walter Heymel, and Rudolf Alexander Schröder....
. His literary work was varied. As a
poet
Poet
A poet is a person who writes poetry. A poet's work can be literal, meaning that his work is derived from a specific event, or metaphorical, meaning that his work can take on many meanings and forms. Poets have existed since antiquity, in nearly all languages, and have produced works that vary...
he used forms like the
Minnesang
Minnesang
Minnesang was the tradition of lyric and song writing in Germany which flourished in the 12th century and continued into the 14th century. People who wrote and performed Minnesang are known as Minnesingers . The name derives from the word minne, Middle High German for love which was their main...
or the folksong and the anacreontics' style.
In 1897 Bierbaum published his novel
Stilpe
which inspired
Ernst von Wolzogen
Ernst von Wolzogen
Ernst von Wolzogen Ernst von Wolzogen Ernst von Wolzogen (April 23, 1855 - August 30, 1934 was a cultural critic, a writer and a founder of Cabaret in Germany.-Biography:Wolzogen came from a noble Austrian family; he studied Literature, Philosophy, and the history of art in Strasbourg and Leipzig. ...
to establish, in 1901, the first
cabaret
Kabarett
Kabarett is a form of cabaret which developed in Germany from 1901, with the creation of the Überbrettl venue, and that by the Weimar era in the mid 1920s was characterized by political satire and gallows humor...
venue ever in
Berlin
Berlin
Berlin is the capital city of Germany and is one of the 16 states of Germany. With a population of 3.45 million people, Berlin is Germany's largest city. It is the second most populous city proper and the seventh most populous urban area in the European Union...
, the
Überbrettl
Überbrettl
Überbrettl , later known as Buntes Theater , was the first venue in Germany for literary cabaret, or Kabarett, founded in Berlin in January 1901 by Ernst von Wolzogen. The German Kabarett concept was imported from France, from which it kept the characteristic atmosphere of intimacy...
. His novel
Zäpfel Kerns Abenteuer
was an adaptation of
Carlo Collodi
Carlo Collodi
Carlo Lorenzini , better known by the pen name Carlo Collodi, was an Italian children's writer known for the world-renowned fairy tale novel, The Adventures of Pinocchio.-Biography:...
's
Pinocchio
Pinocchio
The Adventures of Pinocchio is a novel for children by Italian author Carlo Collodi, written in Florence. The first half was originally a serial between 1881 and 1883, and then later completed as a book for children in February 1883. It is about the mischievous adventures of Pinocchio , an...
. Bierbaum died at Kötzschenbroda near
Dresden
Dresden
Dresden is the capital city of the Free State of Saxony in Germany. It is situated in a valley on the River Elbe, near the Czech border. The Dresden conurbation is part of the Saxon Triangle metropolitan area....
.
Works