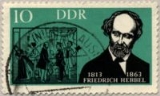 Christian Friedrich Hebbel
Christian Friedrich Hebbel
(March 18, 1813 – December 13, 1863), was a
German
Germany
Germany , officially the Federal Republic of Germany , is a federal parliamentary republic in Europe. The country consists of 16 states while the capital and largest city is Berlin. Germany covers an area of 357,021 km2 and has a largely temperate seasonal climate...
poet
Poet
A poet is a person who writes poetry. A poet's work can be literal, meaning that his work is derived from a specific event, or metaphorical, meaning that his work can take on many meanings and forms. Poets have existed since antiquity, in nearly all languages, and have produced works that vary...
and dramatist.
Biography
Hebbel was born at
Wesselburen
Wesselburen
Wesselburen is a municipality in the district of Dithmarschen in the German Federal State of Schleswig-Holstein. It is situated near the North Sea coast, approximately 11 km west of Heide....
in Ditmarschen,
Holstein
Holstein
Holstein is the region between the rivers Elbe and Eider. It is part of Schleswig-Holstein, the northernmost state of Germany....
, the son of a bricklayer. He was educated at the
Gelehrtenschule des Johanneums
Gelehrtenschule des Johanneums
The Gelehrtenschule des Johanneums is a Gymnasium in Hamburg, Germany. It is Hamburg's oldest school and was founded in 1529 by Johannes Bugenhagen. The school's motto is The Future needs a Heritage...
. Despite his humble origins, he showed a talent for poetry, resulting in the publication, in the
Hamburg Modezeitung
, of verses which he had sent to
Amalie Schoppe
Amalie Schoppe
Amalie Schoppe was a German author. She was also known by her pseudonyms Adalbert von Schonen, Amalia and Marie. She is most notable as the author of books for children and young people, with an oeuvre totaling 200 volumes...
(1791–1858), a popular journalist and author of nursery tales. Through her patronage, he was able to go to the
University of Hamburg
University of Hamburg
The University of Hamburg is a university in Hamburg, Germany. It was founded on 28 March 1919 by Wilhelm Stern and others. It grew out of the previous Allgemeines Vorlesungswesen and the Kolonialinstitut as well as the Akademisches Gymnasium. There are around 38,000 students as of the start of...
.
A year later he went to Heidelberg to study
law
Law
Law is a system of rules and guidelines which are enforced through social institutions to govern behavior, wherever possible. It shapes politics, economics and society in numerous ways and serves as a social mediator of relations between people. Contract law regulates everything from buying a bus...
, but gave it up and went on to the University of Munich, where he devoted himself to philosophy, history and literature. In 1839 Hebbel left Munich and walked all the way back to Hamburg, where he resumed his friendship with Elise Lensing, whose self-sacrificing assistance had helped him over the darkest days in Munich. In the same year he wrote his first
tragedy
Tragedy
Tragedy is a form of art based on human suffering that offers its audience pleasure. While most cultures have developed forms that provoke this paradoxical response, tragedy refers to a specific tradition of drama that has played a unique and important role historically in the self-definition of...
,
Judith
(1840, published
1841
1841 in literature
The year 1841 in literature involved some significant new books.-Events:*Horace Greeley begins publication of the New York Tribune.*Punch magazine is founded in London.-New books:*William Harrison Ainsworth - Old St...
), which in the following year was performed in Hamburg and Berlin and made his name known throughout Germany.
In 1840 he wrote the tragedy
Genoveva
, and the following year finished a
comedy
Comedy
Comedy , as a popular meaning, is any humorous discourse or work generally intended to amuse by creating laughter, especially in television, film, and stand-up comedy. This must be carefully distinguished from its academic definition, namely the comic theatre, whose Western origins are found in...
,
Der Diamant
, which he had begun at Munich. In 1842 he visited
Copenhagen
Copenhagen
Copenhagen is the capital and largest city of Denmark, with an urban population of 1,199,224 and a metropolitan population of 1,930,260 . With the completion of the transnational Øresund Bridge in 2000, Copenhagen has become the centre of the increasingly integrating Øresund Region...
, where he obtained from
King Christian VIII
Christian VIII of Denmark
Christian VIII , was king of Denmark from 1839 to 1848 and, as Christian Frederick, king of Norway in 1814. He was the eldest son of Hereditary Prince Frederick of Denmark and Norway and Sophia Frederica of Mecklenburg-Schwerin, born in 1786 at Christiansborg Palace in Copenhagen...
a small travelling studentship, which enabled him to spend some time in Paris and two years (1844–1846) in
Italy
Italy
Italy , officially the Italian Republic languages]] under the European Charter for Regional or Minority Languages. In each of these, Italy's official name is as follows:;;;;;;;;), is a unitary parliamentary republic in South-Central Europe. To the north it borders France, Switzerland, Austria and...
. In
Paris
Paris
Paris is the capital and largest city in France, situated on the river Seine, in northern France, at the heart of the Île-de-France region...
he wrote his fine "tragedy of common life,"
Maria Magdalena
(
1844
1844 in literature
The year 1844 in literature involved some significant new books.-Events:* The first volumes of the Patrologia Latina, a 217 volume collection of works in Latin, are published in Paris by Jacques Paul Migne...
). On his return from Italy Hebbel met at
Vienna
Vienna
Vienna is the capital and largest city of the Republic of Austria and one of the nine states of Austria. Vienna is Austria's primary city, with a population of about 1.723 million , and is by far the largest city in Austria, as well as its cultural, economic, and political centre...
two Polish noblemen, the brothers Zerboni di Sposetti, who in their enthusiasm for his genius urged him to remain, and supplied him with the means to mingle in the best intellectual society of the Austrian capital.
Hebbel's old precarious existence now became a horror to him, and he made a deliberate breach with it by marrying (in 1846) the beautiful and wealthy actress
Christine Enghaus
Christine Enghaus
Christine Enghaus, pseudonym of Johanne Louise Christine Engehausen, was a German actress and wife of the German playwright Friedrich Hebbel.- Early years :...
, giving up Elise Lensing (who remained faithful to him until her death), on the grounds that "a man's first duty is to the most powerful force within him, that which alone can give him happiness and be of service to the world": in his case the poetical faculty, which would have perished "in the miserable struggle for existence". This "deadly sin," which, "if peace of conscience be the test of action," was, he considered, the best act of his life, established his fortunes. Elise, however, still provided useful inspiration for his art. As late as 1851, shortly after her death, he wrote the little epic
Mutter und Kind
, intended to show that the relation of parent and child is the essential factor which makes the quality of happiness among all classes and under all conditions equal.
Long before this Hebbel had become famous, German sovereigns bestowed decorations upon him; in foreign capitals he was feted as the greatest of living German dramatists. From the grand-duke of Saxe-Weimar he received a flattering invitation to take up his residence at
Weimar
Weimar
Weimar is a city in Germany famous for its cultural heritage. It is located in the federal state of Thuringia , north of the Thüringer Wald, east of Erfurt, and southwest of Halle and Leipzig. Its current population is approximately 65,000. The oldest record of the city dates from the year 899...
, where several of his plays were first performed. He remained, however, at Vienna until his death.
Works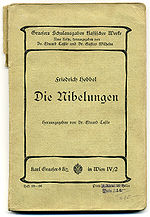 Besides the works already mentioned, Hebbel's principal tragedies are:
Herodes and Mariamne (1850

1850 in literature

The year 1850 in literature involved some significant new books.-Events:*Alfred Lord Tennyson named Poet Laureate of the United Kingdom, succeeding William Wordsworth.*Periodical Household Words begins publication...


)
Julia (1851

1851 in literature

The year 1851 in literature involved some significant new books.-Events:*January 1 - The Georgian theatre company gives its first performance, under the direction of Giorgi Eristavi....


)
Michel Angelo (1851)
Agnès Bernauer (1855

1855 in literature

The year 1855 in literature involved some significant new books.-Events:* July 4 - In Brooklyn, New York, Walt Whitman's first edition of his book of poems titled Leaves of Grass is published....


)
Gyges and His Ring (1856

1856 in literature

The year 1856 in literature involved some significant new books.-Events:*Arthur Schopenhauer adds a chapter on "The Metaphysics of Sexual Love" to the third edition of his The World as Will and Representation....


)
the magnificently conceived trilogy Die Nibelungen (1862

1862 in literature

The year 1862 in literature involved some significant new books.-Events:*February - Ambrose Bierce joins the staff of General William Badcock Hazen....


), his last work (consisting of a prologue, Der gehörnte Siegfried, and the tragedies, Siegfrieds Tod and Kriemhilds Rache), which won for the author the Schiller prize.
Of his comedies
Der Diamant
(1847),
Der Rubin
(1850) and the tragi-comedy
Ein Trauerspiel in Sizilien
(1845), are the more important, but they are heavy and hardly rise above mediocrity. All his dramatic productions, however, exhibit skill in characterization, great glow of passion, and a true feeling for dramatic situation; but their poetic effect is frequently marred by extravagances which border on the grotesque, and by the introduction of incidents the unpleasant character of which is not sufficiently relieved. In many of his lyric poems, and especially in
Mutter und Kind
, published in 1859, Hebbel showed that his poetic gifts were not restricted to the drama.
His collected works were first published by E. Kuh in 12 volumes at Hamburg, 1866-1868.
Music
Some of Hebbel's works were set to music, such as his poem
Requiem
by
Peter Cornelius
Peter Cornelius
Carl August Peter Cornelius was a German composer, writer about music, poet and translator. He was born and died in Mainz where his grave in the Hauptfriedhof survives....
and in
Max Reger
Max Reger
Johann Baptist Joseph Maximilian Reger was a German composer, conductor, pianist, organist, and academic teacher.-Life:...
's
Hebbel Requiem
Requiem (Reger)
The Requiem, Op. 144b, is a late Romantic composition of Max Reger, also called Hebbel Requiem, a setting of Friedrich Hebbel's poem Requiem. Reger wrote it in 1915 for alto solo, chorus and orchestra...
.
Robert Schumann
Robert Schumann
Robert Schumann, sometimes known as Robert Alexander Schumann, was a German composer, aesthete and influential music critic. He is regarded as one of the greatest and most representative composers of the Romantic era....
's opera
Genoveva
Genoveva
Genoveva is an opera in four acts by Robert Schumann in the genre of German Romanticism with a libretto by Robert Reinick and the composer. The only opera Schumann ever wrote, it received its first performance on 25 June 1850 at the Stadttheater in Leipzig, with the composer conducting...
is based on a play of Hebbel.
Emil von Reznicek
Emil von Reznicek
Emil Nikolaus Freiherr von Reznicek was an Austrian late Romantic composer of Czech ancestry.-Life:...
composed in 1922 an opera
Holofernes
after Hebbel's
Judith und Holofernes
.
External links
Films
1975 Glutmensch (A man aglow), 90 min.; Writer and Director: Jonatan Briel

Jonatan Briel

Jonatan Karl Dieter Briel was a German director, screenplay author, and actor. He was born in Bodenwerder, Lower Saxony, and died in Berlin...


; SFB and "Literarisches Berliner Kolloquium" – Production
Plot: Werner Brunn plays Friedrich Hebbel, who is confined to his sickbed on his 50th birthday, and recalls his youth in his feverish dreams.