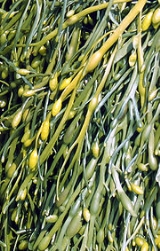 Knotted wrack
Ascophyllum nodosum
is a large, common brown alga (Phaeophyceae) in the
family
Family (biology)
In biological classification, family is* a taxonomic rank. Other well-known ranks are life, domain, kingdom, phylum, class, order, genus, and species, with family fitting between order and genus. As for the other well-known ranks, there is the option of an immediately lower rank, indicated by the...
Fucaceae
Fucaceae
Fucaceae are a family of brown algae. There are seven genera in the family, most notably Fucus, which includes several common seaweeds....
, being the only
species
Species
In biology, a species is one of the basic units of biological classification and a taxonomic rank. A species is often defined as a group of organisms capable of interbreeding and producing fertile offspring. While in many cases this definition is adequate, more precise or differing measures are...
in the
genus
Genus
In biology, a genus is a low-level taxonomic rank used in the biological classification of living and fossil organisms, which is an example of definition by genus and differentia...
Ascophyllum
. It is
seaweed
Seaweed
Seaweed is a loose, colloquial term encompassing macroscopic, multicellular, benthic marine algae. The term includes some members of the red, brown and green algae...
of the northern
Atlantic Ocean
Atlantic Ocean
The Atlantic Ocean is the second-largest of the world's oceanic divisions. With a total area of about , it covers approximately 20% of the Earth's surface and about 26% of its water surface area...
, also known as
rockweed
,
Norwegian kelp
,
knotted kelp
,
knotted wrack
or
egg wrack
. It is common on the north-western coast of
Europe
Europe
Europe is, by convention, one of the world's seven continents. Comprising the westernmost peninsula of Eurasia, Europe is generally 'divided' from Asia to its east by the watershed divides of the Ural and Caucasus Mountains, the Ural River, the Caspian and Black Seas, and the waterways connecting...
(from
Svalbard
Svalbard
Svalbard is an archipelago in the Arctic, constituting the northernmost part of Norway. It is located north of mainland Europe, midway between mainland Norway and the North Pole. The group of islands range from 74° to 81° north latitude , and from 10° to 35° east longitude. Spitsbergen is the...
to
Portugal
Portugal
Portugal , officially the Portuguese Republic is a country situated in southwestern Europe on the Iberian Peninsula. Portugal is the westernmost country of Europe, and is bordered by the Atlantic Ocean to the West and South and by Spain to the North and East. The Atlantic archipelagos of the...
) including east
Greenland
Greenland
Greenland is an autonomous country within the Kingdom of Denmark, located between the Arctic and Atlantic Oceans, east of the Canadian Arctic Archipelago. Though physiographically a part of the continent of North America, Greenland has been politically and culturally associated with Europe for...
and the north-eastern coast of
North America
North America
North America is a continent wholly within the Northern Hemisphere and almost wholly within the Western Hemisphere. It is also considered a northern subcontinent of the Americas...
.
Description
Ascophyllum nodosum
has long
frond
Frond
The term frond refers to a large, divided leaf. In both common usage and botanical nomenclature, the leaves of ferns are referred to as fronds and some botanists restrict the term to this group...
s with large egg-shaped air-bladders set in series at regular intervals in the fronds and not stalked. The fronds can reach 2 m in length and are attached by a
holdfast
Holdfast
A holdfast is a root-like structure that anchors aquatic sessile organisms, such as seaweed, other sessile algae, stalked crinoids, benthic cnidarians, and sponges, to the substrate. ...
to rocks and boulders. The fronds are olive-brown in color and somewhat compressed but without a mid-rib.
Life history is of one diploid plant and
gamete
Gamete
A gamete is a cell that fuses with another cell during fertilization in organisms that reproduce sexually...
s. The gametes are produced in conceptacles embedded in yellowish receptacles on short branches.
Varieties and forms
Several different varieties and forms of this species have been described.
Ascophyllum nodosum var. minor has been described from Larne Lough

Larne Lough

Larne Lough is a sea lough or inlet in County Antrim, Northern Ireland. The lough lies between Islandmagee and the mainland. At its mouth is the town of Larne...


in Northern Ireland

Northern Ireland

Northern Ireland is one of the four countries of the United Kingdom. Situated in the north-east of the island of Ireland, it shares a border with the Republic of Ireland to the south and west...


.
There are free floating ecads of this species such as
Ascophyllum nodosum mackaii
Cotton, which is found at very sheltered locations, such as at the heads of sea lochs in
Scotland
Scotland
Scotland is a country that is part of the United Kingdom. Occupying the northern third of the island of Great Britain, it shares a border with England to the south and is bounded by the North Sea to the east, the Atlantic Ocean to the north and west, and the North Channel and Irish Sea to the...
and
Ireland
Ireland
Ireland is an island to the northwest of continental Europe. It is the third-largest island in Europe and the twentieth-largest island on Earth...
.
Ecology
Ascophyllum nodosum
is found mostly on sheltered sites on shores in the mid-littoral where it can become the dominant species in the littoral zone.
The species is found in a range of coastal habitats from sheltered
estuaries
Estuary
An estuary is a partly enclosed coastal body of water with one or more rivers or streams flowing into it, and with a free connection to the open sea....
to moderately exposed coasts, often it dominates the inter-tidal zone (although sub-tidal populations are known to exist in very clear waters). However it is rarely found on exposed shores, and if it is found the fronds are usually small and badly scratched.
This seaweed grows quite slowly, 0.5% per day; carrying capacity is about 40 kg wet weight per square meter and it may live for 10–15 years. It may typically overlap in distribution with
Fucus vesiculosus
and
Fucus serratus
. Its distribution is also limited by salinity, wave exposure, temperature, desiccation and general stress. These, and other attributes of the algae are summarized in Schonbeck & Norton (1980). It may take approximately five years before becoming fertile.
Vertebrata lanosa
(L.) T.A. Christensen is a small red alga, commonly found growing in dense tufts on
Ascophyllum
whose
rhizoid
Rhizoid
Rhizoids are thread-like growths from the base or bottom of a plant, found mainly in lower groups such as algae, fungi, bryophytes and pteridophytes, that function like roots of higher plants ....
s penetrate the host. It is considered by some as parasitic, however as it only receives structural support from Knotted Wrack (i.e. non-parasitically), it acts as an
epiphyte
Epiphyte
An epiphyte is a plant that grows upon another plant non-parasitically or sometimes upon some other object , derives its moisture and nutrients from the air and rain and sometimes from debris accumulating around it, and is found in the temperate zone and in the...
.
Distribution
Recorded in
Europe
Europe
Europe is, by convention, one of the world's seven continents. Comprising the westernmost peninsula of Eurasia, Europe is generally 'divided' from Asia to its east by the watershed divides of the Ural and Caucasus Mountains, the Ural River, the Caspian and Black Seas, and the waterways connecting...
from:
Faroe Islands
Faroe Islands
The Faroe Islands are an island group situated between the Norwegian Sea and the North Atlantic Ocean, approximately halfway between Scotland and Iceland. The Faroe Islands are a self-governing territory within the Kingdom of Denmark, along with Denmark proper and Greenland...
,
Norway
Norway
Norway , officially the Kingdom of Norway, is a Nordic unitary constitutional monarchy whose territory comprises the western portion of the Scandinavian Peninsula, Jan Mayen, and the Arctic archipelago of Svalbard and Bouvet Island. Norway has a total area of and a population of about 4.9 million...
, Ireland,
Britain
Great Britain
Great Britain or Britain is an island situated to the northwest of Continental Europe. It is the ninth largest island in the world, and the largest European island, as well as the largest of the British Isles...
and
Isle of Man
Isle of Man
The Isle of Man , otherwise known simply as Mann , is a self-governing British Crown Dependency, located in the Irish Sea between the islands of Great Britain and Ireland, within the British Isles. The head of state is Queen Elizabeth II, who holds the title of Lord of Mann. The Lord of Mann is...
,
Netherlands
Netherlands
The Netherlands is a constituent country of the Kingdom of the Netherlands, located mainly in North-West Europe and with several islands in the Caribbean. Mainland Netherlands borders the North Sea to the north and west, Belgium to the south, and Germany to the east, and shares maritime borders...
, North America:
Bay of Fundy
Bay of Fundy
The Bay of Fundy is a bay on the Atlantic coast of North America, on the northeast end of the Gulf of Maine between the Canadian provinces of New Brunswick and Nova Scotia, with a small portion touching the U.S. state of Maine...
,
Galicia
Galicia
-Geographic regions:* Galicia , an autonomous community in northwestern Spain** Gallaecia, a province of the Roman Empire** Kingdom of Galicia, a medieval kingdom**Nueva Galicia :*** Nueva Galicia, a region of New Spain, now in Mexico...
,
Nova Scotia
Nova Scotia
Nova Scotia is one of Canada's three Maritime provinces and is the most populous province in Atlantic Canada. The name of the province is Latin for "New Scotland," but "Nova Scotia" is the recognized, English-language name of the province. The provincial capital is Halifax. Nova Scotia is the...
,
Baffin Island
Baffin Island
Baffin Island in the Canadian territory of Nunavut is the largest island in the Canadian Arctic Archipelago, the largest island in Canada and the fifth largest island in the world. Its area is and its population is about 11,000...
,
Hudson Strait
Hudson Strait
Hudson Strait links the Atlantic Ocean to Hudson Bay in Canada. It lies between Baffin Island and the northern coast of Quebec, its eastern entrance marked by Cape Chidley and Resolution Island. It is long...
,
Labrador
Labrador
Labrador is the distinct, northerly region of the Canadian province of Newfoundland and Labrador. It comprises the mainland portion of the province, separated from the island of Newfoundland by the Strait of Belle Isle...
and
Newfoundland
.
It has been recorded as an accidental introduction to
San Francisco, California
San Francisco, California
San Francisco , officially the City and County of San Francisco, is the financial, cultural, and transportation center of the San Francisco Bay Area, a region of 7.15 million people which includes San Jose and Oakland...
, and as a potentially
invasive species
Invasive species
"Invasive species", or invasive exotics, is a nomenclature term and categorization phrase used for flora and fauna, and for specific restoration-preservation processes in native habitats, with several definitions....
eradicated.
Uses
Ascophyllum nodosum
is harvested for use in alginates, fertilisers and for the manufacture of seaweed meal for animal and human consumption. It has long been used as an organic and mainstream fertilizer for many varieties of crops due to its combination of both macronutrient, (eg.
N
Nitrogen
Nitrogen is a chemical element that has the symbol N, atomic number of 7 and atomic mass 14.00674 u. Elemental nitrogen is a colorless, odorless, tasteless, and mostly inert diatomic gas at standard conditions, constituting 78.08% by volume of Earth's atmosphere...
,
P
Phosphorus
Phosphorus is the chemical element that has the symbol P and atomic number 15. A multivalent nonmetal of the nitrogen group, phosphorus as a mineral is almost always present in its maximally oxidized state, as inorganic phosphate rocks...
,
K
Potassium
Potassium is the chemical element with the symbol K and atomic number 19. Elemental potassium is a soft silvery-white alkali metal that oxidizes rapidly in air and is very reactive with water, generating sufficient heat to ignite the hydrogen emitted in the reaction.Potassium and sodium are...
,
Ca
Calcium
Calcium is the chemical element with the symbol Ca and atomic number 20. It has an atomic mass of 40.078 amu. Calcium is a soft gray alkaline earth metal, and is the fifth-most-abundant element by mass in the Earth's crust...
,
Mg
Magnesium
Magnesium is a chemical element with the symbol Mg, atomic number 12, and common oxidation number +2. It is an alkaline earth metal and the eighth most abundant element in the Earth's crust and ninth in the known universe as a whole...
,
S
Sulfur
Sulfur or sulphur is the chemical element with atomic number 16. In the periodic table it is represented by the symbol S. It is an abundant, multivalent non-metal. Under normal conditions, sulfur atoms form cyclic octatomic molecules with chemical formula S8. Elemental sulfur is a bright yellow...
) and micronutrients (eg.
Mn
Manganese
Manganese is a chemical element, designated by the symbol Mn. It has the atomic number 25. It is found as a free element in nature , and in many minerals...
,
Cu
Copper
Copper is a chemical element with the symbol Cu and atomic number 29. It is a ductile metal with very high thermal and electrical conductivity. Pure copper is soft and malleable; an exposed surface has a reddish-orange tarnish...
,
Fe
Iron
Iron is a chemical element with the symbol Fe and atomic number 26. It is a metal in the first transition series. It is the most common element forming the planet Earth as a whole, forming much of Earth's outer and inner core. It is the fourth most common element in the Earth's crust...
,
Zn
Zinc
Zinc , or spelter , is a metallic chemical element; it has the symbol Zn and atomic number 30. It is the first element in group 12 of the periodic table. Zinc is, in some respects, chemically similar to magnesium, because its ion is of similar size and its only common oxidation state is +2...
, etc). It also host to cytokinins,
auxin
Auxin
Auxins are a class of plant hormones with some morphogen-like characteristics. Auxins have a cardinal role in coordination of many growth and behavioral processes in the plant's life cycle and are essential for plant body development. Auxins and their role in plant growth were first described by...
-like gibberellins,
betaines
Betaines
A betaine in chemistry is any neutral chemical compound with a positively charged cationic functional group such as an quaternary ammonium or phosphonium cation which bears no hydrogen atom and with a negatively charged functional group such as a carboxylate group which may not be adjacent to the...
,
mannitol
Mannitol
Mannitol is a white, crystalline organic compound with the formula . This polyol is used as an osmotic diuretic agent and a weak renal vasodilator...
, organic acids, polysaccharides, amino acids, and proteins which are all very beneficial and widely used in agriculture.
Ireland, Scotland and Norway have provided the world's principal alginate supply.
Ascophyllum nodosum
is frequently used as packaging material for baitworm and lobster shipments from
New England
New England
New England is a region in the northeastern corner of the United States consisting of the six states of Maine, New Hampshire, Vermont, Massachusetts, Rhode Island, and Connecticut...
to various domestic and international locations.
Ascophyllum
itself has occasionally been introduced to California, and several species frequently found in baitworm shipments, including
Carcinus maenas
Carcinus maenas
Carcinus maenas is a common littoral crab, and an important invasive species, listed among the 100 "world's worst alien invasive species". It is native to the north-east Atlantic Ocean and Baltic Sea, but has colonised similar habitats in Australia, South Africa, South America and both Atlantic and...
and
Littorina saxatilis
Littorina saxatilis
Littorina saxatilis, common name the rough periwinkle, is a species of small sea snail, a marine gastropod mollusc in the family Littorinidae, the winkles or periwinkles.-Distribution:...
, may have been introduced to the San Francisco Bay region this way.
Toxicological uses
Because the age of the different parts of
A. nodosum
can be identified by its shoots,
A. nodusum
has also been used to monitor concentrations of heavy metals in sea water. A
concentration factor
Bioconcentration factor
Bioconcentration factor is the concentration of a particular chemical in a biological tissue per concentration of that chemical in water surrounding that tissue...
for zinc has been reported to be of the order 10 to the fourth.
Harvesting Controversy
There is controversy over impacts of commercial harvesting of
Ascophyllum nodosum
for use in garden or crop
fertilizer
Fertilizer
Fertilizer is any organic or inorganic material of natural or synthetic origin that is added to a soil to supply one or more plant nutrients essential to the growth of plants. A recent assessment found that about 40 to 60% of crop yields are attributable to commercial fertilizer use...
s and livestock feed supplements in North America and Europe. Some research has been focused on by-catch and impact on
Intertidal zone
Intertidal zone
The intertidal zone is the area that is above water at low tide and under water at high tide . This area can include many different types of habitats, with many types of animals like starfish, sea urchins, and some species of coral...
communities.
Opponents of wild
Ascophyllum
harvests point to the algae's high habitat value for over 100 marine species, including
benthic
Benthic zone
The benthic zone is the ecological region at the lowest level of a body of water such as an ocean or a lake, including the sediment surface and some sub-surface layers. Organisms living in this zone are called benthos. They generally live in close relationship with the substrate bottom; many such...
invertebrate
Invertebrate
An invertebrate is an animal without a backbone. The group includes 97% of all animal species – all animals except those in the chordate subphylum Vertebrata .Invertebrates form a paraphyletic group...
s,
commercially important fish, wild ducks, shorebirds, and
seabird
Seabird
Seabirds are birds that have adapted to life within the marine environment. While seabirds vary greatly in lifestyle, behaviour and physiology, they often exhibit striking convergent evolution, as the same environmental problems and feeding niches have resulted in similar adaptations...
s. Shoreland owners in
Maine
Maine
Maine is a state in the New England region of the northeastern United States, bordered by the Atlantic Ocean to the east and south, New Hampshire to the west, and the Canadian provinces of Quebec to the northwest and New Brunswick to the northeast. Maine is both the northernmost and easternmost...
, as well as federal, state, and local agencies in the United States have placed their conservation lands off limits to
Ascophyllum
removal. Rockweed harvesters point to the value of the seasonal jobs created by the harvest operation.