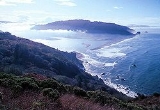 Estuary
An
estuary
is a partly enclosed coastal body of
water
Water
Water is a chemical substance with the chemical formula H2O. A water molecule contains one oxygen and two hydrogen atoms connected by covalent bonds. Water is a liquid at ambient conditions, but it often co-exists on Earth with its solid state, ice, and gaseous state . Water also exists in a...
with one or more
river
River
A river is a natural watercourse, usually freshwater, flowing towards an ocean, a lake, a sea, or another river. In a few cases, a river simply flows into the ground or dries up completely before reaching another body of water. Small rivers may also be called by several other names, including...
s or
stream
Stream
A stream is a body of water with a current, confined within a bed and stream banks. Depending on its locale or certain characteristics, a stream may be referred to as a branch, brook, beck, burn, creek, "crick", gill , kill, lick, rill, river, syke, bayou, rivulet, streamage, wash, run or...
s flowing into it, and with a free connection to the open
sea
Sea
A sea generally refers to a large body of salt water, but the term is used in other contexts as well. Most commonly, it means a large expanse of saline water connected with an ocean, and is commonly used as a synonym for ocean...
.
Estuaries form a transition zone between river environments and ocean environments and are subject to both marine influences, such as tides, waves, and the influx of saline water; and riverine influences, such as flows of fresh water and sediment.