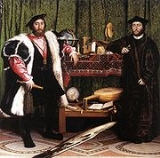 Iconography
Iconography
is the branch of
art history
Art history
Art history has historically been understood as the academic study of objects of art in their historical development and stylistic contexts, i.e. genre, design, format, and style...
which studies the identification, description, and the interpretation of the content of images. The word
iconography
literally means "image writing", and comes from the
Greek
Ancient Greek
Ancient Greek is the stage of the Greek language in the periods spanning the times c. 9th–6th centuries BC, , c. 5th–4th centuries BC , and the c. 3rd century BC – 6th century AD of ancient Greece and the ancient world; being predated in the 2nd millennium BC by Mycenaean Greek...
"image" and "to write". A secondary meaning is the painting of
icon
Icon
An icon is a religious work of art, most commonly a painting, from Eastern Christianity and in certain Eastern Catholic churches...
s in the
Byzantine
Byzantine art
Byzantine art is the term commonly used to describe the artistic products of the Byzantine Empire from about the 5th century until the Fall of Constantinople in 1453....
and Orthodox Christian tradition. Still in art history, an iconography may also mean a particular depiction of a subject in terms of the content of the image, such as the number of figures used, their placing and gestures. The term is also used in many academic fields other than art history, for example
semiotics
Semiotics
Semiotics, also called semiotic studies or semiology, is the study of signs and sign processes , indication, designation, likeness, analogy, metaphor, symbolism, signification, and communication...
and
media studies
Media studies
Media studies is an academic discipline and field of study that deals with the content, history and effects of various media; in particular, the 'mass media'. Media studies may draw on traditions from both the social sciences and the humanities, but mostly from its core disciplines of mass...
, and in general usage, for the content of images, the typical depiction in images of a subject, and related senses. Sometimes distinctions have been made between
Iconology
and
Iconography
, although the definitions, and so the distinction made, varies.
Foundations of iconography
Early Western writers who took special note of the content of images include
Giorgio Vasari
Giorgio Vasari
Giorgio Vasari was an Italian painter, writer, historian, and architect, who is famous today for his biographies of Italian artists, considered the ideological foundation of art-historical writing.-Biography:...
, whose
Ragionamenti
, interpreting the paintings in the
Palazzo Vecchio
Palazzo Vecchio
The Palazzo Vecchio is the town hall of Florence, Italy. This massive, Romanesque, crenellated fortress-palace is among the most impressive town halls of Tuscany...
in
Florence
Florence
Florence is the capital city of the Italian region of Tuscany and of the province of Florence. It is the most populous city in Tuscany, with approximately 370,000 inhabitants, expanding to over 1.5 million in the metropolitan area....
, reassuringly demonstrates that such works were difficult to understand even for well-informed contemporaries.
Gian Pietro Bellori
Gian Pietro Bellori
Gian Pietro Bellori , also known as Giovanni Pietro Bellori or Giovan Pietro Bellori, was an Italian painter and antiquarian but more famously, a prominent biographer of artists of the 17th century, equivalent to Giorgio Vasari in the 16th century...
, a 17th century biographer of artists of his own time, describes and analyses, not always correctly, many works.
Lessing
Gotthold Ephraim Lessing
Gotthold Ephraim Lessing was a German writer, philosopher, dramatist, publicist, and art critic, and one of the most outstanding representatives of the Enlightenment era. His plays and theoretical writings substantially influenced the development of German literature...
's study (1796) of the classical figure
Amor
Cupid
In Roman mythology, Cupid is the god of desire, affection and erotic love. He is the son of the goddess Venus and the god Mars. His Greek counterpart is Eros...
with an inverted torch was an early attempt to use a study of a type of image to explain the culture it originated in, rather than the other way round.
Iconography as an academic art historical discipline developed in the nineteenth-century in the works of scholars such as
Adolphe Napoleon Didron
Adolphe Napoleon Didron
Adolphe Napoleon Didron was a French art historian and archaeologist.Didron was born at Hautvillers, in the département of Marne, and began his education as a student of law...
(1806–1867),
Anton Heinrich Springer
Anton Heinrich Springer
Anton Heinrich Springer was a German art historian and writer. He was born in Prague in July 1825 and studied philosophy and history in the university of his native city, where he earned a Ph.D.. Taking an interest in art, he made several educational journeys, travelling to Munich, Dresden and...
(1825–1891), and
Émile Mâle
Émile Mâle
Émile Mâle was a French art historian, one of the first to study medieval, mostly sacral French art and the influence of eastern European iconography thereon. He was a member of the Académie Française, and a director of the Académie de France à Rome....
(1862–1954) all specialists in Christian religious art, which was the main focus of study in this period, in which French scholars were especially prominent. They looked back to earlier attempts to classify and organise subjects encyclopedically like
Cesare Ripa
Cesare Ripa
Cesare Ripa was an Italian aesthetician who worked for Cardinal Anton Maria Salviati as a cook and butler.Little is known about his life. He was born in Perugia and died in Rome. After the death of the cardinal, Ripa worked for his relatives...
's
Iconologia overo Descrittione Dell'imagini Universali cavate dall'Antichità et da altri luoghi
and
Anne Claude Philippe de Caylus
Anne Claude Philippe de Tubieres de Grimoard de Pestels de Levis, Comte de Caylus
Anne Claude de Tubières-Grimoard de Pestels Levieux de Lévis, comte de Caylus, marquis d'Esternay, baron de Bransac , French antiquarian, proto-archaeologist and man of letters, was born at Paris....
's
Recueil d'antiquités égyptiennes, étrusques, grècques, romaines et gauloises
as guides to understanding works of art, both religious and profane, in a more scientific manner than the popular aesthetic approach of the time. These early contributions paved the way for
encyclopedia
Encyclopedia
An encyclopedia is a type of reference work, a compendium holding a summary of information from either all branches of knowledge or a particular branch of knowledge....
s, manuals, and other publications useful in identifying the content of art. Mâle's
l'Art religieux du XIIIe siècle en France
(originally 1899, with revised editions) translated into English as
The Gothic Image, Religious Art in France of the Thirteenth Century
has remained continuously in print.
Twentieth-century iconography
In the early-twentieth century
Germany
Germany
Germany , officially the Federal Republic of Germany , is a federal parliamentary republic in Europe. The country consists of 16 states while the capital and largest city is Berlin. Germany covers an area of 357,021 km2 and has a largely temperate seasonal climate...
,
Aby Warburg
Aby Warburg
Abraham Moritz Warburg, known as Aby Warburg, was a German art historian and cultural theorist who founded a private Library for Cultural Studies, the Kulturwissenschaftliche Bibliothek Warburg, later Warburg Institute...
(1866–1929) and his followers
Fritz Saxl
Fritz Saxl
Friedrich "Fritz" Saxl was the art historian who was the guiding light of the Warburg Institute, especially during the long mental breakdown of its founder, Aby Warburg, whom he succeeded as director.Saxl was instrumental in moving the Warburg Institute to safety in London at the outset of the...
(1890–1948) and
Erwin Panofsky
Erwin Panofsky
Erwin Panofsky was a German art historian, whose academic career was pursued mostly in the U.S. after the rise of the Nazi regime. Panofsky's work remains highly influential in the modern academic study of iconography...
(1892–1968) elaborated the practice of identification and classification of motifs in images to using iconography as a means to understanding meaning. Panofsky codified an influential approach to iconography in his 1939
Studies in Iconology
, where he defined it as "the branch of the history of art which concerns itself with the subject matter or meaning of works of art, as opposed to form," although the distinction he and other scholars drew between particular definitions of "iconography" (put simply, the identification of visual content) and "iconology" (the analysis of the meaning of that content), has not been generally accepted, though it is still used by some writers.
In the
United States
United States
The United States of America is a federal constitutional republic comprising fifty states and a federal district...
, where Panofsky immigrated in 1931, students such as
Frederick Hartt
Frederick Hartt
Frederick Hartt was an American professor of History of Art at the University of Virginia. His books include Art: A History of Painting, Sculpture, and Architecture and Italian Renaissance Art, Michelangelo , The Sistine Chapel and The Renaissance in Italy and Spain .Born in Boston,...
, and
Meyer Schapiro
Meyer Schapiro
Meyer Schapiro was a Lithuanian-born American art historian known for forging new art historical methodologies that incorporated an interdisciplinary approach to the study of works of art...
continued under his influence in the discipline. In an influential article of 1942,
Introduction to an "Iconography of Mediaeval Architecture"
,
Richard Krautheimer
Richard Krautheimer
Richard Krautheimer was a 20th century art historian, architectural historian, Baroque scholar, and Byzantinist....
, a specialist on early medieval churches and another German émigré, extended iconographical analysis to
architectural forms
Architecture
Architecture is both the process and product of planning, designing and construction. Architectural works, in the material form of buildings, are often perceived as cultural and political symbols and as works of art...
.
The period from 1940 can be seen as one where iconography was especially prominent in art history. Whereas most icongraphical scholarship remains highly dense and specialized, some analyses began to attract a much wider audience, for example
Panofsky
Panofsky
-People:* Erwin Panofsky, an art historian* Wolfgang K. H. Panofsky, a German-American physicist, a son of Erwin Panofsky-Other:* Panofsky Prize awarded in the field of particle physics...
's theory (now generally out of favour with specialists) that the writing on the rear wall in the
Arnolfini Portrait
Arnolfini portrait
The Arnolfini Portrait is an oil painting on oak panel dated 1434 by the Early Netherlandish painter Jan van Eyck. It is also known as The Arnolfini Wedding, The Arnolfini Marriage, The Arnolfini Double Portrait or the Portrait of Giovanni Arnolfini and his Wife, among other titles...
by
Jan van Eyck
Jan van Eyck
Jan van Eyck was a Flemish painter active in Bruges and considered one of the best Northern European painters of the 15th century....
turned the painting into the record of a marriage contract. Holbein's
The Ambassadors
The Ambassadors (Holbein)
The Ambassadors is a painting by Hans Holbein the Younger in the National Gallery, London. As well as being a double portrait, the painting contains a still life of several meticulously rendered objects, the meaning of which is the cause of much debate...
has been the subject of books for a general market with new theories as to its iconography, and the best-sellers of
Dan Brown
Dan Brown
Dan Brown is an American author of thriller fiction, best known for the 2003 bestselling novel, The Da Vinci Code. Brown's novels, which are treasure hunts set in a 24-hour time period, feature the recurring themes of cryptography, keys, symbols, codes, and conspiracy theories...
include theories, disowned by most art historians, on the iconography of works by
Leonardo da Vinci
Leonardo da Vinci
Leonardo di ser Piero da Vinci was an Italian Renaissance polymath: painter, sculptor, architect, musician, scientist, mathematician, engineer, inventor, anatomist, geologist, cartographer, botanist and writer whose genius, perhaps more than that of any other figure, epitomized the Renaissance...
.
Technological advances allowed the building-up of huge collections of photographs, with an iconographic arrangement or index, which include those of the
Warburg Institute
Warburg Institute
The Warburg Institute is a research institution associated with the University of London in central London, England. A member of the School of Advanced Study, its focus is the study of the influence of classical antiquity on all aspects of European civilisation.-History:The Institute was founded by...
and the
Index of Christian Art
at
Princeton
Princeton University
Princeton University is a private research university located in Princeton, New Jersey, United States. The school is one of the eight universities of the Ivy League, and is one of the nine Colonial Colleges founded before the American Revolution....
(which has made a specialism of iconography since its early days in America). These are now being digitised and made available online, usually on a restricted basis.
With the arrival of computing, the
Iconclass
Iconclass
Iconclass is a specialized library classification designed for art and iconography. It was originally conceived by Henri van de Waal, and was further developed by a group of scholars after his death....
system, a highly complex way of classifying the content of images, with 28,000 classification types, and 14,000 keywords, was developed in the Netherlands as a standard classification for recording collections, with the idea of assembling huge databases that will allow the retrieval of images featuring particular details, subjects or other common factors. For example, the Iconclass code "71H7131" is for the subject of "
Bathsheba
Bathsheba
According to the Hebrew Bible, Bathsheba was the wife of Uriah the Hittite and later of David, king of the United Kingdom of Israel and Judah. She is most known for the Bible story in which King David seduced her....
(alone) with David's letter", whereas "71" is the whole "
Old Testament
Old Testament
The Old Testament, of which Christians hold different views, is a Christian term for the religious writings of ancient Israel held sacred and inspired by Christians which overlaps with the 24-book canon of the Masoretic Text of Judaism...
" and "71H" the "story of
David
David
David was the second king of the united Kingdom of Israel according to the Hebrew Bible and, according to the Gospels of Matthew and Luke, an ancestor of Jesus Christ through both Saint Joseph and Mary...
". A number of collections of different types have been classified using Iconclass, notably many types of
old master print
Old master print
An old master print is a work of art produced by a printing process within the Western tradition . A date of about 1830 is usually taken as marking the end of the period whose prints are covered by this term. The main techniques concerned are woodcut, engraving and etching, although there are...
, the collections of the
Gemäldegalerie, Berlin
Gemäldegalerie, Berlin
The Gemäldegalerie is an art museum in Berlin, Germany. It holds one of the world's leading collections of European art from the 13th to the 18th centuries. It is located on Kulturforum west of Potsdamer Platz. Its collection includes masterpieces from such artists as Albrecht Dürer, Lucas...
and the German Marburger Index. These are available, usually on-line or on
DVD
DVD
A DVD is an optical disc storage media format, invented and developed by Philips, Sony, Toshiba, and Panasonic in 1995. DVDs offer higher storage capacity than Compact Discs while having the same dimensions....
. The system can also be used outside pure art history, for example on sites like
Flickr
Flickr
Flickr is an image hosting and video hosting website, web services suite, and online community that was created by Ludicorp in 2004 and acquired by Yahoo! in 2005. In addition to being a popular website for users to share and embed personal photographs, the service is widely used by bloggers to...
.
Brief survey of iconography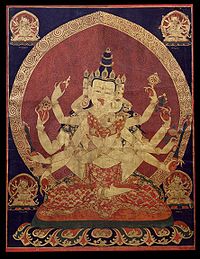 Iconography in religious art
Religious images are used to some extent by all major religions, including both Indian and Abrahamic faiths, and often contain highly complex iconography, which reflects centuries of accumulated tradition.
Iconography in Indian religions
Central to the iconography and
hagiography
Hagiography
Hagiography is the study of saints.From the Greek and , it refers literally to writings on the subject of such holy people, and specifically to the biographies of saints and ecclesiastical leaders. The term hagiology, the study of hagiography, is also current in English, though less common...
of Indian religions are
mudra
Mudra
A mudrā is a symbolic or ritual gesture in Hinduism and Buddhism. While some mudrās involve the entire body, most are performed with the hands and fingers...
or gestures with specific meanings. Other features include the
aureola
Aureola
An aureola or aureole is the radiance of luminous cloud which, in paintings of sacred personages, surrounds the whole figure...
and
halo
Halo (religious iconography)
A halo is a ring of light that surrounds a person in art. They have been used in the iconography of many religions to indicate holy or sacred figures, and have at various periods also been used in images of rulers or heroes...
, also found in Christian and Islamic art, and divine qualities and attributes represented by
asana
Asana
Asana is a body position, typically associated with the practice of Yoga, originally identified as a mastery of sitting still, with the spine as a conduit of biodynamic union...
and ritual tools such as the dharmachakra,
vajra
Vajra
Vajra is a Sanskrit word meaning both thunderbolt and diamond...
,
dadar
Dadar
Dadar is a place in Mumbai, and is also a railway station on both the Western and Central lines of the Mumbai Suburban Railway network. Dadar is situated in the heart of Mumbai, and Dadar station is the only railway station common to both the Central and Western lines...
,
chhatra
Chhatra
The 'Jewelled/Precious Parasol' is an auspicious symbol in the Dharmic traditions.According to Hindu mythology, it is the emblem of Varuna, also considered an embodiment of kingship. Chhatra is also a deity, yidam and ishta-devata. In various Dharmic traditions it is an accoutrement of chakravartin...
,
sauwastika
Sauwastika
The term sauwastika is sometimes used to distinguish the "left-facing" from the "right-facing" form of the swastika symbol, a meaning which developed in 19th century scholarship....
,
phurba
Phurba
The kīla is a three-sided peg, stake, knife, or nail like ritual implement traditionally associated with Indo-Tibetan Buddhism, Bön, and Indian Vedic traditions. The kīla is associated with the meditational deity The kīla (Sanskrit Devanagari: कील; IAST: kīla; , pronunciation between pur-ba and...
and
danda
Danda
In the Devanāgarī script, the danda is a punctuation character. The glyph consists of a single vertical stroke. The character can be found at code point U+0964 in Unicode. The "double danda" is at U+0965 . ISCII encodes danda at 0xEA....
. The symbolic use of colour to denote the Classical Elements or
Mahabhuta
Mahabhuta
Mahābhūta is Sanskrit and Pāli for "great element." In Buddhism, the "four great elements" are earth, water, fire and air...
and letters and
bija
Bija
In Hinduism and Buddhism, the Sanskrit term बीज bīja , literally seed, is used as a metaphor for the origin or cause of things and cognate with bindu....
syllables from sacred alphabetic scripts are other features. Under the influence of
tantra
Tantra
Tantra , anglicised tantricism or tantrism or tantram, is the name scholars give to an inter-religious spiritual movement that arose in medieval India, expressed in scriptures ....
art developed esoteric meanings, accessible only to initiates; this is an especially strong feature of
Tibetan art
Tibetan art
Tibetan art refers to the art of Tibet. For more than a thousand years, Tibetan artists have played a key role in the cultural life of Tibet. From designs for painted furniture to elaborate murals in religious buildings, their efforts have permeated virtually every facet of life on the Tibetan...
. The art of Indian Religions esp. Hindus in its numerous sectoral divisions is governed by sacred texts called the Aagama which describes the ratio and proportion of the icon, called
taalmaana
as well as mood of the central figure in a context. For example
Narasimha
Narasimha
Narasimha or Nrusimha , also spelt as Narasingh and Narasingha, whose name literally translates from Sanskrit as "Man-lion", is an avatar of Vishnu described in the Puranas, Upanishads and other ancient religious texts of Hinduism...
an incarnation of
Vishnu
Vishnu
Vishnu is the Supreme god in the Vaishnavite tradition of Hinduism. Smarta followers of Adi Shankara, among others, venerate Vishnu as one of the five primary forms of God....
though considered a wrathful deity but in few contexts is depicted in pacified mood.
Although iconic depictions of, or concentrating on, a single figure are the dominant type of Buddhist image, large stone relief or
fresco
Fresco
Fresco is any of several related mural painting types, executed on plaster on walls or ceilings. The word fresco comes from the Greek word affresca which derives from the Latin word for "fresh". Frescoes first developed in the ancient world and continued to be popular through the Renaissance...
narrative cycles of the
Life of the Buddha
, or tales of his previous lives, are found at major sites like
Sarnath
Sarnath
Sarnath or Sārnātha is the deer park where Gautama Buddha first taught the Dharma, and where the Buddhist Sangha came into existence through the enlightenment of Kondanna. Sarnath is located 13 kilometres north-east of Varanasi, in Uttar Pradesh, India...
,
Ajanta
Ajanta
The Ajanta Caves in Aurangabad district of Maharashtra, India are 29 rock-cut cave monuments which date from the 2nd century BCE. The caves include paintings and sculptures considered to be masterpieces of both Buddhist religious art as well as frescos which are reminiscent of the Sigiriya...
, and Borobudor, especially in earlier periods. Conversely, in
Hindu
Hindu
Hindu refers to an identity associated with the philosophical, religious and cultural systems that are indigenous to the Indian subcontinent. As used in the Constitution of India, the word "Hindu" is also attributed to all persons professing any Indian religion...
art, narrative scenes have become rather more common in recent centuries, especially in miniature paintings of the lives of
Krishna
Krishna
Krishna is a central figure of Hinduism and is traditionally attributed the authorship of the Bhagavad Gita. He is the supreme Being and considered in some monotheistic traditions as an Avatar of Vishnu...
and
Rama
Rama
Rama or full name Ramachandra is considered to be the seventh avatar of Vishnu in Hinduism, and a king of Ayodhya in ancient Indian...
.
Christian iconography
Christian art began, about two centuries after Christ, by borrowing motifs from Roman Imperial imagery, classical Greek and Roman religion and popular art - the motif of
Christ in Majesty
Christ in Majesty
Christ in Majesty, or Christ in Glory, in Latin Majestas Domini, is the Western Christian image of Christ seated on a throne as ruler of the world, always seen frontally in the centre of the composition, and often flanked by other sacred figures, whose membership changes over time and according to...
owes something to both Imperial portraits and depictions of
Zeus
Zeus
In the ancient Greek religion, Zeus was the "Father of Gods and men" who ruled the Olympians of Mount Olympus as a father ruled the family. He was the god of sky and thunder in Greek mythology. His Roman counterpart is Jupiter and his Etruscan counterpart is Tinia.Zeus was the child of Cronus...
. In the Late Antique period iconography began to be standardised, and to relate more closely to Biblical texts, although many gaps in the canonical Gospel narratives were plugged with matter from the
apocryphal gospels
Apocrypha
The term apocrypha is used with various meanings, including "hidden", "esoteric", "spurious", "of questionable authenticity", ancient Chinese "revealed texts and objects" and "Christian texts that are not canonical"....
. Eventually the Church would succeed in weeding most of these out, but some remain, like the ox and ass in the
Nativity of Christ
Nativity of Jesus in art
The Nativity of Jesus has been a major subject of Christian art since the 4th century. The artistic depictions of the Nativity or birth of Jesus, celebrated at Christmas, are based on the narratives in the Bible, in the Gospels of Matthew and Luke, and further elaborated by written, oral and...
.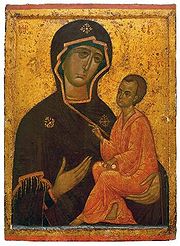 After the
period of Byzantine iconoclasm
Iconoclasm (Byzantine)
The Byzantine Iconoclasm encompasses two periods in the history of the Byzantine Empire when Emperors, backed by imperially-appointed leaders and councils of the Orthodox Church imposed a ban on religious images or icons. The "First Iconoclasm", as it is sometimes called, lasted between about 730...
iconographical innovation was regarded as unhealthy, if not heretical, in the Eastern Church, though it still continued at a glacial pace. More than in the West, traditional depictions were often considered to have authentic or
miraculous origins
Acheiropoieta
Acheiropoieta — also called Icons Made Without Hands — are a particular kind of icon which are alleged to have come into existence miraculously, not created by a human painter. Invariably these are images of Jesus or the Virgin Mary...
, and the job of the artist was to copy them with as little deviation as possible. The Eastern church also never accepted the use of monumental high relief or free-standing sculpture, which it found too reminiscent of paganism. Most modern Eastern Orthodox
icon
Icon
An icon is a religious work of art, most commonly a painting, from Eastern Christianity and in certain Eastern Catholic churches...
s are very close to their predecessors of a thousand years ago, though development, and some shifts in meaning, have occurred - for example the old man wearing a fleece in conversation with
Saint Joseph
Saint Joseph
Saint Joseph is a figure in the Gospels, the husband of the Virgin Mary and the earthly father of Jesus Christ ....
usually seen in Orthodox Nativities seems to have begun as one of the shepherds, or the prophet
Isaiah
Isaiah
Isaiah ; Greek: ', Ēsaïās ; "Yahu is salvation") was a prophet in the 8th-century BC Kingdom of Judah.Jews and Christians consider the Book of Isaiah a part of their Biblical canon; he is the first listed of the neviim akharonim, the later prophets. Many of the New Testament teachings of Jesus...
, but is now usually understood as the "Tempter" (
Satan
Satan
Satan , "the opposer", is the title of various entities, both human and divine, who challenge the faith of humans in the Hebrew Bible...
).
In both East and West, numerous iconic types of
Christ
Christ
Christ is the English term for the Greek meaning "the anointed one". It is a translation of the Hebrew , usually transliterated into English as Messiah or Mashiach...
,
Mary
Mary (mother of Jesus)
Mary , commonly referred to as "Saint Mary", "Mother Mary", the "Virgin Mary", the "Blessed Virgin Mary", or "Mary, Mother of God", was a Jewish woman of Nazareth in Galilee...
and saints and other subjects were developed; the number of named types of icons of Mary, with or without the infant Christ, was especially large in the East, whereas
Christ Pantocrator
Christ Pantocrator
In Christian iconography, Christ Pantokrator refers to a specific depiction of Christ. Pantocrator or Pantokrator is a translation of one of many Names of God in Judaism...
was much the commonest image of Christ. Especially important depictions of Mary include the
Hodegetria
Hodegetria
A Hodegetria — or Virgin Hodegetria — is an iconographic depiction of the Theotokos holding the Child Jesus at her side while pointing to Him as the source of salvation for mankind...
and
Panagia
Panagia
Panagia , also transliterated Panayia or Panaghia, is one of the titles of Mary, the mother of Jesus, used especially in Orthodox Christianity....
types. Traditional models evolved for narrative paintings, including large cycles covering the events of the Life of Christ, the
Life of the Virgin
Life of the Virgin
The Life of the Virgin, showing narrative scenes from the life of Mary, the mother of Jesus, is a common subject for pictorial cycles in Christian art, often complementing, or forming part of, a cycle on the Life of Christ. In both cases the number of scenes shown varies greatly with the space...
, parts of the Old Testament, and, increasingly, the lives of popular
saint
Saint
A saint is a holy person. In various religions, saints are people who are believed to have exceptional holiness.In Christian usage, "saint" refers to any believer who is "in Christ", and in whom Christ dwells, whether in heaven or in earth...
s. Especially in the West, a system of
attributes
Emblem
An emblem is a pictorial image, abstract or representational, that epitomizes a concept — e.g., a moral truth, or an allegory — or that represents a person, such as a king or saint.-Distinction: emblem and symbol:...
developed for
identifying individual
Saint symbology
Christianity has used symbolism from its very beginnings. Each saint has a story and a reason why he or she led an exemplary life. Symbols have been used to tell these stories throughout the history of the Church. A number of Christian saints are traditionally represented by a symbol or iconic...
figures of saints by a standard appearance and symbolic objects held by them; in the East they were more likely to identified by text labels.
From the
Romanesque
Romanesque art
Romanesque art refers to the art of Western Europe from approximately 1000 AD to the rise of the Gothic style in the 13th century, or later, depending on region. The preceding period is increasingly known as the Pre-Romanesque...
period sculpture on churches became increasingly important in Western art, and probably partly because of the lack of Byzantine models, became the location of much iconographic innovation, along with the
illuminated manuscript
Illuminated manuscript
An illuminated manuscript is a manuscript in which the text is supplemented by the addition of decoration, such as decorated initials, borders and miniature illustrations...
, which had already taken a decisively different direction from Byzantine equivalents, under the influence of
Insular art
Insular art
Insular art, also known as Hiberno-Saxon art, is the style of art produced in the post-Roman history of Ireland and Great Britain. The term derives from insula, the Latin term for "island"; in this period Britain and Ireland shared a largely common style different from that of the rest of Europe...
and other factors. Developments in theology and devotional practice produced innovations like the subject of the
Coronation of the Virgin
Coronation of the Virgin
The Coronation of the Virgin or Coronation of Mary is a subject in Christian art, especially popular in Italy in the 13th to 15th centuries, but continuing in popularity until the 18th century and beyond. Christ, sometimes accompanied by God the Father and the Holy Spirit in the form of a dove,...
and the
Assumption
Assumption of Mary
According to the belief of Christians of the Roman Catholic Church, Eastern Orthodoxy, Oriental Orthodoxy, and parts of the Anglican Communion and Continuing Anglicanism, the Assumption of Mary was the bodily taking up of the Virgin Mary into Heaven at the end of her life...
, both associated with the
Franciscan
Franciscan
Most Franciscans are members of Roman Catholic religious orders founded by Saint Francis of Assisi. Besides Roman Catholic communities, there are also Old Catholic, Anglican, Lutheran, ecumenical and Non-denominational Franciscan communities....
s, as were many other developments. Most painters remained content to copy and slightly modify the works of others, and it is clear that the clergy, by whom or for whose churches most art was commissioned, often specified what they wanted shown in great detail.
The theory of
typology
Typology (theology)
Typology in Christian theology and Biblical exegesis is a doctrine or theory concerning the relationship between the Old and New Testaments...
, by which the meaning of most events of the
Old Testament
Old Testament
The Old Testament, of which Christians hold different views, is a Christian term for the religious writings of ancient Israel held sacred and inspired by Christians which overlaps with the 24-book canon of the Masoretic Text of Judaism...
was understood as a "type" or pre-figuring of an event in the life of, or aspect of, Christ or Mary was often reflected in art, and in the later
Middle Ages
Middle Ages
The Middle Ages is a periodization of European history from the 5th century to the 15th century. The Middle Ages follows the fall of the Western Roman Empire in 476 and precedes the Early Modern Era. It is the middle period of a three-period division of Western history: Classic, Medieval and Modern...
came to dominate the choice of Old Testament scenes in Western Christian art.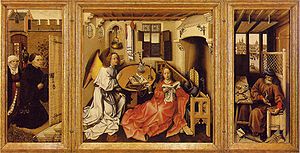 Whereas in the Romanesque and
Gothic
Gothic art
Gothic art was a Medieval art movement that developed in France out of Romanesque art in the mid-12th century, led by the concurrent development of Gothic architecture. It spread to all of Western Europe, but took over art more completely north of the Alps, never quite effacing more classical...
periods the great majority of religious art was intended to convey often complex religious messages as clearly as possible, with the arrival of
Early Netherlandish painting
Early Netherlandish painting
Early Netherlandish painting refers to the work of artists active in the Low Countries during the 15th- and early 16th-century Northern renaissance, especially in the flourishing Burgundian cities of Bruges and Ghent...
iconography became highly sophisticated, and in many cases appears to be deliberately enigmatic, even for a well-educated contemporary. The subtle layers of meaning uncovered by modern iconographical research in works of
Robert Campin
Robert Campin
Robert Campin , now usually identified as the artist known as the Master of Flémalle, is usually considered the first great master of Early Netherlandish painting...
such as the Mérode Altarpiece, and of Jan van Eyck such as the
Madonna of Chancellor Rolin
Madonna of Chancellor Rolin
The Madonna of Chancellor Rolin is an oil painting by the Early Netherlandish master Jan van Eyck, dating from around 1435. It is on display in the Musée du Louvre, Paris....
and the
Washington Annunciation
Annunciation (van Eyck, Washington)
The Annunciation is an oil painting by the Early Netherlandish master Jan van Eyck, from around 1434-1436. It is in the National Gallery of Art, in Washington D.C. It was originally on panel but has been transferred to canvas. It is thought that it was the left wing of a triptych; there has...
lie in small details of what are on first viewing very conventional representations. When Italian painting developed a taste for enigma, considerably later, it most often showed in secular compositions influenced by
Renaissance Neo-Platonism
Platonism in the Renaissance
Platonism underwent a revival in the Renaissance, as part of a general revival of interest in Classical antiquity. Interest in Platonism was especially strong in Florence under the Medici....
.
From the 15th century religious painting gradually freed itself from the habit of following earlier compositional models, and by the 16th century ambitious artists were expected to find novel compositions for each subject, and direct borrowings from earlier artists are more often of the poses of individual figures than of whole compositions. The
Reformation
The Reformation and art
The Protestant Reformation during the 16th century in Europe ushered in a new artistic tradition that embraced the Protestant agenda and diverged drastically from the southern European tradition and the humanist art produced during the high Renaissance...
soon restricted most Protestant religious painting to Biblical scenes conceived along the lines of
history painting
History painting
History painting is a genre in painting defined by subject matter rather than an artistic style, depicting a moment in a narrative story, rather than a static subject such as a portrait...
, and after some decades the Catholic
Council of Trent
Council of Trent
The Council of Trent was the 16th-century Ecumenical Council of the Roman Catholic Church. It is considered to be one of the Church's most important councils. It convened in Trent between December 13, 1545, and December 4, 1563 in twenty-five sessions for three periods...
reined in somewhat the freedom of Catholic artists.
Secular Western painting
Secular painting became far more common from the Renaissance, and developed its own traditions and conventions of iconography, in
history painting
History painting
History painting is a genre in painting defined by subject matter rather than an artistic style, depicting a moment in a narrative story, rather than a static subject such as a portrait...
, which includes
mythologies
Mythology
The term mythology can refer either to the study of myths, or to a body or collection of myths. As examples, comparative mythology is the study of connections between myths from different cultures, whereas Greek mythology is the body of myths from ancient Greece...
,
portraits
Portrait painting
Portrait painting is a genre in painting, where the intent is to depict the visual appearance of the subject. Beside human beings, animals, pets and even inanimate objects can be chosen as the subject for a portrait...
,
genre scenes
Genre painting
Genre works, also called genre scenes or genre views, are pictorial representations in any of various media that represent scenes or events from everyday life, such as markets, domestic settings, interiors, parties, inn scenes, and street scenes. Such representations may be realistic, imagined, or...
, and even landscapes, not to mention modern media and genres like
photography
Photography
Photography is the art, science and practice of creating durable images by recording light or other electromagnetic radiation, either electronically by means of an image sensor or chemically by means of a light-sensitive material such as photographic film...
,
cinema
Film
A film, also called a movie or motion picture, is a series of still or moving images. It is produced by recording photographic images with cameras, or by creating images using animation techniques or visual effects...
, political cartoons,
comic book
Comic book
A comic book or comicbook is a magazine made up of comics, narrative artwork in the form of separate panels that represent individual scenes, often accompanied by dialog as well as including...
s and
anime
Anime
is the Japanese abbreviated pronunciation of "animation". The definition sometimes changes depending on the context. In English-speaking countries, the term most commonly refers to Japanese animated cartoons....
.
Renaissance mythological painting was in theory reviving the iconography of the ancient world, but in practice themes like
Leda and the Swan
Leda and the Swan
Leda and the Swan is a motif from Greek mythology in which Zeus came to Leda in the form of a swan. According to later Greek mythology, Leda bore Helen and Polydeuces, children of Zeus, while at the same time bearing Castor and Clytemnestra, children of her husband Tyndareus, the King of Sparta. In...
developed on largely original lines, and for different purposes. Personal iconographies, where works appear to have significant meanings individual to, and perhaps only accessible by, the artist, go back at least as far as Hieronymous Bosch, but have become increasingly significant with artists like Goya,
William Blake
William Blake
William Blake was an English poet, painter, and printmaker. Largely unrecognised during his lifetime, Blake is now considered a seminal figure in the history of both the poetry and visual arts of the Romantic Age...
,
Gauguin
Paul Gauguin
Eugène Henri Paul Gauguin was a leading French Post-Impressionist artist. He was an important figure in the Symbolist movement as a painter, sculptor, print-maker, ceramist, and writer...
, Picasso,
Frida Kahlo
Frida Kahlo
Frida Kahlo de Rivera was a Mexican painter, born in Coyoacán, and perhaps best known for her self-portraits....
and
Joseph Beuys
Joseph Beuys
Joseph Beuys was a German performance artist, sculptor, installation artist, graphic artist, art theorist and pedagogue of art.His extensive work is grounded in concepts of humanism, social philosophy and anthroposophy; it culminates in his "extended definition of art" and the idea of social...
.
Iconography in disciplines other than art history
Iconography, often of aspects of
popular culture
Popular culture
Popular culture is the totality of ideas, perspectives, attitudes, memes, images and other phenomena that are deemed preferred per an informal consensus within the mainstream of a given culture, especially Western culture of the early to mid 20th century and the emerging global mainstream of the...
, is a concern of other academic disciplines including
Semiotics
Semiotics
Semiotics, also called semiotic studies or semiology, is the study of signs and sign processes , indication, designation, likeness, analogy, metaphor, symbolism, signification, and communication...
,
Anthropology
Anthropology
Anthropology is the study of humanity. It has origins in the humanities, the natural sciences, and the social sciences. The term "anthropology" is from the Greek anthrōpos , "man", understood to mean mankind or humanity, and -logia , "discourse" or "study", and was first used in 1501 by German...
,
Sociology
Sociology
Sociology is the study of society. It is a social science—a term with which it is sometimes synonymous—which uses various methods of empirical investigation and critical analysis to develop a body of knowledge about human social activity...
,
Media Studies
Media studies
Media studies is an academic discipline and field of study that deals with the content, history and effects of various media; in particular, the 'mass media'. Media studies may draw on traditions from both the social sciences and the humanities, but mostly from its core disciplines of mass...
and
Cultural Studies
Cultural studies
Cultural studies is an academic field grounded in critical theory and literary criticism. It generally concerns the political nature of contemporary culture, as well as its historical foundations, conflicts, and defining traits. It is, to this extent, largely distinguished from cultural...
. These analyses in turn have affected conventional art history, especially concepts such as
signs in semiotics
Sign (semiotics)
A sign is understood as a discrete unit of meaning in semiotics. It is defined as "something that stands for something, to someone in some capacity" It includes words, images, gestures, scents, tastes, textures, sounds – essentially all of the ways in which information can be...
Discussing imagery as iconography in this way implies a critical "reading" of imagery that often attempts to explore social and cultural values. Iconography is also used within
film studies
Film theory
Film theory is an academic discipline that aims to explore the essence of the cinema and provides conceptual frameworks for understanding film's relationship to reality, the other arts, individual viewers, and society at large...
to describe the
visual language
Visual language
A visual language is a system of communication using visual elements. Speech as a means of communication cannot strictly be separated from the whole of human communicative activity which includes the visual and the term 'language' in relation to vision is an extension of its use to describe the...
of cinema, particularly within the field of genre criticism.
See also
Articles with iconography studies on individual works
Castelseprio

Castelseprio

Castelseprio was the site of a Roman fort in antiquity, and a significant Lombard town in the early Middle Ages, before being destroyed and abandoned in 1287. It is today preserved as an archaeological park in the modern comune of Castelseprio, near the modern village of the same name...


frescoes
The Flagellation by Piero della Francesca

Piero della Francesca

Piero della Francesca was a painter of the Early Renaissance. As testified by Giorgio Vasari in his Lives of the Artists, to contemporaries he was also known as a mathematician and geometer. Nowadays Piero della Francesca is chiefly appreciated for his art. His painting was characterized by its...



The Wilton Diptych
The Mérode Altarpiece by Robert Campin

Robert Campin

Robert Campin , now usually identified as the artist known as the Master of Flémalle, is usually considered the first great master of Early Netherlandish painting...



The Magdalen Reading

The Magdalen Reading

The Magdalen Reading is one of three surviving fragments of a large mid-15th century oil-on-oak altarpiece by the early Netherlandish painter Rogier van der Weyden. Completed some time between 1435 and 1438, it has been in the National Gallery, London since 1860...


by Rogier van der Weyden
St. Jerome in His Study by Antonello da Messina

Antonello da Messina

Antonello da Messina, properly Antonello di Giovanni di Antonio was an Italian painter from Messina, Sicily, active during the Italian Renaissance...



Two Venetian Ladies

Two Venetian Ladies

Two Venetian Ladies is a painting by the Italian Renaissance artist Vittore Carpaccio.The painting, believed to be a quarter of the original work, was executed around 1490 and shows two unknown Venetian ladies. The top portion of the panel, called Hunting on the Lagoon is in the Getty Museum, and...


and St. Augustine in His Study by Vittore Carpaccio

Vittore Carpaccio

Vittore Carpaccio was an Italian painter of the Venetian school, who studied under Gentile Bellini. He is best known for a cycle of nine paintings, The Legend of Saint Ursula. His style was somewhat conservative, showing little influence from the Humanist trends that transformed Italian...



Melencolia I

Melencolia I

Melencolia I is a 1514 engraving by the German Renaissance master Albrecht Dürer. It is an allegorical composition which has been the subject of many interpretations...


by Albrecht Dürer

Albrecht Dürer

Albrecht Dürer was a German painter, printmaker, engraver, mathematician, and theorist from Nuremberg. His prints established his reputation across Europe when he was still in his twenties, and he has been conventionally regarded as the greatest artist of the Northern Renaissance ever since...



Marie de' Medici cycle

Marie de' Medici cycle

The Marie de' Medici Cycle is a series of twenty-four paintings by Peter Paul Rubens commissioned by Marie de' Medici, wife of Henry IV of France, for the Luxembourg Palace in Paris. Rubens received the commission in the autumn of 1621...


by Rubens

Rubens

Rubens is often used to refer to Peter Paul Rubens , the Flemish artist.Rubens may also refer to:- People :Family name* Paul Rubens Rubens is often used to refer to Peter Paul Rubens (1577-1640), the Flemish artist.Rubens may also refer to:- People :Family name* Paul Rubens (composer) Rubens is...



William Hogarth paintings and prints
External links