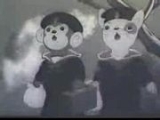 Anime
is the Japanese abbreviated pronunciation of "
animation
Animation
Animation is the rapid display of a sequence of images of 2-D or 3-D artwork or model positions in order to create an illusion of movement. The effect is an optical illusion of motion due to the phenomenon of persistence of vision, and can be created and demonstrated in several ways...
". The definition sometimes changes depending on the context. In English-speaking countries, the term most commonly refers to Japanese
animated cartoon
Animated cartoon
An animated cartoon is a short, hand-drawn film for the cinema, television or computer screen, featuring some kind of story or plot...
s.
While the earliest known Japanese animation dates to 1917, and many original Japanese cartoons were produced in the ensuing decades, the characteristic anime style developed in the 1960s—notably with the work of
Osamu Tezuka
Osamu Tezuka
was a Japanese cartoonist, manga artist, animator, producer, activist and medical doctor, although he never practiced medicine. Born in Osaka Prefecture, he is best known as the creator of Astro Boy, Kimba the White Lion and Black Jack...
—and became known outside Japan in the 1980s.
Anime, like
manga
Manga
Manga is the Japanese word for "comics" and consists of comics and print cartoons . In the West, the term "manga" has been appropriated to refer specifically to comics created in Japan, or by Japanese authors, in the Japanese language and conforming to the style developed in Japan in the late 19th...
, has a large audience in Japan and recognition throughout the world.