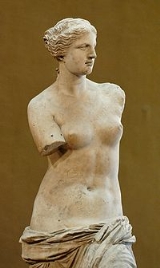 Art history
Art history
has historically been understood as the academic study of objects of art in their historical development and stylistic contexts, i.e.
genre
Genre
Genre , Greek: genos, γένος) is the term for any category of literature or other forms of art or culture, e.g. music, and in general, any type of discourse, whether written or spoken, audial or visual, based on some set of stylistic criteria. Genres are formed by conventions that change over time...
,
design
Design
Design as a noun informally refers to a plan or convention for the construction of an object or a system while "to design" refers to making this plan...
,
format
Format
Format may refer to:* File format, layout for electronic files* Text formatting, typesetting of text elements* Format , a command-line utility in many computer operating systems* Format , a computer command to prepare hard disks...
, and style. This includes the "major" arts of painting, sculpture, and architecture as well as the "minor" arts of ceramics, furniture, and other decorative objects.
As a term, art history (also
history of art
History of art
The History of art refers to visual art which may be defined as any activity or product made by humans in a visual form for aesthetical or communicative purposes, expressing ideas, emotions or, in general, a worldview...
) encompasses several methods of studying the
visual arts
Visual arts
The visual arts are art forms that create works which are primarily visual in nature, such as ceramics, drawing, painting, sculpture, printmaking, design, crafts, and often modern visual arts and architecture...
; in common usage referring to works of art and architecture.