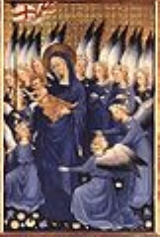 Emblem

An
emblem
is a pictorial
image
Image
An image is an artifact, for example a two-dimensional picture, that has a similar appearance to some subject—usually a physical object or a person.-Characteristics:...
,
abstract
Abstract art
Abstract art uses a visual language of form, color and line to create a composition which may exist with a degree of independence from visual references in the world. Western art had been, from the Renaissance up to the middle of the 19th century, underpinned by the logic of perspective and an...
or representational, that epitomizes a
concept
Concept
The word concept is used in ordinary language as well as in almost all academic disciplines. Particularly in philosophy, psychology and cognitive sciences the term is much used and much discussed. WordNet defines concept: "conception, construct ". However, the meaning of the term concept is much...
— e.g., a
moral
Moral
A moral is a message conveyed or a lesson to be learned from a story or event. The moral may be left to the hearer, reader or viewer to determine for themselves, or may be explicitly encapsulated in a maxim...
truth
Truth
Truth has a variety of meanings, such as the state of being in accord with fact or reality. It can also mean having fidelity to an original or to a standard or ideal. In a common usage, it also means constancy or sincerity in action or character...
, or an
allegory
Allegory
Allegory is a demonstrative form of representation explaining meaning other than the words that are spoken. Allegory communicates its message by means of symbolic figures, actions or symbolic representation...
— or that represents a person, such as a king or saint.
Distinction: emblem and symbol
The words
emblem
and
symbol
Symbol
A symbol is something which represents an idea, a physical entity or a process but is distinct from it. The purpose of a symbol is to communicate meaning. For example, a red octagon may be a symbol for "STOP". On a map, a picture of a tent might represent a campsite. Numerals are symbols for...
often appear interchangeably in day-to-day conversation without causing undue confusion. A distinction between the two may seem unnecessarily fastidious. Nevertheless, an
emblem
is a pattern that is used to represent an
idea
Idea
In the most narrow sense, an idea is just whatever is before the mind when one thinks. Very often, ideas are construed as representational images; i.e. images of some object. In other contexts, ideas are taken to be concepts, although abstract concepts do not necessarily appear as images...
, or an individual. An emblem crystallizes in concrete, visual terms some abstraction: a deity, a tribe or nation, a virtue or a vice. An emblem is an object or a representation of an object.
An emblem may be worn or otherwise used as an identifying
badge
Badge
A badge is a device or fashion accessory, often containing the insignia of an organization, which is presented or displayed to indicate some feat of service, a special accomplishment, a symbol of authority granted by taking an oath , a sign of legitimate employment or student status, or as a simple...
. A real or metal cockle shell, the emblem of St James the Apostle, sewn onto the hat or clothes identified a medieval pilgrim to his shrine at
Santiago de Compostela
Santiago de Compostela
Santiago de Compostela is the capital of the autonomous community of Galicia, Spain.The city's Cathedral is the destination today, as it has been throughout history, of the important 9th century medieval pilgrimage route, the Way of St. James...
. In the Middle Ages, many saints were given emblems, which served to identify them in paintings and other images:
St Catherine
Catherine of Alexandria
Saint Catherine of Alexandria, also known as Saint Catherine of the Wheel and The Great Martyr Saint Catherine is, according to tradition, a Christian saint and virgin, who was martyred in the early 4th century at the hands of the pagan emperor Maxentius...
had a wheel, or a sword, St Anthony Abbot a pig and a small bell. These are also called
attributes
, especially when shown carried by or close to the saint in art. Kings and other grand persons increasingly adopted personal devices or emblems that were distinct from their family
heraldry
Heraldry
Heraldry is the profession, study, or art of creating, granting, and blazoning arms and ruling on questions of rank or protocol, as exercised by an officer of arms. Heraldry comes from Anglo-Norman herald, from the Germanic compound harja-waldaz, "army commander"...
. The most famous include
Louis XIV of France
Louis XIV of France
Louis XIV , known as Louis the Great or the Sun King , was a Bourbon monarch who ruled as King of France and Navarre. His reign, from 1643 to his death in 1715, began at the age of four and lasted seventy-two years, three months, and eighteen days...
's sun, the
salamander
Salamander (legendary creature)
The salamander is an amphibian of the order Urodela. As with many real creatures, pre-modern authors often ascribed fantastic qualities to it , and in recent times some have come to identify a legendary salamander as a distinct concept from the real organism. This idea is most highly developed in...
of
Francis I of France
Francis I of France
Francis I was King of France from 1515 until his death. During his reign, huge cultural changes took place in France and he has been called France's original Renaissance monarch...
, the
boar
Boar
Wild boar, also wild pig, is a species of the pig genus Sus, part of the biological family Suidae. The species includes many subspecies. It is the wild ancestor of the domestic pig, an animal with which it freely hybridises...
of
Richard III of England
Richard III of England
Richard III was King of England for two years, from 1483 until his death in 1485 during the Battle of Bosworth Field. He was the last king of the House of York and the last of the Plantagenet dynasty...
and the
armillary sphere
Armillary sphere
An armillary sphere is a model of objects in the sky , consisting of a spherical framework of rings, centred on Earth, that represent lines of celestial longitude and latitude and other astronomically important features such as the ecliptic...
of
Manuel I of Portugal
Manuel I of Portugal
Manuel I , the Fortunate , 14th king of Portugal and the Algarves was the son of Infante Ferdinand, Duke of Viseu, , by his wife, Infanta Beatrice of Portugal...
. In the fifteenth and sixteenth century there was a fashion, started in Italy, for making large
medal
Medal
A medal, or medallion, is generally a circular object that has been sculpted, molded, cast, struck, stamped, or some way rendered with an insignia, portrait, or other artistic rendering. A medal may be awarded to a person or organization as a form of recognition for athletic, military, scientific,...
s with a portrait head on the obverse and the emblem on the reverse; these would be given to friends and as diplomatic gifts.
Pisanello
Pisanello
Pisanello , known professionally as Antonio di Puccio Pisano or Antonio di Puccio da Cereto, also erroneously called Vittore Pisano by Giorgio Vasari, was one of the most distinguished painters of the early Italian Renaissance and Quattrocento...
produced many of the earliest and finest of these.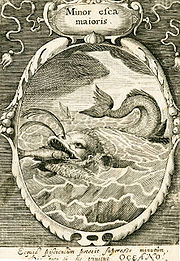 In current American usage, police officers'
badges
refer specifically to their personal metal emblem — sometimes with a uniquely identifying number or name on it — while the woven
emblems
sewn on their uniforms identify all the members of a particular unit.
A
symbol
Symbol
A symbol is something which represents an idea, a physical entity or a process but is distinct from it. The purpose of a symbol is to communicate meaning. For example, a red octagon may be a symbol for "STOP". On a map, a picture of a tent might represent a campsite. Numerals are symbols for...
substitutes one thing for another, in a more concrete fashion:
The Christian cross

Christian cross

The Christian cross, seen as a representation of the instrument of the crucifixion of Jesus Christ, is the best-known religious symbol of Christianity...


is a symbol of the Crucifixion

Crucifixion

Crucifixion is an ancient method of painful execution in which the condemned person is tied or nailed to a large wooden cross and left to hang until dead...


; it is an emblem of sacrifice.
The Red Cross is one of three symbols representing the International Red Cross

International Red Cross and Red Crescent Movement

The International Red Cross and Red Crescent Movement is an international humanitarian movement with approximately 97 million volunteers, members and staff worldwide which was founded to protect human life and health, to ensure respect for all human beings, and to prevent and alleviate human...


. A red cross on a white background is the emblem of humanitarian spirit.
The crescent

Crescent

In art and symbolism, a crescent is generally the shape produced when a circular disk has a segment of another circle removed from its edge, so that what remains is a shape enclosed by two circular arcs of different diameters which intersect at two points .In astronomy, a crescent...


shape is a symbol of the moon; it is an emblem of Islam

Islam

Islam . The most common are and . : Arabic pronunciation varies regionally. The first vowel ranges from ~~. The second vowel ranges from ~~~...


.
The skull and crossbones is an symbol identifying a poison. The skull is an emblem of the transitory human life.
Other terminology
A
totem
Totem
A totem is a stipulated ancestor of a group of people, such as a family, clan, group, lineage, or tribe.Totems support larger groups than the individual person. In kinship and descent, if the apical ancestor of a clan is nonhuman, it is called a totem...
is specifically an animal emblem that expresses the spirit of a
clan
Clan
A clan is a group of people united by actual or perceived kinship and descent. Even if lineage details are unknown, clan members may be organized around a founding member or apical ancestor. The kinship-based bonds may be symbolical, whereby the clan shares a "stipulated" common ancestor that is a...
.
Heraldry
Heraldry
Heraldry is the profession, study, or art of creating, granting, and blazoning arms and ruling on questions of rank or protocol, as exercised by an officer of arms. Heraldry comes from Anglo-Norman herald, from the Germanic compound harja-waldaz, "army commander"...
knows its emblems as
charge

Charge (heraldry)

In heraldry, a charge is any emblem or device occupying the field of an escutcheon . This may be a geometric design or a symbolic representation of a person, animal, plant, object or other device...


s
. The lion passant serves as the emblem of England, the lion rampant as the emblem of
Scotland
Scotland
Scotland is a country that is part of the United Kingdom. Occupying the northern third of the island of Great Britain, it shares a border with England to the south and is bounded by the North Sea to the east, the Atlantic Ocean to the north and west, and the North Channel and Irish Sea to the...
.
An
icon
Icon
An icon is a religious work of art, most commonly a painting, from Eastern Christianity and in certain Eastern Catholic churches...
consists of an image (originally a religious image), that has become standardized by convention. A
logo
Logo
A logo is a graphic mark or emblem commonly used by commercial enterprises, organizations and even individuals to aid and promote instant public recognition...
is an impersonal, secular icon, usually of a
corporate entity
Corporation
A corporation is created under the laws of a state as a separate legal entity that has privileges and liabilities that are distinct from those of its members. There are many different forms of corporations, most of which are used to conduct business. Early corporations were established by charter...
.
Emblems in history
Since the 15th century the terms of emblem (
emblema
; from "embossed ornament") and emblematura belong to the
termini technici
of
architecture
Architecture
Architecture is both the process and product of planning, designing and construction. Architectural works, in the material form of buildings, are often perceived as cultural and political symbols and as works of art...
. They mean an
icon
Icon
An icon is a religious work of art, most commonly a painting, from Eastern Christianity and in certain Eastern Catholic churches...
ic painted, drawn, or sculptural representation of a concept affixed to houses and belong — like the inscriptions — to the architectural ornaments (ornamenta). Since the publication of
De Re Aedificatoria
(1452, Ten Books of Architecture),[8] by Leon Battista Alberti (1404–1472), patterned after the
De architectura
by the Roman architect and engineer Vitruvius ,
emblema
are related to Egyptian hieroglyphics and are considered as being the lost universal language.
Therefore the emblems belong to the Renaissance knowledge of antiquity which comprises not only Greek and Roman antiquity but also Egyptian antiquity as proven by the numerous obelisks built in 16th and 17th century Rome.
The 1531 publication in Augsburg of the first
emblem book
Emblem book
Emblem books are a category of mainly didactic illustrated book printed in Europe during the 16th and 17th centuries, typically containing a number of emblematic images with explanatory text....
, the
Emblemata
Emblemata
Usually known simply as the "Emblemata", the first emblem book appeared in Augsburg in 1531 under the title Viri Clarissimi D. Andreae Alciati Iurisconsultiss. Mediol. Ad D. Chonradum Peutingerum Augustanum, Iurisconsultum Emblematum Liber...
of the Italian jurist
Andrea Alciato
Andrea Alciato
Andrea Alciato , commonly known as Alciati , was an Italian jurist and writer. He is regarded as the founder of the French school of legal humanists.-Biography:...
launched a fascination with emblems that lasted two centuries and touched most of the countries of western Europe. "Emblem" in this sense refers to a didactic or moralizing combination of picture and text intended to draw the reader into a self-reflective examination of his or her own
life
Personal life
Personal life is the course of an individual's life, especially when viewed as the sum of personal choices contributing to one's personal identity. It is a common notion in modern existence—although more so in more prosperous parts of the world such as Western Europe and North America...
. Complicated associations of emblems could transmit information to the culturally-informed viewer, a characteristic of the 16th century artistic movement called
Mannerism
Mannerism
Mannerism is a period of European art that emerged from the later years of the Italian High Renaissance around 1520. It lasted until about 1580 in Italy, when a more Baroque style began to replace it, but Northern Mannerism continued into the early 17th century throughout much of Europe...
.
A popular collection of emblems was presented by
Francis Quarles
Francis Quarles
Francis Quarles was an English poet most famous for his Emblem book aptly entitled Emblems.-Career:Francis was born in Romford, Essex, , and baptised there on 8 May 1592. He traced his ancestry to a family settled in England before the Norman Conquest with a long history in royal service...
, in 1635. Each of the 'Emblems' consists of a paraphrase from a passage of Scripture, expressed in ornate and metaphorical language, followed by passages from the Christian Fathers, and concluding with an epigram of four lines. These were accompanied by an emblem which presented the symbols displayed in the accompanying passage.
Quarles' collection of Emblems was immensely popular, and held a wide audience, and ran to many editions. However, the critics of the 17th and 18th centuries did not look so kindly on Quarles.
Sir John Suckling
John Suckling (poet)
Sir John Suckling was an English poet and one prominent figure among those renowned for careless gaiety, wit, and all the accomplishments of a Cavalier poet; and also the inventor of the card game Cribbage...
in his Sessions of the Poets disrespectfully alluded to him as he "that makes God speak so big in's poetry."
Alexander Pope
Alexander Pope
Alexander Pope was an 18th-century English poet, best known for his satirical verse and for his translation of Homer. He is the third-most frequently quoted writer in The Oxford Dictionary of Quotations, after Shakespeare and Tennyson...
in the Dunciad spoke of the Emblems, "Where the pictures for the page atone And Quarles is saved by beauties not his own."
See also