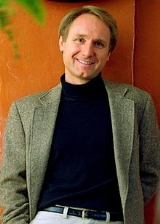 Dan Brown
Dan Brown
is an American author of thriller fiction, best known for the 2003 bestselling novel,
The Da Vinci Code
The Da Vinci Code
The Da Vinci Code is a 2003 mystery-detective novel written by Dan Brown. It follows symbologist Robert Langdon and Sophie Neveu as they investigate a murder in Paris's Louvre Museum and discover a battle between the Priory of Sion and Opus Dei over the possibility of Jesus having been married to...
. Brown's novels, which are treasure hunts set in a 24-hour time period, feature the recurring themes of
cryptography
Cryptography
Cryptography is the practice and study of techniques for secure communication in the presence of third parties...
, keys, symbols, codes, and conspiracy theories. His books have been translated into over 40 languages, and as of 2009, sold over 80 million copies. Two of them,
The Da Vinci Code
and
Angels & Demons
, have been adapted into feature films. The former opened amid great controversy and poor reviews, while the latter did only slightly better with critics.
Brown's novels that feature the lead character
Robert Langdon
Robert Langdon
Robert Langdon is a fictional Harvard University professor of religious iconology and symbology The character was created by author Dan Brown for...
also include historical themes and
Christianity
Christianity
Christianity is a monotheistic religion based on the life and teachings of Jesus as presented in canonical gospels and other New Testament writings...
as recurring motifs, and as a result, have generated controversy.
"Secrets interest us all, I think."

"Decoding the Da Vinci Code author" BBC (7 April 2006)