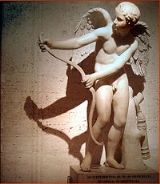 Cupid
In
Roman mythology
Roman mythology
Roman mythology is the body of traditional stories pertaining to ancient Rome's legendary origins and religious system, as represented in the literature and visual arts of the Romans...
,
Cupid
(Latin
cupido
, meaning "desire") is the god of desire, affection and
erotic
Eroticism
Eroticism is generally understood to refer to a state of sexual arousal or anticipation of such – an insistent sexual impulse, desire, or pattern of thoughts, as well as a philosophical contemplation concerning the aesthetics of sexual desire, sensuality and romantic love...
love
Love
Love is an emotion of strong affection and personal attachment. In philosophical context, love is a virtue representing all of human kindness, compassion, and affection. Love is central to many religions, as in the Christian phrase, "God is love" or Agape in the Canonical gospels...
. He is the son of the goddess
Venus
Venus (mythology)
Venus is a Roman goddess principally associated with love, beauty, sex,sexual seduction and fertility, who played a key role in many Roman religious festivals and myths...
and the god
Mars
Mars (mythology)
Mars was the Roman god of war and also an agricultural guardian, a combination characteristic of early Rome. He was second in importance only to Jupiter, and he was the most prominent of the military gods worshipped by the Roman legions...
. His Greek counterpart is
Eros
Eros
Eros , in Greek mythology, was the Greek god of love. His Roman counterpart was Cupid . Some myths make him a primordial god, while in other myths, he is the son of Aphrodite....
. He is also known in Latin as
Amor
("Love"); the
Amores
(plural) are the equivalent of the Greek
Erotes
Erotes (mythology)
The erotes are a group of winged gods and demi-gods from Classical mythology, associated with love and sex, and part of Aphrodite's retinue. The collective term ἔρωτες - erotes is simply the plural of ἔρως - eros, or "desire"....
.
In popular culture, Cupid is frequently shown shooting his bow to inspire romantic love, often as an icon of
Valentine's Day
Valentine's Day
Saint Valentine's Day, commonly shortened to Valentine's Day, is an annual commemoration held on February 14 celebrating love and affection between intimate companions. The day is named after one or more early Christian martyrs named Saint Valentine, and was established by Pope Gelasius I in 496...
.