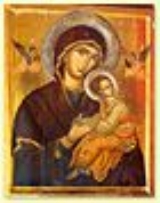 Mary (mother of Jesus)
Mary
commonly referred to as "Saint Mary", "Mother Mary", the "Virgin Mary", the "Blessed Virgin Mary", or "Mary, Mother of God", was a Jewish woman of
Nazareth
Nazareth
Nazareth is the largest city in the North District of Israel. Known as "the Arab capital of Israel," the population is made up predominantly of Palestinian Arab citizens of Israel...
in
Galilee
Galilee
Galilee , is a large region in northern Israel which overlaps with much of the administrative North District of the country. Traditionally divided into Upper Galilee , Lower Galilee , and Western Galilee , extending from Dan to the north, at the base of Mount Hermon, along Mount Lebanon to the...
. She is identified in the
New Testament
New Testament
The New Testament is the second major division of the Christian biblical canon, the first such division being the much longer Old Testament....
and in the Quran as the mother of
Jesus
Jesus
Jesus of Nazareth , commonly referred to as Jesus Christ or simply as Jesus or Christ, is the central figure of Christianity...
through divine intervention
Annunciation
The Annunciation, also referred to as the Annunciation to the Blessed Virgin Mary or Annunciation of the Lord, is the Christian celebration of the announcement by the angel Gabriel to Virgin Mary, that she would conceive and become the mother of Jesus the Son of God. Gabriel told Mary to name her...
.
The canonical gospels of
Matthew
Gospel of Matthew
The Gospel According to Matthew is one of the four canonical gospels, one of the three synoptic gospels, and the first book of the New Testament. It tells of the life, ministry, death, and resurrection of Jesus of Nazareth...
and
Luke
Gospel of Luke
The Gospel According to Luke , commonly shortened to the Gospel of Luke or simply Luke, is the third and longest of the four canonical Gospels. This synoptic gospel is an account of the life and ministry of Jesus of Nazareth. It details his story from the events of his birth to his Ascension.The...
describe Mary as a virgin (Greek
παρθένος, parthénos
). Traditionally, Christians believe that she conceived her son miraculously by the agency of the
Holy Spirit
Holy Spirit (Christianity)
For the majority of Christians, the Holy Spirit is the third person of the Holy Trinity—Father, Son, and Holy Spirit, and is Almighty God...
.