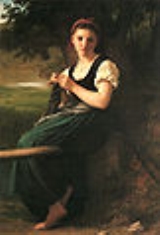 History of knitting
Knitting, as defined by
Wiktionary
Wiktionary
Wiktionary is a multilingual, web-based project to create a free content dictionary, available in 158 languages...
, is "Combining a piece of thread with two needles into a piece of fabric." The word is derived from
knot
, thought to originate from the
Dutch
Dutch language
Dutch is a West Germanic language and the native language of the majority of the population of the Netherlands, Belgium, and Suriname, the three member states of the Dutch Language Union. Most speakers live in the European Union, where it is a first language for about 23 million and a second...
verb
knutten
, which is similar to the Old English
cnyttan
, to knot. Its origins lie in the basic human need for clothing for protection against the elements. More recently, knitting has become less a necessary skill and more a hobby.
Early origins of knitting
Knitting
Knitting
Knitting is a method by which thread or yarn may be turned into cloth or other fine crafts. Knitted fabric consists of consecutive rows of loops, called stitches. As each row progresses, a new loop is pulled through an existing loop. The active stitches are held on a needle until another loop can...
is a technique of producing fabric from a strand of yarn or thread. Unlike weaving, knitting does not require a loom nor other large equipment, making it a valuable technique for nomadic and non-agrarian peoples.
The oldest artifact with a knitted appearance is a type of sock. It is believed that socks and stockings were the first pieces produced using techniques similar to knitting. These socks were worked in
Nålebinding
Naalebinding
Nålebinding is a fabric creation technique predating both knitting and crochet...
, a technique of making fabric by creating multiple knots or loops with a single needle and thread. Many of these existing clothing items employed nålebinding techniques; some of them look very similar to true knitting. For example,
3rd-5th century AD Romano-Egyptian toe-socks
. Several pieces, done in now obscure techniques, have been mistaken for knitting or
crochet
Crochet
Crochet is a process of creating fabric from yarn, thread, or other material strands using a crochet hook. The word is derived from the French word "crochet", meaning hook. Hooks can be made of materials such as metals, woods or plastic and are commercially manufactured as well as produced by...
ing.
Most histories of knitting place its origin somewhere in the Middle East, from there it spread to Europe by Mediterranean trade routes, and then to the Americas with European colonization. The earliest known examples of knitting have been found in Egypt and cover a range of items, including complex colorful wool fragments and indigo blue and white cotton stockings, which have been dated between the 11th and 14th centuries CE.
Early European Knitting
The earliest known knitted items in Europe were made by Muslim knitters employed by Spanish Christian royal families. Their high level of knitting skill can be seen in several items found in the tombs in the Abbey of Santa María la Real de Las Huelgas, a royal monastery, near
Burgos
Burgos
Burgos is a city of northern Spain, historic capital of Castile. It is situated at the edge of the central plateau, with about 178,966 inhabitants in the city proper and another 20,000 in its suburbs. It is the capital of the province of Burgos, in the autonomous community of Castile and León...
, Spain. Among them are the knitted cushion covers and gloves found in the tomb of Prince Fernando de la Cerda, who died in 1275. The silk cushion cover was knit at approximately 20 stitches per inch. It included knit patterns reflecting the family armory, as well as the word
baraka
("blessings") in Arabic in stylized
Kufic
Kufic
Kufic is the oldest calligraphic form of the various Arabic scripts and consists of a modified form of the old Nabataean script. Its name is derived from the city of Kufa, Iraq, although it was known in Mesopotamia at least 100 years before the foundation of Kufa. At the time of the emergence of...
script. Numerous other knit garments and accessories, also dating from the mid-13th century, have been found in cathedral treasuries in
Spain
Spain
Spain , officially the Kingdom of Spain languages]] under the European Charter for Regional or Minority Languages. In each of these, Spain's official name is as follows:;;;;;;), is a country and member state of the European Union located in southwestern Europe on the Iberian Peninsula...
.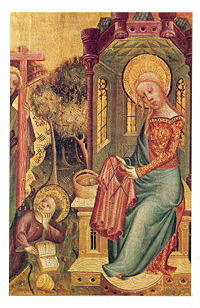 At this time, the
purl
Purl
Purl or wormwood ale is an English drink. It was originally made by infusing ale with the tops of the wormwood plant, especially the variety which grows in coastal salt marsh, which is called old woman. Other purgative or bitter herbs such as orange peel or senna might also be used...
stitch (the opposite action to the knit stitch) was unknown and purely
stockinette
fabric was produced by knitting in the round on multiple knitting needles. Sometimes the knitting was cut open, a process now known as
steek
Steek
In knitting, steeking is a shortcut used to knit garments such as sweaters in the round without interruption for openings or sleeves until the end. After completing a tube, a straight line is cut along the center of a column of stitches, in order to make room for an opening or place to attach...
ing.
Several paintings from
Europe
Europe
Europe is, by convention, one of the world's seven continents. Comprising the westernmost peninsula of Eurasia, Europe is generally 'divided' from Asia to its east by the watershed divides of the Ural and Caucasus Mountains, the Ural River, the Caspian and Black Seas, and the waterways connecting...
portray the Virgin Mary knitting and date from the 14th century, including
Our Lady Knitting
by
Tommaso da Modena
Tommaso da Modena
Tommaso da Modena was an Italian painter of the mid-14th century, who trained in Venice, but also worked for the court of the Emperor Charles IV in Prague. In Karlstein Castle, there are two pictures on wood are attributed to him, an Ecce Homo and a Madonna. A St Catherine is in the Accademia in...
(circa 1325-1375) and
Visit of the Angel
, from the right wing of the Buxtehude Altar, 1400–10, by Master Bertram of Minden.
Archaeological finds
Archaeology
Archaeology, or archeology , is the study of human society, primarily through the recovery and analysis of the material culture and environmental data that they have left behind, which includes artifacts, architecture, biofacts and cultural landscapes...
from medieval cities all over Europe, such as
London
London
London is the capital city of :England and the :United Kingdom, the largest metropolitan area in the United Kingdom, and the largest urban zone in the European Union by most measures. Located on the River Thames, London has been a major settlement for two millennia, its history going back to its...
,
Newcastle
Newcastle upon Tyne
Newcastle upon Tyne is a city and metropolitan borough of Tyne and Wear, in North East England. Historically a part of Northumberland, it is situated on the north bank of the River Tyne...
,
Oslo
Oslo
Oslo is a municipality, as well as the capital and most populous city in Norway. As a municipality , it was established on 1 January 1838. Founded around 1048 by King Harald III of Norway, the city was largely destroyed by fire in 1624. The city was moved under the reign of Denmark–Norway's King...
,
Amsterdam
Amsterdam
Amsterdam is the largest city and the capital of the Netherlands. The current position of Amsterdam as capital city of the Kingdom of the Netherlands is governed by the constitution of August 24, 1815 and its successors. Amsterdam has a population of 783,364 within city limits, an urban population...
, and
Lübeck
Lübeck
The Hanseatic City of Lübeck is the second-largest city in Schleswig-Holstein, in northern Germany, and one of the major ports of Germany. It was for several centuries the "capital" of the Hanseatic League and, because of its Brick Gothic architectural heritage, is listed by UNESCO as a World...
, as well as tax lists, prove the spread of knitted goods for everyday use from the 14th century onwards. Like many archaeological textiles most of the finds are only fragments of knitted items so that in most cases their former appearance and use is unknown. One of the exceptions is a 14th or 15th century woollen child's cap from Lübeck.
The first known purl stitches appear in the mid-16th century, in the red silk stockings in which
Eleanora de Toledo
Eleonora di Toledo
Eleanor of Toledo Eleanor of Toledo Eleanor of Toledo (Italian: Eleonora di Toledo (1522 – 17 December 1562), born Doña Leonor Álvarez de Toledo y Osorio, was a Spanish noblewoman who was Duchess of Florence from 1539. She is credited with being the first modern first lady, or consort...
, wife of Cosimo de Medici, was buried, and which also include the first lacy patterns made by yarn-overs, but the technique may have been developed slightly earlier. The English Queen
Elizabeth I
Elizabeth I of England
Elizabeth I was queen regnant of England and Ireland from 17 November 1558 until her death. Sometimes called The Virgin Queen, Gloriana, or Good Queen Bess, Elizabeth was the fifth and last monarch of the Tudor dynasty...
herself favored
silk
Silk
Silk is a natural protein fiber, some forms of which can be woven into textiles. The best-known type of silk is obtained from the cocoons of the larvae of the mulberry silkworm Bombyx mori reared in captivity...
stockings; these were finer, softer, more decorative and much more expensive than those of wool. Stockings reputed to have belonged to her still exist, demonstrating the high quality of the items specifically knitted for her. During this era the manufacture of stockings was of vast importance to many
Britons
British people
The British are citizens of the United Kingdom, of the Isle of Man, any of the Channel Islands, or of any of the British overseas territories, and their descendants...
, who knitted with fine wool and exported their wares. Knitting schools were established as a way of providing an income to the poor. The fashion of the period, requiring men to wear short trunks, made fitted stockings a fashion necessity. Stockings made in England were sent to the
Netherlands
Netherlands
The Netherlands is a constituent country of the Kingdom of the Netherlands, located mainly in North-West Europe and with several islands in the Caribbean. Mainland Netherlands borders the North Sea to the north and west, Belgium to the south, and Germany to the east, and shares maritime borders...
,
Spain
Spain
Spain , officially the Kingdom of Spain languages]] under the European Charter for Regional or Minority Languages. In each of these, Spain's official name is as follows:;;;;;;), is a country and member state of the European Union located in southwestern Europe on the Iberian Peninsula...
, and
Germany
Germany
Germany , officially the Federal Republic of Germany , is a federal parliamentary republic in Europe. The country consists of 16 states while the capital and largest city is Berlin. Germany covers an area of 357,021 km2 and has a largely temperate seasonal climate...
.
Men were also the first to knit for an occupation.
Importance in Scottish history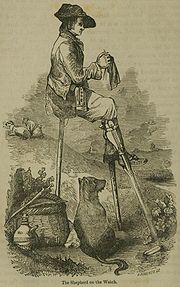 Knitting was such a vast occupation among those living on the
Scottish Isles
Scotland
Scotland is a country that is part of the United Kingdom. Occupying the northern third of the island of Great Britain, it shares a border with England to the south and is bounded by the North Sea to the east, the Atlantic Ocean to the north and west, and the North Channel and Irish Sea to the...
during the 17th and 18th centuries that whole families were involved in making sweaters, accessories, socks, stockings, etc. Fair Isle techniques were used to create elaborate colorful patterns. Sweaters were essential garments for the fishermen of these islands because the natural oils within the wool provided some element of protection against the harsh weather encountered while out fishing.
Many elaborate designs were developed, such as the
cable stitch
Cable knitting
Cable knitting is a style of knitting in which textures of crossing layers are achieved by permuting stitches. For example, given four stitches appearing on the needle in the order ABCD, one might cross the first two the next two, so that in subsequent rows those stitches appear in the new order...
used on
Aran sweater
Aran sweater
The Aran sweater is a style of jumper/sweater that takes its name from the Aran Islands off the west coast of Ireland. It is sometimes known as a fisherman sweater...
s, which was developed in the early 20th century in Ireland.
Industrial revolution
Rudimentary knitting devices had been invented prior to this period, but were one-off creations. With the advent of the
Industrial Revolution
Industrial Revolution
The Industrial Revolution was a period from the 18th to the 19th century where major changes in agriculture, manufacturing, mining, transportation, and technology had a profound effect on the social, economic and cultural conditions of the times...
, wool
spinning
Spinning (textiles)
Spinning is a major industry. It is part of the textile manufacturing process where three types of fibre are converted into yarn, then fabric, then textiles. The textiles are then fabricated into clothes or other artifacts. There are three industrial processes available to spin yarn, and a...
and cloth manufacture increasingly shifted to factories. Women were employed to operate the machinery, rather than spinning and knitting items at home. The consistency of factory spun wool was better in that it was more uniform, and its weight could be gauged better as a consequence.
The city of
Nottingham
Nottingham
Nottingham is a city and unitary authority in the East Midlands of England. It is located in the ceremonial county of Nottinghamshire and represents one of eight members of the English Core Cities Group...
, particularly the district known as
Lace Market
Lace Market
The Lace Market is an historic quarter-mile square area of Nottingham, England.Once the heart of the world's lace industry during the days of the British Empire, it is full of impressive examples of 19th century industrial architecture and thus is a protected heritage area...
, dominated the production of machine-knitted
lace
Lace
Lace is an openwork fabric, patterned with open holes in the work, made by machine or by hand. The holes can be formed via removal of threads or cloth from a previously woven fabric, but more often open spaces are created as part of the lace fabric. Lace-making is an ancient craft. True lace was...
during the Industrial Revolution and the following decades.
1920s: the Russian Civil Wars and China
After the
White Russians
White movement
The White movement and its military arm the White Army - known as the White Guard or the Whites - was a loose confederation of Anti-Communist forces.The movement comprised one of the politico-military Russian forces who fought...
' defeat in the
Civil War
Russian Civil War
The Russian Civil War was a multi-party war that occurred within the former Russian Empire after the Russian provisional government collapsed to the Soviets, under the domination of the Bolshevik party. Soviet forces first assumed power in Petrograd The Russian Civil War (1917–1923) was a...
, many units retreated into China's
Xinjiang
Xinjiang
Xinjiang is an autonomous region of the People's Republic of China. It is the largest Chinese administrative division and spans over 1.6 million km2...
and were interned there.
As China was about to descend into a
civil war of its own
Chinese Civil War
The Chinese Civil War was a civil war fought between the Kuomintang , the governing party of the Republic of China, and the Communist Party of China , for the control of China which eventually led to China's division into two Chinas, Republic of China and People's Republic of...
, the Russian internees were transported by
camel caravan
Camel train
A camel train is a series of camels carrying goods or passengers in a group as part of a regular or semi-regular service between two points. Although they rarely travelled faster than the walking speed of a man, camels' ability to handle harsh conditions made camel trains a vital part of...
s to Eastern China. According to
Owen Lattimore
Owen Lattimore
Owen Lattimore was an American author, educator, and influential scholar of Central Asia, especially Mongolia. In the 1930s he was editor of Pacific Affairs, a journal published by the Institute of Pacific Relations, and then taught at Johns Hopkins University from 1938 to 1963...
, it was then that they passed on the art of knitting to the Chinese caravan men, who had ready supply of
camel hair
Camel hair
Camel hair is, variously, the hair of a camel; a type of cloth made from camel hair; or a substitute for authentic camel hair; and is classified as a specialty hair fibre. When woven into haircloth, using the outer protective fur called guard hair, camel hair is coarse and inflexible...
from their animals. In 1926, Lattimore was able to observe camel-pullers "knitting on the march; if they ran out of
yarn
Yarn
Yarn is a long continuous length of interlocked fibres, suitable for use in the production of textiles, sewing, crocheting, knitting, weaving, embroidery and ropemaking. Thread is a type of yarn intended for sewing by hand or machine. Modern manufactured sewing threads may be finished with wax or...
, they would reach back to the first camel of the file they were leading, pluck a handful of hair from the neck, and roll it in their palms into the beginning of a length of yarn; a weight was attached to this, and given a twist to start it spinning, and the man went on feeding wool into the thread until he had spun enough yarn to continue his knitting". This way the camel men not only provided themselves with warm camel-hair socks, but were able to make knitwear for sale as well.
1939–1945: Knitting for Victory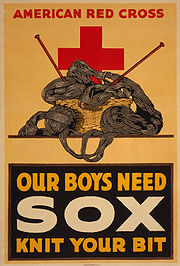 Make do and mend
was the title of a booklet produced by the British wartime government department, the Ministry of Information. Wool was in very short supply, and the booklet encouraged women to unpick old unwearable woollen items in order to re-use the wool.
Knitting patterns were issued so that people could make items for the Army and Navy to wear in winter, such as balaclavas and
glove
Glove
A glove is a garment covering the hand. Gloves have separate sheaths or openings for each finger and the thumb; if there is an opening but no covering sheath for each finger they are called "fingerless gloves". Fingerless gloves with one large opening rather than individual openings for each...
s. This not only produced the much-needed items, but also gave those on the "home front" a positive sense of contributing to the war effort.
1950s and 60s: Haute Couture
After the war years, knitting had a huge boost as greater colors and styles of yarn were introduced. Many thousands of patterns fed a market hungry for fashionable designs in bright colors. The
twinset
Twinset
A twinset, twin set or sweater-set is a matching set of a cardigan and a short-sleeved jumper|pullover . The twinset first appeared in the 1940s, but is now considered a classic wardrobe staple. - Description :...
was an extremely popular combination for the home knitter. It consisted of a short-sleeved top with a long-sleeved cardigan in the same color, to be worn together.
Girls were taught to knit in school, as it was thought to be a useful skill, not just a hobby.
Magazines such as "Pins and needles" in the UK carried patterns of varying difficulty including not just clothes, but also blankets, toys, bags, lace curtains and items that could be sold for profit.
1980s: A Decline
The popularity of knitting showed a sharp decline during this period in the Western world. Sales of patterns and yarns slumped, as the craft was increasingly seen as old-fashioned and children were rarely taught to knit in school.
The increased availability and low cost of machine knitted items meant that consumers could have a sweater at the same cost of purchasing the wool and pattern themselves, or often for far less.
Early 21st Century Revival
The 21st century has seen a resurgence of knitting. Natural fibers from animals, such as
alpaca
Alpaca
An alpaca is a domesticated species of South American camelid. It resembles a small llama in appearance.Alpacas are kept in herds that graze on the level heights of the Andes of southern Peru, northern Bolivia, Ecuador, and northern Chile at an altitude of to above sea level, throughout the year...
,
angora
Angora wool
Angora wool or Angora fibre refers to the downy coat produced by the Angora rabbit. While their names are similar, Angora fibre is distinct from mohair, which comes from the Angora goat. Angora is known for its softness, thin fibres, and what knitters refer to as a halo...
, and
merino
Merino
The Merino is an economically influential breed of sheep prized for its wool. Merinos are regarded as having some of the finest and softest wool of any sheep...
, and plant fibers, chiefly
cotton
Cotton
Cotton is a soft, fluffy staple fiber that grows in a boll, or protective capsule, around the seeds of cotton plants of the genus Gossypium. The fiber is almost pure cellulose. The botanical purpose of cotton fiber is to aid in seed dispersal....
, have become easier and less costly to collect and process, and therefore more widely available. Exotic fibers, such as
silk
Silk
Silk is a natural protein fiber, some forms of which can be woven into textiles. The best-known type of silk is obtained from the cocoons of the larvae of the mulberry silkworm Bombyx mori reared in captivity...
,
bamboo
Bamboo
Bamboo is a group of perennial evergreens in the true grass family Poaceae, subfamily Bambusoideae, tribe Bambuseae. Giant bamboos are the largest members of the grass family....
,
yak
Yak
The yak, Bos grunniens or Bos mutus, is a long-haired bovine found throughout the Himalayan region of south Central Asia, the Tibetan Plateau and as far north as Mongolia and Russia. In addition to a large domestic population, there is a small, vulnerable wild yak population...
, and
qiviut
Qiviut
Qiviut is an Inuit word commonly used to indicate the wool of the muskox. The word was originally used to refer to the down feathers of birds as well as the inner wool of the muskox. It is valued for its use as a fiber as, unlike sheep's wool, it does not shrink in water at any temperature...
, are growing in popularity as well. The yarn industry has started to make
novelty yarns
Novelty yarns
Novelty yarns include a wide variety of yarns made with unusual features, structure or fiber composition such as slubs, inclusions, metallic or synthetic fibers, laddering and varying thickness introduced during production...
which produce stunning results without years of knitting experience. Designers have begun to create patterns which work up quickly on large needles, a phenomenon known as instant-gratification knitting.
Celebrities including
Julia Roberts
Julia Roberts
Julia Fiona Roberts is an American actress. She became a Hollywood star after headlining the romantic comedy Pretty Woman , which grossed $464 million worldwide...
,
Winona Ryder
Winona Ryder
Winona Ryder is an American actress. She made her film debut in the 1986 film Lucas. Ryder's first significant role came in Tim Burton's Beetlejuice as a goth teenager, which won her critical and commercial recognition...
,
Dakota Fanning
Dakota Fanning
Hannah Dakota Fanning , better known as Dakota Fanning, is an American actress. Fanning's breakthrough performance was in I Am Sam in 2001. As a child actress, she appeared in high-profile films such as Man on Fire, War of the Worlds, and Charlotte's Web...
, and
Cameron Diaz
Cameron Diaz
Cameron Michelle Diaz is an American actress and former model. She became famous during the 1990s with roles in the movies The Mask, My Best Friend's Wedding, and There's Something About Mary. Other high-profile credits include the two Charlie's Angels films, voicing the character Princess Fiona...
have been seen knitting and have helped to popularize the revival of the craft. The new millennium has also seen a return by men to the art of knitting.
As time and technology change, so does the art of knitting. The Internet allows knitters to connect, share interests and learn from each other, whether across the street or across the globe. Among the first Internet knitting phenomena was the popular KnitList with thousands of members. In 1998, the first online knitting magazine,
KnitNet
, began publishing. Blogging later added fuel to the development of an international knitting community.
Patterns from both print and online sources have inspired groups (known as knit-a-long's, or KAL's) centered on knitting a specific pattern. Knitting podcasts, such as
Cast-On
, the
Savvy Girls Podcast
and
Knit Cast
, have also emerged, with much cross-pollination of ideas from blogs, 'zines, and knitting books. Traditional designs and techniques that had been preserved by a relatively small number of hand-knitters are now finding a wider audience as well.
In addition, a type of
graffiti
Graffiti
Graffiti is the name for images or lettering scratched, scrawled, painted or marked in any manner on property....
called
yarn bombing
Yarn bombing
Yarn bombing, yarnbombing, yarnstorming, guerrilla knitting, or graffiti knitting is a type of graffiti or street art that employs colorful displays of knitted or crocheted cloth rather than paint or chalk.-Method and motivation:...
, has spread worldwide.
On January 14, 2006 influential author and knit-blogger
Stephanie Pearl-McPhee
Stephanie Pearl-McPhee
Stephanie Anne Pearl-McPhee is a writer, knitter, or International Board Certified Lactation Consultant, and doula living in Toronto, Ontario, Canada.-Life:...
, otherwise known as Yarn Harlot, challenged the knitting world to participate in the 2006 Knitting Olympics. To participate, a knitter committed to casting-on a challenging project during the opening ceremonies of the
2006 Winter Olympics
2006 Winter Olympics
The 2006 Winter Olympics, officially known as the XX Olympic Winter Games, was a winter multi-sport event which was celebrated in Turin, Italy from February 10, 2006, through February 26, 2006. This marked the second time Italy hosted the Olympic Winter Games, the first being the VII Olympic Winter...
in Torino, and to have that project finished by the time the
Olympic flame
Olympic Flame
The Olympic Flame or Olympic Torch is a symbol of the Olympic Games. Commemorating the theft of fire from the Greek god Zeus by Prometheus, its origins lie in ancient Greece, where a fire was kept burning throughout the celebration of the ancient Olympics. The fire was reintroduced at the 1928...
was extinguished sixteen days later. By the first day of the Olympics, almost 4,000 knitters had risen to the challenge.
As another sign of the popularity of knitting in the early 21st century, a large international online community and social networking site for knitters and crocheters,
Ravelry
Ravelry
Ravelry is a free social networking website, beta-launched in May 2007. It functions as an organizational tool for a variety of fiber arts including knitting, crocheting, spinning, and weaving. Members share projects, ideas, and their collection of yarn, fiber, and tools via various components...
, was founded by Casey and Jessica Forbes in May 2007. At first available by invitation only the site connects knitting and crochet enthusiasts around the world and, as of November 2010, had over one million members.
External links