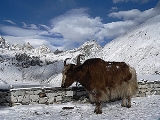 Yak
The
yak
,
Bos grunniens
or
Bos mutus
, is a long-haired bovine found throughout the Himalayan region of south
Central Asia
Central Asia
Central Asia is a core region of the Asian continent from the Caspian Sea in the west, China in the east, Afghanistan in the south, and Russia in the north...
, the
Tibetan Plateau
Tibetan Plateau
The Tibetan Plateau , also known as the Qinghai–Tibetan Plateau is a vast, elevated plateau in Central Asia covering most of the Tibet Autonomous Region and Qinghai, in addition to smaller portions of western Sichuan, southwestern Gansu, and northern Yunnan in Western China and Ladakh in...
and as far north as
Mongolia
Mongolia
Mongolia is a landlocked country in East and Central Asia. It is bordered by Russia to the north and China to the south, east and west. Although Mongolia does not share a border with Kazakhstan, its western-most point is only from Kazakhstan's eastern tip. Ulan Bator, the capital and largest...
and
Russia
Russia
Russia or , officially known as both Russia and the Russian Federation , is a country in northern Eurasia. It is a federal semi-presidential republic, comprising 83 federal subjects...
. In addition to a large domestic population, there is a small, vulnerable wild yak population. In the 1990s, a concerted effort was undertaken to help save the wild yak population.
The
English
English language
English is a West Germanic language that arose in the Anglo-Saxon kingdoms of England and spread into what was to become south-east Scotland under the influence of the Anglian medieval kingdom of Northumbria...
word "yak" derives from the
Tibetan
Tibetan language
The Tibetan languages are a cluster of mutually-unintelligible Tibeto-Burman languages spoken primarily by Tibetan peoples who live across a wide area of eastern Central Asia bordering the Indian subcontinent, including the Tibetan Plateau and the northern Indian subcontinent in Baltistan, Ladakh,...
, or
gyag
– in Tibetan this refers only to the male of the species, the female being called a
dri
or
nak
.