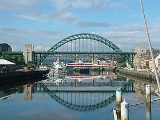 Newcastle upon Tyne
Newcastle upon Tyne
(locally ; often shortened to
Newcastle
) is a
city
City status in the United Kingdom
City status in the United Kingdom is granted by the British monarch to a select group of communities. The holding of city status gives a settlement no special rights other than that of calling itself a "city". Nonetheless, this appellation carries its own prestige and, consequently, competitions...
and
metropolitan borough
Metropolitan borough
A metropolitan borough is a type of local government district in England, and is a subdivision of a metropolitan county. Created in 1974 by the Local Government Act 1972, metropolitan boroughs are defined in English law as metropolitan districts, however all of them have been granted or regranted...
of
Tyne and Wear
Tyne and Wear
Tyne and Wear is a metropolitan county in north east England around the mouths of the Rivers Tyne and Wear. It came into existence as a metropolitan county in 1974 after the passage of the Local Government Act 1972...
, in
North East England
North East England
North East England is one of the nine official regions of England. It covers Northumberland, County Durham, Tyne and Wear, and Teesside . The only cities in the region are Durham, Newcastle upon Tyne and Sunderland...
. Historically a part of
Northumberland
Northumberland
Northumberland is the northernmost ceremonial county and a unitary district in North East England. For Eurostat purposes Northumberland is a NUTS 3 region and is one of three boroughs or unitary districts that comprise the "Northumberland and Tyne and Wear" NUTS 2 region...
, it is situated on the north bank of the
River Tyne
River Tyne
The River Tyne is a river in North East England in Great Britain. It is formed by the confluence of two rivers: the North Tyne and the South Tyne. These two rivers converge at Warden Rock near Hexham in Northumberland at a place dubbed 'The Meeting of the Waters'.The North Tyne rises on the...
. The city developed in the area that was the location of the
Roman
Roman Empire
The Roman Empire was the post-Republican period of the ancient Roman civilization, characterised by an autocratic form of government and large territorial holdings in Europe and around the Mediterranean....
settlement called
Pons Aelius
Pons Aelius
Pons Aelius or Newcastle Roman Fort was an auxiliary castra and small Roman settlement on Hadrian's Wall in the Roman province of Britannia Inferior...
, though it owes its name to the castle built in 1080, by Robert II, Duke of Normandy, the eldest son of William the Conqueror. The city grew as an important centre for the wool trade and it later became a major coal mining area.