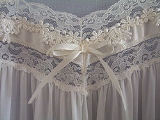 Lace
Lace
is an openwork
fabric
Fabric
A fabric is a textile material, short for "textile fabric".Fabric may also refer to:*Fabric , the spatial and geometric configuration of elements within a rock*Fabric , a nightclub in London, England...
, patterned with open holes in the work, made by machine or by hand. The holes can be formed via removal of threads or cloth from a previously woven fabric, but more often open spaces are created as part of the lace fabric.
Lace-making
is an ancient craft. True lace was not made until the late 15th and early 16th centuries. A true lace is created when a thread is looped, twisted or braided to other threads independently from a backing fabric.
Originally
linen
Linen
Linen is a textile made from the fibers of the flax plant, Linum usitatissimum. Linen is labor-intensive to manufacture, but when it is made into garments, it is valued for its exceptional coolness and freshness in hot weather....
,
silk
Silk
Silk is a natural protein fiber, some forms of which can be woven into textiles. The best-known type of silk is obtained from the cocoons of the larvae of the mulberry silkworm Bombyx mori reared in captivity...
, gold, or silver threads were used.