 Crochet
Crochet
is a process of creating fabric from
yarn
Yarn
Yarn is a long continuous length of interlocked fibres, suitable for use in the production of textiles, sewing, crocheting, knitting, weaving, embroidery and ropemaking. Thread is a type of yarn intended for sewing by hand or machine. Modern manufactured sewing threads may be finished with wax or...
,
thread
Thread (yarn)
Thread is a kind of yarn used for sewing.-Materials:Thread is made from just about everything. Following table lists common materials, a general description and what they are supposed to be good for. If your machine will sew with the thread, any thread can used for just about any purpose. This...
, or other material strands using a
crochet hook
Crochet hook
A crochet hook is a type of needle with a hook at one end used to draw thread through knotted loops. Only one crochet hook is needed to make crochet stitches. The crochet hook's earliest use appears to have been in the late 18th century or early 19th century.Typical materials for crochet hooks...
. The word is derived from the
French
French language
French is a Romance language spoken as a first language in France, the Romandy region in Switzerland, Wallonia and Brussels in Belgium, Monaco, the regions of Quebec and Acadia in Canada, and by various communities elsewhere. Second-language speakers of French are distributed throughout many parts...
word "crochet", meaning
hook.
Hooks can be made of materials such as metals, woods or plastic and are commercially manufactured as well as produced by artisans. Crocheting, like
knitting
Knitting
Knitting is a method by which thread or yarn may be turned into cloth or other fine crafts. Knitted fabric consists of consecutive rows of loops, called stitches. As each row progresses, a new loop is pulled through an existing loop. The active stitches are held on a needle until another loop can...
, consists of pulling loops through other loops, but additionally incorporates wrapping the working material around the hook one or more times. Crochet differs from knitting in that only one stitch is active at one time (exceptions being
Tunisian crochet
Tunisian crochet
Tunisian crochet, also known as Afghan crochet, is a type of crochet that uses an elongated hook, often with a stopper on the handle end, called an Afghan hook. It is sometimes considered to be a mixture of crocheting and knitting. As such, some techniques used in knitting are also applicable in...
and Broomstick lace), stitches made with the same diameter of yarn are comparably taller, and a single
crochet hook
Crochet hook
A crochet hook is a type of needle with a hook at one end used to draw thread through knotted loops. Only one crochet hook is needed to make crochet stitches. The crochet hook's earliest use appears to have been in the late 18th century or early 19th century.Typical materials for crochet hooks...
is used instead of two
knitting needle
Knitting needle
A knitting needle or knitting pin is a tool in hand-knitting to produce knitted fabrics. They generally have a long shaft and taper at their end, but they are not nearly as sharp as sewing needles. Their purpose is two-fold...
s. Additionally, crochet has its own system of symbols to represent stitch types.
Origins
Lis Paludan theorizes that crochet evolved from traditional practices in Arabia,
South America
South America
South America is a continent situated in the Western Hemisphere, mostly in the Southern Hemisphere, with a relatively small portion in the Northern Hemisphere. The continent is also considered a subcontinent of the Americas. It is bordered on the west by the Pacific Ocean and on the north and east...
, or
China
China
Chinese civilization may refer to:* China for more general discussion of the country.* Chinese culture* Greater China, the transnational community of ethnic Chinese.* History of China* Sinosphere, the area historically affected by Chinese culture...
, but there is no decisive evidence of the craft being performed before its popularity in
Europe
Europe
Europe is, by convention, one of the world's seven continents. Comprising the westernmost peninsula of Eurasia, Europe is generally 'divided' from Asia to its east by the watershed divides of the Ural and Caucasus Mountains, the Ural River, the Caspian and Black Seas, and the waterways connecting...
during the 19th century. The earliest written reference to crochet refers to
shepherd's knitting
from
The Memoirs of a Highland Lady
by Elizabeth Grant (1797–1830) in the 19th century. The first published crochet patterns appeared in the Dutch magazine
Pénélopé
in 1824. Other indicators that crochet was new in the 19th century include the 1847 publication
A Winter's Gift
, which provides detailed instructions for performing crochet stitches, although it presumes that readers understand the basics of other needlecrafts. Early references to the craft in
Godey's Lady's Book
in 1846 and 1847 refer to
crotchet
before the spelling standardized in 1848.
Kooler proposes that early industrialization is key to the development of crochet. Machine spun cotton thread became widely available and inexpensive in Europe and North America after the invention of the
cotton gin
Cotton gin
A cotton gin is a machine that quickly and easily separates cotton fibers from their seeds, a job formerly performed painstakingly by hand...
and the
spinning jenny
Spinning jenny
The spinning jenny is a multi-spool spinning frame. It was invented c. 1764 by James Hargreaves in Stanhill, Oswaldtwistle, Lancashire in England. The device reduced the amount of work needed to produce yarn, with a worker able to work eight or more spools at once. This grew to 120 as technology...
, displacing hand spun linen for many uses. Crochet technique consumes more thread than comparable textile production methods and cotton is well suited to crochet.
Knit and knotted textiles survive from very early periods, but there are no surviving samples of crocheted fabric in any
ethnological
Ethnology
Ethnology is the branch of anthropology that compares and analyzes the origins, distribution, technology, religion, language, and social structure of the ethnic, racial, and/or national divisions of humanity.-Scientific discipline:Compared to ethnography, the study of single groups through direct...
collection, or archeological source prior to 1800. These writers point to the tambour hooks used in
tambour
Tambour lace
Tambour lace refers to a family of lace made by stretching a fine net over a frame and creating a chain stitch using a fine hook to reach through the net and draw the working thread through the net....
embroidery
Embroidery
Embroidery is the art or handicraft of decorating fabric or other materials with needle and thread or yarn. Embroidery may also incorporate other materials such as metal strips, pearls, beads, quills, and sequins....
in
France
France
The French Republic , The French Republic , The French Republic , (commonly known as France , is a unitary semi-presidential republic in Western Europe with several overseas territories and islands located on other continents and in the Indian, Pacific, and Atlantic oceans. Metropolitan France...
in the 18th century, and contend that the hooking of loops through fine fabric in tambour work evolved into "crochet in the air." Most samples of early work claimed to be crochet turn out to actually be samples of nålebinding.
Donna Kooler identifies a possible problem with the tambour hypothesis: period tambour hooks that survive in modern collections cannot produce crochet because the integral wing nut necessary for tambour work interferes with attempts at crochet.
However, Mrs. Gaugain, in her 1840
The Lady's Assistant for Executing Useful and Fancy Designs in Knitting, Netting, and Crotchet Work
, refers to "Tambour, or Crotchet," then proceeds to call it "tambour" in all the instructions, indicating a strong connection believed in at the time of crochet's beginning, and that it was, perhaps, the older name. That those hooks that survive cannot be used is the constant problem in archaeology: what was commonly used may have been usually worn out and didn't survive. Tambour lace on fine net is commonly taught with the crochet hook, these hooks with "integral wing nuts" being an expensive item.
Early crochet hooks ranged from primitive bent needles in a cork handle, used by poor Irish lace workers, to expensively crafted silver, brass, steel, ivory and bone hooks set into a variety of handles, some of which were better designed to show off a lady's hands than they were to work with thread. By the early 1840s, instructions for crochet were being published in England, particularly by Eleanor Riego de la Blanchardiere and Frances Lambert. These early patterns called for cotton and linen thread for lace, and wool yarn for clothing, often in vivid color combinations.
Early history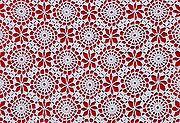 In the 19th century, as Ireland was facing the Great Irish Famine (1845-1849), crochet
lace
Lace
Lace is an openwork fabric, patterned with open holes in the work, made by machine or by hand. The holes can be formed via removal of threads or cloth from a previously woven fabric, but more often open spaces are created as part of the lace fabric. Lace-making is an ancient craft. True lace was...
work was introduced as a form of famine relief (the production of crocheted lace being an alternative way of making money for impoverished Irish workers). Mademoiselle Riego de la Blanchardiere is generally credited with the invention of Irish Crochet, publishing the first book of patterns in 1846. Irish lace became popular in Europe and America, and was made in quantity until the first World War.
Modern Practice and Culture
Fashions in crochet changed with the end of the Victorian era in the 1890s. Crocheted laces in the new Edwardian era, peaking between 1910 and 1920, became even more elaborate in texture and complicated stitching.
The strong Victorian colours disappeared, though, and new publications called for white or pale threads, except for fancy purses, which were often crocheted of brightly colored silk and elaborately beaded. After World War I, far fewer crochet patterns were published, and most of them were simplified versions of the early 20th century patterns. After World War II, from the late 40s until the early 60s, there was a resurgence in interest in home crafts, particularly in the United States, with many new and imaginative crochet designs published for colorful doilies, potholders, and other home items, along with updates of earlier publications. These patterns called for thicker threads and yarns than in earlier patterns and included wonderful variegated colors. The craft remained primarily a homemaker's art until the late 1960s and early 1970s, when the new generation picked up on crochet and popularized granny squares, a motif worked in the round and incorporating bright colors.
Although crochet underwent a subsequent decline in popularity, the early 21st century has seen a revival of interest in handcrafts and DIY, as well as great strides in improvement of the quality and varieties of yarn. There are many more new pattern books with modern patterns being printed, and most yarn stores now offer crochet lessons in addition to the traditional knitting lessons.
Filet crochet
Filet crochet
Filet crochet is a type of crocheted fabric. This type of crocheted lace is gridlike because it uses only two crochet stitches: the chain stitch and the double crochet stitch Filet crochet is a type of crocheted fabric. This type of crocheted lace is gridlike because it uses only two crochet...
,
Tunisian crochet
Tunisian crochet
Tunisian crochet, also known as Afghan crochet, is a type of crochet that uses an elongated hook, often with a stopper on the handle end, called an Afghan hook. It is sometimes considered to be a mixture of crocheting and knitting. As such, some techniques used in knitting are also applicable in...
,
broomstick lace
Broomstick lace
Broomstick lace, also known as jiffy lace and peacock eye crochet, is a historic crochet technique from the 19th century which is done using a crochet hook and another long slender item such as a knitting needle. Traditionally a broomstick was used, hence the name, but the modern variant is a...
,
hairpin lace
Hairpin lace
Hairpin lace is a crochet technique done using a crochet hook and a hairpin lace loom, which consists of two parallel metal rods held at the top and the bottom by removable bars...
,
cro-hook
Cro-hook
The cro-hook, is a special double-ended crochet hook used to make double-sided crochet, which is a variation of Tunisian crochet. Because the hook has two ends, two colors of thread can be used simultaneously and freely interchanged....
ing, and Irish crochet are all variants of the basic crochet method.
Crochet has experienced a revival on the catwalk.
Christopher Kane
Christopher Kane
-Biography:Kane was born as the youngest of five children in Newarthill, near Motherwell, North Lanarkshire, to an engineer and draughtsman and housewife mother....
's Fall 2011 Ready-to-Wear collection
http://www.style.com/fashionshows/review/%20F2011RTW-CKANE
makes intensive use of the
granny square
Granny square
A granny square is a crochet technique for producing square fabric by working in rounds from the center outward. Granny squares are traditionally handmade. They resemble coarse lace...
, one of the most basic of crochet motifs. Crochet has been utilized many a time by designers on the popular reality show
Project Runway
Project Runway
Project Runway is an American reality television series on Lifetime Television, previously on the Bravo network, which focuses on fashion design and is hosted by model Heidi Klum. The contestants compete with each other to create the best clothes and are restricted in time, materials and theme...
. Additionally, websites such as
Etsy
Etsy
Etsy is an e-commerce website focused on handmade or vintage items as well as art and craft supplies. These items cover a wide range including art, photography, clothing, jewelry, edibles, bath & beauty products, quilts, knick-knacks and toys. Many individuals also sell craft supplies like beads,...
and
Ravelry
Ravelry
Ravelry is a free social networking website, beta-launched in May 2007. It functions as an organizational tool for a variety of fiber arts including knitting, crocheting, spinning, and weaving. Members share projects, ideas, and their collection of yarn, fiber, and tools via various components...
have made it easier for individual hobbyists to sell and distribute their patterns or projects across the internet.
Crochet patterns have an underlying mathematical structure. Due to the exponential of adding increases in crochet, the craft has been used to illustrate shapes in
hyperbolic geometry
Hyperbolic geometry
In mathematics, hyperbolic geometry is a non-Euclidean geometry, meaning that the parallel postulate of Euclidean geometry is replaced...
that are difficult to reproduce using other media or are difficult to understand when viewed two-dimensionally. A hyperbolic model of a coral reef has also been constructed for environmental purposes
Materials
Basic materials required for crochet are a hook and some type of material that will be crocheted, most commonly
yarn
Yarn
Yarn is a long continuous length of interlocked fibres, suitable for use in the production of textiles, sewing, crocheting, knitting, weaving, embroidery and ropemaking. Thread is a type of yarn intended for sewing by hand or machine. Modern manufactured sewing threads may be finished with wax or...
or thread. Additional tools are convenient for keeping stitches counted, measuring crocheted fabric or making related accessories. Examples include cardboard cutouts, which can be used to make tassels,
fringe
Fringe (trim)
Fringe is an ornamental textile trim applied to an edge of an item, such as drapery, a flag, epaulettes, or decorative tassel.Fringe originates in the ends of the warp, projecting beyond the woven fabric...
, and many other items; a pom-pom circle, used to make pom-poms; a
tape measure
Tape measure
A tape measure or measuring tape is a flexible form of ruler. It consists of a ribbon of cloth, plastic, fiber glass, or metal strip with linear-measurement markings. It is a common measuring tool. Its flexibility allows for a measure of great length to be easily carried in pocket or toolkit and...
and a gauge measure, both used for measuring crocheted work and counting stitches; a
row counter
Row counter (hand knitting)
A row counter for hand knitting is a tally counter for counting rows or courses worked, for counting stitch pattern repetitions, or for counting increases or decreases of the number of stitches in consecutive rows. The first commercially-produced one appeared on the market in the 1920s after the...
; and occasionally plastic rings, which are used for special projects.
Hook
The crochet hook comes in many sizes and materials, such as bone, bamboo, aluminum, plastic and steel. Sizing is categorized by the diameter of the hook's shaft, and a crafter aims to create stitches of a certain size in order to reach a particular gauge specified in a given pattern. If gauge is not reached with one hook, another is used until the stitches made are the needed size. Crafters may have a preference for one type of hook material over another due to aesthetic appeal, yarn glide, or hand disorders such as arthritis, where bamboo or wood hooks are favored over metal for the perceived warmth and flexibility during use. Hook grips and ergonomic hook handles are also available to assist crafters.
Steel crochet hooks range in size from 0.4 to 3.5 millimeters, or from 00 to 16 in American sizing. These hooks are used for fine crochet work such as doilies and lace.
Aluminum, bamboo, and plastic crochet hooks are available from 2.5 to 19 millimeters in size, or from B to S in American sizing.
Artisan-made hooks are often made of hand-turned woods, sometimes decorated with semi-precious stones or beads.
Crochet hooks used for
Tunisian crochet
Tunisian crochet
Tunisian crochet, also known as Afghan crochet, is a type of crochet that uses an elongated hook, often with a stopper on the handle end, called an Afghan hook. It is sometimes considered to be a mixture of crocheting and knitting. As such, some techniques used in knitting are also applicable in...
are elongated and have a stopper at the end of the handle, while double-ended crochet hooks have a hook on both ends of the handle. There is also a double hooked apparatus called a
Cro-hook
Cro-hook
The cro-hook, is a special double-ended crochet hook used to make double-sided crochet, which is a variation of Tunisian crochet. Because the hook has two ends, two colors of thread can be used simultaneously and freely interchanged....
that has become popular.
A hairpin loom is often used to create lacey and long stitches, known as hairpin lace. While this is not in itself a hook, it is a device used in conjunction with a crochet hook to produce stitches.
The patent-pending Sharp Crochet Hook (www.sharpcrochethook.com) is used to crochet edgings through fabric because the sharp-pointed head glides through fabric easier than normal crochet hooks. It can be used to crochet edgings on baby blankets, skirt hems, gloves, socks, pillow cases, towels, etc.
Yarn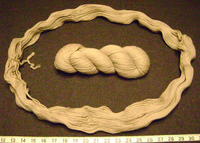 Yarn for crochet is usually sold as balls or skeins (hanks), although it may also be wound on spools or cones. Skeins and balls are generally sold with a
yarn band
, a label that describes the yarn's weight, length, dye lot, fiber content, washing instructions, suggested needle size, likely gauge, etc. It is a common practice to save the yarn band for future reference, especially if additional skeins must be purchased. Crocheters generally ensure that the yarn for a project comes from a single dye lot. The dye lot specifies a group of skeins that were dyed together and thus have precisely the same color; skeins from different dye lots, even if very similar in color, are usually slightly different and may produce a visible stripe when added onto existing work. If insufficient yarn of a single dye lot is bought to complete a project, additional skeins of the same dye lot can sometimes be obtained from other yarn stores or online.
The thickness or weight of the yarn is a significant factor in determining the gauge, i.e., how many stitches and rows are required to cover a given area for a given stitch pattern. Thicker yarns generally require large-diameter crochet hooks, whereas thinner yarns may be crocheted with thick or thin hooks. Hence, thicker yarns generally require fewer stitches, and therefore less time, to work up a given project. Patterns and motifs are coarser with thicker yarns and produce bold visual effects, whereas thinner yarns are best for refined or delicate patternwork. Yarns are standardly grouped by thickness into six categories: superfine, fine, light, medium, bulky and superbulky. Quantitatively, thickness is measured by the number of wraps per inch (WPI). The related
weight per unit length
is usually measured in
tex or dernier
Units of textile measurement
Textile is measured in various units, such as: the denier and tex , super S , worst count, and yield ....
.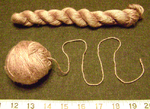 Before use, hanks are wound into balls in which the yarn emerges from the center, making crocheting easier by preventing the yarn from becoming easily tangled. The winding process may be done by hand, or with a ballwinder and swift.
A yarn's usefulness is judged by several factors, such as its
loft
(its ability to trap air), its
resilience
(elasticity under tension), its
washability
Laundry
Laundry is a noun that refers to the act of washing clothing and linens, the place where that washing is done, and/or that which needs to be, is being, or has been laundered...
and colorfastness, its
hand
(its feel, particularly softness vs. scratchiness), its durability against abrasion, its resistance to
pilling
Pill (textile)
A pill, colloquially known as a bobble, is a small ball of fibres that forms on a piece of cloth from wear. Pill is also a verb for the formation of such balls....
, its
hairiness
(fuzziness), its tendency to twist or untwist, its overall weight and drape, its blocking and felting qualities, its comfort (breathability, moisture absorption, wicking properties) and its appearance, which includes its color, sheen, smoothness and ornamental features. Other factors include allergenicity, speed of drying, resistance to chemicals, moths, and mildew, melting point and flammability, retention of static electricity, and the propensity to accept dyes. Desirable properties may vary for different projects, so there is no one "best" yarn.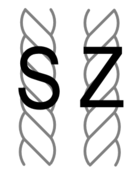 Although crochet may be done with ribbons, metal wire or more exotic filaments, most yarns are made by
spinning
Spinning (textiles)
Spinning is a major industry. It is part of the textile manufacturing process where three types of fibre are converted into yarn, then fabric, then textiles. The textiles are then fabricated into clothes or other artifacts. There are three industrial processes available to spin yarn, and a...
fibers. In spinning, the fibers are twisted so that the yarn resists breaking under tension; the twisting may be done in either direction, resulting in an Z-twist or S-twist yarn. If the fibers are first aligned by combing them, the yarn is smoother and called a
worsted
; by contrast, if the fibers are carded but not combed, the yarn is fuzzier and called
woolen-spun
. The fibers making up a yarn may be continuous
filament
fibers such as
silk
Silk
Silk is a natural protein fiber, some forms of which can be woven into textiles. The best-known type of silk is obtained from the cocoons of the larvae of the mulberry silkworm Bombyx mori reared in captivity...
and many synthetics, or they may be
staples
(fibers of an average length, typically a few inches); naturally filament fibers are sometimes cut up into staples before spinning. The strength of the spun yarn against breaking is determined by the amount of twist, the length of the fibers and the thickness of the yarn. In general, yarns become stronger with more twist (also called
worst
), longer fibers and thicker yarns (more fibers); for example, thinner yarns require more twist than do thicker yarns to resist breaking under tension. The thickness of the yarn may vary along its length; a
slub
is a much thicker section in which a mass of fibers is incorporated into the yarn.
The spun fibers are generally divided into
animal fiber
Animal fiber
Animal fibers are natural fibers that consist largely of particular proteins. Instances are silk, hair/fur and feathers. The animal fibers used most commonly both in the manufacturing world as well as by the hand spinners are wool from domestic sheep and silk. Also very popular are alpaca fiber...
s, plant and
synthetic fiber
Synthetic fiber
Synthetic fibers are the result of extensive research by scientists to improve on naturally occurring animal and plant fibers. In general, synthetic fibers are created by forcing, usually through extrusion, fiber forming materials through holes into the air, forming a thread...
s. These fiber types are chemically different, corresponding to
protein
Protein
Proteins are biochemical compounds consisting of one or more polypeptides typically folded into a globular or fibrous form, facilitating a biological function. A polypeptide is a single linear polymer chain of amino acids bonded together by peptide bonds between the carboxyl and amino groups of...
s,
carbohydrate
Carbohydrate
A carbohydrate is an organic compound with the empirical formula ; that is, consists only of carbon, hydrogen, and oxygen, with a hydrogen:oxygen atom ratio of 2:1 . However, there are exceptions to this. One common example would be deoxyribose, a component of DNA, which has the empirical...
s and synthetic
polymer
Polymer
A polymer is a large molecule composed of repeating structural units. These subunits are typically connected by covalent chemical bonds...
s, respectively. Animal fibers include
silk
Silk
Silk is a natural protein fiber, some forms of which can be woven into textiles. The best-known type of silk is obtained from the cocoons of the larvae of the mulberry silkworm Bombyx mori reared in captivity...
, but generally are long hairs of animals such as sheep (
wool
Wool
Wool is the textile fiber obtained from sheep and certain other animals, including cashmere from goats, mohair from goats, qiviut from muskoxen, vicuña, alpaca, camel from animals in the camel family, and angora from rabbits....
),
goat
Goat
The domestic goat is a subspecies of goat domesticated from the wild goat of southwest Asia and Eastern Europe. The goat is a member of the Bovidae family and is closely related to the sheep as both are in the goat-antelope subfamily Caprinae. There are over three hundred distinct breeds of...
(
angora
Angora goat
The Angora goat is a breed of domestic goat that originated in Ankara , Turkey and its surrounding region in central Anatolia...
, or
cashmere goat
Cashmere goat
A cashmere goat is any breed of goat that produces cashmere wool, the goat's fine soft downy winter undercoat, in commercial quality and quantity. This undercoat grows as the day length shortens and is associated with an outer coat of coarse hair, which is present all the year and is called guard...
),
rabbit
Rabbit
Rabbits are small mammals in the family Leporidae of the order Lagomorpha, found in several parts of the world...
(
angora
Angora rabbit
The Angora rabbit is a variety of domestic rabbit bred for its long, soft wool. The Angora is one of the oldest types of domestic rabbit, originating in Ankara , Turkey, along with the Angora cat and Angora goat. The rabbits were popular pets with French royalty in the mid 18th century, and spread...
),
llama
Llama
The llama is a South American camelid, widely used as a meat and pack animal by Andean cultures since pre-Hispanic times....
,
alpaca
Alpaca
An alpaca is a domesticated species of South American camelid. It resembles a small llama in appearance.Alpacas are kept in herds that graze on the level heights of the Andes of southern Peru, northern Bolivia, Ecuador, and northern Chile at an altitude of to above sea level, throughout the year...
,
dog
Dog
The domestic dog is a domesticated form of the gray wolf, a member of the Canidae family of the order Carnivora. The term is used for both feral and pet varieties. The dog may have been the first animal to be domesticated, and has been the most widely kept working, hunting, and companion animal in...
,
cat
Cat
The cat , also known as the domestic cat or housecat to distinguish it from other felids and felines, is a small, usually furry, domesticated, carnivorous mammal that is valued by humans for its companionship and for its ability to hunt vermin and household pests...
,
camel
Camel
A camel is an even-toed ungulate within the genus Camelus, bearing distinctive fatty deposits known as humps on its back. There are two species of camels: the dromedary or Arabian camel has a single hump, and the bactrian has two humps. Dromedaries are native to the dry desert areas of West Asia,...
,
yak
Yak
The yak, Bos grunniens or Bos mutus, is a long-haired bovine found throughout the Himalayan region of south Central Asia, the Tibetan Plateau and as far north as Mongolia and Russia. In addition to a large domestic population, there is a small, vulnerable wild yak population...
, and muskox (
qiviut
Qiviut
Qiviut is an Inuit word commonly used to indicate the wool of the muskox. The word was originally used to refer to the down feathers of birds as well as the inner wool of the muskox. It is valued for its use as a fiber as, unlike sheep's wool, it does not shrink in water at any temperature...
). Plants used for fibers include
cotton
Cotton
Cotton is a soft, fluffy staple fiber that grows in a boll, or protective capsule, around the seeds of cotton plants of the genus Gossypium. The fiber is almost pure cellulose. The botanical purpose of cotton fiber is to aid in seed dispersal....
,
flax
Flax
Flax is a member of the genus Linum in the family Linaceae. It is native to the region extending from the eastern Mediterranean to India and was probably first domesticated in the Fertile Crescent...
(for
linen
Linen
Linen is a textile made from the fibers of the flax plant, Linum usitatissimum. Linen is labor-intensive to manufacture, but when it is made into garments, it is valued for its exceptional coolness and freshness in hot weather....
),
bamboo
Bamboo
Bamboo is a group of perennial evergreens in the true grass family Poaceae, subfamily Bambusoideae, tribe Bambuseae. Giant bamboos are the largest members of the grass family....
,
ramie
Ramie
Ramie is a flowering plant in the nettle family Urticaceae, native to eastern Asia. It is a herbaceous perennial growing to 1–2.5 m tall; the leaves are heart-shaped, 7–15 cm long and 6–12 cm broad, and white on the underside with dense small hairs—this gives it a silvery appearance;...
,
hemp
Hemp
Hemp is mostly used as a name for low tetrahydrocannabinol strains of the plant Cannabis sativa, of fiber and/or oilseed varieties. In modern times, hemp has been used for industrial purposes including paper, textiles, biodegradable plastics, construction, health food and fuel with modest...
,
jute
Jute
Jute is a long, soft, shiny vegetable fibre that can be spun into coarse, strong threads. It is produced from plants in the genus Corchorus, which has been classified in the family Tiliaceae, or more recently in Malvaceae....
,
nettle
Nettle
Nettles constitute between 24 and 39 species of flowering plants of the genus Urtica in the family Urticaceae, with a cosmopolitan though mainly temperate distribution. They are mostly herbaceous perennial plants, but some are annual and a few are shrubby...
, raffia,
yucca
Yucca
Yucca is a genus of perennial shrubs and trees in the family Asparagaceae, subfamily Agavoideae. Its 40-50 species are notable for their rosettes of evergreen, tough, sword-shaped leaves and large terminal panicles of white or whitish flowers. They are native to the hot and dry parts of North...
,
coconut
Coconut
The coconut palm, Cocos nucifera, is a member of the family Arecaceae . It is the only accepted species in the genus Cocos. The term coconut can refer to the entire coconut palm, the seed, or the fruit, which is not a botanical nut. The spelling cocoanut is an old-fashioned form of the word...
husk, banana trees, soy and
corn
Maize
Maize known in many English-speaking countries as corn or mielie/mealie, is a grain domesticated by indigenous peoples in Mesoamerica in prehistoric times. The leafy stalk produces ears which contain seeds called kernels. Though technically a grain, maize kernels are used in cooking as a vegetable...
.
Rayon
Rayon
Rayon is a manufactured regenerated cellulose fiber. Because it is produced from naturally occurring polymers, it is neither a truly synthetic fiber nor a natural fiber; it is a semi-synthetic or artificial fiber. Rayon is known by the names viscose rayon and art silk in the textile industry...
and
acetate
Cellulose acetate
Cellulose acetate , first prepared in 1865, is the acetate ester of cellulose. Cellulose acetate is used as a film base in photography, as a component in some adhesives, and as a frame material for eyeglasses; it is also used as a synthetic fiber and in the manufacture of cigarette filters and...
fibers are also produced from
cellulose
Cellulose
Cellulose is an organic compound with the formula , a polysaccharide consisting of a linear chain of several hundred to over ten thousand β linked D-glucose units....
mainly derived from
tree
Tree
A tree is a perennial woody plant. It is most often defined as a woody plant that has many secondary branches supported clear of the ground on a single main stem or trunk with clear apical dominance. A minimum height specification at maturity is cited by some authors, varying from 3 m to...
s. Common synthetic fibers include
acrylic
Acrylic fiber
Acrylic fibers are synthetic fibers made from a polymer with an average molecular weight of ~100,000, about 1900 monomer units. To be called acrylic in the U.S, the polymer must contain at least 85% acrylonitrile monomer. Typical comonomers are vinyl acetate or methyl acrylate...
s,
polyester
Polyester
Polyester is a category of polymers which contain the ester functional group in their main chain. Although there are many polyesters, the term "polyester" as a specific material most commonly refers to polyethylene terephthalate...
s such as
dacron
Polyethylene terephthalate
Polyethylene terephthalate , commonly abbreviated PET, PETE, or the obsolete PETP or PET-P, is a thermoplastic polymer resin of the polyester family and is used in synthetic fibers; beverage, food and other liquid containers; thermoforming applications; and engineering resins often in combination...
and
ingeo
Ingeo
Ingeo is the trademark name for NatureWorks LLC's synthetic fiber made from corn.The process to create Ingeo makes use of the carbon stored in plants by photosynthesis. Plant starches are broken down into sugars. The carbon and other elements in these sugars are then used to make a biopolymer...
,
nylon
Nylon
Nylon is a generic designation for a family of synthetic polymers known generically as polyamides, first produced on February 28, 1935, by Wallace Carothers at DuPont's research facility at the DuPont Experimental Station...
and other polyamides, and olefins such as
polypropylene
Polypropylene
Polypropylene , also known as polypropene, is a thermoplastic polymer used in a wide variety of applications including packaging, textiles , stationery, plastic parts and reusable containers of various types, laboratory equipment, loudspeakers, automotive components, and polymer banknotes...
. Of these types, wool is generally favored for crochet, chiefly owing to its superior
elasticity
Elasticity (physics)
In physics, elasticity is the physical property of a material that returns to its original shape after the stress that made it deform or distort is removed. The relative amount of deformation is called the strain....
, warmth and (sometimes)
felt
Felt
Felt is a non-woven cloth that is produced by matting, condensing and pressing woollen fibres. While some types of felt are very soft, some are tough enough to form construction materials. Felt can be of any colour, and made into any shape or size....
ing; however, wool is generally less convenient to
clean
Laundry
Laundry is a noun that refers to the act of washing clothing and linens, the place where that washing is done, and/or that which needs to be, is being, or has been laundered...
and some people are allergic to it. It is also common to blend different fibers in the yarn, e.g., 85% alpaca and 15% silk. Even within a type of fiber, there can be great variety in the length and thickness of the fibers; for example,
Merino
Merino
The Merino is an economically influential breed of sheep prized for its wool. Merinos are regarded as having some of the finest and softest wool of any sheep...
wool and
Egyptian cotton
Gossypium barbadense
Gossypium barbadense, also known as extra long staple cotton as it generally has a staple of at least 1 3/8" or longer, is a species of cotton plant. Some types of ELS cotton are American Pima, Egyptian Giza, Indian Suvin, Chinese Xiniang, Sudanese Barakat, and Russian Tonkovoloknistyi...
are favored because they produce exceptionally long, thin (fine) fibers for their type.
A single spun yarn may be crochet as is, or
braid
Braid
A braid is a complex structure or pattern formed by intertwining three or more strands of flexible material such as textile fibres, wire, or human hair...
ed or
plied
Plying
In the textile arts, plying is a process used to create a strong, balanced yarn. It is done by taking two or more strands of yarn that each have a twist to them and putting them together. The strands are twisted together, in the direction opposite that in which they were spun...
with another. In plying, two or more yarns are spun together, almost always in the opposite sense from which they were spun individually; for example, two Z-twist yarns are usually plied with an S-twist. The opposing twist relieves some of the yarns' tendency to curl up and produces a thicker,
balanced
yarn. Plied yarns may themselves be plied together, producing
cabled yarns
or
multi-stranded yarns
. Sometimes, the yarns being plied are fed at different rates, so that one yarn loops around the other, as in
bouclé
Bouclé
Bouclé is a kind of novelty yarn. It is a yarn with a length of loops of similar size which can range from tiny circlets to large curls. To make bouclé, at least two strands are combined, with the tension on one strand being much looser than the other as it is being plied, with the loose strand...
. The single yarns may be dyed separately before plying, or afterwords to give the yarn a uniform look.
The dyeing of yarns is a complex art. Yarns need not be dyed; or they may be dyed one color, or a great variety of colors. Dyeing may be done industrially, by hand or even hand-painted onto the yarn. A great variety of synthetic dyes have been developed since the synthesis of
indigo dye
Indigo dye
Indigo dye is an organic compound with a distinctive blue color . Historically, indigo was a natural dye extracted from plants, and this process was important economically because blue dyes were once rare. Nearly all indigo dye produced today — several thousand tons each year — is synthetic...
in the mid-19th century; however,
natural dye
Natural dye
Natural dyes are dyes or colorants derived from plants, invertebrates, or minerals. The majority of natural dyes are vegetable dyes from plant sources – roots, berries, bark, leaves, and wood — and other organic sources such as fungi and lichens....
s are also possible, although they are generally less brilliant. The color-scheme of a yarn is sometimes called its
colorway
. Variegated yarns can produce interesting visual effects, such as diagonal stripes.
Process
Crocheted fabric is begun by placing a
slip-knot
Slip knot
A slip knot is one of two different classes of knot. The most common are knots which attach a line to an object and tighten when tension is applied to the free end of the line...
loop on the hook(though other methods, such as a magic ring or simple folding over of the yarn may be used), pulling another loop through the first loop, and repeating this process to create a chain of a suitable length. The chain is either turned and worked in rows, or joined to the beginning of the row with a slip stitch and worked in rounds. Rounds can also be created by working many stitches into a single loop. Stitches are made by pulling one or more loops through each loop of the chain. At any one time at the end of a stitch, there is only one loop left on the hook. Tunisian crochet, however, draws all of the loops for an entire row onto a long hook before working them off one at a time. Like knitting, crochet can be worked either
flat
or
in the round
.
International crochet terms and notations
In the English-speaking crochet world,
basic stitches
have different names that vary by country. The differences are usually referred to as UK/US or British/American. To help counter confusion when reading patterns, a diagramming system using a standard international notation has come into use (illustration, left).
Another terminological difference is known as
tension
(UK) and
gauge
(US). Individual crocheters work yarn with a loose or a tight hold and, if unmeasured, these differences can lead to significant size changes in finished garments that have the same number of stitches. In order to control for this inconsistency, printed crochet instructions include a standard for the number of stitches across a standard swatch of fabric. An individual crocheter begins work by producing a test swatch and compensating for any discrepancy by changing to a smaller or larger hook. North Americans call this
gauge
, referring to the end result of these adjustments; British crocheters speak of
tension
, which refers to the crafter's grip on the yarn while producing stitches.
Differences from knitting
One of the more obvious differences is that crochet uses one hook while much knitting uses two needles. In most crochet, the artisan usually has only one live stitch on the hook (with the exception being Tunisian crochet), while a knitter keeps an entire row of stitches active simultaneously. Dropped stitches, which can unravel a fabric, rarely interfere with crochet work, due to a second structural difference between knitting and crochet. In knitting, each stitch is supported by the corresponding stitch in the row above and it supports the corresponding stitch in the row below, whereas crochet stitches are only supported by and support the stitches on either side of it. If a stitch in a finished crocheted item breaks, the stitches above and below remain intact, and because of the complex looping of each stitch, the stitches on either side are unlikely to come loose unless heavily stressed.
Round or cylindrical patterns are simple to produce with a regular crochet hook, but cylindrical knitting requires either a set of circular needles or three to five special double-ended needles. Many crocheted items are composed of individual motifs which are then joined together, are by sewing or crocheting, whereas knitting is usually composed of one fabric, such as
entrelac
Entrelac
Entrelac is a knitting technique used to create a textured diamond pattern. While the end result resembles basket-woven strips of knitted fabric, the actual material comprises interconnected squares on two different orientations....
.
Freeform crochet is a technique that can create interesting shapes in several dimensions because new stitches can be made independently of previous stitches almost anywhere in the crocheted piece. It is generally accomplished by building shapes or structural elements onto existing crocheted fabric at any place the crafter desires.
Knitting can be accomplished by machine, while many crochet stitches can only be crafted by hand. Although some crochet patterns can emulate the appearance of knitting, distinctive crochet patterns such as the
Granny square
Granny square
A granny square is a crochet technique for producing square fabric by working in rounds from the center outward. Granny squares are traditionally handmade. They resemble coarse lace...
cannot be simulated by other methods. The height of knitted and crocheted stitches is also different: a single crochet stitch is twice the height of a knit stitch in the same yarn size and comparable diameter tools, and a double crochet stitch is about four times the height of a knit stitch.
Crochet produces a thicker fabric than knitting, and tends to have less "give" than knitted fabric. It also uses approximately a third more yarn for a comparable project than knitted items do, since each crochet stitch is composed of several loops versus a single loop as in knitting.
Charity
It has been very common for people and groups to crochet clothing and other garments and then donate them to soldiers during war. People have also crocheted clothing and then donated it to hospitals, for sick patients and also for newborn babies. Sometimes groups will crochet for a specific charity purpose, such as crocheting for homeless shelters, nursing homes, etc.
It is also becoming increasingly popular to crochet hats (commonly referred to as "chemo caps") and donate them to cancer treatment centers, for those undergoing chemotherapy.
Mathematics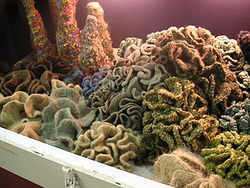 Crochet has been used by mathematician
Daina Taimina
Daina Taimina
Daina Taimina is a Latvian mathematician, currently Adjunct Associate Professor at Cornell University, known for crocheting objects to illustrate hyperbolic space. She received all her formal education in Riga, Latvia, where in 1977 she graduated summa cum laude from the University of Latvia and...
in order to create a version of the
hyperbolic plane
Hyperbolic geometry
In mathematics, hyperbolic geometry is a non-Euclidean geometry, meaning that the parallel postulate of Euclidean geometry is replaced...
. A paper model based on the
pseudosphere
Pseudosphere
In geometry, the term pseudosphere is used to describe various surfaces with constant negative gaussian curvature. Depending on context, it can refer to either a theoretical surface of constant negative curvature, to a tractricoid, or to a hyperboloid....
was created by
William Thurston
William Thurston
William Paul Thurston is an American mathematician. He is a pioneer in the field of low-dimensional topology. In 1982, he was awarded the Fields Medal for his contributions to the study of 3-manifolds...
, however, it was quite delicate. Daina Taimina used the art of crochet to create a strong, durable model, which received an exhibition by the
Institute For Figuring
Institute For Figuring
The Institute For Figuring is an organization based in Los Angeles, California that promotes the public understanding of the poetic and aesthetic dimensions of science, mathematics and the technical arts...
.
Graffiti
In the past few years, a practice called
yarn bombing
Yarn bombing
Yarn bombing, yarnbombing, yarnstorming, guerrilla knitting, or graffiti knitting is a type of graffiti or street art that employs colorful displays of knitted or crocheted cloth rather than paint or chalk.-Method and motivation:...
, or the use of knitted or crocheted cloth to modify and beautify one's (usually outdoor) surroundings, emerged in the US and spread worldwide. Yarn bombers sometimes target existing pieces of graffiti for beautification.
External links