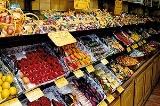 Confectionery
Confectionery
is the set of food items that are rich in
sugar
Sugar
Sugar is a class of edible crystalline carbohydrates, mainly sucrose, lactose, and fructose, characterized by a sweet flavor.Sucrose in its refined form primarily comes from sugar cane and sugar beet...
, any one or type of which is called a confection. Modern usage may include substances rich in artificial sweeteners as well. The word
candy
Candy
Candy, specifically sugar candy, is a confection made from a concentrated solution of sugar in water, to which flavorings and colorants are added...
(North America),
sweets
(UK and Ireland) and
lollies
(Australia and New Zealand) are also used for the extensive
variety of confectionery
.
Generally speaking, confections are somewhat low in micronutrients but rich in calories.