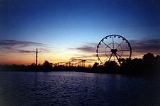 Amusement park
Amusement
and
theme parks
are terms for a group of
entertainment
Entertainment
Entertainment consists of any activity which provides a diversion or permits people to amuse themselves in their leisure time. Entertainment is generally passive, such as watching opera or a movie. Active forms of amusement, such as sports, are more often considered to be recreation...
attractions and rides and other events in a location for the enjoyment of large numbers of people. An amusement park is more elaborate than a simple city park or
playground
Playground
A playground or play area is a place with a specific design for children be able to play there. It may be indoors but is typically outdoors...
, usually providing attractions meant to cater to children, teenagers, and adults.
Amusement parks evolved in Europe from fairs and
pleasure gardens
Pleasure gardens
A pleasure garden is usually a garden that is open to the public for recreation. They differ from other public gardens in that they serve as venues for entertainment, variously featuring concert halls or bandstands, rides, zoos, and menageries.-History:...
which were created for people's
recreation
Recreation
Recreation is an activity of leisure, leisure being discretionary time. The "need to do something for recreation" is an essential element of human biology and psychology. Recreational activities are often done for enjoyment, amusement, or pleasure and are considered to be "fun"...
.