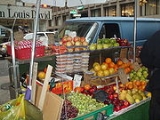 Street food
Street food
is ready-to-eat food or drink sold in a street or other public place, such as a market or fair, by a
hawker or vendor
Hawker (trade)
A hawker is a vendor of merchandise that can be easily transported; the term is roughly synonymous with peddler or costermonger. In most places where the term is used, a hawker sells items or food that are native to the area...
, often from a portable
stall
Market stall
A market stall is a typically immobile, temporary structure erected by merchants to display and shelter their merchandise in a street market or other setting. Stalls are easily erected, taken down or simply moved on wheels...
. While some street foods are regional, many are not, having spread beyond their region of origin. Most street food are both
finger
Finger food
Finger food is food meant to be eaten directly using the hands, in contrast to food eaten with a knife and fork, chopsticks, or other utensils. In some cultures, food is almost always eaten with the hands; for example, Ethiopian cuisine is eaten by rolling various dishes up in injera bread. In the...
and
fast food
Fast food
Fast food is the term given to food that can be prepared and served very quickly. While any meal with low preparation time can be considered to be fast food, typically the term refers to food sold in a restaurant or store with preheated or precooked ingredients, and served to the customer in a...
. Street food costs less than a restaurant meal. According to the
Food and Agriculture Organization
Food and Agriculture Organization
The Food and Agriculture Organization of the United Nations is a specialised agency of the United Nations that leads international efforts to defeat hunger. Serving both developed and developing countries, FAO acts as a neutral forum where all nations meet as equals to negotiate agreements and...
, 2.5 billion people eat street food every day.
Street food is intimately connected with
take-out
Take-out
Take-out or takeout , carry-out , take-away , parcel , or tapau , is food purchased at a...
,
junk food
Junk food
Junk food is an informal term applied to some foods that are perceived to have little or no nutritional value ; to products with nutritional value, but which also have ingredients considered unhealthy when regularly eaten; or to those considered unhealthy to consume at all...
,
snack
Snack
A snack is a small portion of food eaten between meals. The food might be snack food—items like potato chips or baby carrots—but could also simply be a smaller amount of any food item.-Snacks and health:...
s, and fast food; it is distinguished by its local flavour and by being purchased on the street, without entering any building.