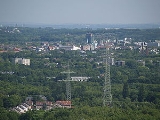 Herne, Germany
Herne
(ˈhɛʁnə) is a city in
North Rhine-Westphalia
North Rhine-Westphalia
North Rhine-Westphalia is the most populous state of Germany, with four of the country's ten largest cities. The state was formed in 1946 as a merger of the northern Rhineland and Westphalia, both formerly part of Prussia. Its capital is Düsseldorf. The state is currently run by a coalition of the...
, Germany. It is located in the
Ruhr area
Ruhr Area
The Ruhr, by German-speaking geographers and historians more accurately called Ruhr district or Ruhr region , is an urban area in North Rhine-Westphalia, Germany. With 4435 km² and a population of some 5.2 million , it is the largest urban agglomeration in Germany...
directly between the cities of
Bochum
Bochum
Bochum is a city in North Rhine-Westphalia, western Germany. It is located in the Ruhr area and is surrounded by the cities of Essen, Gelsenkirchen, Herne, Castrop-Rauxel, Dortmund, Witten and Hattingen.-History:...
and
Gelsenkirchen
Gelsenkirchen
Gelsenkirchen is a city in North Rhine-Westphalia, Germany. It is located in the northern part of the Ruhr area. Its population in 2006 was c. 267,000....
.
History
Like most other cities in the region Herne was a tiny village until the 19th century. When the mining of
coal
Coal
Coal is a combustible black or brownish-black sedimentary rock usually occurring in rock strata in layers or veins called coal beds or coal seams. The harder forms, such as anthracite coal, can be regarded as metamorphic rock because of later exposure to elevated temperature and pressure...
and the production of
steel
Steel
Steel is an alloy that consists mostly of iron and has a carbon content between 0.2% and 2.1% by weight, depending on the grade. Carbon is the most common alloying material for iron, but various other alloying elements are used, such as manganese, chromium, vanadium, and tungsten...
began, the villages of the Ruhr area became cities.
Present-day Herne includes the former settlements of Herne, Wanne and Eickel. Farms bearing these names were founded in the 11th and 12th centuries. In 1860 the first coal mine started operation. In the following thirty years the population increased twentyfold. For the first time Herne was called a city. The same process took place in Wanne and Eickel, which merged in 1926 to form the new city of
Wanne-Eickel
. In 1975 Wanne-Eickel, by then a city with over 70,000 inhabitants, was incorporated into Herne.
World War II
Herne
was targeted by the RAF on 4 June 1940, early in
World War II
World War II
World War II, or the Second World War , was a global conflict lasting from 1939 to 1945, involving most of the world's nations—including all of the great powers—eventually forming two opposing military alliances: the Allies and the Axis...
. Three high-explosive bombs were dropped and one house was damaged.
In
Wanne-Eickel
, the
Krupp Treibstoffwerke
oil refinery near the local Shamrock 3/4 coal mine was bombed during the
Oil Campaign of World War II
Oil Campaign of World War II
The Allied Oil Campaign of World War II was directed at facilities supplying Nazi Germany with petroleum, oil, and lubrication products...
.
Notable places
A fair called
Cranger Kirmes
Cranger Kirmes
The Cranger Kirmes is a fair in Germany, located in Wanne-Eickel in the city of Herne. It is the biggest fair in the whole state of Northrhine-Westphalia and the second biggest fair in Germany, only behind the Oktoberfest. In 2008 there were 4.7 million visitors...
is held in the city's
Crange
district every August. This is the second largest carnival in Germany with an average of around 4,500,000 visitors. Its origins can be traced back to the 15th century, when farmers started trading horses on Saint Lawrence's Day. That is why the official opening always takes place on the first Friday in August. The horse market tradition is kept up, by arranging a horse show and horse equipment sales at the same place where horses were traded years ago.
Today there are about 500 stalls every year covering 111,000 square metres, meaning that it takes a 5 kilometre walk to see the whole fairground. Among other things you can buy sugared almonds and all kinds of other food, visit beer gardens, win prizes in shooting galleries or tombolas, or enjoy traditional and new rides like roundabouts, ghost trains and all sorts of high-tech delights. One of the main attractions is the 60-metre high big wheel that is the largest movable one in the world.
Notable persons
Famous Hernians
or
Wanne-Eickelians
include Jürgen von Manger,
Kurt Edelhagen
Kurt Edelhagen
Kurt Edelhagen, born 5 June 1920 in Herne, died 8 February 1982 in Köln, was a major European big band leader throughout the 1950s.After having studied clarinet and piano in Essen, he set up his multicultural big band, which over the years would include many big names in jazz in Europe, including...
,
Jürgen Marcus
Jürgen Marcus
Jürgen Marcus is a German schlager singer who was most successful during the 1970s, when he had 14 chart hits in Germany...
,
Heinz Rühmann
Heinz Rühmann
Heinrich Wilhelm "Heinz" Rühmann was a popular German film actor.-Life and work:Rühmann was born in Essen, Westphalia. His role in the 1930 movie Die Drei von der Tankstelle led him to film stardom. He remained highly popular as a comedic actor throughout the 1930s and early 1940s...
, Dr. Heinz Dieter Meyer, Tana Schanzara, Dr. Claudia Dollins (Geier),
Yıldıray Baştürk
,
Jan Zweyer
Jan Zweyer
Jan Zweyer, born 12 December 1953 in Frankfurt , is a German writer. Jan Zweyer is only his pen name. His real name is Rüdiger Richartz.-Career:...
,
Peavy Wagner
Peavy Wagner
Peter "Peavy" Wagner is a German heavy metal musician. He is best known for being singer and bassist of the band Rage.- Biography :...
, Leonie Saint and
Bärbel Beuermann
Bärbel Beuermann
Bärbel Beuermann is a German politician , and a member of the Landtag of North Rhine-Westphalia as a list MP since the state election held on 9 May 2010...
. The composer Ralf Linke lives in Herne.
International relations
Herne, Germany is
twinned
Town twinning
Twin towns and sister cities are two of many terms used to describe the cooperative agreements between towns, cities, and even counties in geographically and politically distinct areas to promote cultural and commercial ties.- Terminology :...
with:
Hénin-Beaumont
Hénin-Beaumont
Hénin-Beaumont is a commune in the Pas-de-Calais department in the Nord-Pas-de-Calais region of France.-Geography:Hénin-Beaumont used to be a coalmining and is now a light industrial town situated some east of Lens, at the junction of the N43, D919 and the D39 roads...
, France, since 1954
Wakefield
Wakefield
Wakefield is the main settlement and administrative centre of the City of Wakefield, a metropolitan district of West Yorkshire, England. Located by the River Calder on the eastern edge of the Pennines, the urban area is and had a population of 76,886 in 2001....
, England,
United Kingdom
United Kingdom
The United Kingdom of Great Britain and Northern IrelandIn the United Kingdom and Dependencies, other languages have been officially recognised as legitimate autochthonous languages under the European Charter for Regional or Minority Languages...
, since 1956 Ometepe Island,
Nicaragua
Nicaragua
Nicaragua is the largest country in the Central American American isthmus, bordered by Honduras to the north and Costa Rica to the south. The country is situated between 11 and 14 degrees north of the Equator in the Northern Hemisphere, which places it entirely within the tropics. The Pacific Ocean...
, since 1988
Belgorod
Belgorod
-Twin towns/sister cities:Belgorod is twinned with: Wakefield, England, United Kingdom Herne, North Rhine-Westphalia, Germany Palembang, South Sumatra, Indonesia Opole, Poland Vyshhorod, Ukraine Kharkiv, Ukraine-External links:...
,
Russia
Russia
Russia or , officially known as both Russia and the Russian Federation , is a country in northern Eurasia. It is a federal semi-presidential republic, comprising 83 federal subjects...
, since 1990 Lutherstadt Eisleben,
Saxony-Anhalt
Saxony-Anhalt
Saxony-Anhalt is a landlocked state of Germany. Its capital is Magdeburg and it is surrounded by the German states of Lower Saxony, Brandenburg, Saxony, and Thuringia.Saxony-Anhalt covers an area of...
, Germany, since 1990
Konin
Konin
Konin is a city in central Poland.Konin may also refer to:*Emperor Kōnin , emperor of Japan who reigned 770–781**Kōnin , a Japanese era name for the years 810–824...
,
Poland
Poland
Poland , officially the Republic of Poland , is a country in Central Europe bordered by Germany to the west; the Czech Republic and Slovakia to the south; Ukraine, Belarus and Lithuania to the east; and the Baltic Sea and Kaliningrad Oblast, a Russian exclave, to the north...
, since 1991