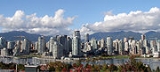 Vancouver
Vancouver
is a coastal seaport city on the mainland of
British Columbia
British Columbia
British Columbia is the westernmost of Canada's provinces and is known for its natural beauty, as reflected in its Latin motto, Splendor sine occasu . Its name was chosen by Queen Victoria in 1858...
,
Canada
Canada
Canada is a North American country consisting of ten provinces and three territories. Located in the northern part of the continent, it extends from the Atlantic Ocean in the east to the Pacific Ocean in the west, and northward into the Arctic Ocean...
. It is the hub of
Greater Vancouver
Greater Vancouver
Greater Vancouver is the metropolitan area centred on the city of Vancouver, British Columbia, Canada, roughly coterminous with the Greater Vancouver Regional District, which is governed by a body known as Metro Vancouver...
, which, with over 2.3 million residents, is the
third most populous metropolitan area
in the country,
and the most populous in
Western Canada
Western Canada
Western Canada, also referred to as the Western provinces and commonly as the West, is a region of Canada that includes the four provinces west of the province of Ontario.- Provinces :...
. The
city proper
City proper
City proper is defined as a "locality with legally fixed boundaries and an administratively recognized urban status that is usually characterized by some form of local government", or the area within the corporate limits. This definition has been consistently used since the United Nations...
has more than 640,000 people,
making it the
eighth largest
among Canadian cities,
and the most densely populated Canadian city of over 25,000 residents, with 5,039 people per square kilometre in 2006.
The city is ethnically and linguistically diverse, with 52% for whom English is not their first language.
The settlement of
Gastown
Gastown
Gastown is a national historic site in Vancouver, British Columbia, at the northeast end of Downtown adjacent to the Downtown Eastside. Its historical boundaries were the waterfront , Columbia Street, Hastings Street, and Cambie Street, which were the borders of the 1870 townsite survey, the proper...
grew around a logging
sawmill
Sawmill
A sawmill is a facility where logs are cut into boards.-Sawmill process:A sawmill's basic operation is much like those of hundreds of years ago; a log enters on one end and dimensional lumber exits on the other end....
established in 1867, enlarging to become the
townsite
Townsite
A townsite is a legal subdivision of land for the development of a town or community. In the historical development of the United States, Canada, and other former British colonial nations, the filing of a townsite plat or plan was often the first legal act in the establishment of a new town or...
of
Granville
Granville, British Columbia
Granville was the name for Vancouver, British Columbia until 1886.The town was located beside the settlement of Gastown.-History:The area was first known as Gastown, a settlement around the original makeshift tavern established by "Gassy" Jack Deighton in 1867 on the edge of the Hastings Mill...
.