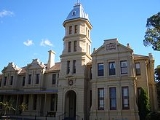 Boarding school
A
boarding school
is a
school
School
A school is an institution designed for the teaching of students under the direction of teachers. Most countries have systems of formal education, which is commonly compulsory. In these systems, students progress through a series of schools...
where some or all pupils study and live during the school year with their fellow students and possibly teachers and/or administrators. The word 'boarding' is used in the sense of "bed and board," i.e., lodging and meals. Some boarding schools also have day students who attend the institution by day and return off-campus to their families in the evenings.
Many independent (private) schools in the
Commonwealth of Nations
Commonwealth of Nations
The Commonwealth of Nations, normally referred to as the Commonwealth and formerly known as the British Commonwealth, is an intergovernmental organisation of fifty-four independent member states...
are boarding schools.