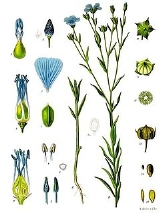 Flax
Flax
(binomial name:
Linum usitatissimum
) is a member of the genus
Linum
Linum
Linum is a genus of approximately 200 species in the flowering plant family Linaceae, native to temperate and subtropical regions of the world. It includes the Common Flax Linum (flax) is a genus of approximately 200 species in the flowering plant family Linaceae, native to temperate and...
in the family
Linaceae
Linaceae
The Linaceae is a family of flowering plants. The family is cosmopolitan, and includes approximately 250 species. There are 14 genera, classified into two subfamilies: Linoideae and Hugonioideae ....
. It is native to the region extending from the eastern Mediterranean to
India
India
India , officially the Republic of India , is a country in South Asia. It is the seventh-largest country by geographical area, the second-most populous country with over 1.2 billion people, and the most populous democracy in the world...
and was probably first domesticated in the
Fertile Crescent
Fertile Crescent
The Fertile Crescent, nicknamed "The Cradle of Civilization" for the fact the first civilizations started there, is a crescent-shaped region containing the comparatively moist and fertile land of otherwise arid and semi-arid Western Asia. The term was first used by University of Chicago...
. It is known as Λινάρι (Linari) in Hellas, आलस (Aalas) in
Nepali
Nepali language
Nepali or Nepalese is a language in the Indo-Aryan branch of the Indo-European language family.It is the official language and de facto lingua franca of Nepal and is also spoken in Bhutan, parts of India and parts of Myanmar...
, Agasi/Akshi in
Kannada
Kannada language
Kannada or , is a language spoken in India predominantly in the state of Karnataka. Kannada, whose native speakers are called Kannadigas and number roughly 50 million, is one of the 30 most spoken languages in the world...
, Aazhi Vidhai in
Tamil
Tamil language
Tamil is a Dravidian language spoken predominantly by Tamil people of the Indian subcontinent. It has official status in the Indian state of Tamil Nadu and in the Indian union territory of Pondicherry. Tamil is also an official language of Sri Lanka and Singapore...
, जवस (Jawas/Javas) or अळशी (Alashi) in Marathi and अलसी (Alsi) in Hindi, তিসি (Tisi) in Bengali and అవిశలు (avisalu) in Telugu.