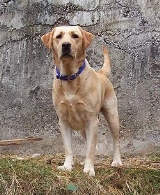 Dog
The
domestic dog
is a domesticated form of the
gray wolf
Gray Wolf
The gray wolf , also known as the wolf, is the largest extant wild member of the Canidae family...
, a member of the
Canidae
Canidae
Canidae is the biological family of carnivorous and omnivorous mammals that includes wolves, foxes, jackals, coyotes, and domestic dogs. A member of this family is called a canid . The Canidae family is divided into two tribes: Canini and Vulpini...
family of the order
Carnivora
Carnivora
The diverse order Carnivora |Latin]] carō "flesh", + vorāre "to devour") includes over 260 species of placental mammals. Its members are formally referred to as carnivorans, while the word "carnivore" can refer to any meat-eating animal...
. The term is used for both
feral
Feral
A feral organism is one that has changed from being domesticated to being wild or untamed. In the case of plants it is a movement from cultivated to uncultivated or controlled to volunteer. The introduction of feral animals or plants to their non-native regions, like any introduced species, may...
and
pet
Pet
A pet is a household animal kept for companionship and a person's enjoyment, as opposed to wild animals or to livestock, laboratory animals, working animals or sport animals, which are kept for economic or productive reasons. The most popular pets are noted for their loyal or playful...
varieties. The dog may have been the first animal to be domesticated, and has been the most widely kept
working
Working dog
A working dog refers to a canine working animal, i.e., a type of dog that is not merely a pet but learns and performs tasks to assist and/or entertain its human companions, or a breed of such origin...
,
hunting
Hunting
Hunting is the practice of pursuing any living thing, usually wildlife, for food, recreation, or trade. In present-day use, the term refers to lawful hunting, as distinguished from poaching, which is the killing, trapping or capture of the hunted species contrary to applicable law...
, and companion animal in human history. The word "dog" may also mean the male of a canine species, as opposed to the word "bitch" for the female of the species.
Dogs were domesticated from gray wolves about 15,000 years ago.