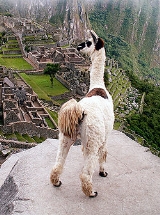 Llama
The
llama
is a
South America
South America
South America is a continent situated in the Western Hemisphere, mostly in the Southern Hemisphere, with a relatively small portion in the Northern Hemisphere. The continent is also considered a subcontinent of the Americas. It is bordered on the west by the Pacific Ocean and on the north and east...
n
camelid
Camelid
Camelids are members of the biological family Camelidae, the only living family in the suborder Tylopoda. Dromedaries, Bactrian Camels, llamas, alpacas, vicuñas, and guanacos are in this group....
, widely used as a
meat
and
pack animal
Pack animal
A pack animal or beast of burden is a working animal used by humans as means of transporting materials by attaching them so their weight bears on the animal's back; the term may be applied to either an individual animal or a species so employed...
by
Andean culture
Andean culture
Andean culture is a collective term used to refer to the indigenous cultures of the Andes mountains especially those that came under the influence of the Inca empire...
s since pre-Hispanic times.
The height of a full-grown, full-size llama is 1.7 to 1.8 m (5.5 to 6.0 ft) tall at the top of the head, and can weigh between 130 to 200 kilograms (280 to 450 lb). At birth, a
baby llama
Cria
A cria is the name for a baby camelid such as a llama, alpaca, vicuña, or guanaco. It comes from the Spanish word cría, meaning "baby". Its false cognate in English, crya , was coined by British sailors who explored Chile in the 18th century and were quick to describe the camelids onomatopoeically...
(called a
cria
) can weigh between 9 and 14 kilograms (20 and 30 lb).